Fostering New Engines of Growth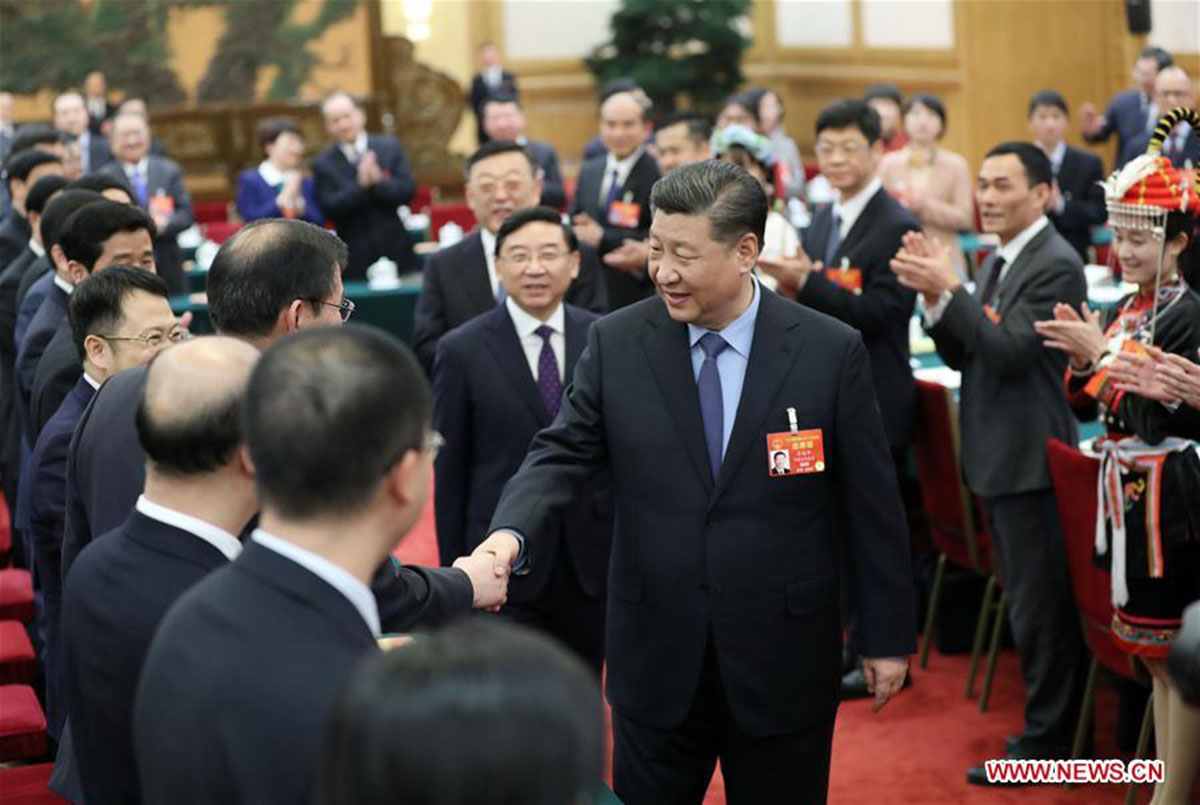 A favorable development environment should be created for innovation, entrepreneurship and creativity, said President Xi Jinping, also General Secretary of the Communist Party of China (CPC) Central Committee, during deliberations with deputies to the National People's Congress (NPC) from Fujian Province on March 10, at the Second Session of the 13th NPC. In his speech he also provided some detailed guidance on how to create such an environment.
After the 19th CPC National Congress in 2017, China's economy has shifted from high-speed growth to high-quality growth, with hi-tech, high value-added, emerging and service industries becoming main growth drivers. Innovation, entrepreneurship and creativity hence have become important measures and tasks to advance the rapid development of new growth drivers.
Years ago, the Chinese Government launched a campaign of mass innovation and entrepreneurship and vowed to change from "Made in China" to "Created in China." Figures from the National Bureau of Statistics showed that in 2018, strategic emerging manufacturing and service industries grew rapidly, with value-added of the hi-tech manufacturing industry increasing by 11.7 percent.
However, for a market with a population of 1.39 billion and a GDP of over 90 trillion yuan ($13.4 trillion), China's innovation, entrepreneurship and creativity are still inadequate to play a decisive role in supporting the country's economic and social development. Therefore creating a favorable environment to facilitate their development still remains a government priority.
China must seek impetus from reform and opening up in order to unleash the maximum potential of innovation, entrepreneurship and creativity, Xi said, adding that the work in the future must be focused on solving problems, freeing people's minds, creating a better environment through comprehensively deepening reform, and removing major institutional barriers blocking their development.
After the 18th CPC National Congress in 2012, the CPC Central Committee made the decision to comprehensively deepen reform and opening up. At the Boao Forum for Asia Annual Conference in 2018, Xi announced to the whole world China's determination and confidence in deepening reform and opening up. For the government, the reform to delegate power, streamline administration and optimize government services is the major measure to unleash the maximum potential of the whole country for innovation, entrepreneurship and creativity. By delegating power and streamlining administration, improving the business environment, implementing the market access negative list approach and better facilitating business startups, the government can remove institutional barriers and create an atmosphere of encouraging innovation, entrepreneurship and creativity, especially for small and medium-sized enterprises and young people.
Amid the volatile international trade relations and against the backdrop of China transferring to high-quality development, continuously improving the business environment through deepening reform will not only be conducive to making the Chinese economy more vigorous and competitive, but will also be a big boost for international investors.
Xi also said that the legitimate rights and interests of enterprises and entrepreneurs must be protected, which is the basic requirement to creating a favorable environment for innovation, entrepreneurship and creativity. He urged the successful implementation of policies to encourage, guide and support the private economy in order to create a fair, transparent and law-based environment for enterprises of all types of ownership, and create a good atmosphere for the sound development of entrepreneurship.
China has made new progress in protecting the private economy since the 18th CPC National Congress, especially after Xi made a speech in November 2018 at a seminar on supporting non-public sectors. However, since the current Criminal Law in China needs to improve in order to better protect the property rights of private enterprises, the country still needs to further strengthen its legal system to protect innovation, entrepreneurship and creativity.
Stimulating the real economy is an important support for the Chinese economy and a foundation for the country to grow stronger. Creating a favorable environment for innovation, entrepreneurship and creativity is the basis to strengthen the real economy.
Source: Beijing Review