Innovation Pioneers
Edited by
Zhao Yue & Zhou Xin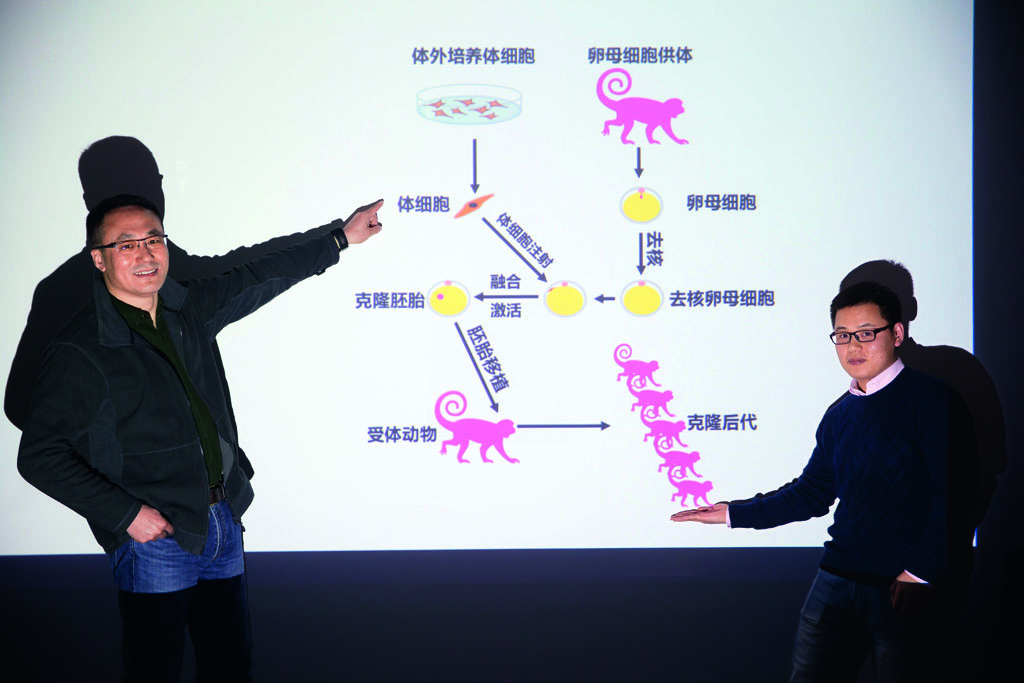 The year 2018 witnessed remarkable Chinese achievements and innovation breakthroughs in various realms. From completion of the longest bridge in the world to automatic driving, from the world's first cloned macaques to regenerating human lung tissue, many world-class innovators have spared every effort as of late to create for the development of the country and the world at large.
Sun Qiang & Liu Zhen: Cloned Macaques
In January 2018, China announced the first successful cloning of macaques from somatic cells. The macaques were created by a team led by Sun Qiang (left), director of China's non-human-primate research facility under the Chinese Academy of Sciences (CAS), and Liu Zhen, a postdoctoral fellow. They spent three years overcoming biological difficulties and optimizing procedures and practices. Cloning non-human primates has long been regarded as impossible based on existing technologies. This victory positions China as a pioneer of medical research using cloned macaques as animal models.
"We overcame many failures. We knew that each failure helped rule out a wrong method and kept moving to find the solution ." —Liu Zhen
Mee-Mann Chang: Discovering Life
On March 22, 82-year-old Chinese scientist Mee-Mann Chang was awarded the 2018 UNESCO Women in Science Award in Paris. Chang, a paleontologist at the Institute of Vertebrate Paleontology and Paleoanthropology under the CAS, was nominated for "her pioneering work on fossil records leading to insights on how aquatic vertebrates adapted to life and land," according to the UNESCO statement. During the professor's long career examining fish fossils, she discovered some of mankind's earliest ancestors. She is the fifth female Chinese scientist to receive this award in its 20-year history of celebrating the achievements of female scientists around the world.
"My work explores fundamental questions about who we are and where we came from."
Chen Yunji: Blue Chips
On May 3, 2018, Cambricon Technologies and its 35-year-old co-founder, Professor Chen Yunji of the CAS, unveiled China's first cloud AI chip—MLU100—in Shanghai. The MLU100 is noted for its accurate and fast big data processing ability, especially in image and voice search methods. According to the CAS, this cloud AI chip is capable of completing complicated cloud intelligence tasks and also supports "deep learning"—neural networks that mimic human learning. In 2016, Chen's company released its Cambricon-1A chip, the world's first commercial-use processor for advanced learning, which is now widely deployed in robotics, drones, autonomous vehicles and consumer electronics. The release of MLU100 is expected to solidify the unicorn's leading position in a niche segment of the capital-intensive chip sector.
"Comparing tailor-made AI chips to generic chips is like comparing kitchen knives to Swiss Army knives. Although Swiss Army knives have many functions, they are terrible for the task of chopping meat."
Zuo Wei: Regenerative Genius
On February 8, 2018, 34-year-old Professor Zuo Wei from the School of Medicine of Shanghai-based Tongji University announced that his research team had regenerated human lung tissue in a patient using that patient's own stem cells in a clinical trial, the first time the strategy had been successfully deployed worldwide. After obtaining dozens of stem cells by brushing the patient's lungs, researchers multiplied the cells into tens of millions in a lab, and then transplanted them into the damaged part of the patient's lungs. Although such transplants are not suitable for all kinds of lung diseases, Zuo's research brought the revival of human organs out of the lab and into clinical application.
"Both patients and researchers need great courage to step up and test new therapeutic strategies. The good news now is that the strategy looks quite promising."
Hou Yi Powering New Retail
In late March of 2018, Hema CEO and founder Hou Yi announced that his company, which serves as the prototype for Alibaba Group's New Retail concept, would launch 24-hour delivery service in Beijing and Shanghai since April. The new service aligns closely with Hema's efforts to realize its new "three-kilometer ideal community" goal, which includes integration of technologies and other services to pinpoint consumer needs. Representing a new consumption trend in China, Hema allows both in-store and online shopping experiences. It benefits from huge online traffic derived from Alibaba's 500 million-plus monthly active users as well as data analytics necessary to determine customers' shopping preferences, making marketing more precise and effective.
"I believe that with the help of the internet and new technologies, every industry will give birth to new commercial values and lifestyles to meet various new social demands."
James Peng: Navigating Automatic Driving
Self-driving vehicle company Pony.ai, co-founded by its CEO James Peng, announced in July 2018 that it had secured Beijing's T3 autonomous vehicle testing license, making it the first startup to do so. The T3 license is the highestlevel road test license that China has issued so far. Qualifying for a T3 license resembles getting a driver's license because they both require a series of tests. The year 2018 witnessed accelerated development of AI in China. Automatic driving is a key field for AI projects. Since Pony.ai was established in 2016, R&D centers have already been organized in Silicon Valley, Beijing, and Guangzhou so far, manned by a team of more than 130 top skilled professionals from China and beyond.
"Today, making machines drive for people is already easy. However, as we transform automatic driving technology into products, ensuring passengers' safety should be the top IC priority."
Frank Wang Tao: Flying High
In early July of 2018, the Institute of Electrical and Electronics Engineers (IEEE), the world's largest technical professional society, announced that it would award Frank Wang Tao, founder and CEO of Chinese drone manufacturer DJI Innovations, the IEEE Robotics and Automation Award, one of the world's most important awards in the field of engineering technology. DJI Innovations received the award for its outstanding contributions to the development and commercialization of consumer drones, imaging technology and robotics technology.
"Pursuing fame is not on my agenda or my company's. I want my company to keep a low profile in most circumstances and only communicate with the media through our products."
Huang Lingcai Amphibious Aircraft
China's independently developed large amphibious aircraft, the AG600, completed its first high-speed water taxiing on October 1, 2018. Designed to be the world's largest amphibious aircraft, the AG600 is powered by four domestically built turboprop engines and has a range of 12 hours. Huang Lingcai is the chief designer of the aircraft. Huang's family moved around with him several times due to the project's requirements. During his busiest stretches, Huang worked for nearly 20 hours per day.
"We are still far behind the leading countries. We have to forgo sleep, so we can work harder to catch up with them."
Su Quanke Connecting Hong Kong, Zhuhai and Macao
On October 23, 2018, Chinese President Xi Jinping announced the opening of the Hong Kong-Zhuhai-Macao Bridge (HZMB) at a launch ceremony in the city of Zhuhai, Guangdong Province. The 55-kilometer bridge, built by a team led by Su Quanke, chief engineer of the HZMB Authority, is the first of its kind in the world and a game-changer for Guangdong, Hong Kong, and Macao—a project to jointly build supergiant cross-sea traffic infrastructure under the principle of "one country, two systems." Born in 1962, Su has been working on the bridge project since 2004. During the long development process, the chief engineer led a grand team of 50,000 construction workers and engineers and convened nearly 1,000 meetings to discuss technical feasibility.
"The quantity of experiments we carried out in the process of building HZMB is definitely the most in Chinese bridge engineering history. And this was a remarkable feat of engineering globally."
Sun Zezhou: Mission to the Far Side of the Moon
China's Chang'e-4 lunar probe was launched in the early hours of December 8, 2018, bound for what is expected to be the first soft landing on the far side of the moon. The launch is a key step for China in realizing its goal of becoming the first country to send a probe to soft-land on and explore the far side of the moon. Born in 1970, Sun Zezhou is the chief designer of the Chang'e-4 probe. Due to his outstanding knowledge and coordinating abilities, Sun was appointed chief designer of Chang'e-3 probe in 2008 while he was still in his 30s. He was then the youngest chief designer in China's space program. He has his unique management style. According to his policy, the results of inspections should all be documented. No tiny problems or confusions can be neglected.
"The more difficult the path ahead, the more I want to try it."