Italian, Albanian versions of President Xi's book on governance launched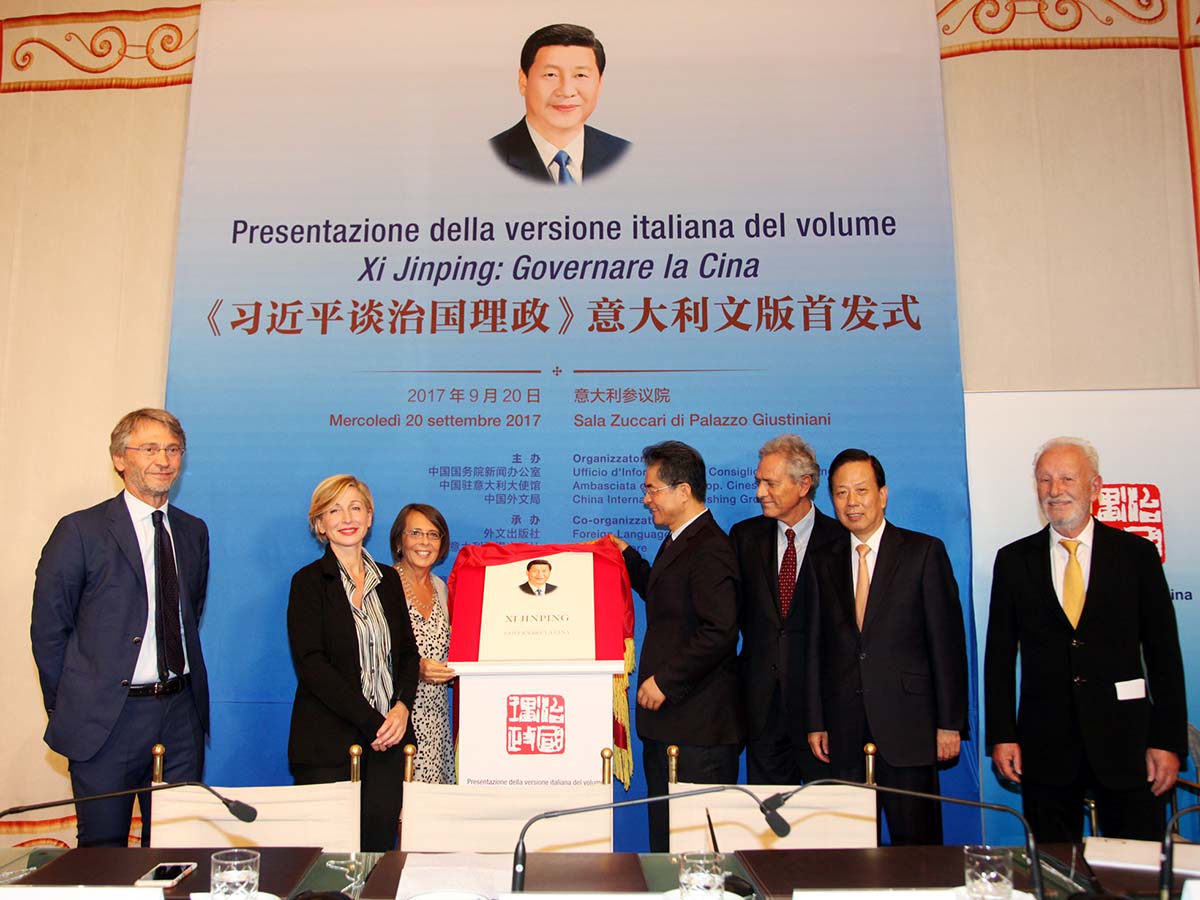 The Italian and Albanian versions of Chinese president's book on governance, "Xi Jinping: The Governance of China," were launched in Rome and Tirana respectively with positive feedback from the audiences in these countries.
Italian government officials hailed President Xi Jinping's view that development must be conducted in a "peaceful, civilized and harmonious way," calling it the foundation for global development, as the Italian edition of "Xi Jinping: The Governance of China" was presented at the Italian Senate recently.
President of the Italian Senate Pietro Grasso praised Xi's vision based on "reforms, sustainable development, fighting corruption, diplomatic relations and so on."
According to Li Ruiyu, the Chinese ambassador to Italy, Sino-Italian relations are at their best time in history, making it perfect timing to release the book, which is expected to help Italians get to know China better.
Zhang Fuhai, president of China International Publishing Group, the publisher of the book, delivered speeches on the two ceremonies. He said that the book is a key for the international community to learn about contemporary China as well as a way to find their solutions to China-related questions.
He said he was convinced that the two versions would write a new chapter in deepening China-Italy and China-Albania ties.
In the launch ceremony for the Albanian edition held on Sept. 22 in Tirana, Albanian President Illir Meta attended the ceremony and said that the book can help Albanian scholars, diplomats and other professionals, as well as general readers, to better understand China.
"Sino-Albanian relations are becoming increasingly close with mutually beneficial cooperation in various fields," said Meta, emphasizing that Albania and China attach great importance to strengthening cooperation under the framework of the Belt and Road Initiative.
"The publication of the Albanian edition of 'Xi Jinping: The Governance of China' will promote Albanians' understanding of China and enhance the cooperation between China and Albania under the Belt and Road Initiative," Chinese ambassador to Albania Jiang Yu agreed.
The 566-page book outlines the political ideas of China's top leadership, containing 79 speeches, talks, interviews, notes and letters of the top Chinese leader between November 2012 and June 2014.
The launch ceremonies in Rome and Tirana were hosted by the State Council Information Office of China, China International Publishing Group, the Italian Senate and the Chinese embassies in Italy and Albania.
According to the publisher, China International Publishing Group, the book has sold more than 6.5 million copies in 160 countries and regions since it was first published in September 2014.