New Normal: Refined Economic Structure
The first time the term "new normal" was heard was during President Xi Jinping's visit to Henan Province in May 2014. The concept is composed of three main features. First, the economy has shifted gear from the previous high speed to a medium-to-high-speed growth. Second, the economic structure is being constantly improved and upgraded. Third, the economy is increasingly driven by innovation instead of input and investment. A sober assessment and important identification of China's current economic situation, the "new normal" has been decisive for macroeconomic policy orientation.
Necessary Economic Transition
China's economy is now simultaneously dealing with the slowdown in economic growth, implementation of difficult structural adjustments and the need to absorb the effects of previous economic stimulus policies. As demand weakens and costs of supply-side factors rise, periodic changes in the potential economic growth rate have led to new macroeconomic imbalance traits. In the context of the new normal economy, it is vital for China to upgrade its economic and industrial structures.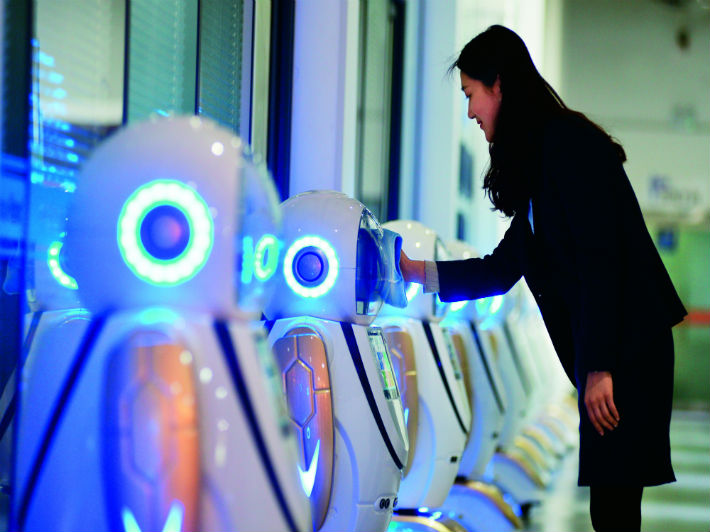 Yang Yiyong, director of the Society Development Institute of the National Development and Reform Commission, believes that, to promote economic restructuring and the upgrading of industrial structure, China has primarily focused on promoting technological innovation, eliminating backward industries and developing the knowledge economy over the past few years. China is striving to transform its economic growth model fundamentally by promoting mutually beneficial industrialization and informationization and sticking to a development path that relies on technological innovation, yields good economic returns, reduces resource consumption and environmental pollution, and optimizes human resources advantages. Meanwhile, China is also vigorously promoting coordinated and healthy industrial development by fostering an advanced manufacturing industry, boosting the service industry, strengthening infrastructure, optimizing the industrial structure and layout in both urban and rural areas, improving the structure of foreign trade and investment, and expanding employment while promoting coordinated economic and social development.
Challenges Ahead
China's current economic restructuring faces two major challenges: First, China needs to break through the institutional barriers to achieve optimal allocation of various factors of production and continuously improve the quality of the economy. Second, China needs to use incremental reform to readjust inventory and optimize investment and industrial structures while increasing investment and improving people's living standards through high-speed and sustainable economic growth. In contrast to the economic restructuring by Western countries during previous periods of economic transformation, China must spend more time considering how state-owned enterprises and private enterprises can work together to achieve mutual complementarity between macro-control and nongovernmental forces.
Yang believes that China's economic restructuring in new normal economic conditions should emphasize supply-side structural reform. The essence of supply-side structural reform is to change the supply mode through governmental public policy. More specifically, reforming modes of production, output, implementation, revision and adjustment of public policy should better coordinate with market orientation and enhance the decisive role of the market in allocating resources. The government should standardize its powers according to the requirements of the market, cut red tape, level the playing field and provide greater convenience. The decisive role of the market in resource allocation should be fully tapped. Practice has shown that carrying out supply-side reform without the decisive role of a market mechanism to allocate resources will hinder economic transformation and industrial restructuring as well as undermine past achievements of market-oriented reforms.
Facing new domestic and global challenges after the 2008 international financial crisis and a new wave of technological breakthroughs since the 18th National Congress of the Communist Party of China in 2012, the Chinese government has constantly innovated macro-control solutions, deepened structural reform and made breakthroughs by replacing old growth drivers with new ones and developing new industries and enterprises. To accelerate the transformation and upgrade, China has fostered several sunrise industries including the smart industry, biological industry, senior care industry, health industry, entertainment industry, and new tourism industry. Such industries have nurtured many knowledge-based, technology-intensive enterprises.
"The interaction between China's economy and the global economy is positive," declared Yang. "Since the reform and opening-up policy was introduced, China's economic development has become inextricably linked to the world economy and contributed greatly to global economic growth. Under the new normal conditions, if China is to maintain its positive impact on the world economy as it undergoes structural adjustment, it needs to establish even more mutually beneficial interactions with others and persist in its quest for common prosperity."