The "Pop-up" Hospital of Huoshenshan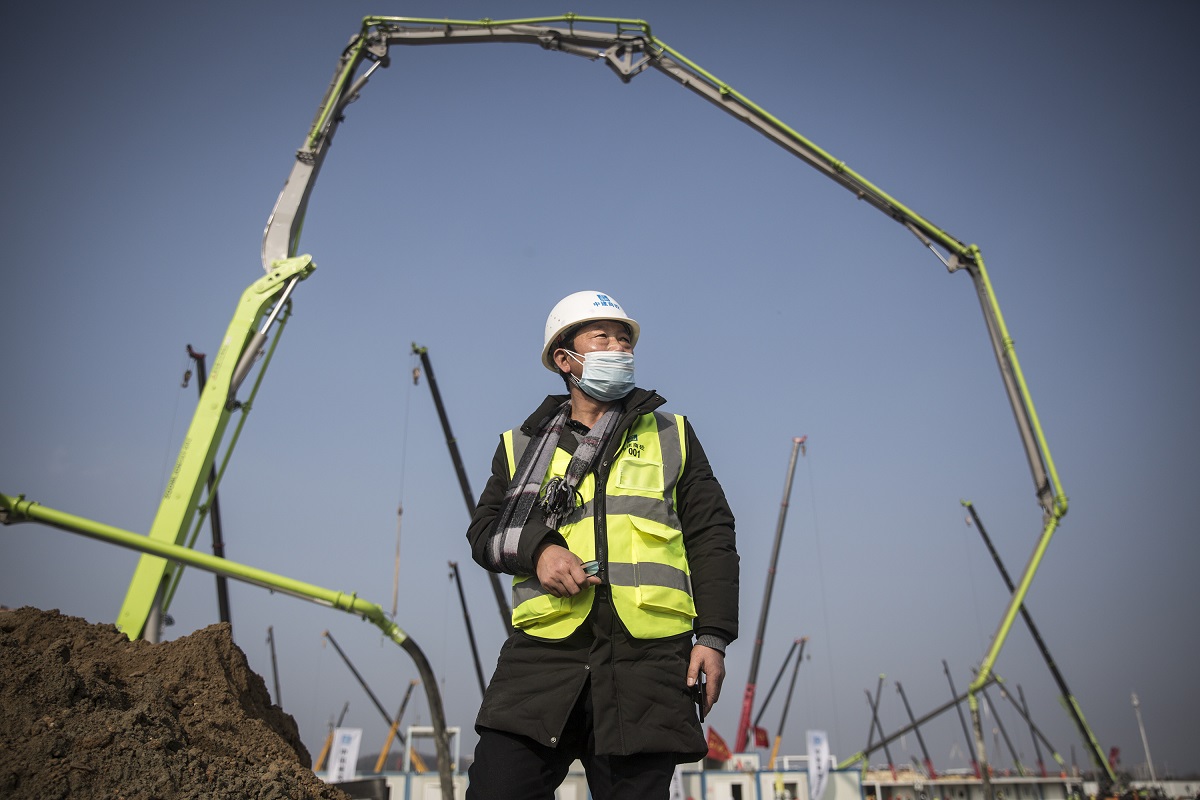 With a total floor area of 33,900 square meters, the 1,000-bed Huoshenshan Hospital was completed on February 2 and began treating infected patients on February 4. The first special hospital in Wuhan dedicated to treatment of patients infected with the novel coronavirus took only 10 days to complete. For the 14,400 minutes in those days, over 3,000 workers and nearly 1,000 large construction machines and transport vehicles raced against time to create the Huoshenshan Hospital miracle. Yuan Tianxiong was among the thousands of workers. Over the 10 days, Yuan endured a fractured right arm while working busily at the construction site as he witnessed the life-saving hospital sprout from nothing.
Rocky New Year Start
For 54-year-old Yuan Tianxiong, 2020 began with an accident. On January 2, he slipped in the bathroom and broke his right arm. "This is a bad sign," he sighed. His doctor recommended surgery, but he refused and asked for more conservative treatment. Yuan works as the manager of a mixed concrete plant under China State Construction Engineering Corporation. With the Spring Festival approaching in late January, he still had major work at construction sites to wrap up. Surgery on a broken arm would have wasted too much time.
Shortly after the fracture, Yuan received unexpected news. His elder cousin, who was close to him, had passed away. "She got pneumonia," said Yuan. "The illness came quickly and suddenly. She was transferred to Tongji Hospital affiliated to Tongji Medical College of Huazhong University of Science and Technology in Wuhan, but she eventually didn't make it. She died in just a few days." The broken arm and lost cousin cast a heavy shadow on Yuan Tianxiong.
Yuan is a native of Wuhan, the epicenter of the coronavirus outbreak. He has five siblings. His father is 90 years old. According to family tradition, more than 30 members of the big family would gather at his father's home to celebrate Spring Festival together. For them, it is the biggest event of the year. In those days, however, Yuan closely watched the development of the novel coronavirus epidemic. He planned to wait until the situation improved before heading to his father's house for Spring Festival. However, upon hearing news of the lockdown of Wuhan, Yuan realized that the situation was much worse than he thought. His father called him twice in a day and urged him not to come back. The old man persisted with authoritarian vigor.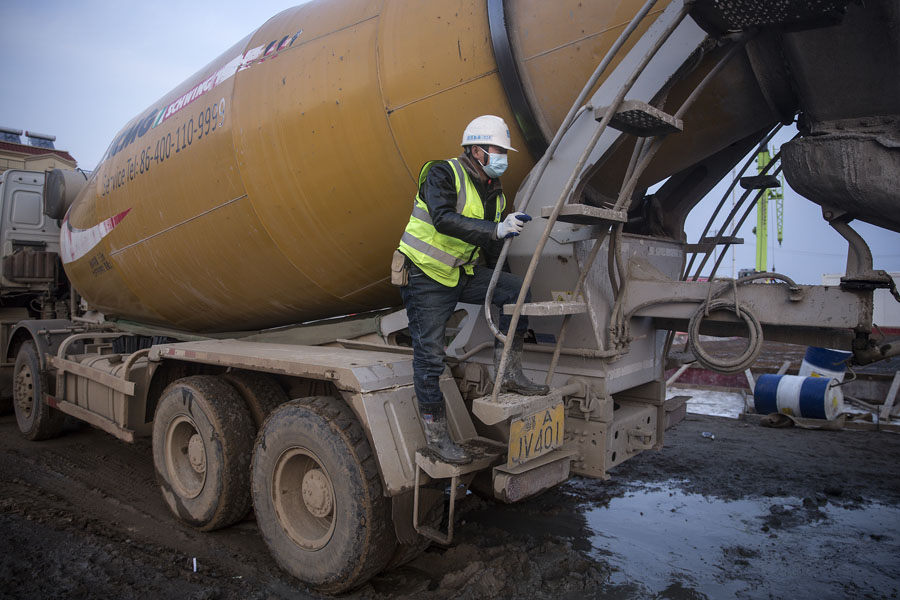 Seven-man Squad Sets Off
On January 23, the first day of Wuhan's lockdown, Yuan got a call from a friend who was also a plant manager. The friend told Yuan that his team was about to join construction work on Huoshenshan Hospital. "What is that?" asked Yuan.
"It is a new hospital dedicated to treating patients infected with the novel coronavirus," explained the friend. "Huoshenshan, you know, means 'Fire God Mountain.' Fire God burns up viruses." Yuan's mind turned to his deceased cousin. "My team and I will join you," declared Yuan without hesitation.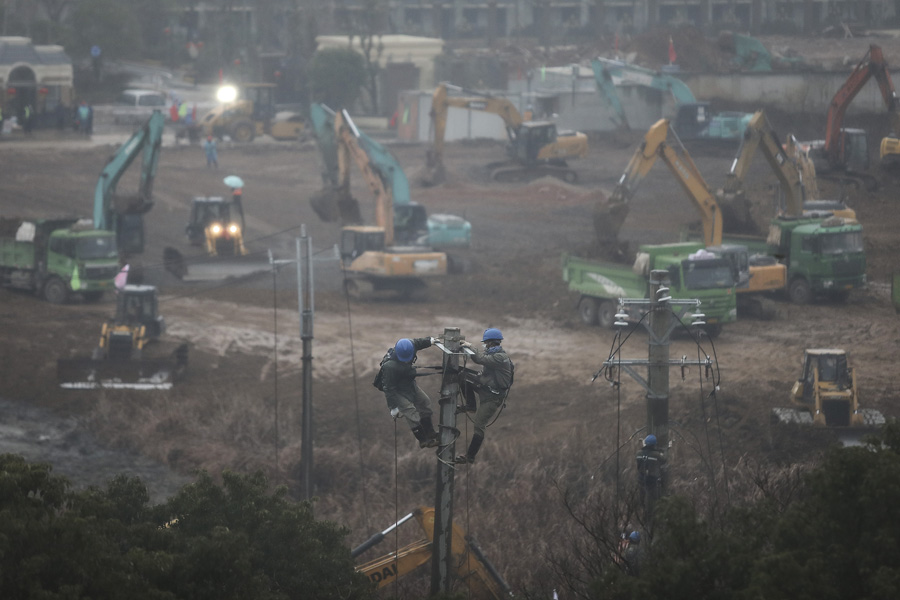 On the evening of January 23, Yuan began to check the inventory in his pumping station. The first task for his team was to provide 3,000 cubic meters of mixed concrete. To do this, they needed to transport about 2,000 metric tons of mud and sand to the construction site. After checking storage, he counted his available workers. Most of his staff had returned home for the Spring Festival holiday. Alongside himself, he had only seven people available: a dispatcher, two quality inspectors, a truck operator, a mechanic, an electrician, and a cook.
A saying came to his mind: "when conditions are ideal, proceed; when conditions are lacking, fix them and then proceed." The rule of thumb was coined by the first generation of oil workers since the founding of the People's Republic of China in 1949, represented by Wang Jinxi. The words were originally spoken to demonstrate determination and resolve to find oil in Heilongjiang Province. Yuan previously considered the phrase just a heroic quip. "Now, I understand what it means to fix conditions before proceeding."
January 24 marked the eve of Chinese New Year. That day, starting at 2 p.m., Yuan led his seven-member team in transporting concrete pulp to the construction site, and they continued working until the wee hours of the following morning.
Yuan's son was working overseas. On January 29, Yuan's son made a video-call during the father's lunch break. "Be careful with your broken arm, wear a mask, and stay away from places with crowds," his son insisted. Yuan promised, but he knew he couldn't keep his words. At the construction site of Huoshenshan Hospital, nearly 700 management personnel and 3,000-plus workers had gathered to operate around 1,000 construction machines and transport vehicles. They worked in shifts around the clock. It was certainly the most bustling and lively place in locked-down Wuhan.
Mechanical Stars and Exhausted Hands
After the decision was made to livestream construction of Huoshenshan and Leishenshan, two makeshift hospitals dedicated to treatment of patients infected with the novel coronavirus, many pieces of machinery gained popularity with netizens and earned nicknames.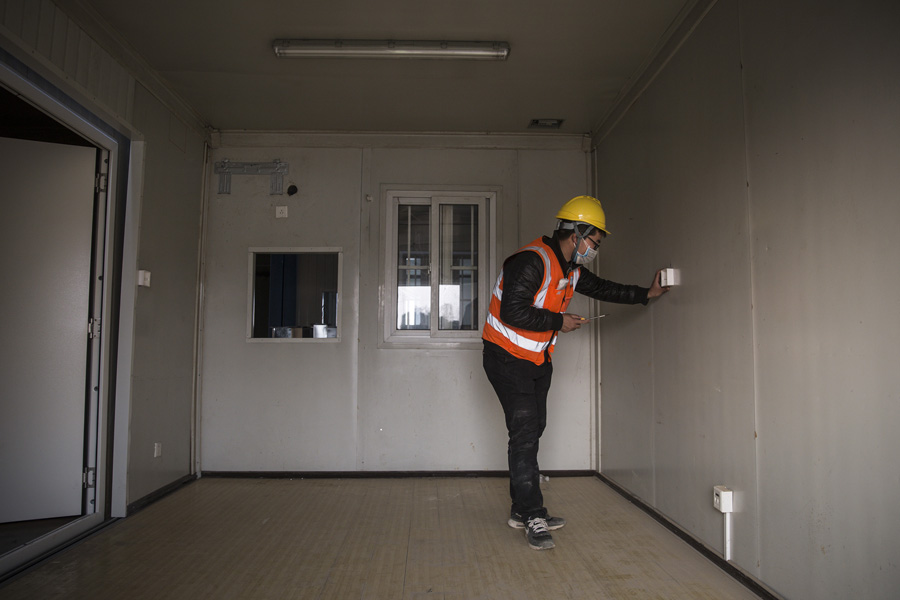 Yuan never imagined his cement mixer would attract so many fans on the internet. This was probably because from a wide camera angle of the huge construction site, workers looked like busy ants, leaving only massive machine to stand out. "There's no way you can see me in the livestream," he grinned
Due to the peculiarities of the Huoshenshan project, special concrete was needed to accelerate setting and hardening to keep the project progressing as fast as possible. Work that normally requires 10 hours of labor was allocated only four to five hours.
"Sometimes I got buried by phone calls at 4 a.m.," revealed Yuan. In the middle of the night, he was answering the phone and making other calls at the same time, using two cell phones. He was concerned that the driver of the cement mixer was too tired and would fall asleep. He knew this kind of exhaustion too well. After lengthy, high-intensity work, people can easily fall asleep if they sit down just for a moment. "But now is a very special situation," he stressed. "Everyone is going all out. All of us hope to work faster and complete the hospital as quickly as possible."
A few years ago, Yuan visited the site of Huoshenshan Hospital because it is near picturesque Houguan Lake. He felt a little bit of pity that the scenery was getting swept away by the big construction site. "But when I remember that we built a hospital in 10 days that would save many lives, everything is worth it."