This year marks the 40th anniversary of China's reform and opening up. Perhaps the country's greatest achievement over the four decades is that hundreds of millions of Chinese people have been lifted out of poverty.
"Over the past 40 years, around 800 million people in China have worked their way above the poverty line, which has contributed tremendously to global poverty alleviation," remarked Liu Yongfu, director of the State Council Leading Group Office of Poverty Alleviation and Development, at the opening ceremony of an international forum on poverty reduction in Beijing on November 1.
More than 400 people attended the event, including government officials, business leaders, scholars and representatives from think tanks and international organizations like the United Nations and the World Bank.
"China's poverty alleviation received strong political support form the highest levels of government, which set the tone for all levels of government to pursue poverty alleviation vigorously in their respective jurisdictions," illustrated Jim Yong Kim, president of the World Bank Group, in his keynote speech at the opening ceremony of the forum.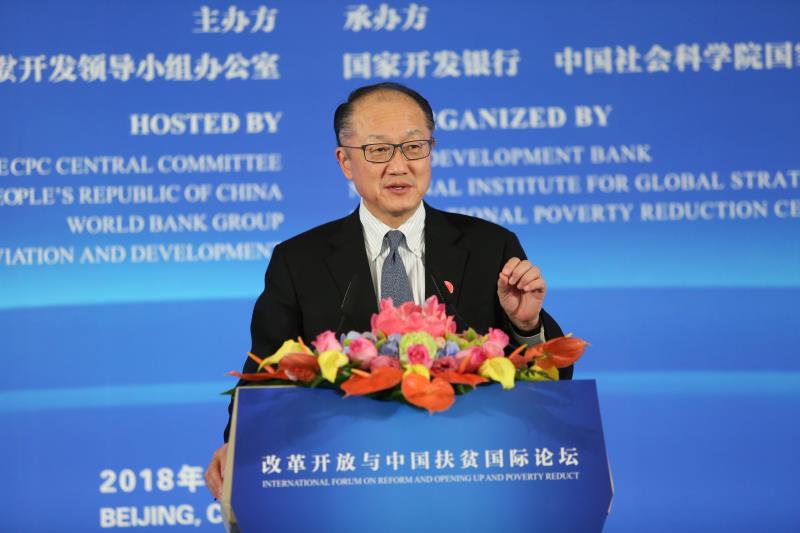 He noted that over the past four decades, more than 800 million people have escaped poverty in China. The country's share in the world economy has surged from 1.5 percent in 1978 to 15 percent today, and its per capita income increased 25-fold from US$300 in 1978 to US$7,300 in 2017.
The day-and-a-half forum also included three roundtables themed on "reform and opening up & poverty reduction," "innovation & poverty reduction" and "international cooperation & poverty reduction," providing a platform for participants to exchange experience on poverty relief efforts.
"When China launched its reform and opening-up policy, the poverty rate in China was much higher than most countries in Africa," revealed Alexis Habiyaremye, research fellow of the South Africa Human Sciences Research Council. He added that China now has become the world's second-largest economy, so African countries can now learn from China's experience in this respect.
China has pledged to eradicate extreme poverty domestically by the end of 2020. But Liu Yongfu noted that relative poverty will continue to exist in China and poverty reduction will remain an arduous job for a long time.
"We would like to learn from other countries' experience in eradicating poverty and strengthen international exchange in the sector," Liu said.