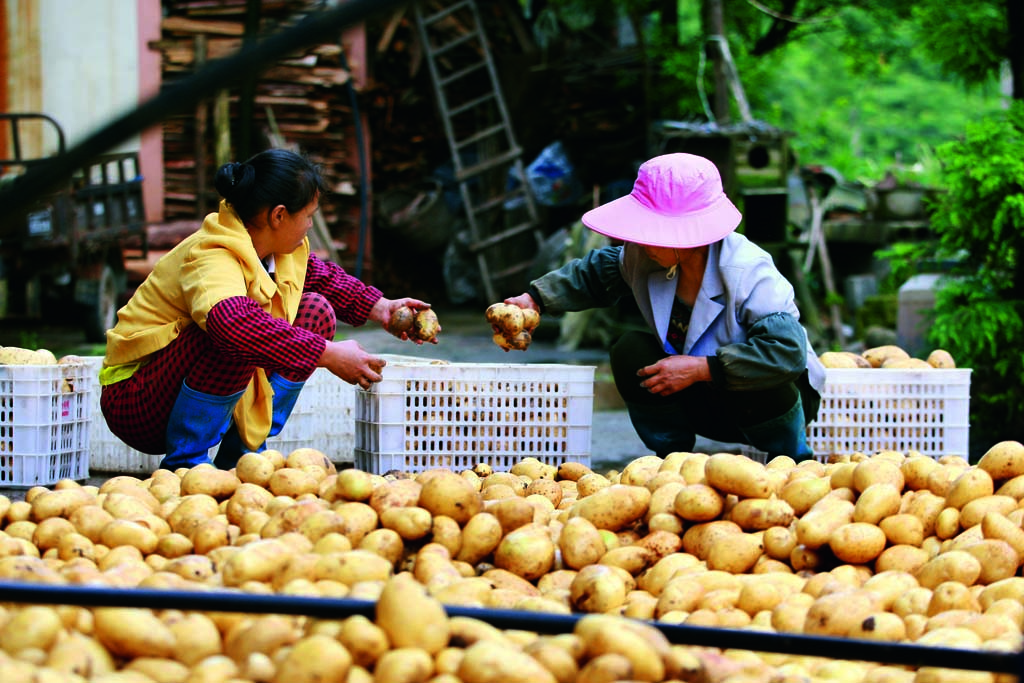 Every summer, Fengdu, a county in Chongqing Municipality in southwestern China, astonishes visitors with its stunning scenery: a vibrant leafy blanket of trees covers the surrounding mountains while sparkling rivers trickle through deep ravines under the canopy of a clear blue sky specked with white clouds. When rain arrives, a fine mist covers the landscape, making it seem like a traditional Chinese painting.
Ironically, the landscape added to local people's woes in the past. The towering mountains and steep gorges made the county difficult to reach, and a lack of roads and transport led to a dearth of businesses and factories, which meant very few employment opportunities. The lack of arable land meant farmers could not feed themselves solely through agriculture. Due to all these factors, Fengdu's economy remained stagnant for decades.
Like Fengdu, many places in China have remained trapped in poverty due to disadvantageous geography. It is incredibly difficult for the people living in such places to develop their economy from within because they lack advanced concepts and necessary investment.
However, after the Chinese government set 2020 as the deadline to completely eradicate poverty, the national taskforce for poverty alleviation identified counties with the weakest economies and began working to pull them out of poverty with targeted measures and funds. Fengdu was one of these counties.
A New Life
The changes in Zhang Jisheng's life mirror the changes that transformed Fengdu. The 53-year-old formerly worked as a migrant laborer in developed southeastern provinces. But after his wife developed psychological problems in 2015, he came back to look after his family. He started planting corn to earn a living, but the income of 2,000 to 3,000 yuan (US$291-436) per year was woefully insufficient.
To make things worse, his beloved son was also diagnosed with the same condition as his wife, which made Zhang begin to drift to a dark place.
"I contemplated suicide," he admitted. "Dying seemed easier than enduring the torture that life had become."
At this critical juncture, the local committee of the Communist Party of China (CPC) and the local poverty alleviation group stepped in. "We raised the money to send Zhang Jisheng's son to the hospital," reported Zhang Yuqun, a leader of the poverty alleviation group. "He only had to cover about 10 percent of the costs."
Zhang Yuqun has been living in the area for only a short time. She was dispatched to Fengdu specifically to help with poverty alleviation work. She is one of over 459,000 officials and personnel from state-owned enterprises and public institutions across China to have accepted assignments in regions in poverty since 2015.
Fengdu introduced policies to subsidize the medical expenses of impoverished families registered with the government. Now those families pay no more than 10 percent of costs should anyone fall ill.
"In the countryside, a major illness can send a family into poverty," illustrated Cao Ling, director of the Organization Department of the CPC Fengdu County Committee. "This policy ensures basic medical services for registered poor families and reduces their burden."
With Zhang Yuqun's help, Zhang Jisheng applied for a subsistence allowance earmarked for counties under assistance and received 540 yuan (US$79) per month in 2015. The allowance rose to 1,050 yuan (US$153) in 2017. His wife and son too were able to get an additional allowance for the disabled of 200 yuan (US$29) each month.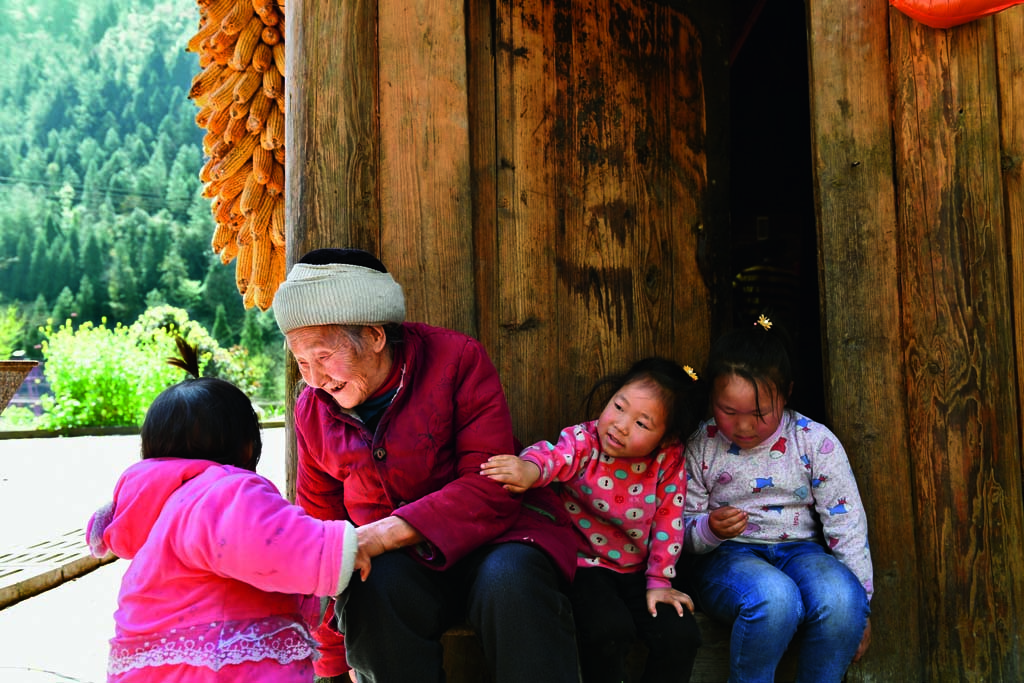 Self-reliance
The Sichuan pepper is a traditional commercial crop in Zhang Jisheng's hometown of Zhanpu Township. At harvest, the small town radiates the rich fragrance of ripe peppercorns. "Planting Sichuan peppers is friendly to the environment and also pulls farmers out of poverty," beamed Xiang Hailin, head of the township.
In 2015, the local government began encouraging farmers to plant Sichuan peppers and providing them interest-free micro loans. Zhang Jisheng applied for a loan of 30,000 yuan (US$4,356) to buy fertilizer and pesticides and hire pepper pickers.
"The government pays the interest on the loans, but only if farmers use the money to develop micro businesses," Xiang explained.
Zhang Jisheng's Sichuan pepper harvest brings in about 6,000 yuan (US$874) per year. But he has also landed another new job.
"The government offered Zhang Jisheng a job cleaning the village at a salary of 1,700 yuan (US$278) per month," Zhang Yuqun said. Providing public service jobs to villagers has proved an effective method to increase earnings while ensuring tangible contributions to society, especially in areas with important ecological resources such as grasslands, forests, rivers and lakes.
The local government is also providing poor families with financial and technical support to develop agricultural products with regional characteristics. For example, growing Sichuan peppers created output of 70 million yuan (US$10.2 million) in Zhanpu last year, lifting 155 local households out of poverty.
While developing industries with local characteristics, Fengdu is also tapping its tourism potential by cashing in on its scenic beauty. In 2017, a private company developed Jiuchongtian, a tourist site featuring a glass skywalk with a breathtaking view of a sea of flowers below. The site has made the once-isolated village known to the outside world and stimulated the local economy.
It has also created opportunities for locals. Liao Changrong, 46, used to work away in big cities. After his village became more developed and tourists began to swarm, he returned home to open a small hotel. Last year, it brought him net income of 200,000 yuan (US$29,105).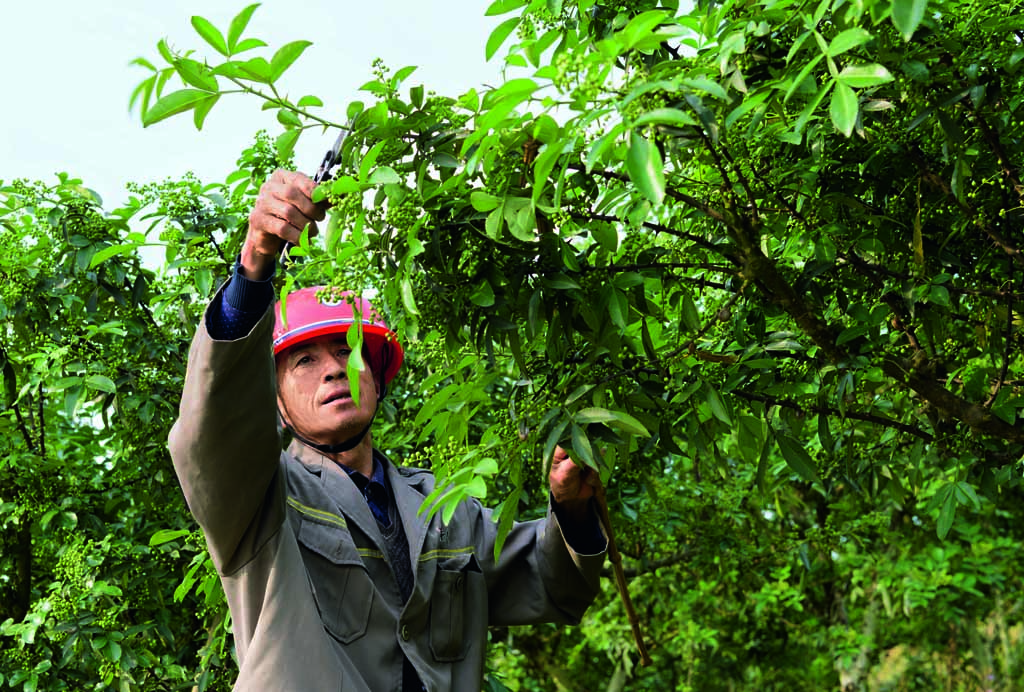 Partnership for Progress
As part of the poverty alleviation strategy, the central government of China encourages developed areas and big enterprises to assist disadvantaged areas. The country has seen growing collaboration between provinces from the developed east and regions of the developing west to eliminate poverty through the provision of administrative skills, capital and action plans. Fengdu has found a mentor in Zaozhuang, a city in Shandong Province. Zaozhuang is providing the county with advanced experience and technology to grow potatoes.
Tang Daixiang, a 54-year-old farmer who used to grow corn, switched to potatoes thanks to this assistance and earned 14,000 yuan (US$2,037) from his crop last year, almost 30 times more than his earnings from corn.
The central government of China has paired richer eastern provinces and municipalities such as Guangdong, Jiangsu and Shanghai with underdeveloped western provinces and autonomous regions such as Guizhou, Qinghai and Tibet to cooperate on poverty reduction through governance, capital and talent assistance.
Poverty relief has been high on the government's agenda since the founding of the People's Republic of China in 1949. The effort began to accelerate in 2012 after the CPC Central Committee set the 2020 deadline to eliminate extreme poverty. In 2013, the method of reducing poverty with targeted measures was introduced. Measures include a system tracking every impoverished household and individual to ensure that the poverty alleviation measures chosen for them deliver the desired effect. The approach has become the basic strategy in China's fight against poverty.
Alongside growing the incomes of rural residents earning less than 2,800 yuan (US$408) annually, the poverty alleviation campaign is also ensuring access to compulsory education for all, basic medical care and safe housing.
By the end of 2018, the poor population in rural areas had decreased from 98.99 million at the end of 2012 to 16.6 million. A total of 82.39 million people, equivalent to the population of Germany, were lifted out of poverty in only six years.
UN Secretary General António Guterres once noted China's poverty reduction achievements: "We should not forget the fact that China has contributed the most in world poverty alleviation in the past decade."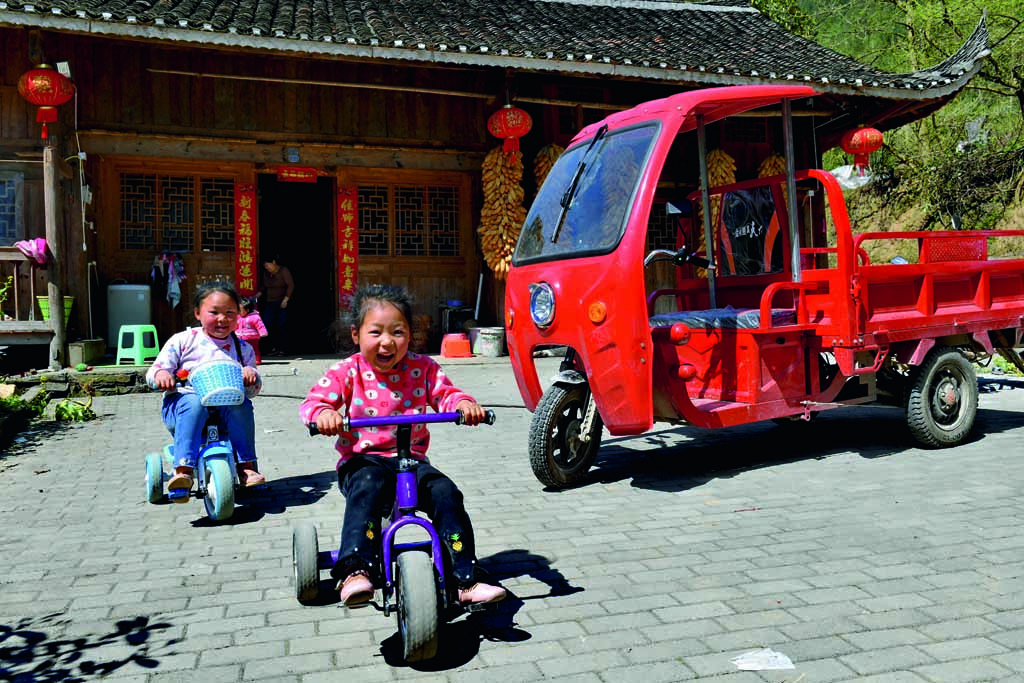 With poverty still dogging many developing countries, how did China make such an achievement? The answer lies in devising a complete blueprint with clear poverty reduction goals, tracking the poverty-stricken population and implementing the targeted poverty alleviation strategy.
Under this system, local officials are held accountable for their assigned goals, defining quantifiable benchmarks to assess their work. Moreover, financial institutions, state-owned and private enterprises and other members of society have joined hands with the government on the campaign, making it a nationwide endeavor.
At the 19th CPC National Congress in 2017, Chinese President Xi Jinping, also general secretary of the CPC Central Committee, stressed that the CPC has made a solemn promise to bring poor people and poor areas into a moderately prosperous society alongside with the rest of the country.
In Fengdu, local officials are confident they will reach their goal to eradicate extreme poverty by 2020, according to Cao. However, the work will not stop after that. "We will continue to strive for high-quality development every step of the way," she added.
Fengdu's story had a footnote added in 2017, when it passed the national evaluation and inspection and was removed from the list of China's impoverished counties.