Wins in the West ——Poverty Alleviation Efforts in Chongqing's Fengdu County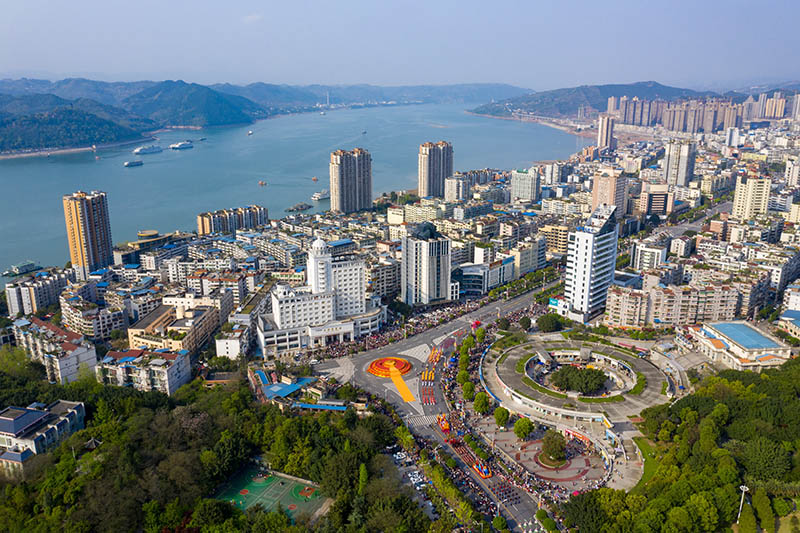 China created a world-shaking economic miracle over four decades of reform and opening up. However, the approach of letting its eastern and southeastern coastal regions develop first came at a price. As the eastern part of China developed in leaps and bounds and began participating in global competition in the digital revolution, many rural areas in the central and western regions are still plagued by relatively slow growth.
Developed cities with economic prosperity have generated tremendous demand for labor. Due to imbalanced development, countless farmers leave their rural homes in search of jobs in cities. As a result, many "hollowed villages" mainly inhabited by left-behind children, women and the elderly have emerged.
To reverse this trend, the Chinese government has formulated and implemented a series of development plans to boost economic growth of less-developed regions over the years. China has vowed to eradicate poverty by the end of 2020 after lifting more than 700 million people out of poverty in recent decades.
How will the nation achieve this goal? With this question in mind, we visited Chongqing, a major inland municipality in southwestern China. 
Poverty Behind Pastoral Scenery
A provincial-level municipality directly under the central government, Chongqing is a populous, developed metropolis. However, my destination was not the city proper, but Fengdu County under its administration. To a large extent, Fengdu retains the characteristics of many rural areas in China.
About a two-hour drive from Chongqing International Airport, Fengdu is located deep in the Three Gorges Reservoir area and has a population of 830,000. The Yangtze River wanders through forested valleys in the county, with many places left untouched. Due to frequent rainfall, the air and soil are wet most of the year. Waterfalls often pour down red-earth hillsides.
The picturesque pastoral scenery makes first-time visitors forget that Fengdu remains such an underdeveloped county lagging behind the pace of the times. In 2002, it was cited as a national poverty-stricken county. After 15 years of painstaking effort, it overcame the title in 2017. However, the county still suffers many problems such as markedly imbalanced development between rural and urban areas.
Moreover, Fengdu is plagued by "hollowed villages." The unfavorable geographical conditions in some areas make it even harder for them to develop modern agriculture. Most of the county's 30 townships are still lagging severely in economic development.
Based on the county's actual conditions and specific difficulties, the local government has implemented many innovative measures to solve existing problems and consolidate the achievements made in poverty alleviation, setting an example worth following for other areas.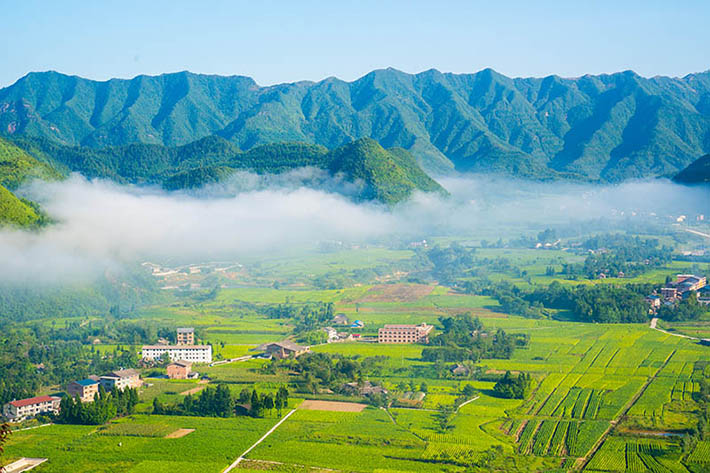 Regaining Vitality
A distance of about 30 kilometers separates the county seat from Luchunba Village, Sanjian Township. After crossing the Longhe River, a branch of the Yangtze River, we reached a residential settlement belonging to the No. 1 Team of the village. The riverside settlement is home to 18 households, but only 10 still have members living here. Because the village lacks job opportunities, nearly half of the local villagers have migrated to cities to work.
"The village has little tilled land, with limited output," admitted Zhu Xiaodong, vice chief of Sanjian Township. Old buildings dating back to the 1950s and 1960s were of high value for architectural research, but most were dilapidated after decades of weathering. Left-behind villagers were either elderly or disabled, so they were unable to repair their residences. The small village seemed to be on its last legs.
However, Yang Ming, first secretary for poverty alleviation in the village, got an idea that changed its fate. He surmised that the village could become a popular tourist spot, given its adjacency to the urban areas of Fengdu County as well as Chongqing Municipality, which would benefit local farmers.
Yang, his colleagues and local villagers worked out a development plan integrating cultural heritage protection, environmental conservation and economic growth.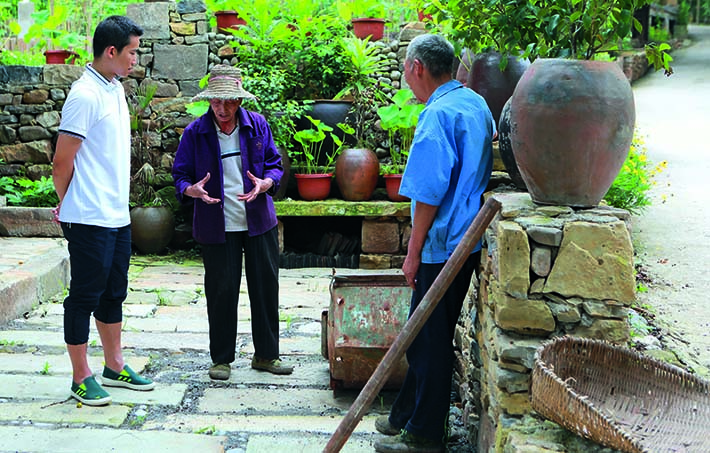 They first used funds from the state to improve the rural living environment to enhance the village's infrastructure and public facilities. They paved roads and parking lots and built flower beds, bamboo bridges over streams, modern toilets and pavilions linked by zigzagging corridors. Today, Luchunba Village hidden in a picturesque valley is a tourist haven. A rural hotel is under construction on the nearby hillside.
The investment by the government has paid off. Not only has the living environment of local villagers considerably improved, but also the village's potential for tourism development has become apparent. For this reason, local tourism developers were enthusiastic about providing funds to repair old buildings. For instance, a travel company from Fengdu County provided financial support for villagers to repair or renovate residences of historical significance. "If villagers choose to move to cities, they can rent out their repaired and renovated houses to the company for commercial use, and both parties share the profits for a period," explained Zhu.
Tourism began to boom quickly in the village, but it will still take some time to fully realize its potential. Villagers are confident the community will become the "green pearl" of Fengdu tourism and the tranquil valley near the village an ideal place for urbanites to escape stress and relax in leisure, with its influence radiating throughout the municipality of Chongqing.
The rapid development of Chinese cities has generated huge amounts of capital, part of which needs to flow to rural areas—through direct investment by enterprises or consumption by tourists from cities—to boost the development of the rural economy. Farmers can earn substantial income by renting out their houses, operating specialty restaurants and selling handicrafts, with no more need to leave their villages.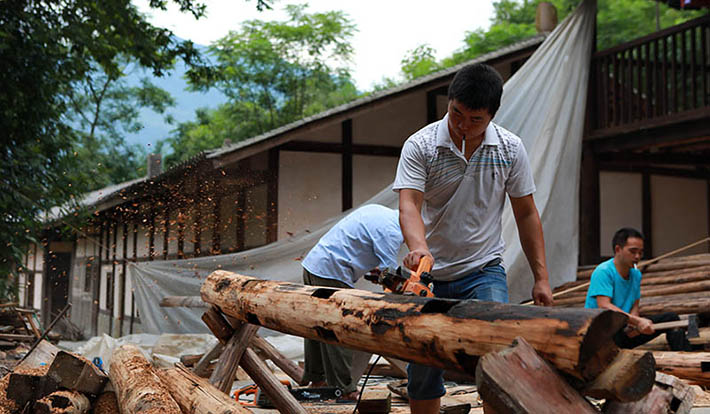 Bringing Entrepreneurship Back to Villages
It should be noted that alongside capital, migrant workers returning from cities also bring back an entrepreneurial spirit. Zhang Yuan, a native of Tianshui Village in Xingyi Town, Fengdu County, is a representative of local young entrepreneurs.
Born in 1986, Zhang ventured to the cities as a migrant worker after graduating from middle school like many rural youngsters of his generation. In 2003, he arrived in Beijing with his cousin, where he worked as a waiter and then a cook in a restaurant. He tried an online sales job, but it didn't work out.
In 2015, Zhang decided to return to his hometown, intending to find a bride. He also brought back experience and entrepreneurial skills developed during his 12-year stay in the nation's capital.
"I can't stay a migrant worker my whole life," he declared. "I wanted a more fulfilling life through a more independent profession, so I made up my mind to start my own business back home."
Now, Zhang is one of 100 e-commerce brokers working in Fengdu. The program is supported by the local government with an aim to help rural areas keep pace with booming e-commerce in cities.
Online shopping has become an integral part of daily life in Chinese cities. However, many rural areas have yet to benefit from the e-commerce boom. "The primary factor is underdeveloped delivery services in remote villages," explained Huang Hong, vice director of the Committee on Commerce of Fengdu County.
However, the situation has greatly improved in Fengdu. In 2017, a package distribution center was set up in the county. Packages transported by large express companies from around the nation arrive at the center before they are sorted for individual couriers to deliver them. Conversely, villagers selling local agricultural products online also distribute them through the center, significantly boosting their price point.
Every day, Zhang and his colleagues load up packages from the distribution center and deliver them to designated villages. Then, they collect agricultural products ordered online, pack them and take them back to the distribution center. They connect local farmers with online market opportunities from around the nation.
"Now, agricultural products arrive at the distribution center within 24 hours after buyers order them online," Huang beamed. "Then they go to every corner of China."
Zhang has now had two children and his dream of starting a business has come true. "Although my income is similar to working as a migrant worker in big cities, the perks are better—I can live with my family."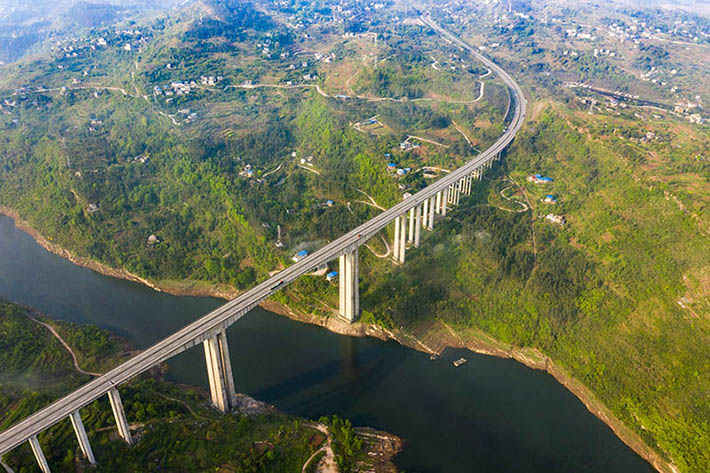 "School for Parents"
Education is the key to wealth creation and equality of opportunity. Over the past few years, Fengdu County has made key achievements in educational development. To narrow the educational gap between the county and larger cities, the local government embraced innovative educational ideas.
The county's Huwei Town—more specifically, Daxi Village in the town—has accumulated useful experience with innovative education concepts. The village has spared no efforts to promote education. "Compared to its peers in other areas, the village's school lags behind in terms of facilities and curriculum," revealed Hu Xiaofei, vice dean of Moral Education Office of Binjiang Middle School in Fengdu. "Of the village's 65 children aged three to seventeen, 22 are being raised by grandparents because their parents are working elsewhere."
China has achieved a giant leap forward over the past four decades, but a massive intergenerational gap persists. "This gap is particularly obvious in educational methods," explained Qin Jiaxiong, vice director of the Trade Union of Binjiang Middle School. He left the city for Daxi Village to work on poverty reduction through promoting education.
"Poverty alleviation through education should have started with these children's parents," Qin stressed. "Then, they would have been able to teach their own children and guide them." Based on this philosophy, he conceived an educational program not for children but for parents logically called "School for Parents." Last year, the first "School for Parents" began offering free courses on child education for parents once a month. The courses involve a wide array of topics including how to cultivate team spirit, honesty, self-improvement, independence, responsibility and confidence, how to meet goals in life, how to address setbacks, how to make studying fun and how to nurture morals and ethics.
He Lianhua, 35, is a student at the "School for Parents." She has two sons, who are five and 15 years old. The older son was mainly raised by his grandparents because his mother worked in a factory in Guangdong Province for eight years and his father worked as a long-distance truck driver. "Over the years, we felt our older son slipping away from us," recalled the mother. "He got out of control and refused to obey us. My husband and I were at our wits' end. Thanks to the 'School for Parents,' I began to rethink my parenting methods. Its courses helped me better understand myself. I'm no longer thinking about myself in child education and stopped blaming my son."
Years spent living in cities helped He Lianhua broaden her vision. She is eager to learn and hopes her children will have a better future. "Farmers need to keep pace with the times to connect with people from other spectrums of society and communicate with them," she stressed. In her eyes, the "School for Parents" just provides an ideal platform.
To spread innovative education, Qin Jiaxiong compiled relevant textbooks and distributed them in poverty-stricken areas. At the same time, a group of projects like the "School for Parents" program have been carried out around Fengdu.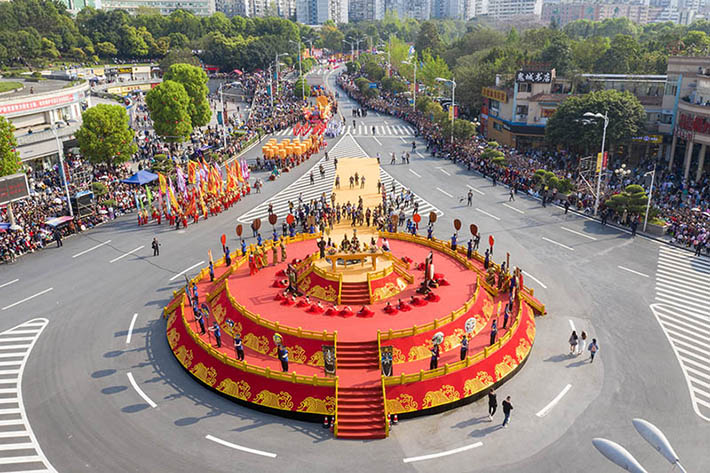 A Long Way to Go
Fengdu's successes prove that funds, entrepreneurial spirit and innovative education ideas—all important factors driving development—are all making their way to China's poverty-stricken areas. But there is still a long way to go for the living standards in underdeveloped regions to catch up with developed coastal areas.
From a long-term perspective, only when different regions enjoy equal opportunities and developed areas actively help less-developed places can the whole country achieve coordinated development. Ensuring that China achieves better development and common prosperity requires proactive measures. To this end, we must ensure funds and other resources are properly used where they are most needed, instead of wasted.
Only strict allocation of resources will ensure China can use its own strength to overcome imbalanced development and achieve the goal of eradicating poverty.