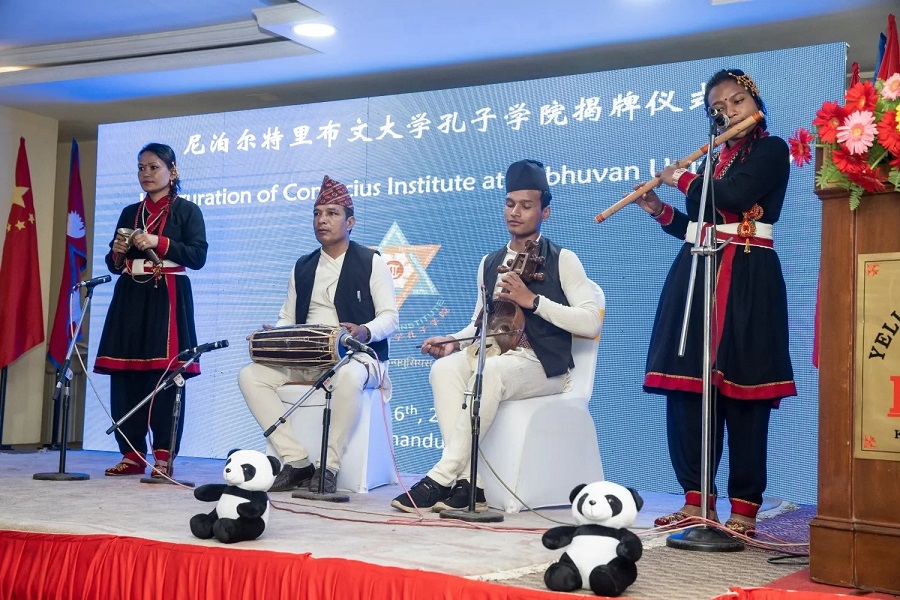 "It was a dream come true for me to see what China looks like today," Nepali Ambassador to China Bishnu Pukar Shrestha said to China Pictorial (CP) during an exclusive interview on China-Nepal relations and his take on China's development. The former human rights activist and community teacher views diplomacy from a new perspective and is eager to make practical efforts to promote bilateral relations.
China and Nepal have engaged in fruitful cooperation in infrastructure construction since the South Asian country joined the Belt and Road Initiative (BRI) in 2017. This year, China will help Nepal conduct a feasibility study and survey for a planned China-Nepal cross-border railway. The Nepali government and people want the railway project to happen as soon as possible, according to Ambassador Shrestha. "Such a project will not only connect the two peoples physically, but also help build heart-to-heart connections."
CP: You had been engaged in education and human rights undertakings at the community level in Nepal for a long time before you became devoted to diplomatic work. In your view, how does that experience help with diplomacy?
Shrestha: Diplomacy is about developing relations between people from different countries, and the knowledge and experience I have accumulated from education and human rights undertakings have helped me a lot in that field. I taught about socioeconomic conditions for nearly three decades. I also worked as a human rights activist for a long time and chaired the Campaign for Human Rights and Social Transformation, a non-government organization in Nepal advocating protection and promotion of human rights. Human rights issues cover a broad scope of economic, social, political, and other aspects and inspire me to drive social transformation and view international relations among and between countries from a different angle. I haven't done all that much for human rights.
CP: As the new Nepali ambassador to China, what are your priorities during your term here and what is your expectation for the bilateral relationship?
Shrestha: Nepal and China established diplomatic ties in 1955, ushering into a new era for the deep and ancient bonds of friendship between the two countries and the two peoples. But Nepal and China are not only working as diplomatic partners; they have different layers of relations beyond the common diplomatic ties. The Nepal-China relationship is a unique one with people-to-people and cultural exchange dating back to ancient times and the two peoples enjoying a deep foundation of mutual understanding and trust. No other bilateral relations are as robust and unique as those between Nepal and China.
My work focus, first and foremost, is to strengthen and deepen bilateral relations. I will make more pragmatic efforts to promote bilateral trade and investment and expand people-to-people exchange and tourism cooperation, but at the same time, the two sides have to work together to resume day-to-day activities after the COVID-19 pandemic disturbed transportation between the two countries. Both sides are working to solve the issue. Recently, several loaded trucks arrived in Nepal from China. I hope the Chinese government also encourages Chinese companies to participate more in various areas of investment in Nepal to help bilateral relations move forward in the direction of win-win cooperation.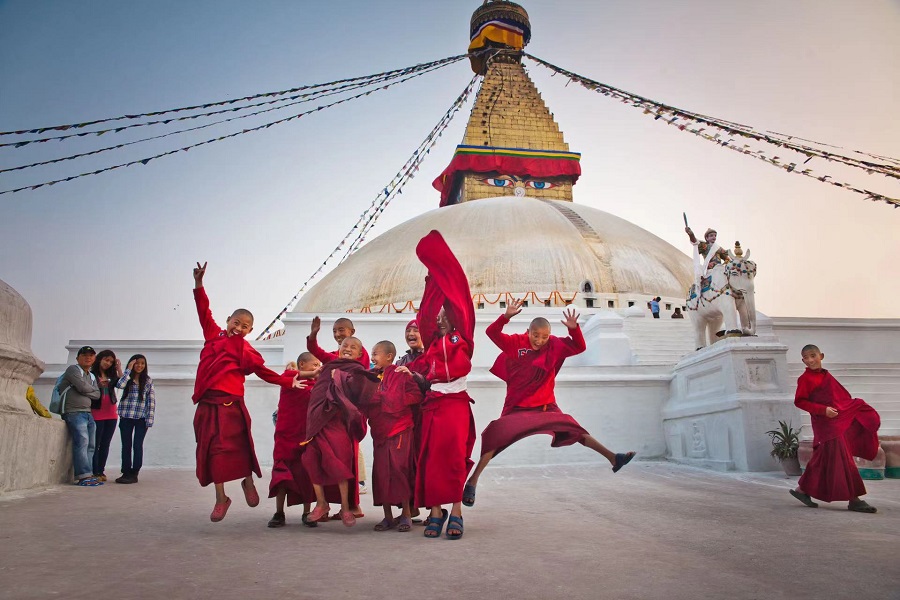 CP: What impresses you most in China and what do you think of China's development in recent years?
Shrestha: Only 75 days have passed since I assumed office in China, but I have already been impressed by the economic development of the country. I got the opportunity to go on a business trip to Qingdao, eastern China's Shandong Province, the old and modern city famous for its beer brewery, and to Yinchuan, capital of northwestern China's Ningxia Hui Autonomous Region.
The trip to Ningxia was particularly exciting because I realized that the region and even the country's development miracle all boils down to the important "3Ps," namely policy, people, and programs. Good policy, reliable programs, and committed people can turn deserts into forests, provide development opportunities, and transform the country. I think that's an important reason China has been able to continue injecting momentum in global growth even during a worldwide economic slowdown.
CP: China and Nepal enjoy excellent age-old relations. What do you think of the significance of cultural and people-to-people exchange between the two countries? What is your hope for bilateral relations in this respect?
Shrestha: The Nepal-China relationship has a long-standing history. The friendly relations between the two countries have evolved since the days of the Nepali monk and scholar Buddhabhadra (359-429) who translated Indian Buddhist texts into Chinese in the early 5th century, and visits to Nepal by Chinese monks Faxian (334-420) and Xuanzang (602-644). As Buddhism and Hinduism developed and changed over the centuries throughout Asia, both religions prospered in Nepal.
Looking ahead, it's important to promote high-level visits between the two countries that send a message to the community as well as local-level exchange. My diplomatic priority is to enhance people-to-people exchange. The media can play an important role in helping the two peoples learn more about each other. I should admit that this is a dream come true for me to serve as an ambassador and see what China looks like today. I believe the Nepalese people are all excited to learn more about China. Likewise, I hope more Chinese people visit Nepal and see the beautiful tourist country in person.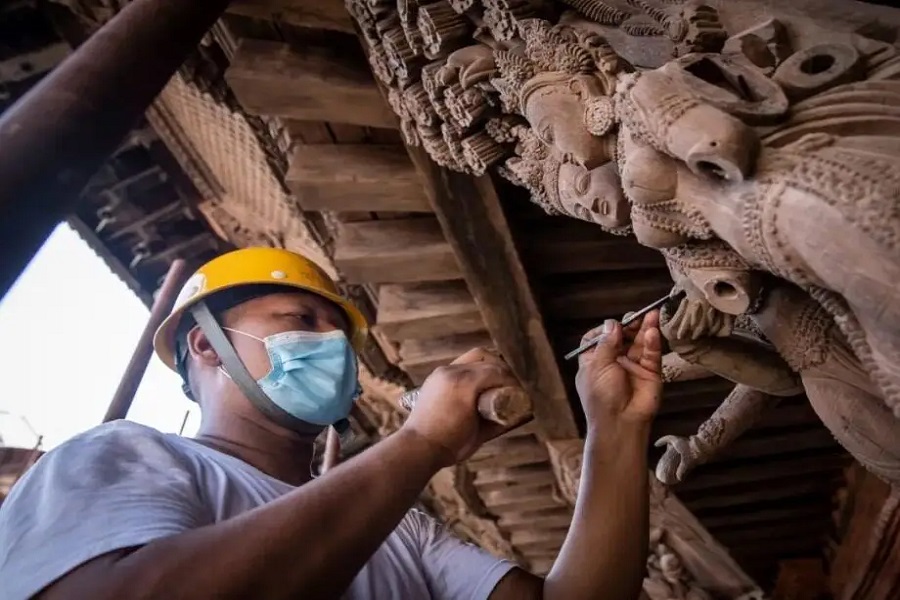 CP: China-Nepal cooperation has gained momentum since Nepal joined the China-proposed BRI in 2017. In what areas has China-Nepal cooperation achieved fruitful results over the years?
Shrestha: The focus of the BRI is connectivity. The BRI has a very deep philosophical meaning like it is waking up the ancient history of the Silk Road. Nepal is glad that it joined the initiative five years ago. Nepal is an underdeveloped country and it cannot construct mega projects on its own, so it needs to work with China. The two countries have carried out fruitful cooperation in infrastructure construction covering roads, airports, electric power generation, and water conservancy.
In an August meeting between Chinese State Councilor and Foreign Minister Wang Yi and Nepali Foreign Minister Narayan Khadka, Wang announced China would use aid funds for Nepal to support the feasibility study for the China-Nepal cross-border railway and send experts to Nepal to conduct survey work this year. This is of utmost significance for trade, transport, investment, and people-to-people exchange between the two countries. Such a project will not only connect the two peoples physically, but also help build heart-to-heart connections.
CP: The cross-border railway project between China and Nepal is an important consensus reached by the heads of state and a project of the century for China-Nepal connectivity. How important is cooperation on such infrastructure projects for Nepal?
Shrestha: Connectivity is fundamental to the widening and strengthening of bilateral relations. The China-Nepal cross-border railway is designed to link Shigatse in southwestern China's Tibet Autonomous Region to Kathmandu, the capital of Nepal. Once the railway is completed, connectivity between the two countries will be enhanced by minimizing the time, cost, and effort while maximizing the output of bilateral trade and investment. The railway will help bring excellent Nepali goods such as cashmere fabrics, wood products, handicrafts, and organic alpine agricultural products to China while transferring China's technological development to Nepal.
The Nepali government and people are looking forward to the construction of the railway. Nepal will definitely benefit from it in trade and people-to-people exchange. At the same time, the railway can also strengthen China's connectivity with South Asia.
CP: China and Nepal will negotiate and finalize an implementation plan for BRI cooperation and convene a meeting of the Joint Commission on Economy and Trade later this year. Could you tell us more about the plan and meeting?
Shrestha: A number of joint committees have been formed under the mechanism of the Joint Commission on Economy and Trade to deal with commerce, health, agriculture and other matters. My duty is to activate all those committees and ensure we are on the right track to meet BRI objectives. We are working on finalizing the implementation plan for BRI cooperation, which will pave the way for enhancing further cooperation such as selection of projects and modality of financing. The Nepali government is in the final phase of preparation for these projects and hopefully implementation will start soon.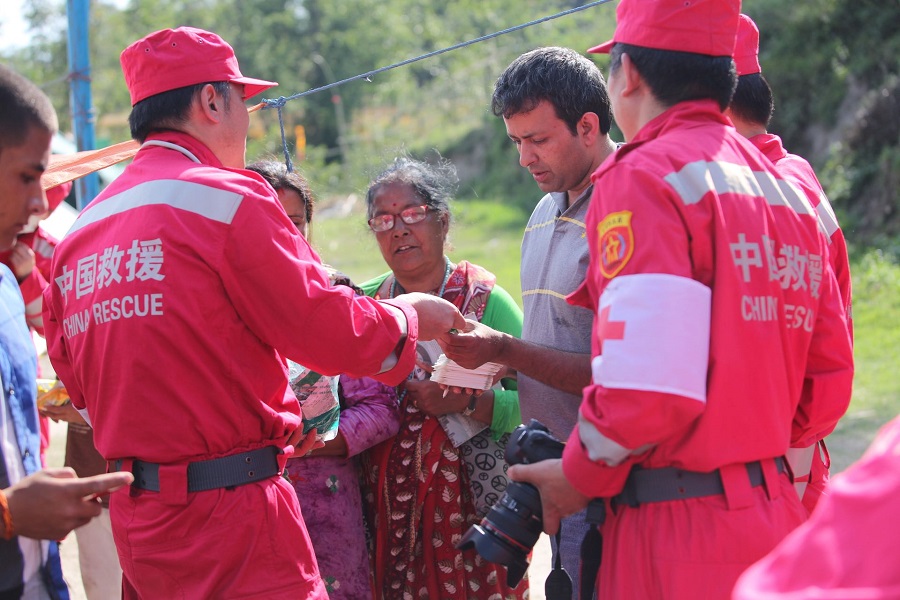 CP: When the world is living through accelerating changes unseen in a century and continued spread of the COVID-19 pandemic, Chinese President Xi Jinping proposed the Global Development Initiative (GDI), calling to bolster confidence and jointly address global threats and challenges to build a better world for all. In your opinion, what role will the GDI play?
Shrestha: The GDI is not about the development of any single nation, community, or group of people. It meets the common aspirations of the international community to achieve the Sustainable Development Goals, and its implementation will be an important practice for the international community to protect human rights and expand democracy. That is the main theme of the GDI. The initiative has been well received in Nepal, and Nepal plans to complete two projects under the GDI.
CP: This October, the 20th National Congress of the Communist Party of China (CPC) will open in Beijing. What are you looking for at the congress?
Shrestha: The whole world is looking to Beijing, China, for the big political event. Messages about the congress circulating on social media worldwide show that people are highly interested. It is also an exciting moment for me because democracy with Chinese characteristics will develop to a new level at the meeting. My expectations for the congress is that it will lay the foundation for building China into a modern socialist country that is prosperous, strong, democratic, culturally advanced, harmonious and beautiful.