Building a Community of All Life
The 2020 UN Biodiversity Conference (Part 1) was postponed due to the COVID-19 pandemic and ultimately held in Kunming, capital of southwestern China's Yunnan Province, from October 11 to 15, 2021. Guests from around the world attended to discuss global biodiversity protection.
"Lucid waters and lush mountains are invaluable assets," proclaimed Xi Jinping, then secretary of the Communist Party of China (CPC) Zhejiang Provincial Committee, during an inspection trip in Anji County, Zhejiang Province, in August 2005.
"Man and nature need to coexist in harmony," said Chinese President Xi Jinping, also general secretary of the CPC Central Committee, in his keynote speech at the Leaders' Summit of the 15th meeting of the Conference of the Parties to the Convention on Biological Diversity (COP15). "When we take care to protect nature, nature rewards us generously. When we exploit nature ruthlessly, it punishes us without mercy. We need to have deep reverence for nature, respect nature, follow nature's laws, and protect nature to build a homeland of harmonious coexistence between man and nature."
The international community has been attaching ever greater importance to biological protection and increasingly agrees with China's ideas concerning biodiversity conservation.
World Voices
At the conference, representatives from all over the world shared opinions and offered suggestions on global biodiversity conservation.
Inger Andersen, executive director of the United Nations Environment Programme, argued that loss of biodiversity is irreversible. In order to achieve the goal of sustainable development, all parties must further increase political will, formulate relevant policies, strengthen transparency and accountability, and effectively solve the problems concerning the loss of biodiversity with greater courage.
Elizabeth Mrema, executive secretary of the United Nations Convention on Biological Diversity, emphasized in her speech that in the field of protecting and restoring biodiversity, breakthroughs are needed in the next decade. Achieving the goal of living in harmony with nature by 2050 requires biodiversity to begin to recover by 2030 at least.
Zsuzsanna Jakab, deputy director-general of the World Health Organization, hopes to establish a comprehensive cooperation mechanism and cross-sectoral and cross-departmental working methods. She talked about formulating an operational framework and making biodiversity conservation mainstream to create an ecological civilization that is healthy and sustainable.
Huang Runqiu, chairman of COP15 and China's Minister of Ecology and Environment, said that to achieve the targets of the post-2020 global biodiversity framework, concrete action is crucial. This was a consensus shared by all participants at the conference. "We must make biodiversity conservation a policy priority and take effective measures in areas like food systems, infrastructure investment, energy, and land use."
China's Contributions
China has been taking major action to protect biodiversity.
In his speech, President Xi announced that China will take the lead by investing 1.5 billion yuan (US$233 million) to establish the Kunming Biodiversity Fund to support biodiversity protection in developing countries.
Li Haisheng, president of the Chinese Research Academy of Environmental Sciences, said that the fund Xi announced is multilateral and that China hopes the international community will also eventually contribute. It will mainly be used to fund research and exchange on biodiversity conservation as well as conferences and dissemination of knowledge.
Dmitry Gorshkov, director of World Wildlife Fund (WWF) Russia, said China's support for biodiversity conservation in developing countries has set a global model. He expressed hope that more countries would contribute to the fund.
On October 13, the High-Level Segment of the UN Biodiversity Conference 2020 adopted the Kunming Declaration. The Declaration was intended to "ensure the development, adoption, and implementation of an effective post-2020 global biodiversity framework, that includes provision of the necessary means of implementation, in line with the Convention, and appropriate mechanisms for monitoring, reporting and review, to reverse the current loss of biodiversity and ensure that biodiversity is put on a path to recovery by 2030 at the latest, towards the full realization of the 2050 Vision of 'Living in Harmony with Nature.'"
Huang Runqiu said that the Kunming Declaration sends a strong signal about the world's determination to solve the problem of global biodiversity loss and demonstrate that countries will take stronger action on related issues.
Elizabeth Mrema said that China has become a global leader in biodiversity protection and will continue to play a leading role in this regard. She stressed that China's experience is worth learning in other parts of the world.
Kunming Actions
Although Yunnan Province, where the conference was held, only accounts for 4.1 percent of China's land area, its endangered species account for 67.5 percent of the country's total. It holds a pivotal position in China's biodiversity.
Dianchi Lake with a water surface of more than 300 square kilometers rests on the Yunnan-Guizhou Plateau, where it is known as the "Pearl of the Plateau." Because it is just southwest of Kunming, it is also called Kunming Lake.
Nowadays, many little white flowers can be seen on the surface of Dianchi Lake. They are Ottelia acuminata, a species of aquatic plant mainly growing in southern and southwestern China. This plant is rooted under the water, but its flower blooms on the surface. Due to its stringent requirements for water quality, it is considered an indicator of good water quality.
"Decades ago, the water here was full of them, densely packed like a lotus pond," recalled Yang Junxing, a researcher at the Kunming Institute of Zoology under the Chinese Academy of Sciences.
However, large-scale utilization and pollution caused Dianchi Lake to gradually lose its glory in the second half of last century, and its water quality dropped from Grade I (potable after simple filtration) to below Grade V. China's classification of water quality ranges from Grade I at the top to Grade V (water can only be used for agriculture and general landscape). When water drops below Grade V, it is no longer classified as usable water.
The area of Dianchi Lake only accounts for 13.8 percent of Kunming, but 60 percent of Kunming's population lives around it, and the area's GDP accounts for 78 percent of the city's total. Huang Yuhong, deputy director of Kunming Dianchi Plateau Lake Research Institute, said that Dianchi Lake is very important to Kunming's economic and social development as it plays an important role in controlling floods, regulating climate, and boosting the development of local tourism, shipping, industry, and agriculture.
Since the 9th Five-Year Plan period (1996-2000), the Chinese government has listed Dianchi Lake as part of the "Three Rivers and Three Lakes Program," including the Huaihe, Haihe and Liaohe rivers and Taihu, Chaohu and Dianchi lakes that are all located in densely populated areas in China. The social and economic development of nearly half of China's provinces, municipalities and autonomous regions, as well as the quality of life of local people, is closely related to these waters. Through projects such as pollution interception around Dianchi Lake, diversion of water from the outer river basin, improvement of rivers entering the lake, treatment of rural non-point source pollution, ecological restoration, and silt dredging, the locals are curbing incremental pollution while reducing existing pollution.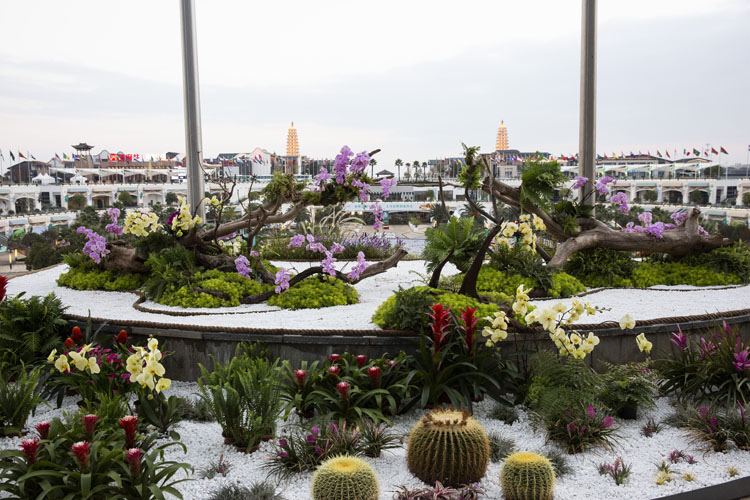 "By the end of 2020, Kunming had built 28 sewage treatment plants and 100 storage tanks in the Dianchi Lake area," said Huang. "During the 13th Five-Year Plan period (2016-2020), the city built 400 kilometers of urban sewage pipelines."
More than two decades of endeavors have lifted the water quality of Dianchi Lake back to Grade IV.
"Treating lakes is a relatively long process." Huang remains cautiously optimistic about future treatment of pollution related to Dianchi Lake. Considering it took nearly 30 years for the lake to recover from below Grade V to Grade IV, the current goal is to maintain Grade IV and reach Grade III by 2035.