Building a Literary Community of Women
For many years, I've been devoted to academic research on women's literature and writers' gender consciousness. Recent efforts have been poured into the study of Chinese women's literature through conducting a survey on the gender perspective of Chinese writers, compiling Annual Anthology of Chinese Women's Literature and Album of New Female Writing in China, and formulating the quarterly ranking list "The Best Literary Works by Chinese Women." All of these efforts aim to build a community of women in a literary sense.
In the second half of 2018, I conducted one of the earliest questionnaire surveys on gender perspective in China by interviewing 127 contemporary Chinese writers including Tie Ning (born in 1957), A Lai (born in 1959), Yan Lianke (born in 1958) and other well-known writers from China and beyond. In my opinion, gender perspective is an indicator of the values of a person and the civilized level of a society.
The survey showed that contemporary writers are fully aware of gender equality, which is important. Some other more subtle findings were also worth analyzing. For instance, in response to the question on when they became sexuality or gender conscious, many writers answered based on the perception of their sex identity. In fact, sex and gender are not necessarily the same, and we need to focus more on their perception of gender. When asked this question, famous writer Su Tong responded, "When writing Madame Bovary's story, Gustave Flaubert must have put himself in Emma Bovary's shoes." He meant that Flaubert transcended his sex identity when writing and chose to see the world from a woman's view. For another example, responding to whether they could overcome their own gender consciousness in writing, many male writers answered that gender is part of themselves, while female writers often suggested that they would overcome female weaknesses, which reflects a sense of hesitancy in their consciousness towards the female identity.
Tracing the history of Chinese literature over the past century, we came to realize that the stances, cadences and perspectives of female writers, such as Bing Xin (1900-1999), Lu Yin (1898-1934), Ding Ling (1904-1986), Xiao Hong (1911-1942), and Zhang Ailing (1920-1995), differed sharply from males. Female writers have substantially enriched modern Chinese literature, making contributions every bit as brilliant as male writers.
Our discussion of writers' gender consciousness and female writing is based on respect for differences on equal footing. Focus on women's identity, as well as emphasis on female writing and women's stances, fosters understanding and inclusiveness rather than isolation and exclusion. On March 8, 2020, the Chinese literary journal October and I presented a special issue themed "New Female Writing," in hopes of distinguishing modern female works from the past and calling for a broader and richer view of female writing that covers women's existence in wider fields.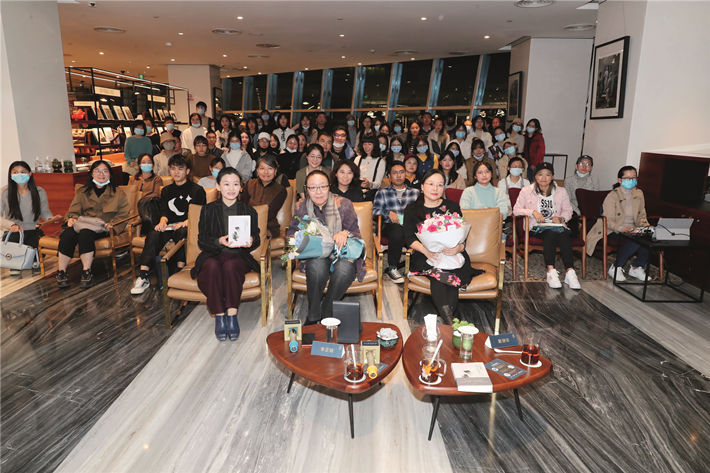 In my opinion, female writing ideally features an intricate "nerve" network that connects women with men, women with women, humans with reality, and humans with nature. "New Female Writing" should respond to the complexity of femininity and gender issues, underline the gender identity of the writers, observe and understand women and femininity in social relationships, and analyze the different positions on gender issues affected by ethnic groups, social classes, economic and cultural differences, and other factors. In my view, female writing is a flexible and inclusive concept that demands robust discussion.
Regarding the global influence of Chinese female authors, Zhang Jie (1937-2022) became the first Chinese female writer to be accepted worldwide in the 1980s. She became well known in countries including Germany and the United States. Without hiding her Chinese characteristics, Zhang honestly portrayed the determination and independence of Chinese women as well as the various difficulties and annoyances they encountered. Other contemporary Chinese female writers such as Wang Anyi (born in 1954) and Chi Zijian (born in 1964) have also received much attention overseas. In recent years, Chinese women's literature has been booming, especially with the rise of female writers in the field of internet literature and science fiction. Many Chinese female writers born in the 1980s and 1990s have an excellent literary sense. Educated overseas, they are equipped with broad knowledge and a promising future.
In my gender perspective survey, I asked some young female writers to name their favorite female writers. Answers varied from British writer Jane Austen (1775-1817) to Canadian author Alice Munro (born in 1931), winner of the 2013 Nobel Prize in literature, and so on, including most of the big names in the field of global female literature, which evidences how well-read they all are. Chinese women's literature is part of world literature. More and more works by contemporary Chinese female writers are getting translated into foreign languages. I am confident in the development of Chinese women's literature and look forward to an increasing number of female writers expressing themselves in a more frank and comfortable manner—more women's voices will be heard, and more women's lives will be seen.