Changier Holds HLPF 2022 Side Event on Sustainable Development for Vulnerable Women and Girls
The United Nations (UN) High-level Political Forum on Sustainable Development (HLPF) opened at the UN Headquarters in New York on July 5. Amina Muhammed, deputy secretary-general of the UN, Collen Kelapile, president of the Economic and Social Council (ECOSOC), Qu Dongyu, director-general of the Food and Agriculture Organization, and other UN officials delivered speeches at the forum.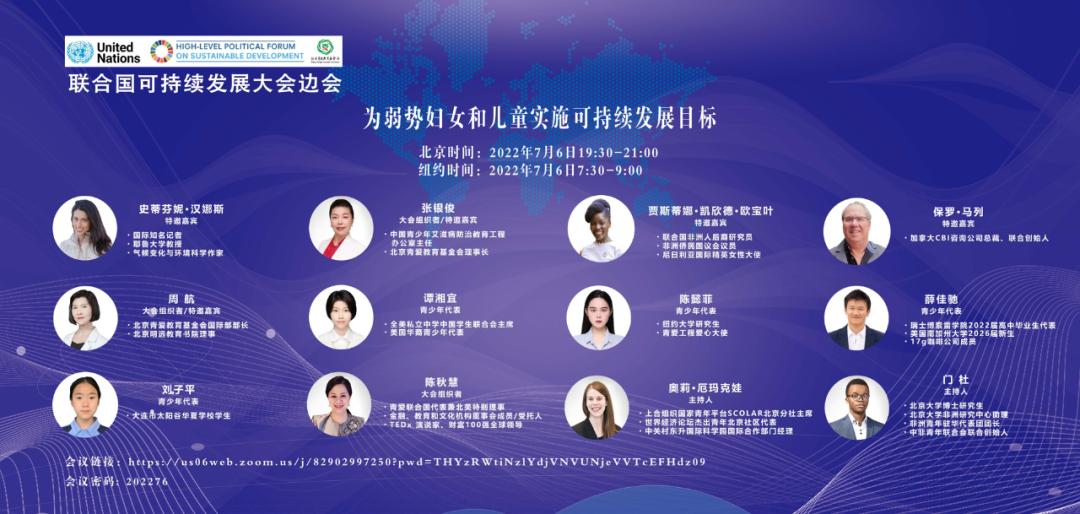 On July 6, Beijing Changier Education Foundation undertook a side event online under the theme of "Implementing Sustainable Development Goals for Vulnerable Women and Children," gathering international experts to share solutions and suggestions for promoting and realizing the sustainable development of women. More than 220 experts and scholars, non-governmental organizations and youth representatives engaged in the protection of women's rights attended the event.
How can vulnerable groups such as women and children be shielded from the impact of global warming, so that the personal development of women and youth can play a greater role in the rebuilding and development of local communities? Stephanie Hanes, an award-winning journalist, professor at the Yale University and author whose work has focused on climate change and environmental science, raised three suggestions. First, the impact of discrimination and climate change on vulnerable groups should not be deduced purely from concepts. It is necessary to listen to the stories of individual communities and understand their unique needs and goals. Second, we must use networked and diversified thinking to propose bottom-up, local solutions. Third, we must develop deep human values ​​that transcend politics and ideology, and use dignity, love, hope and resilience to promote human cooperation on sustainable development.
As one of the organizers of the side event, Zhang Yinjun, director of the AIDS Prevention Education Project for Chinese Youth Office and chairwoman of Beijing Changier Education Foundation, said that AIDS has always been a stumbling block for promoting women's role in sustainable development. Changier takes ending AIDS and caring for women as its fundamental goals and has been committed to promoting gender equality and safeguarding the rights and interests of women and children in China and developing countries around the world. Changier has carried out public welfare projects in more than 1,200 schools and communities in 28 provinces in China, benefiting more than 30 million people, of which 60 percent are women. The foundation's public welfare projects have promoted AIDS prevention and sex education into the scope of Chinese law and policy supervision, changed the status quo of sexist culture, trained a group of sex education teachers with awareness of gender equality and children's rights, and subsidized many girls to obtain equal education and development opportunities. Through publicity and advocacy, Changier raised the awareness of the protection of girls in families, schools, communities and society, and effectively reduced the spread and occurrence of HIV, school bullying, and sexual assault among women. The foundation will continuously practice as an institution in special consultative status with the ECOSOC, actively carry out international exchanges, assistance and cooperation, promote AIDS prevention and control, and protect the rights and interests of women and children.
The COVID-19 pandemic has placed women and children even in more vulnerable situations, further exacerbated injustice and inequality, and made it even harder to achieve the Sustainable Development Goals (SDGs) for vulnerable women and children. Justina Obaoye-Ajala, UN fellow for People of African Descent, member of the Parliament of the State of the African Diaspora, and ambassador of Nigeria for International Elite Women, provided her recommendations in this regard. The government should strengthen publicity through education and public programs to let the public know that all forms of discrimination against women and child abuse are illegal, all victims of such abuse should be protected and the accused should be punished; All necessary measures should be adopted to reform or eliminate discriminatory laws, cultural practices and stereotypes; The government should invest both financial and human resources to provide better education for vulnerable children; Discriminatory social norms should be eliminated to ensure that women receive the same decent work with equal pay, and enjoy same leadership and decision-making power as men; The government should prioritize public policy support to ensure women and children are well protected; Policy support should be provided to ensure quality education and employment opportunities for the youth, and encourage them to participate in national development.
Paul Malette, president and co-founder of CBI Consultants based in Vancouver, Canada, introduced CBI's inclusive practices and training for children with disabilities. Twenty years ago, he brought integrated education to China together with Tao Liangui, director of an autism special fund under Beijing Changier Education Foundation, which led to the cooperation among the three organizations, helping many Chinese children with autism and other developmental disabilities change their lives. The collaboration between CBI and Changier has demonstrated the effectiveness of the inclusive early childhood education model known as the "Teaching Pyramid." This model is based on evidence-based practices to support the social emotional competence of all children, including children with the full range of disabilities from learning deficit to autism. Many predictors of inclusiveness in practices, including person-centered planning, full participation in formal education, paid employment, and direct instruction on self-determination in life skills, are critical to the development of children with disabilities. CBI is willing to cooperate with Changier to train and support Chinese teachers, families, institutions and businesses to carry out research-based inclusive practices to promote gender equality and equal opportunities in terms of education and employment for disadvantaged groups, especially children with autism and other disabilities.
The "Me Too" movement, Tangshan beat-up incident, and the very recent overturn of Roe v. Wade ruling on abortion rights by the United States Supreme Court have made people reflect on the status and rights of women again and again. Zhou Hang, director of the International Department of Beijing Changier Education Foundation and council member of Beijing Mingyuan Education Academy declared that the role of women cannot be evaluated by economic outcomes because the contribution of women to society far exceeds the income they earn. Equal career opportunity and income are basic human rights women should enjoy. Changier has carried out teacher training and publicity activities in schools and communities for AIDS prevention and control, sexual health and mental health education for young people, and has promoted the inclusion of sex education in school syllabuses, protected by the Law of the People's Republic of China on the Protection of Minors and the Outline on the Development of Chinese Children (2021-2030), benefiting hundreds of millions of young people and families in China. The key of the success of Changier projects is that all sectors of the community are motivated and work together under the unified mission. Changier hopes to join hands with organizations all over the world that share the same vision and work towards SDGs for underserved women and youth.
The youth, driving force in fulfilling SDGs, share their stories and practices in the implementation of sustainable development.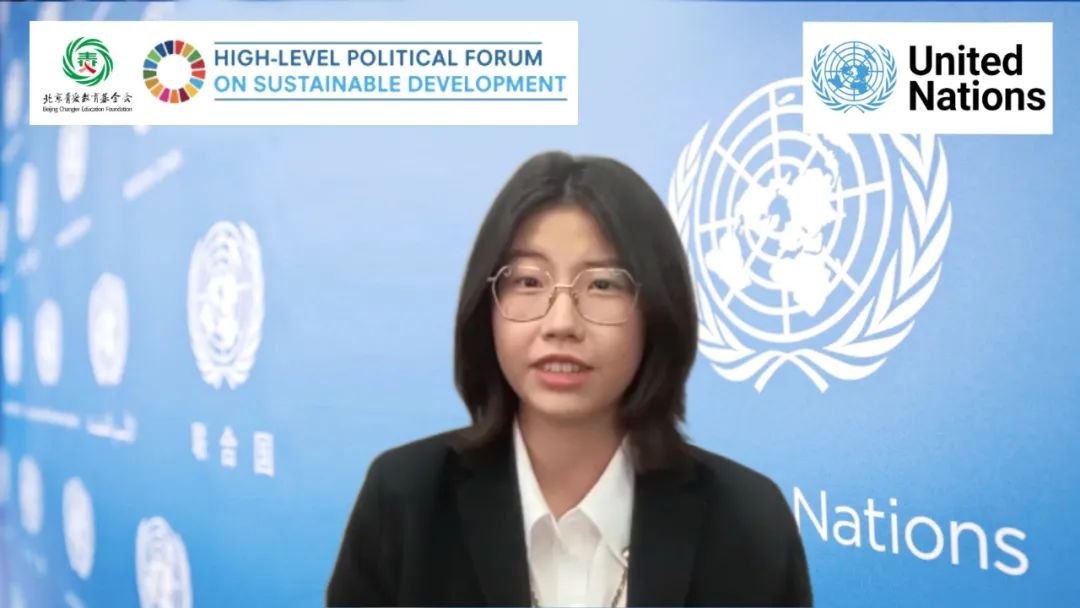 Tan Xiangyi, president of the Association of Chinese Students of Private Schools of America, shared her thoughts on strengthening AIDS education, providing high-quality basic education and offering more employment opportunities.
Chen Yifei, graduate student at New York University and ambassador for Changier projects, once held a charity concert in 2021 to raise funds. Chen shared her story in promoting sex education, especially HIV prevention, among youngsters.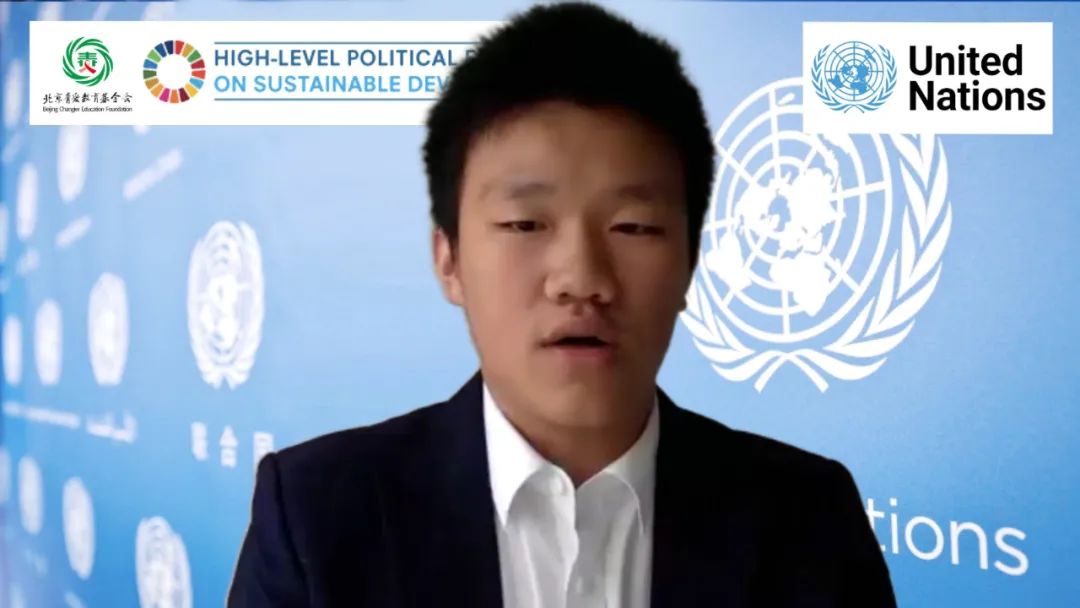 Xue Jiachi, high school graduate from Collège Alpin International Beau Soleil and student at the University of Southern California, member of non-profit specialty coffee company 17g Coffee, suggested that empowering impoverished women should not be limited to donating money or goods, but should focus on giving full play to their creativity. For example, vocational skills training for women is more conducive to personal and community development.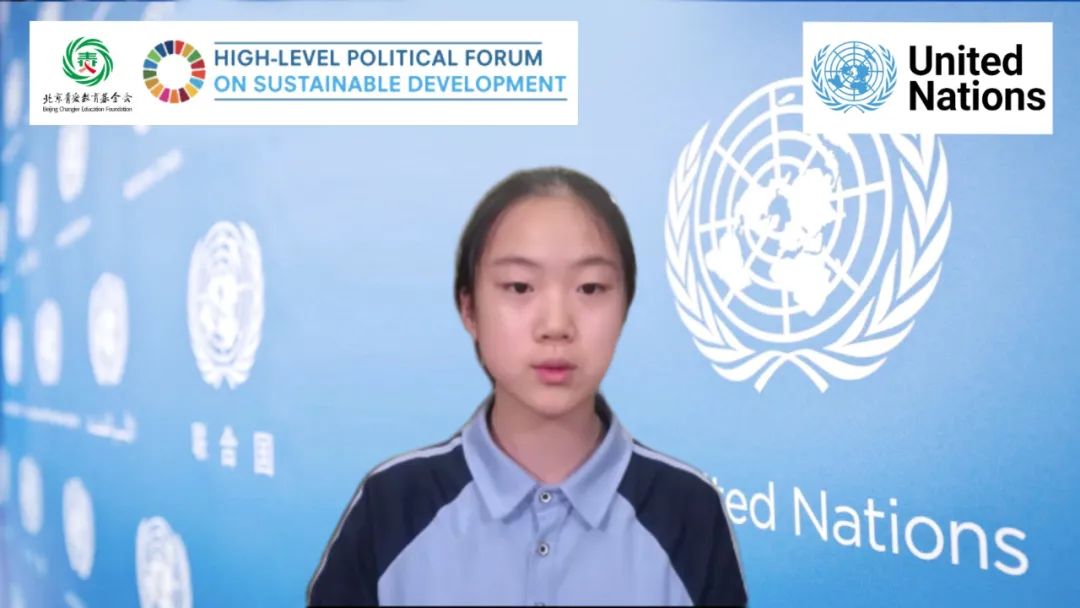 Liu Ziping, student from Sun Valley Huaxia School in Dalian, northeastern China's Liaoning Province, shared her experience in participating in non-profit programs, donations and charity sales.
Emma Chen-Banas
Joseph Olivier Mendo'o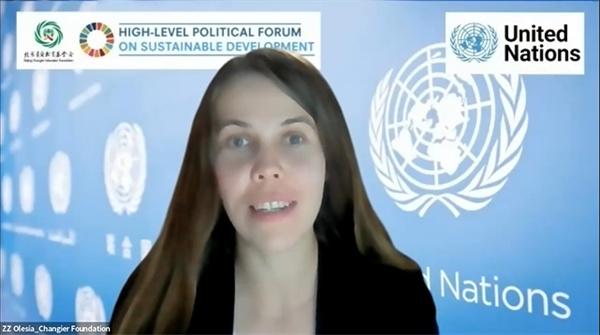 Olesia Ermakova
The event was chaired by Emma Chen-Banas, Joseph Olivier Mendo'o, and Olesia Ermakova. Emma Chen-Banas is one of the organizers of the event, and the UN representative and special director for North American Affairs of Beijing Changier Education Foundation. Joseph Olivier Mendo'o is a Ph.D. candidate at Peking University, research assistant to the Peking University Center for African Studies, head delegation of the African youth in China, and co-founder of the China-Africa Youth Federation. Olesia Ermakova is a curator of SCOLAR Beijing Hub and International Cooperation Specialist at Zhongguancun Dongsheng Science Park. Simultaneous interpreting was provided by Xu Yuheng, Wang Xinyue and Shen Yan from Beiwai College, Beijing Foreign Studies University, and technical support was provided by Li Jing from Taihe Institute.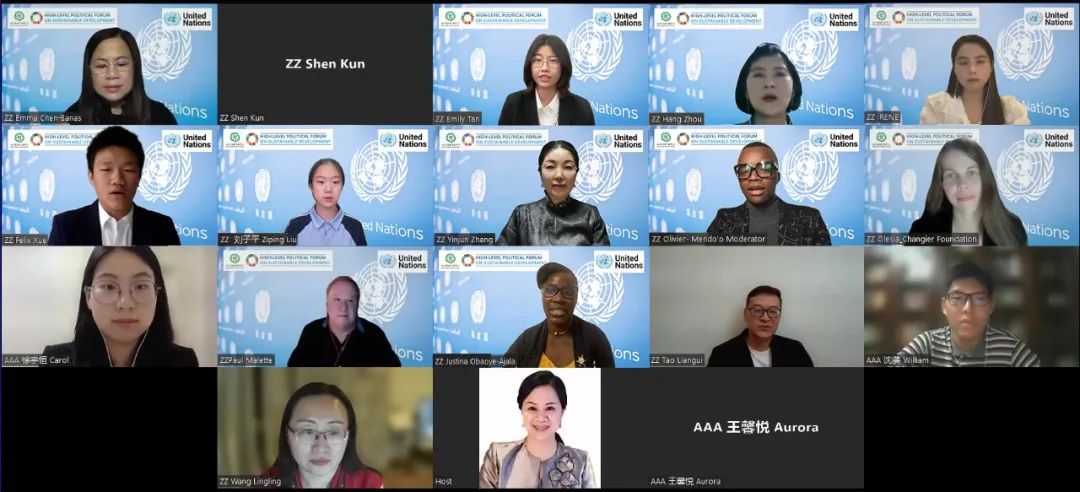 At the end of the event, the speakers answered the questions raised by the participants. Zhang Yinjun told her story of giving up her successful career to start Changier from scratch and devoting herself to fighting for the rights and interests of women and children. Other speakers took questions including the Changier's specific plans on international cooperation, how China and Africa can learn from each other in the protection of women and children's rights and interests, how the government can help young people better realize public welfare ideas, the differences between Chinese and American middle school students' views on caring about women and children's rights, and the impact of climate change on the rights and interests of vulnerable women and children.
The HLPF is held every July at the UN Headquarters in New York to oversee the implementation of SDGs. The HLPF 2022 was opened as an offline meeting after a three-year hiatus due to the COVID-19 pandemic. The event, which will conclude on July 15, is scheduled to review in-depth SDGs on quality education, gender equality, life below water, life on land, and partnerships for the realization of SDGs.