China-Laos Railway Connecting Hearts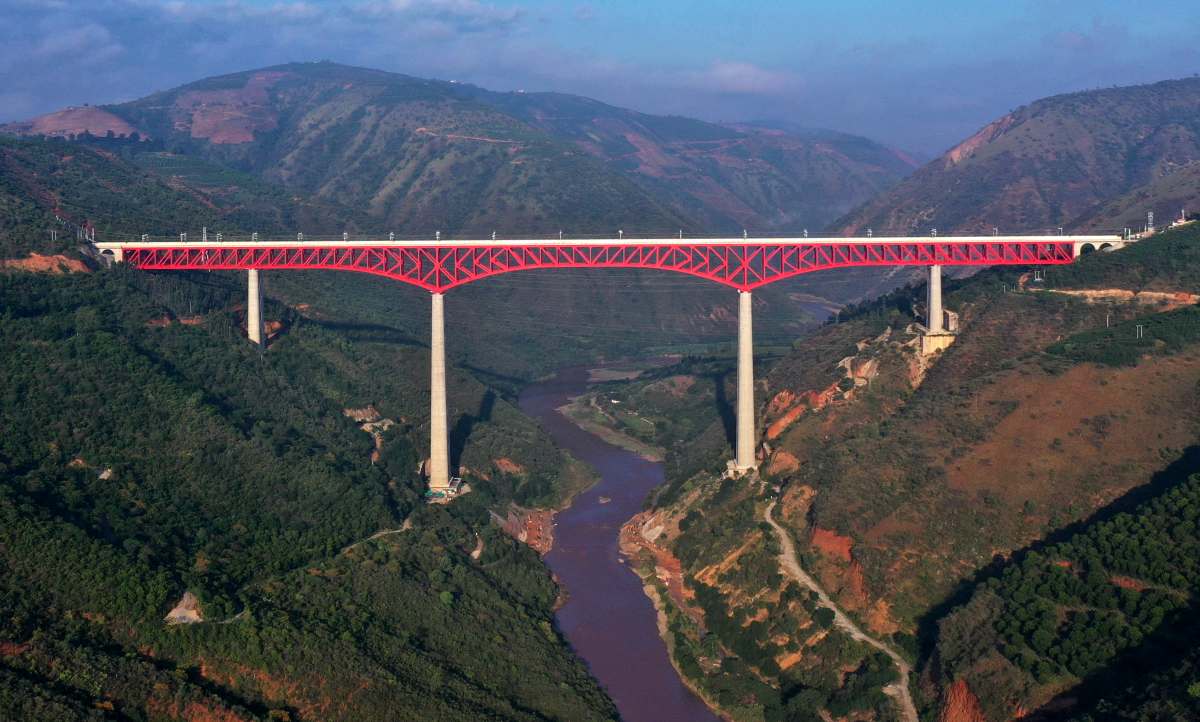 On June 22, 2023, a China-Laos international freight train, loaded with 540 tons of ammonium sulfate in 20 containers, embarked on a journey from the Huaihua International Land Port in central China's Hunan Province. This train transported the goods from Wuhan, in central China's Hubei Province, to Laos, resulting in a nearly 50-percent reduction in transportation costs due to various subsidy policies.
Beginning in Kunming, capital of southwestern China's Yunnan Province, and bound for the Lao capital Vientiane, the China-Laos Railway is pioneering in many ways. It is the first international railway to fully embrace Chinese standards and equipment while seamlessly connected to the Chinese railway network. Since its inauguration on December 3, 2021, the railway has played a pivotal role in facilitating trade along the Belt and Road, serving nations such as Laos, Thailand, and Myanmar. The range of goods transported has expanded dramatically from a mere dozen to an astonishing 2,000 and beyond. Impressively, it had handled over 16.4 million passenger trips and over 21 million tons of cargo as of June 13, 2023.
"It's fast and stable, ensuring the quality of perishable goods while reducing operational costs," commended Yang Jun, president of Yang Tai Group, a company that has engaged in the trade of Thai fruits for more than 20 years. As the Lao singer Athisack Rattanavong crooned in the song "Flying on the China-Laos Railway," this railway not only connects nations but also transforms Laos from a landlocked country into a land-linked one, igniting regional development.
Paving the Ecological Path
As the railway traverses challenging terrains, it steadfastly reinforces its commitment to environmental preservation. A notable 87.3 percent of the route comprises 167 tunnels and 301 bridges, expertly designed to avoid protected areas. Builders claimed that instead of being laid out, the railway was excavated. To preserve biodiversity and protect the environment, the railway has avoided six natural and cultural conservation areas and refrained from encroaching on national-level protected forests in Laos.
The railway runs through one of the most tourist attraction-filled areas in the world, brimming with pristine ecological and cultural heritage sites. Its launch not only fulfills the desires of Chinese and Lao peoples for cross-border railway travel and sightseeing but also sets an excellent example of harmonious coexistence between humankind and nature.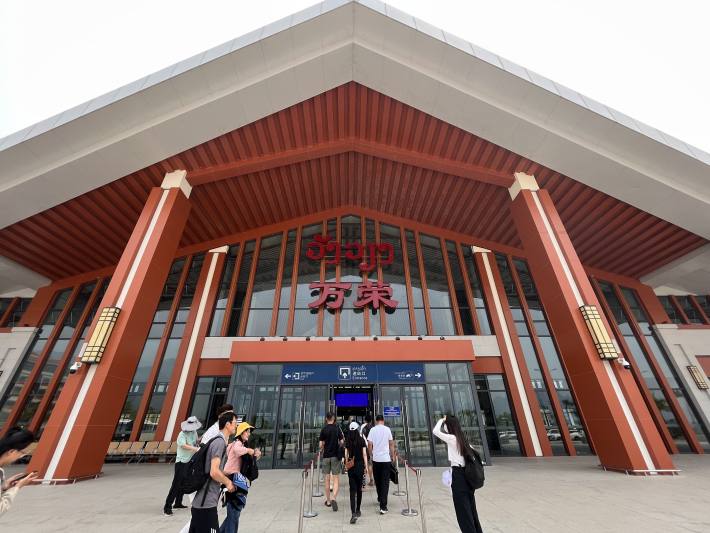 Pu'er and Xishuangbanna in Yunnan are among key habitats for Asian elephants. To minimize the impact of railway construction on the local ecosystem and ensure coexistence between the railway and Asian elephants, various measures have been implemented including avoiding elephant activity areas, extending tunnels, using bridges instead of roads, setting up sound barriers, creating migration paths, installing protective fences, using smart security cameras, and establishing patrol posts.
At the heart of the China-Laos Railway lies a beautiful fusion of regional history and culture with modern civilization. Each of the railway's 43 stations weds local traditions with contemporary designs. For instance, the Mengla Station combines modern architectural techniques with traditional materials, while the Mojiang Station highlights elements of the Hani ethnic group's traditional residence. The Pu'er Station, with its deep brown hues inspired by Pu'er tea, incorporates ethnic patterns into the architectural details. The overall design of the Yexianggu Station, or the Wild Elephant Valley Station, resembles an Asian elephant strolling through the tropical rainforest.
Connecting Hearts
Beyond the physical connection of the two countries, the China-Laos Railway has linked the hearts of the two peoples. During the five years of construction on this vital transportation artery, Chinese and Lao teams joined forces to overcome complex challenges such as geological conditions, environmental concerns, and the impact of the COVID-19 pandemic, fostering bonds that continue to strengthen.
After completing the railway, Laos-China Railway Co., Ltd. started launching educational initiatives involving free training programs for locals. Chinese experts were invited to Laos to teach railway skills including locomotive operating, vehicle maintenance, and dispatching. Over four sessions, more than 1,000 Lao people have been trained, and over 700 of them have joined the operation and maintenance of the railway. They have become the first generation of railway technical personnel in Laos. Currently, almost 60 percent of the company's employees are Lao.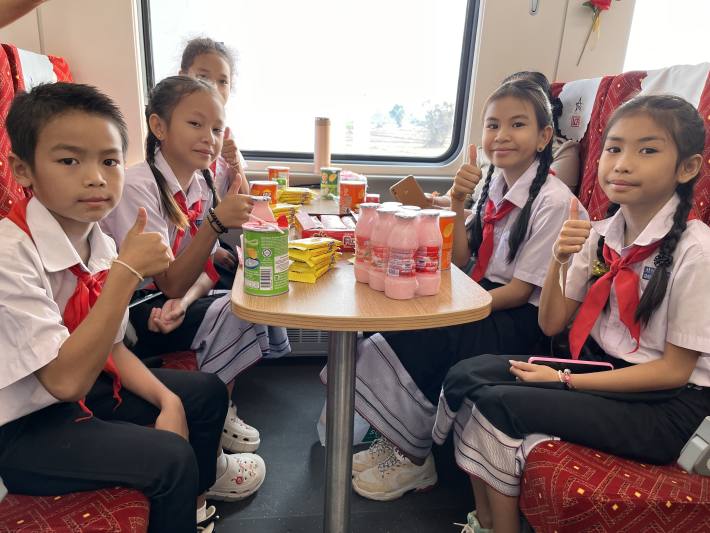 Liu Yinneng, a first-generation train driver in Laos, joined the company after graduating from the Southwest University of Science and Technology in China. Liu speaks with pride about his work, and his Chinese mentor, Wu Junhong, is also satisfied with Liu's progress and performance. Their relationship has grown into a deep friendship.
Since the railway opened, local employment has increased significantly. More than 3,500 locals have been recruited for cargo handling, logistics, cleaning, and other positions, leading to industrial development in transportation, trade, and tourism. This has indirectly created over 100,000 jobs, boosting the local economy.
Muang Nga is a mountainous county located in the northern Lao province of Oudomxay. Remote regions like Muang Nga have witnessed a transformation due to the railway. The Muang Nga Station is small but serves as a window to the world, according to Yu Da, a staffer at the station. Travel time to Vientiane has been drastically reduced from 10 to three hours and the cost reduced by more than half. Improved transportation enables local villagers to connect with the outside world. Local families now often opt to send their children to learn Chinese during summer and winter vacations, hoping to secure better jobs in the future.