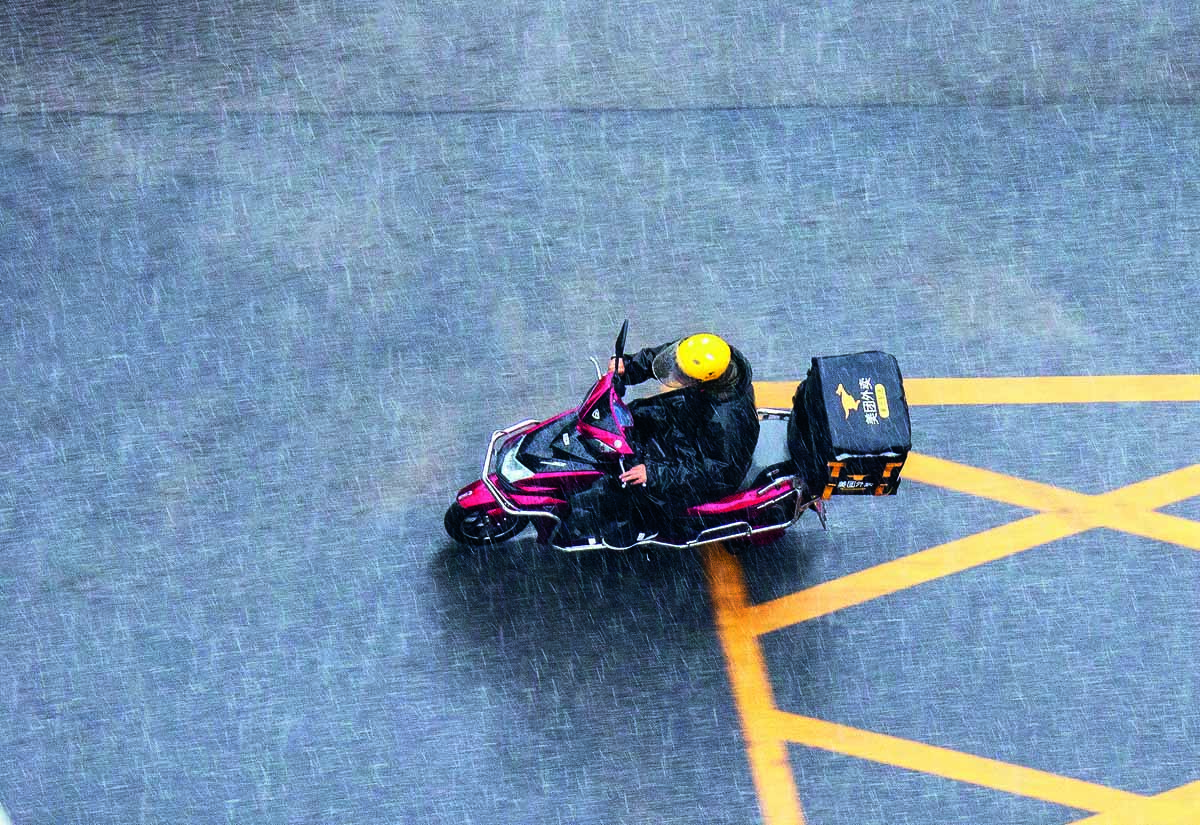 In most big Chinese cities, it's hard to miss delivery people whizzing around on scooters in brightly-colored uniforms. Around the lunch hour, they tear through the streets and lanes at breakneck speed to deliver tasty food as fast as possible to office buildings and homes. In recent years, people have started seeing logos of the biggest internet brands and their respective food delivery platforms such as Baidu Waimai, Meituan Waimai and Ele.me on their backs.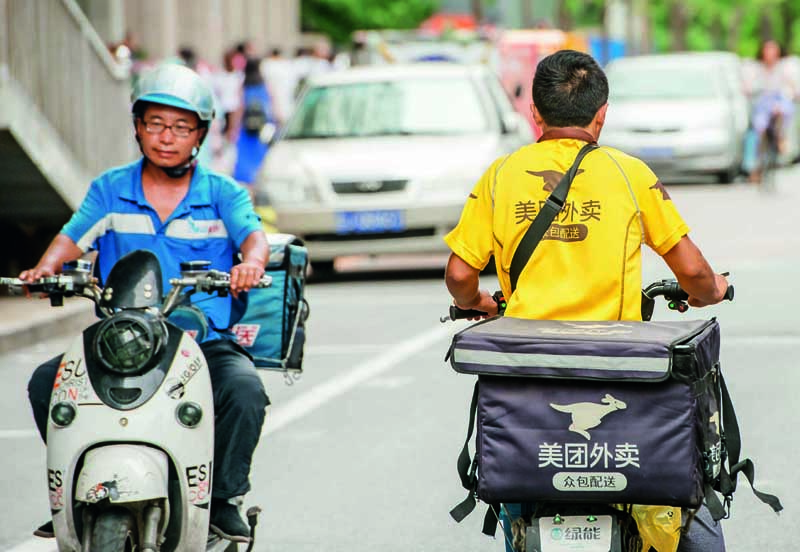 Food Delivery Apps in Everyday Lives
The lunch hour is over when 31-year-old Ms. Zhang finally pulls herself out from her work. Instead of rushing out to fill her empty stomach, she grabs her cell phone and flips through a food-ordering app. With its own proprietary algorithm, the app ranks nearby restaurants based on Zhang's eating habits. With just a few clicks, she orders and pays for her lunch. In about half an hour, the delivery arrives at her office.
"Thanks to food delivery apps, I don't have to starve to work overtime," she beams. "You get far more choices than walking into a restaurant, and it's faster and cheaper too, thanks to coupons and discounts from the apps. So, why not?" The food is still hot when it arrives. Seamlessly, such apps have already become indispensable for people like Zhang and most of her colleagues.
Food delivery apps are wildly popular in China. Their wide-ranging, affordable catering options weaken the will to cook at home. Hot food can be delivered to almost any doorstep in the country in a dozen minutes, 24 hours a day, seven days a week. From coffee, noodles and roast duck to hot pot and Poached Sliced Fish in Hot Chili Oil, anything can be delivered. In addition to frequent discounts, app users also get free drinks from time to time. Food delivery guys have only become more numerous and busy, and now they are seen everywhere.
This March, Meituan-Dianping, one of Chinese on-demand local services giants, announced that its takeout delivery app had become the first to reach ten million daily orders and deliveries globally. And according to data released by the company, three out of every ten Chinese people use food delivery apps. Ordering food online has truly become the third regular dining method for Chinese people after cooking at home and dining out.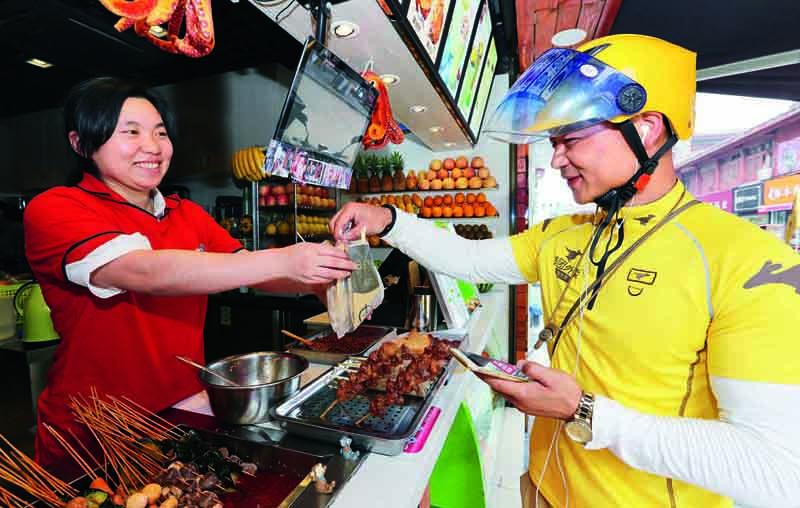 Two Wheels Drive Fast
The concept of food delivery certainly isn't anything new to China, but it has never before been a consolidated nationwide industry. Decades ago, restaurant owners would deliver meal boxes to people working nearby during the lunch hour. For many years, sales volume, food options and delivery speed were severely limited. Food delivery only served specific groups like office workers and small businesses.
The rapid development of mobile internet in recent years has inspired the traditional catering industry to embrace the internet wave. There was a specific turning point: According to IIMedia Research, a Chinese mobile internet organization focusing on third party data mining and integrated marketing, China's online food-ordering market began surging in 2011. When China's big internet triumvirate known as BAT (Baidu, Alibaba and Tencent) joined the game and made many rounds of vigorous investments in online food delivery platforms Baidu Waimai, Ele.me and Meituan Waimai respectively, food delivery services in China finally realized industrialization and were quickly upgraded and expanded.
Compared to foreign online food-ordering platforms that don't provide specific delivery services, like the Grub Hub in the United States, China's online food delivery platforms creatively adopted the "Two-Wheels-Driving" mode that helps restaurants deliver food professionally and creates a complete online-to-offline (O2O) business circle.
This mode broke the bottleneck of traditional food delivery services in China and abroad. By refining labor divisions and controlling the processes with advanced internet technologies including automatic positioning, online ordering, online payment and data distribution, it successfully matched small businesses with large customer groups, which greatly improved users' ordering experiences and dramatically promoted development of the industry.
Statistics show that China's emerging "Internet Plus" catering businesses, featuring O2O food delivery services, gained explosive growth from 2014 to 2015. By 2016, the market had reached a scale of over 100 billion yuan (about US$14.7 billion), which is expected to surpass 700 billion yuan (about US$103 billion) and penetrate 80 percent of the population by 2020.
It's also worth noting that the Chinese innovation in O2O food delivery services has begun to attract attention from overseas. DoorDash Food Delivery, an American on-demand restaurant delivery start-up founded in 2013, has followed the model of China's "last-kilometer" food delivery service and used it to grab increasing shares of the market in its own country.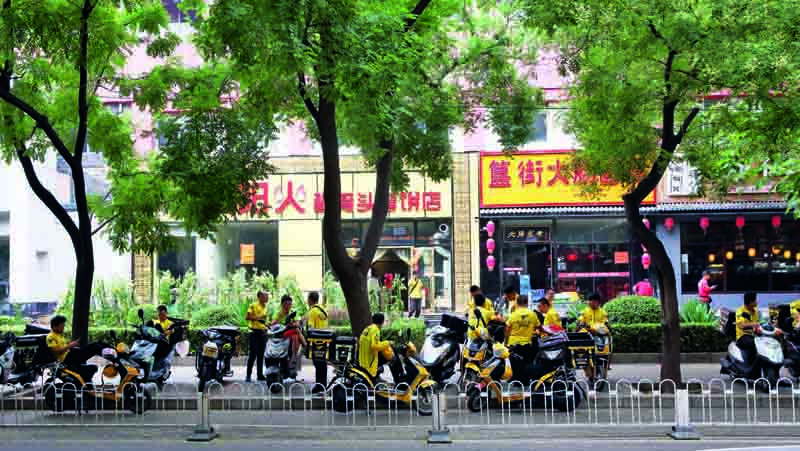 Staying on the Right Track
As new businesses emerge in China's "Internet Plus" era, convenient and efficient O2O food delivery service has stimulated consumption and boosted economic growth. It has not only brought new opportunities to many restaurants and created a wide range of jobs for the idle labor force, but also comprehensively promoted the transformation and upgrade of the traditional catering industry. For example, it effectively reduced pressures plaguing traditional businesses such as slowing revenue, surging costs and declining profits.
However, keeping the new business mode developing on the right track has become an increasingly concerning issue for many customers after many problems were exposed. On July 14, 2016, the China Food and Drug Administration (CFDA) issued the world's first Investigation Measures on Illegal Behavior of Online Food Safety, which came into force on October 1, 2016. The document imposes new obligations on both third-party online platforms and food traders. Another highlight is that inspectors will pretend to be customers to check products from randomly selected online stores.
Thus, the major online food delivery platforms began to raise the access thresholds for food providers to resolutely avoid restaurants without proper licensing. They also introduced various post-sale service mechanisms to guarantee customers' rights. For example, Meituan Waimai implemented Measures for Food Safety Management and set up a mechanism to provide refunds and compensation to the customers as soon as they report a problem. Similarly, Ele.me is cooperating with the Ant Financial Services Group, Alibaba's financial arm, to start a fast track for compensation claims. Meituan Waimai and Baidu Waimai announced that they set up specific positions to check business qualification of food providers and the quality of the food.
The driving habits of delivery guys are another concern for many people. Because of their erratic and aggressive driving, accidents are up. Many cities including Shanghai, Qingdao and Shenzhen have launched special rectification actions on safety management for electric food delivery vehicles.
The analysts at IIMedia Research believe that online food delivery platforms still have many problems, but their services meet the rigid demands of vast swaths of customers, leaving the current outlook bright. With improvement of their delivery systems, longer service hours and expansion of delivery to fruits, vegetables, beverages and other daily necessities, demands will continue to be stimulated, so the market potential is enormous.
Now, most Chinese online food delivery platforms focus on first-tier cities with good mobile internet coverage. However, with the expansion of internet coverage and the improvement of consumption levels, second- and third-tier cities are the next new markets with big potential for the online catering industry.