Expanding Synergy with Ethiopia
Text by
Zheng Xu
Photographs Courtesy of
Huajian Group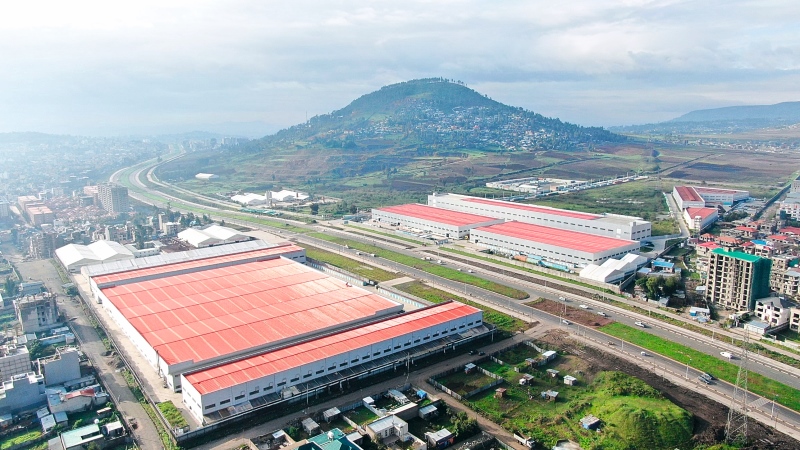 In 2017 alone, Zhang Huarong took 132 flights totaling 480,000 kilometers, including 34 round trips between China and Ethiopia.
Zhang considers Ethiopia his second home. "I have not only invested money there, but also considerable energy and emotion," he said. "Why all the effort? Because it gives me a profound sense of satisfaction. Bringing China's development experience to Africa and changing the lives of local people make me feel that what I do is very meaningful. It's more important than making money."
This is the story of Zhang Huarong, chairman of China's footwear maker Huajian Group, and his connection with Ethiopia. It's also a story of the Belt and Road Initiative (BRI) and Africa.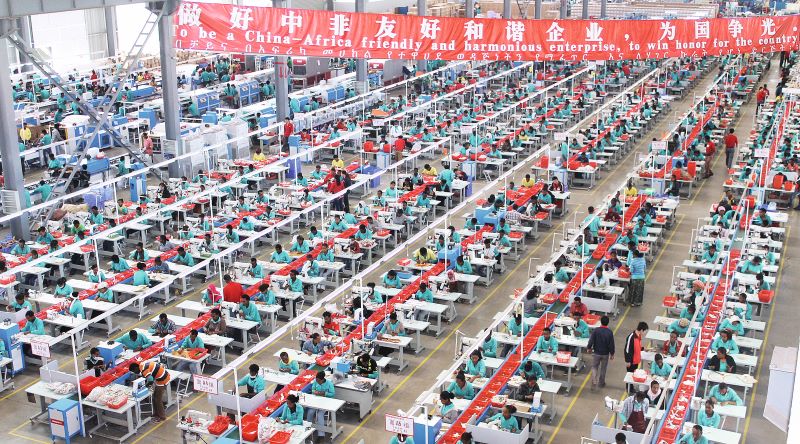 Bond with Ethiopia
The relationship between Huajian Group and Ethiopia than US$500 at the time. "However, Ethiopia possessed notable advantages in terms of its labor force and raw materials," he said. "After conducting several field surveys, we came to the conclusion that it was indeed a promising investment destination." In addition, Meles Zenawi pledged support for Huajian. All these factors collectively bolstered Zhang's determination to venture beyond.
In November 2011, Huajian inked an agreement with Ethiopia and commenced construction of Huajian International Shoe City (Ethiopia) Limited in the Eastern Industrial Zone of Addis Ababa, the capital of Ethiopia. As Huajian progressively shipped raw materials and manufacturing equipment to Ethiopia over sea, it simultaneously recruited over 100 Ethiopian employees who journeyed to China to undergo training in corporate culture and specialized skills. This marked the establishment and commencement of operations for Huajian's factory in Ethiopia.
Huajian International Shoe City (Ethiopia) enabled a remarkable 57-percent surge in local leather product exports, establishing it as Ethiopia's leading exporting enterprise. This achievement marked a milestone for Africa as the company became the first on the continent to manufacture and export mainstream women's footwear to Europe and America under renowned brand names.
In April 2015, facilitated by the BRI, Huajian initiated the construction of its second large project in Ethiopia: Ethiopia-China Huajian International Light Industry City. This industrial hub not only absorbed a portion of Huajian Ethiopia factory's production capacity but also became a center for the transfer of labor-intensive industries such as textiles, apparel, footwear, hats, and electronics from China to Ethiopia. This project has already provided employment for approximately 8,000 local residents.
Action on People-to-people Exchange
For Huajian Group, embarking on an industrial venture across a quarter of the globe from southern China to Ethiopia was no small undertaking. Overcoming language barriers, navigating cultural differences, and bridging gaps in corporate management philosophies presented formidable challenges to Huajian. During the early phases of operations, shoes produced by Ethiopian employees had an unusually high rate of defects.
In response to the challenge, Huajian placed more emphasis on corporate management and training. The company began regularly sending Ethiopian employees to its headquarters in Dongguan City, Guangdong Province to receive training, so that they could experience Dongguan, known as the "manufacturing capital of the world." This initiative was aimed at refreshing their perspectives and broadening their horizons.
"Huajian has changed my life," said Amina, an employee at Huajian International Shoe City. Formerly a homemaker, she used to be busy caring for her children and doing household chores every day. However, a few years ago, Amina participated in Huajian's training program and acquired shoe-making skills that secured her job at the shoe city. After excelling in her role for some time, she climbed the ladder to a key technical position at the factory. Her proficiency at shoe-making earned her the respect of colleagues and prompted many intricate tasks to land on her desk. "My monthly income now sustains my entire family," she beamed. "Recently, I even purchased a television and a refrigerator, making our family's life more comfortable."
By transforming from a full-time homemaker into a technical expert, Amina gained more confidence and ambition. She has bought many books and embarked on a quest to learn the Chinese language, explore Chinese culture, and consistently enhance her overall skills. Working in the factory has brought drastic changes to her life, making it more colorful and fulfilling.
"At first, local employees earned around US$50 per month on average," revealed Zhang Huarong. "By 2017, the monthly wage for ordinary workers had increased to US$85-100, and that for management staff about US$170, with some even receiving US$400-700. These wages were two to three times higher than those offered by other local jobs, equivalent to the salary of a local university teacher."
Huajian has not only helped Ethiopia relieve employment challenges and facilitated the personal growth of its employees but also actively fulfilled its social responsibilities by aiding in local infrastructure development. In the past, the villages near the factory lacked access to clean water, which was a major hardship for the residents. Huajian hired a professional well-drilling company from China to build a well more than 300 meters deep in the light industrial park. They also installed water pipelines to transport purified well water to the neighboring villages nestled in the hills.
Teshome Toga Chanaka, former Ethiopian Ambassador to China, commented on the company's work, "Huajian has not only encouraged other Chinese companies to invest in Ethiopia but also made a substantial contribution to our socioeconomic development, a pivotal factor in Ethiopia's ongoing societal transformation."
As vice chairman of the African-Chinese People's Friendship Association, Zhang Huarong still has even loftier goals: aligning the development of Chinese enterprises with that of Africa. He hopes to further expand the brand recognition of Huajian and create 100,000 job opportunities for Africa in the future. "By jointly seizing the development opportunities created by the BRI, we aim to help Africa propel economic growth, solve employment challenges, and forge a brighter future," he said.