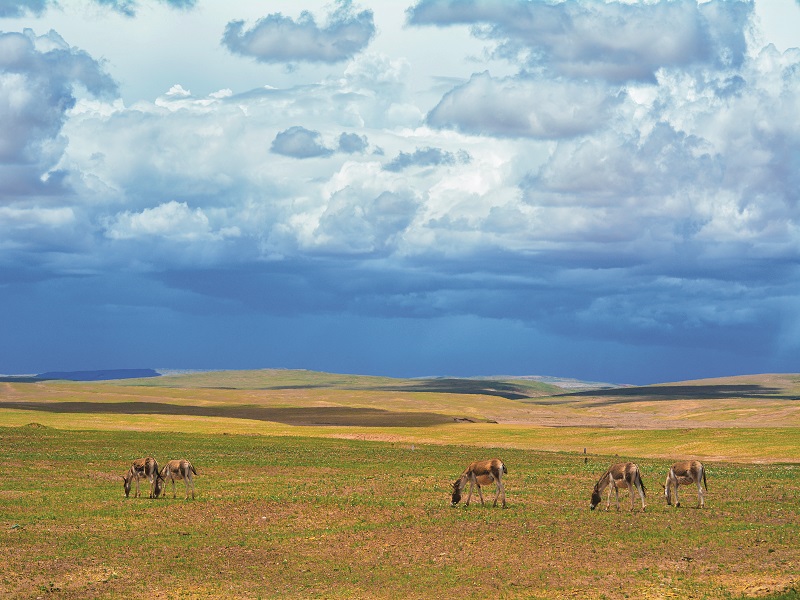 On July 7, 2017, the 41st session of the UNESCO World Heritage Committee approved the addition of China's Hoh Xil to the World Natural Heritage List. Hoh Xil, literally "blue ridge" or "beautiful girl" in Mongolian, is located in the northwest of Qinghai Province and the center of the Qinghai-Tibet Plateau and covers an area of 6 million hectares. It is popularly known as one of three "no-man's lands" in the world. The region boasts the densest distribution of lakes on the Qinghai-Tibet Plateau and tens of thousands of square kilometers of wilderness, wild animals, mountains and glaciers. With the inscription, Hoh Xil became Asia's largest world natural heritage site.
"I heard the good news late because I had been busy patrolling the fields," says Sonam Geleg, "We drank some liquor to celebrate." The 39-year-old is head of the Wudaoliang Protection Station of Hoh Xil and one of more than 40 members of the Hoh Xil Patrol Team. Sonam and his colleagues remained excited for days after hearing the news. For decades, they have endured various hardships at an altitude of more than 5,000 meters while combatting poaching and illegal mining as well as saving wild animals. They feel the hard-won victory made all their painstaking effort worthwhile now that Hoh Xil is officially recognized as a World Natural Heritage site.
Ending Poaching
Sonam directly participated in Hoh Xil's application for the status of World Natural Heritage. On October 15, 2014, Qinghai Province formally started preparations by gathering a group of specialists in fields of biological diversity, geology, water engineering, hydrology, meteorology and aesthetics. After more than a year of work, Hoh Xil finally qualified to represent China to bid for World Heritage listing in January 2016.
During this period, the International Union for Conservation of Nature and Natural Resources (IUCN) sent inspectors to Hoh Xil for field trips. Sonam Geleg personally accompanied them. "They were astonished by the biodiversity of the place," says Sonam. "Before coming here, all they knew was that the climate is dry and cold and lacks oxygen and water, making the land unsuitable for human habitation. After the investigation, they agreed that Hoh Xil conformed to standards for natural heritage with high integrity and good protection and management conditions.
According to IUCN's evaluation report, more than a third of the higher plants found in Hoh Xil are unique to the Qinghai-Tibet Plateau and all the herbivores that live on these plants are also found nowhere else. "The nomination has extraordinary natural beauty," the report declared. "Its beauty is beyond human imagination and amazing in all respects."
Sonam is usually a quiet man, but when speaking of Hoh Xil, he starts talking a mile a minute. "For 12 years, we haven't heard the gunshots of poachers," he says. "We risked our lives to achieve this. Today, Hoh Xil is home to 60,000 antelope, a big increase from 20,000 in 1997, its lowest on record. More than 20,000 Tibetan wild donkeys and tens of thousands of wild yaks also live here. The effective protection of local animals greatly helped Hoh Xil's approval."
Guardians of the Plateau
In 1997, 19-year-old Sonam retired from the military. His passion was so ignited by watching a documentary about Hoh Xil protector Sonam Dargye that he decided to go there to be a patrolman. At that time, he and his teammates worked and lived in tents, which were frequently blown away by powerful winds. On trips into the wild, they couldn't even light a fire to boil water, so they often gnawed on dry instant noodles washed down with a handful of snow. Without bedding, they huddled together to keep warm at night.
In addition to patrols, the team was also tasked with collecting garbage, which is not an easy job at 5,000 meters above sea level. As few as several steps can make one out of breath, and they had to bend over repeatedly, which caused headaches and loss of appetite at night. "In the late 1990s, Tibetan antelope poaching was rampant, and we encountered heavily armed poachers almost every time when we patrolled. Several times, I narrowly escaped getting shot myself.
His leathery tanned skin makes Sonam look older than his age. "I never knew cold and oxygen deficiencies could cause physical damage or I would have taken some countermeasures," Sonam smiles. The patrol team usually drives down bumpy roads through no man's land a dozen hours a day. One patrol trip in the region often takes as long as a dozen days. If the truck gets stuck in mud, they dig it out. In rainy season, they do this as often as 30 times a day.
Since 2010, the team's working conditions have improved. They attached a trailer to the truck to carry gasoline, tents and luggage. Now they can boil water when away from the station. While patrolling, at least they can have instant noodles hot and add packets of pickles. Driving 10 hours across bad road conditions leaves the team time for only one meal a day. For 20 years, Sonam has lived rough and now suffers from serious lumbar disc herniation and arthritis, "occupational diseases" shared by almost all of his colleagues.
"Every time we went into the wilds of Hoh Xil, we felt like we were saying our last goodbyes to our families," says Sonam. In 1999, they were trapped in the mountains for 40 days with a truck that ran out of gas. To save food, they ate just one piece of steamed bread a day. When they were found by the rescue team, they hadn't eaten for three days. "With Hoh Xil approved as a world natural heritage, it was all worth it," Sonam exclaims.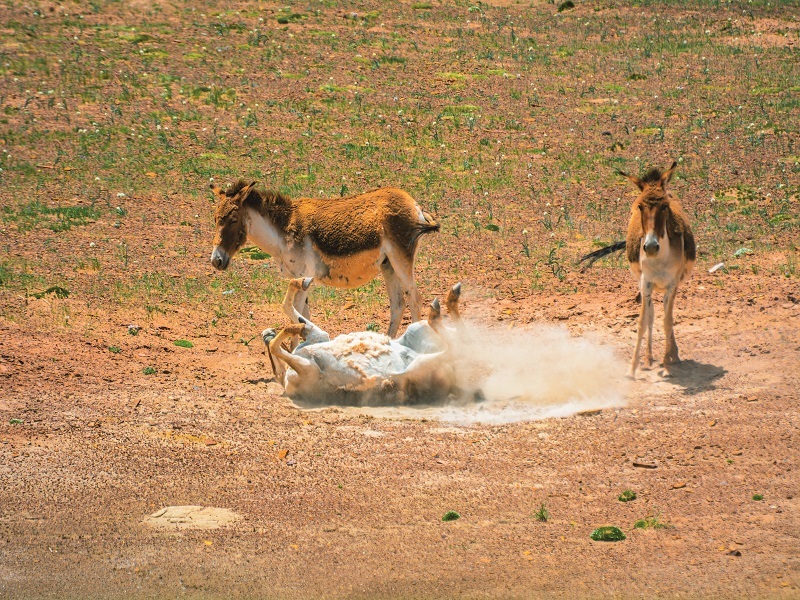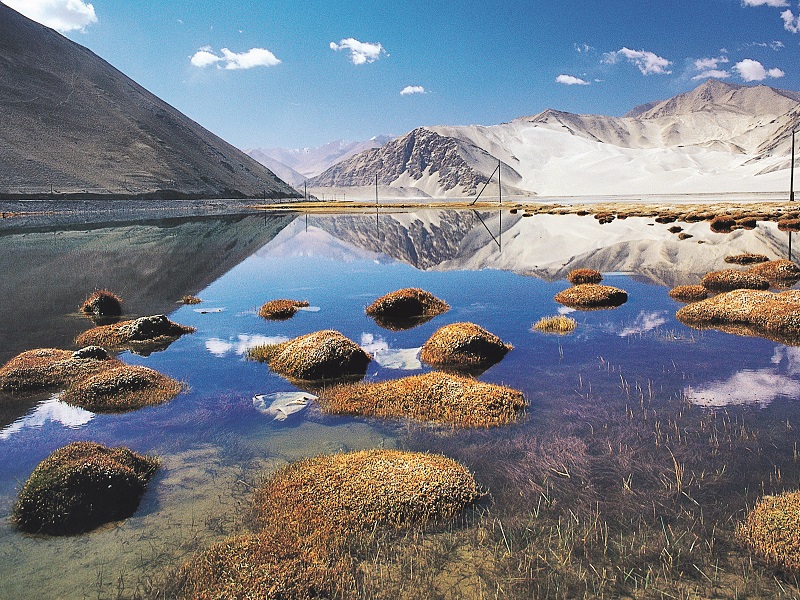 More than Glory
After risking their lives to protect Hoh Xil for 20 years, Sonam and his teammates are finally seeing the fruits of their efforts. In 1997 when he began patrolling, he rarely saw a Tibetan antelope. Finding traces of Tibetan antelopes three times a week was considered a big success. "They were very sensitive to human voices and the sound of engines," Sonam reveals. "If we got a few hundred meters from them, they would scatter."
Now, wild animals can be seen everywhere in the core area of Hoh Xil and along the Qinghai-Tibet Highway, including the Tibetan antelope, Tibetan wild donkey and argali. Train passengers often capture photos of Tibetan antelopes, and they're no longer afraid of humans. When someone raises a camera, they often look up at the lens. Sonam is most proud of his work in this regard.
Recent news, however, has made Sonam feel the inscription is just the beginning. High-resolution satellite monitoring by the Meteorological Administration of Qinghai Province has shown that some salt lakes have expanded 4.5 square kilometers since last year. The spread of salt lakes will kill grass and erode the soil. And if they continued expanding, the Qinghai-Tibet railway and highway, as well as the Lanzhou-Tibet cable and pipelines, would all be threatened.
"So, becoming world natural heritage is more than about glory—it means greater responsibility," says Sonam. "It's both a pressure and a motivation for us. We will devote our lives to better protecting this pure land."