Into the Woods at Saihanba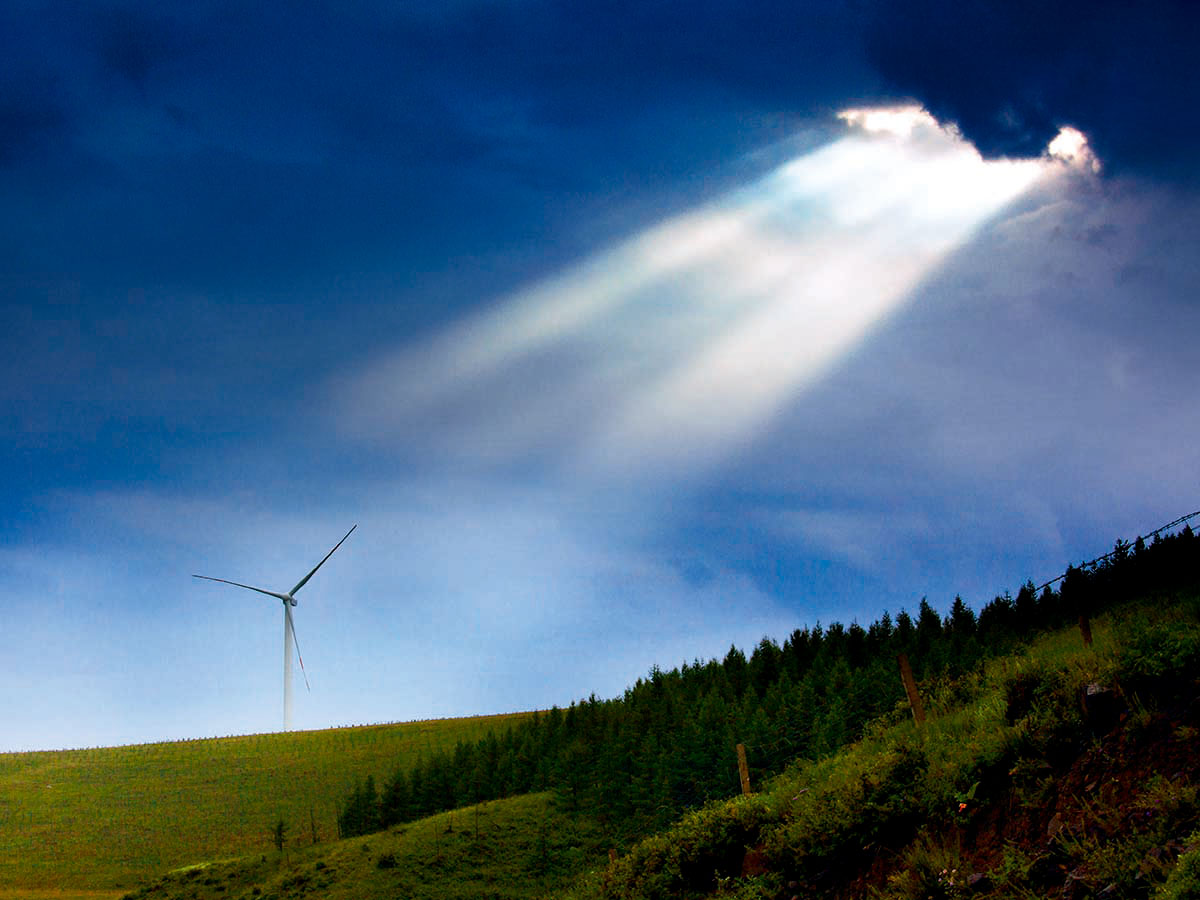 How long does it take to transform a desert into a forest?
In the 1960s, 369 forestry workers started seeking the answer in Saihanba (literally, "beautiful highland"), a cold alpine area in northern Hebei Province bordering the Inner Mongolia Autonomous Region. Saihanba was once a lush forest where the royal family went hunting until the late Qing Dynasty (1644-1911) when it was opened to the public as the dynasty lost prominence. Herders and farmers moved in and trees were cut down. In the following years, sandstorms from deserts to the north swept through, driving away animals and residents alike, leaving Saihanba a barren land.
After 55 years, Saihanba is now blanketed with 75,000 hectares of forest. The millions of trees are the fruits of the labor of generations of forestry workers who spent some of the best times of their lives in the area.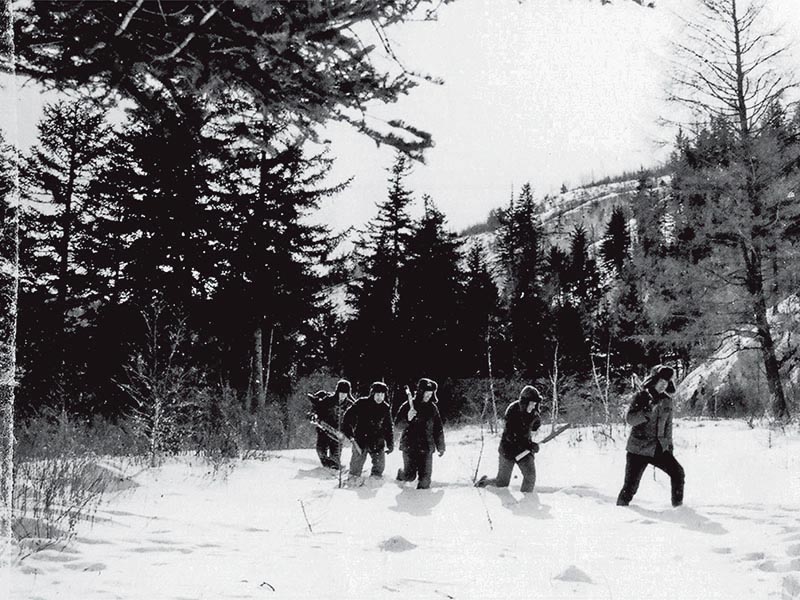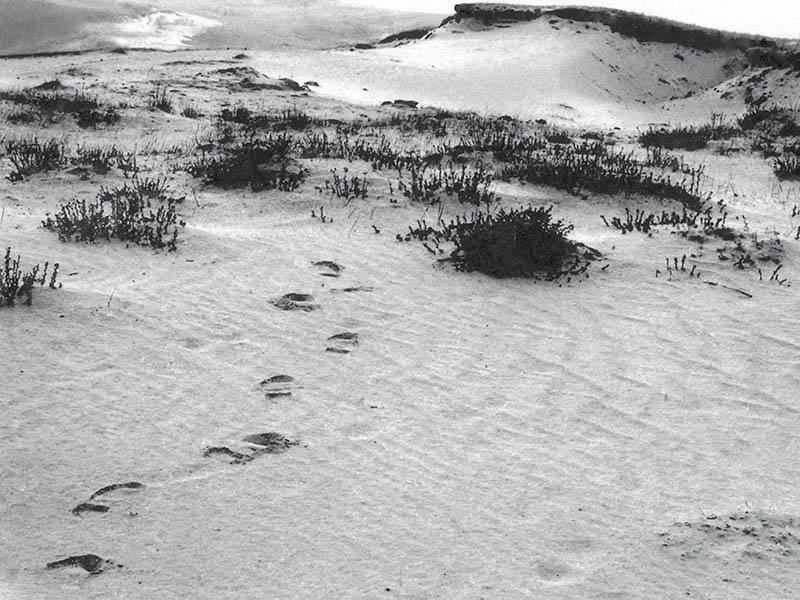 From Zero to One
In the fall of 1962, 22-year-old Zhao Zhenyu, a fresh graduate from an agricultural school, and his classmates arrived in the new Saihanba forest farm after a two-day trip in a bumpy open truck from Chengde, Hebei, 150 kilometers away. A total of 127 graduates like Zhao came from across China to work on the forest farm. Their average age was less than 24. As construction across the country took off, the young, ambitious crew joined the 200 workers who were already there in rebuilding the forest.
Saihanba is famous for its cold—snow covers the land for seven months a year and temperature can drop to minus 43 degrees Celsius. When winter arrives, it's impossible to walk through the snowy wind. The forest farm had insufficient housing in its early years. The students and workers once shared stables with horses and pitched tent-shaped shelters using tree trunks, reinforced with twigs and straw. The food supply was meager as well, and residents mostly survived on flour made from naked oats and wild herbs. In those days, yellow beans soaked in salt water were a dish that would inspire boisterous cheers.
"The economy was having a hard time so we prioritized production before improvement of living standards," says Zhao.
Planting did not go well in the first two years. The seeds imported from other regions failed to withstand the wind and cold of Saihanba, and only eight percent survived. Local tree breeding became the new focus. The team managed to breed larch seeds with sturdy stems and robust roots with improved methods, which better suited the harsh environment. In the spring of 1964, planters recorded a 90-percent success rate across 34 hectares for the first time after years of extensive work. Since then, green has been spreading across Saihanba.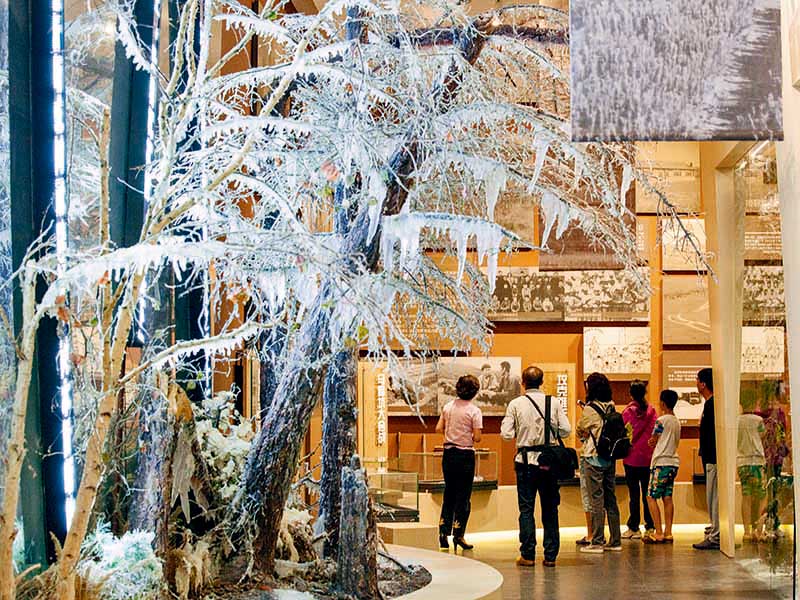 Top Threat
In the fire surveillance room of the Saihanba forest farm, Yu Lei sits at a desk facing four computers connected to video surveillance, infrared fire detector radar and lightning fire detectors. From time to time, he looks up at a screen on the wall in front of the desk displaying the feeds from 24 cameras in the forest. As a fire prevention worker, Yu and six colleagues take turns watching the monitoring system 24/7. "The office is never empty," Yu stresses. "The trees in the forest are close to each other. If a fire bursts out, the loss would be unimaginable."
Like the fire prevention staff, forest patrol and fire watchers also play important roles. Patrol happens every day to prevent nearby villagers and tourists from engaging in dangerous behavior, and fire watchers stay in nine towers at high geographical positions that afford a broad view.
"Wanghailou" is a watch tower located in the northeast of the forest at an altitude of nearly 2,000 meters, making it the highest. Liu Jun and Qi Shuyan, a married couple, have operated the station for 11 years. During the three most dangerous months every spring and fall, Liu and Qi take turns watching for any signs of smoke or fire in the surrounding woods, taking notes and reporting to headquarters every 15 minutes from sunrise to sunset. Their work continues in the night, but frequency drops to once per hour. Through the years, the notebooks they use have piled up about two feet high.
Living with loneliness is the sacrifice fire watchers make. Except for summer when tourists flock to the forest, the couple hardly sees any faces, especially when heavy snow blocks access to the forest in winter. Liu and Qi are left to support and comfort each other.
Years of tedious tending have paid off, however. No fire disaster has happened in Saihanba since 1962. "From spring to fall, I feel like I can see the trees grow a few centimeters through my telescope, but planters tell me they grow ten times that much," Liu remarks.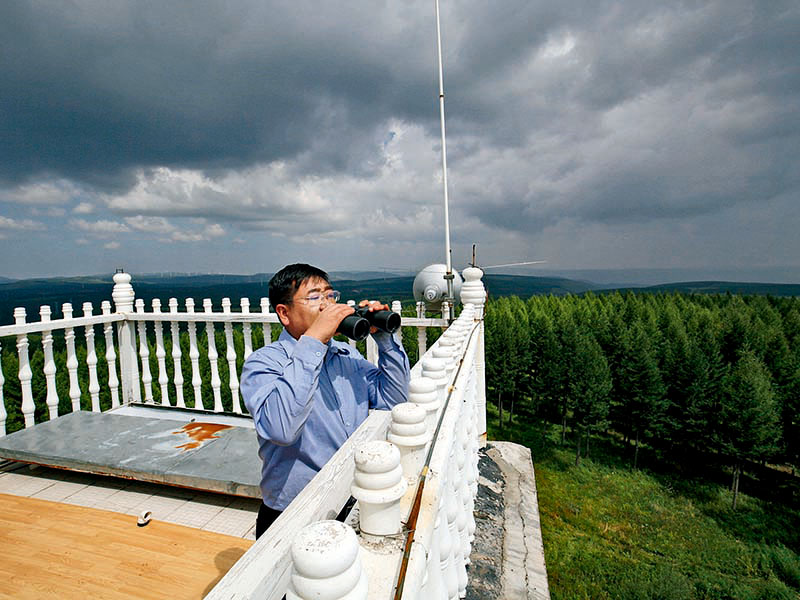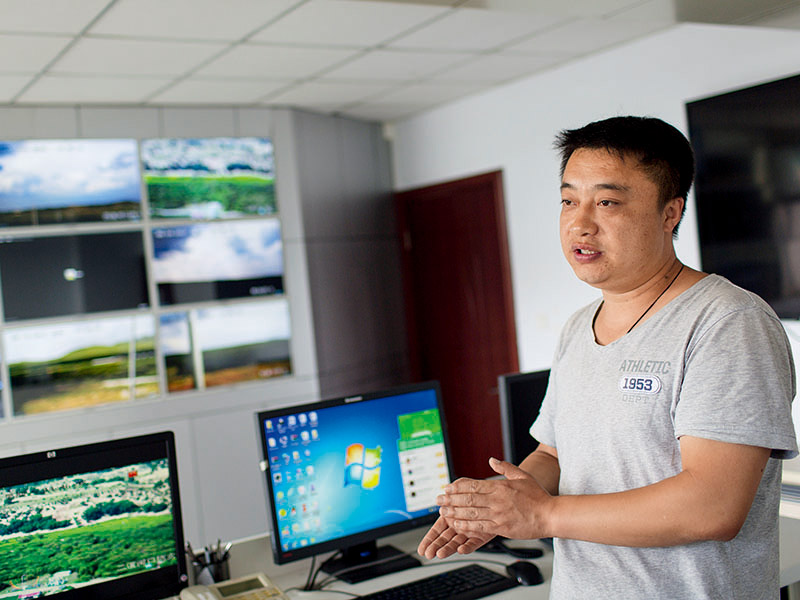 "Smoke-free Fire Hazard"
For forestry workers, pests are the next worst threat after fire. This spring, Erannis ankeraria Staudinger, a pest that feeds on larch leaves, invaded over 3,000 hectares of forest. Guo Zhifeng, chief of the Pest Control Station at the Saihanba forest farm, and his colleagues fought it for more than 20 consecutive days from early morning until late at night. Ultimately, the insects were brought under control.
Recent years have brought a rise in forest insect species. Pest control staffers venture deep into the forest to study emerging insects and take them back to laboratories for closer examination. "We have to learn about how the insects might harm the trees to determine the best way to deal with them," Guo says.
Since joining the station 17 years ago, Guo has witnessed waves of progress in pest control theory and techniques. According to him, pesticide drops from aircraft have been necessary for large-scale attacks, a practice which has happened once every six years since the forest farm was first built. However, over the last 12 years, the farm has not endured such an attack.
"We now try to keep pests under control instead of eliminating them all," he explains. "Certain pests keep others in check, so we need to help the forest become able to maintain this balance on its own."
Advanced techniques are employed in the forest as theory improves. "Now we rely mostly on physical methods and natural enemies to control pests," Guo reveals. "Pesticides are also becoming more biomimetic. They cost more but do less damage to the environment."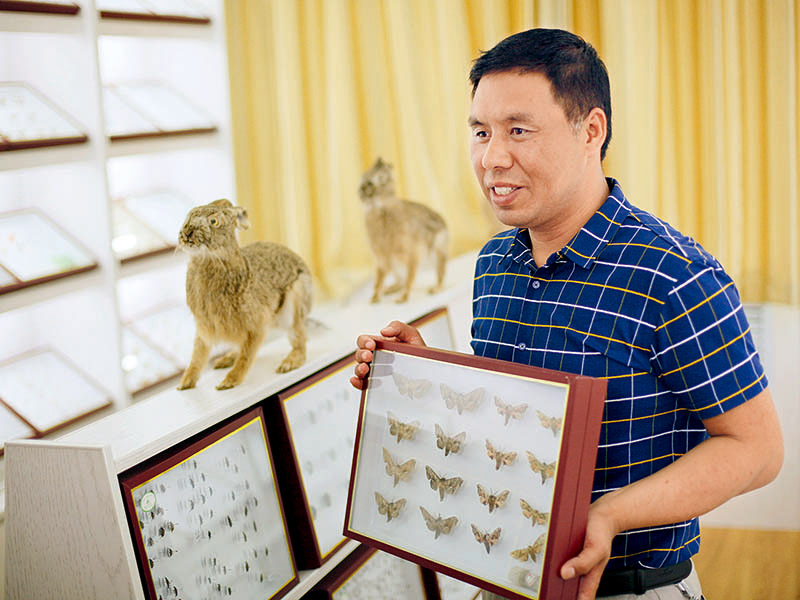 Improved Ecological System
At the Planning and Design Institute of the Saihanba forest farm, deputy chief Ji Fuli and engineer Yan Lijun discuss the satellite pictures processed by the ArcGIS geographic information system on a computer screen. The 17 members of the institute collect data from the forest in spring and fall, and bring it back to the office to calculate and analyze before making planting and management plans for the next year.
Working conditions were much worse in the 1990s when Ji and Yan first arrived at the forest farm. Horse-drawn carriages took them from one forest range to another, where they usually stayed for half a year. "At that time, we could only manage to collect data from one or two spots in an entire day. We processed data with just calculators," Ji describes. "Forestry is a pragmatic job. There is no room for carelessness."
Management concepts have changed in recent years. "We used to target economic benefits, but now our primary goal is to strengthen ecological stability," says Ji.
Every year the forest in Saihanba purifies 137 million cubic meters of water and absorbs 747,000 tons of carbon dioxide. The oxygen released by the forest can serve nearly two million people's needs for a whole year. The forest produces 12 billion yuan (around US$1.8 billion) of ecological value annually, according to the Chinese Academy of Forestry.
In the early days of the forest farm, the harsh natural conditions forced planters to only plant larches, which has resulted in a singular vegetation structure that can easily fall victim to pests. As the forest improves the climate in Saihanba, the frost-free season has lengthened, rainfall has increased and windy days have dropped, so other species of trees such as pinus sylvestris and spruce can now survive. "When a multi-layered forest takes shape with trees, shrubs and grass, the stability of the ecosystem will become even stronger," Yan notes.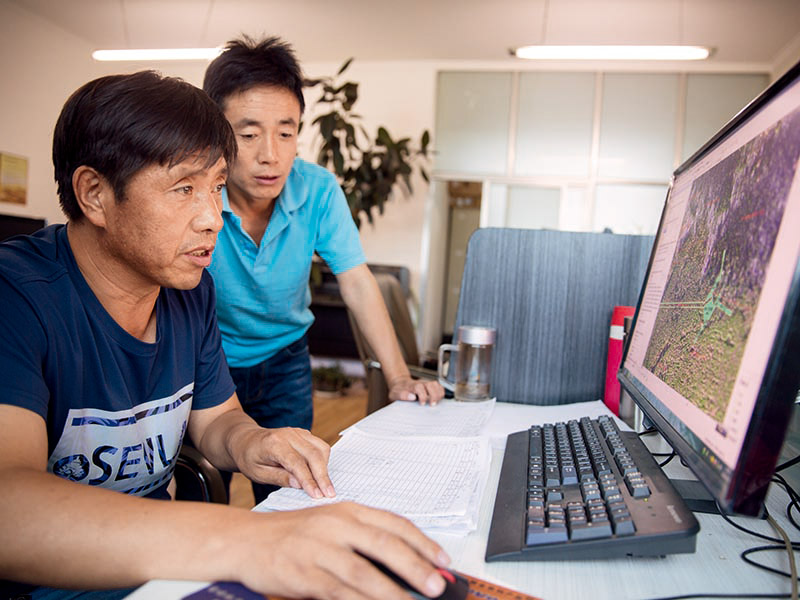 Growing Woods, Growing Men
"The straight, non-bifurcated trees with a wide crown are growing optimally," explains technician Song Yingying, who can identify the ideal time to prune as well as which trees to remove after five years of experience on the forest farm.
Working in the mountains, she meets sudden, unexpected rain frequently and once had to wade through waist-deep snow. "I spend about 300 days a year with my colleagues," she admits. "We take good care of each other like siblings. The work is never easy but we enjoy it."
Song's parents are also forest workers in Saihanba, and her childhood memories are peppered with chasing other kids through the woods. "You can find a lot of tasty things like strawberries and raspberries in the forest when fall comes," Song says. "I would forget to come home every time if not for my parents yelling, 'time for lunch!'"
Fu Yingnan returned to the Saihanba forest farm where he grew up after graduating from college in 2015. "The highest grove of larches near the headquarters was partly planted by my grandfather," Fu claims. "Dad told me that those trees were shorter than him when he was a child."
In recent days, a patch of mature trees was cut down, so Song and Fu became busy guiding workers in digging holes for seedlings to be planted next spring, measuring distances and marking lines.
"When I started planting for the first time, the team leader pointed to a large field and declared that it should be covered with seeds," Fu recalls. "I was thinking 'Only God knows how long that will take.' But by planting a thousand trees a day, day after day, it could be done. Now, I feel a tremendous sense of accomplishment by looking at the same field and seeing it packed with trees."