Joshua Dominick: The Chinese Puzzle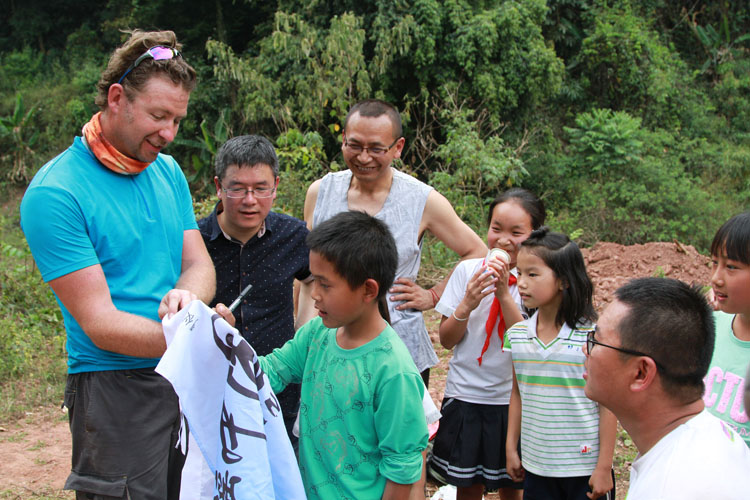 "Chinese is not that hard to learn." Contrasting many in the West, Joshua Dominick from the United States found that learning Chinese is a breeze. After falling in love with the language in high school, he has lived in China for over two decades.
Cool Chinese
Naples Central High School in New York offered a class called Global Studies which Dominick took in 10th grade. "It was a class to introduce all cultures around the world and cover the whole range of each region," he said. He recalled the teacher placing newspapers above the blackboard featuring languages from around the world. Among them were Arabic, French, Spanish, and East Asian language characters from China, Japan, and Korea. He fell in love with Chinese at the first sight. "They looked different, and more interesting."
"Chinese characters looked like a puzzle I wanted to solve." So in 10th grade, Dominick bought himself a self-teaching book for Chinese with audio tapes. He started listening to them and learning some characters. "It just became more interesting and came rather naturally to me."
In Dominick's eyes, Chinese didn't seem very difficult to learn. "There's no verb tense, there's no gender in written or spoken, and there's no word substitution," he explained. "There's no switching around the order. In terms of grammar and changes of word order, it is very simple."
However, Dominick said that the difficulty of learning Chinese comes in with the writing system. "Because it's so different in terms of the concept and the actual number of strokes that are in each order. In Europe, no matter if it's German, French or Italian, you can always find some elements that are familiar to me as an English speaker. Now when you come to Chinese, it's a totally different world. So you have to learn on a new base."
"There always seems to be a purpose or goal when Chinese people go to do something," he said. "Was it for university? Was it for a job?" On why he chose to study Chinese, Dominick saw the major difference in ways of thinking between Chinese people and Americans. "I just thought Chinese was cool and nothing more. I wanted to learn and wanted to solve the puzzle of this language."
Later, Dominick enrolled in Dickinson College. There, he focused on East Asia studies. In his junior year, he visited Peking University to study Chinese as a part of a cooperative program between the two institutes, joining research on Chinese with classmates from China and abroad. After graduation from college, Dominick went back to China and found a job as a translator at Peking University.
Cultural Translation
"I learn something new every day, which is the most interesting part of translation." The Investiture of the Gods, dating back to the Ming Dynasty (1368-1644), is a major vernacular Chinese fantasy classic. Dominick translated it all. He spent five months on the job and considered it a good opportunity to learn Chinese culture.
"It's a process that I go through in my adulthood that you may have gone through in your childhood or adolescence," he said. Chinese people tend to take the history of King Zhou, the last ruler of the Shang Dynasty (1600-1046 B.C.), and all other characters in the book, for granted, according to Dominick. "It's kind of like me reading Plato, Socrates, and Julius Caesar."
"Sometimes I agreed with what I read, sometimes I disagreed, but it was all food for thought." He also translated Dimensions of Wisdom, a book covering a wide array of Taoist concepts.
"You're taking concepts that are difficult even for Chinese readers to understand, that they have to think about, and then trying to get foreigners to understand them," he explained. "I have to make an interpretation for the English speaker who's going to read the book."
"The book is the author's individual interpretation of Lao Tzu's Tao Te Ching," Dominick revealed. "It's based on his own insights, his own life, and the world in his time." He found himself disagreeing with the author on some parts. "Sometimes you just have to make a decision and be faithful to the original text."
Due to the drastic difference between two languages, he also found many moments with a wide range of expressive choices. "There is a lot of pressure on me to produce an original interpretation. I am always second-guessing myself and grappling for the confidence to stand by my choices."
He sometimes asks Chinese friends for help when he is confused by something. But there is not always an answer waiting. "Even for native speakers, if you push someone to explain why something is, or what it actually means, they're like 'that's just the way it is,' which doesn't help me."
His vastly different background expands the importance of his role of explaining the translation. "If you add just a little bit of extra information or explanation, it can help the reader understand better, which is the most important thing."
Krankin' thru China
In 2012, Dominick and a friend were in Sanlitun, a Beijing commercial district, and saw a disabled black man in a wheelchair trying to get on an elevator but was blocked by a crowd that didn't realize he was there. They eventually realized the man, who couldn't speak Chinese, was American. Dominick helped him get to the elevator and then helped him take a taxi. In those days before mobile hailing taxi apps emerged, the man, who was named Arthur and later became Dominick's friend, could never hail a cab from the street.
"He started asking me questions about whether people with disabilities can drive in China." Dominick got his number and they kept in touch. "I told him I didn't know but would look into it."
In 2013, Dominick launched "Krankin' thru China," a program aiming to help those with physical disabilities enjoy outdoor sports, with two friends: Domonic Corradin from the United States and Wang Feng from China, both wheelchair users with spinal cord injuries. The program sought to get disabled people involved in handcycling, a kind of adaptive cycling for people with lower-limb disabilities.
"Part of our idea was to give people another reason to get out and become active," Dominick said. "A decade ago, Beijing wasn't as accessible as it is today. For example, today in the subways you will find a lot of accessible bathrooms, elevators, and ramps. Today, a wheelchair can easily go anywhere in this city. Back then it was not that easy."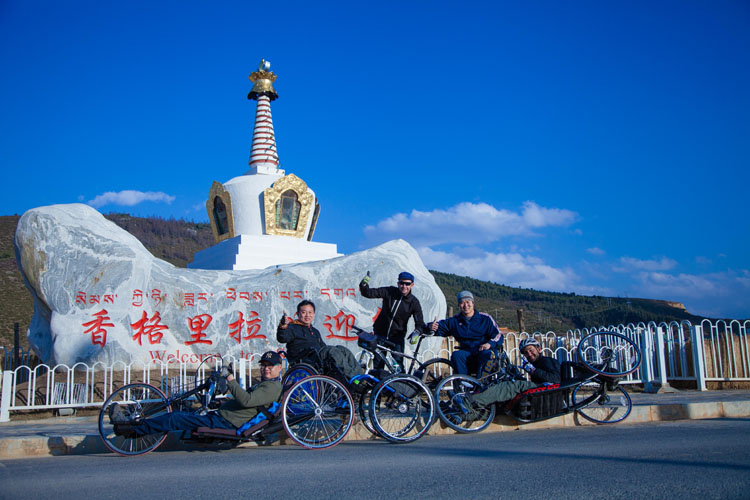 At first, the campaign only involved those three, but each year is different and the program has grown. In 2015, they cycled from Shangri-La to Dali in Yunnan Province. In 2016, they cycled from Dali to Xishuangbanna, and then from Xishuangbanna in Yunnan all the way to Beijing in 2017. The activities now usually attract dozens of participants. Disabled or not, they all cycle together.
The program's co-founder Wang Feng and other participants have helped Dominick learn different stories of the country and its people.
"This was an amazing opportunity for me to really get close to Chinese people on a very intimate level, because foreigners in China usually only come into contact with people in big cities who usually have something to do with international business or the foreign community."
After living in China for over two decades, Dominick now can speak standard and fluent Chinese. He believes that acquisition of Chinese helped him overcome language and cultural barriers. "The Chinese are a totally different group of people for me," he said. "Because I can speak Chinese and communicate with them in their language, I can really connect with them. We can ask each other stupid questions and even have a drink together."
Dominick considers the program "Krankin' thru China" another form of translation. "We are changing people's concepts of what disabilities are and what cycling is," he said. "When we do translation, it's basically to inform people. When we go around with this activity, we are showing people that there are other types of cycling, and other types of mobility to suit different people. So it's a kind of translation for society so that they can perceive things in different ways."