Piraeus Port: A Maritime Hub on the Belt and Road
Text by
Luo Jie
Photographs by
Xinhua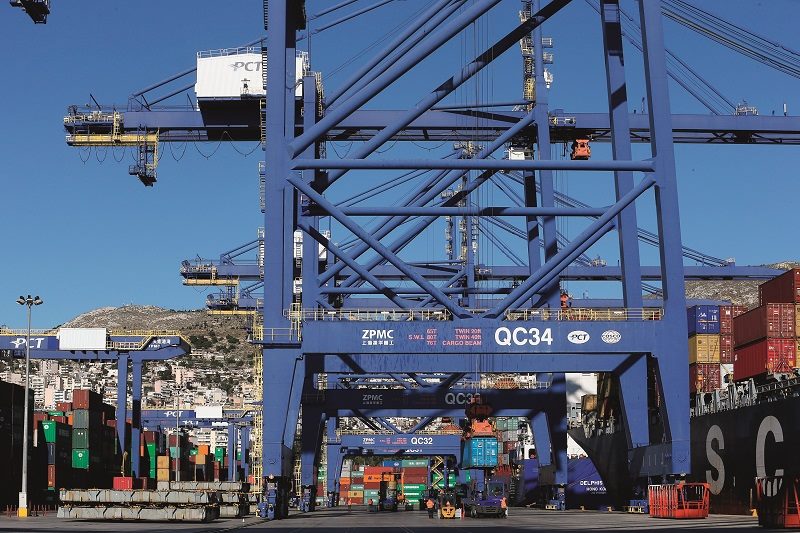 Rows of blue overhead mobile cranes shuttle back and forth with giant mechanical hands moving containers as freighters queue up in the open sea to unload cargo. The busy yet orderly scene is now typical for Piraeus Port in Greece. Located about 10 kilometers southwest of Athens, Piraeus Port is the largest port in Greece and a transportation hub linking the China-Europe Land-Sea Express Line and the Silk Road Economic Belt. After about a decade of construction involving Chinese enterprises under the Belt and Road Initiative, Piraeus Port has emerged as a pearl of the Belt and Road.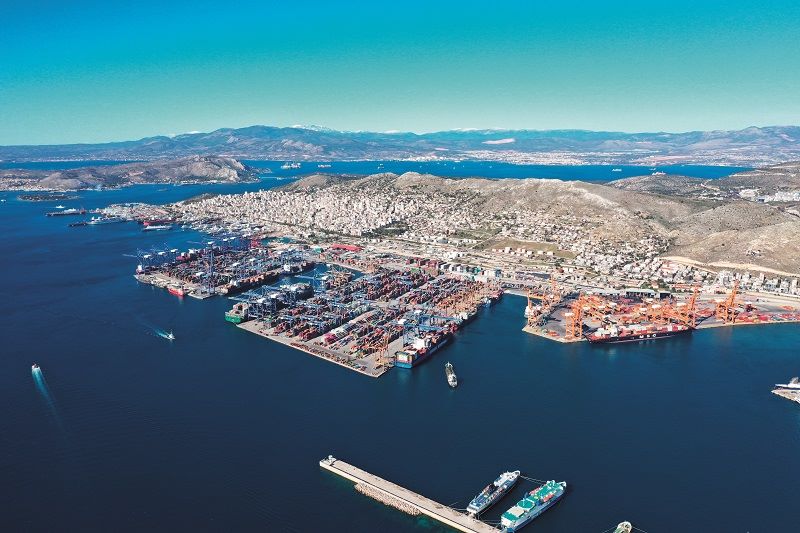 Joint Construction
Piraeus Port is now wide and deep, featuring a bustling scene with various cargo freighters. A decade ago, the operation of Piraeus Port was in trouble after the 2010 debt crisis in Greece. Every major sector was greatly impacted, and Piraeus Port was no exception. It suffered losses of 1.3 million euros (about US$1.4 million) and almost all its customers. Operations had to be suspended.
In 2008, China COSCO Shipping Corporation Limited (hereinafter referred to as COSCO) signed a franchise agreement with the Greek port and officially took over the operation rights of its No. 2 and No. 3 container terminals on October 1, 2010.
The Belt and Road Initiative brought historic opportunities for the port and doubled its cargo handling volume. In 2015, the container throughput of the port increased to 3.36 million twenty-foot equivalent units (TEUs) from 880,000 in 2010, and its global ranking jumped up to 39th from 93rd.port increased to 3.36 million twenty-foot equivalent units (TEUs) from 880,000 in 2010, and its global ranking jumped up to 39th from 93rd.The outstanding performance paved the way for COSCO to develop Piraeus Port further. In December 2014, the Greek parliament approved a plan for COSCO to invest 230 million euros (US$245 million) to expand the western area of No. 3 terminal. On January 22, 2015, the expansion project started. After its completion, the handling capacity of the port increased from 3.75 million to 6.2 million TEUs per year. The number of berths for container vessels with more than 10,000 TEUs increased from three to five. Piraeus Port has become the most competitive container terminal on the Mediterranean coast. On April 8, 2016, COSCO signed an agreement with the Hellenic Republic Asset Development Fund (HRADF) to acquire a 67 percent stake of the Piraeus Port Authority for 368.5 million euros (US$393 million).
Win-win Operation
COSCO enacted a series of big moves in port management, construction, market expansion, and other fields, including investing more than US$300 million in renovation, updating outdated facilities, improving customer services, strictly controlling expenses, and exploring international markets. The operation efficiency of Piraeus Port has gradually improved. Three months after COSCO took over the management of the port, its monthly ledger turned from red to black, and its operation situation changed dramatically. Now, Piraeus Port has reemerged as a cutting-edge comprehensive port rivaling the best in the world. Its container terminal has 11 vessel berths, with an annual capacity of 7.2 million TEUs, and can accommodate the largest container vessels in the world. The port's automobile wharf has five berths, with a total handling capacity of 600,000 vehicles per year. Its cruise terminal has 11 berths and three waiting halls, which can accommodate the latest generation of large cruise ships. Its ferry terminal has 41 berths to link to various islands in the Aegean Sea, with an annual capacity to serve 20 million passengers. Piraeus Port also has bonded housewares of 7,600 square meters and a logistics park covering an area of 86,000 square meters. And it is connected to all transportation modes such as sea, highway, rail, and air.
Driving Local Development COSCO directly created about 3,000 jobs, bringing big changes to local economic and social development and residents' lives. Local resident Varela has been working at Piraeus Port since 2010. During those 13 years, she has realized personal growth thanks to the company's support. Among the robust support, the measure that has given her the greatest help and has been most welcomed by the port's employees was an education aid fund offered by COSCO. Launched in 2018, the program is committed to helping employees continue their studies. Thanks to the program, Varela, who works in the financial department, chose to pursue an MBA in shipping. So far, more than 10 Greek employees have completed further studies with the help of the program and improved their living standards. COSCO has actively fulfilled its social responsibilities during the construction and development of Piraeus Port. Since 2021, through Greek charity organizations, the company has expanded assistance targets to more vulnerable groups such as seniors without families, the disabled, and children in need of special care. In May 2022, a signing ceremony for an agreement to the transfer of an underwater museum site was held by COSCO and the Greek Ministry of Culture and Sports. According to the agreement, the company would provide Greece with approximately 13,000 square meters of space for the construction of the Greek Underwater Archaeological Museum. Planners hope the move will help promote the development of archaeology and cultural tourism in Greece. According to statistics, under COSCO's management, Piraeus Port has directly donated more than 400,000 euros (about US$426,000) in cash and materials for locals over the past decade-plus.
New Goals
To ensure neighboring countries benefit from Piraeus Port, COSCO has integrated its comprehensive advantages in shipping and ports and explored a new trade corridor linking China with Central and Eastern Europe—the China-Europe Land-Sea Express Line. The China-Europe Land-Sea Express Line is an important channel connecting the sea and land. It starts from Piraeus Port in the south, passes through Skopje in North Macedonia and Belgrade in Serbia, and finally reaches Budapest in Hungary. As a stop on the express line, Piraeus Port has quickly climbed from a single service route to the Czech Republic to a hub offering diversified railway services. In June 2022, a special train for Hisense home appliances bound for Slovenia departed the Port of Trieste in Italy on the China-Europe Land-Sea Express Line. It marked the official opening of the fourth route of the express line on the European continent. Covering nine countries with 1,500 stations to serve a population of 71 million, this express line will greatly save time and costs for freight transportation.