Prosperity in Farmer Paintings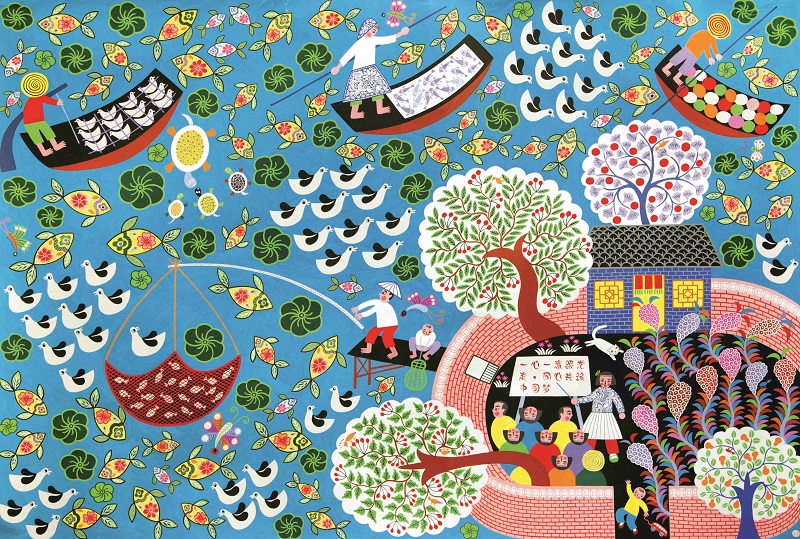 A red rooster leaps onto a festive rural opera stage, livestreamers hawk products against a backdrop of lucid waters and lush mountains, and a galloping high-speed train slices through a field of waving rice like butter. Such vivid imagery was created by one of China's most special groups—farmers.
Many work in the fields with hoes during the day before turning to paint brushes at night. Like the crops, their paintings sprout from an airy atmosphere of freshly tilled soil and are known for rich imagination, bold colors, and distinctive features.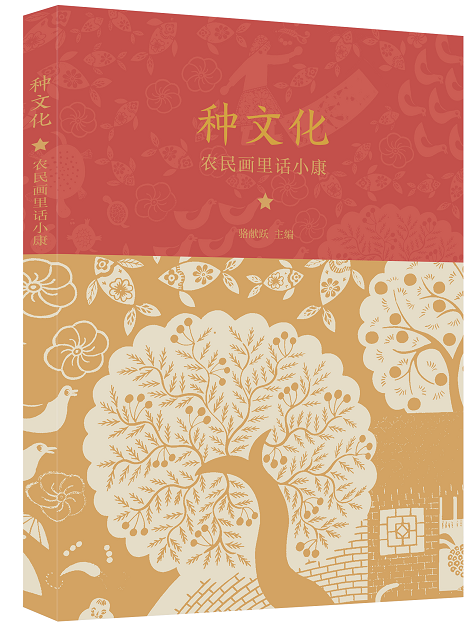 Culture flourishes when people don't worry about food and clothing. In recent years, China's rural areas have witnessed dramatic changes in the environment, fast development of agriculture, and steep improvements in living standards. A collection of paintings about farming and rural life by grassroots creators in the new era has attracted widespread public attention.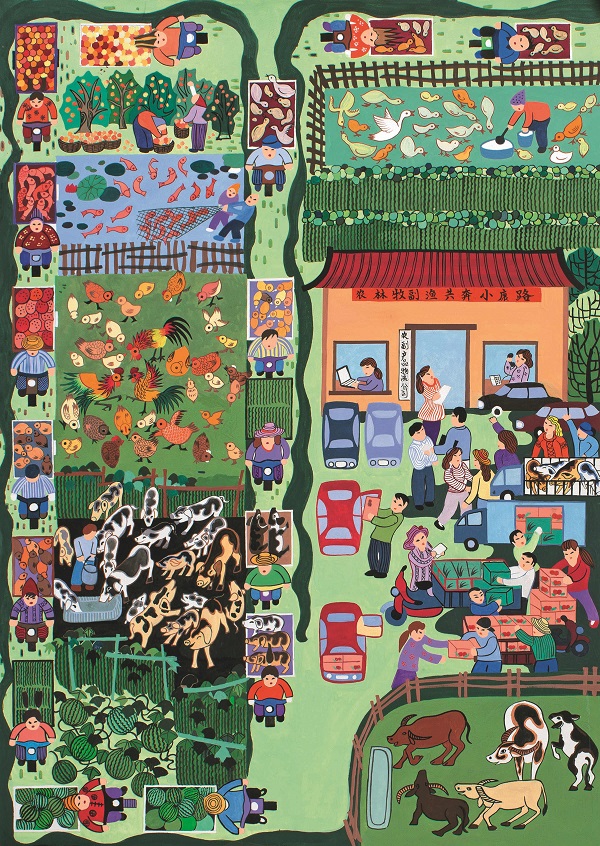 Like crops, farmer artists plant the seeds of culture in the countryside, allowing them to take root, sprout, blossom, and bear fruit. Such works not only find their way into museums, but also decorate walls throughout their villages, creative packaging for agricultural products, and rural tourist souvenirs, making them an important piece of rural cultural life.
The book Planting Culture—Moderate Prosperity in Farmers' Paintings compiled works and voices of farmers who planted the seeds of farming culture in people's hearts. By printing 104 paintings and 46 quotes from farmers, the book seeks to showcase purely bright colors and roughly free brushstrokes of the farmers and their original creation aspirations.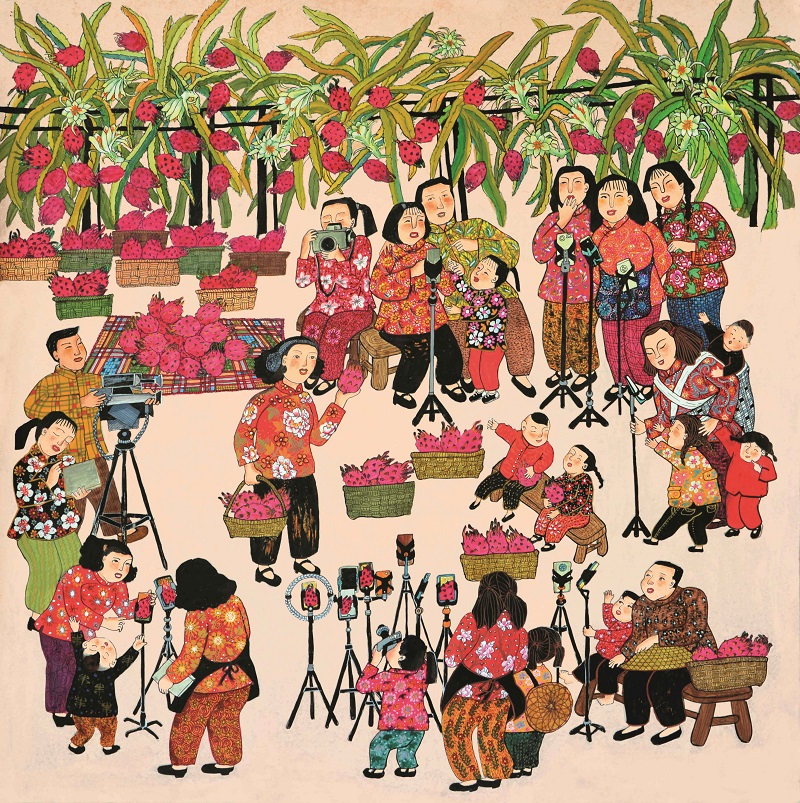 Against the backdrop of the vast and beautiful countryside, farmer artists deploy creation skills for paper cutting, embroidery, shadow puppets, woodcuts, and other folk arts to communicate their love for life and pursuit of dreams through pictures.
Those paintings interpret natural scenery, folk customs, farm work, everyday life, features of four seasons, and other rural themes in a unique way. They are close to life with charming, distinctive, and strong rural styles.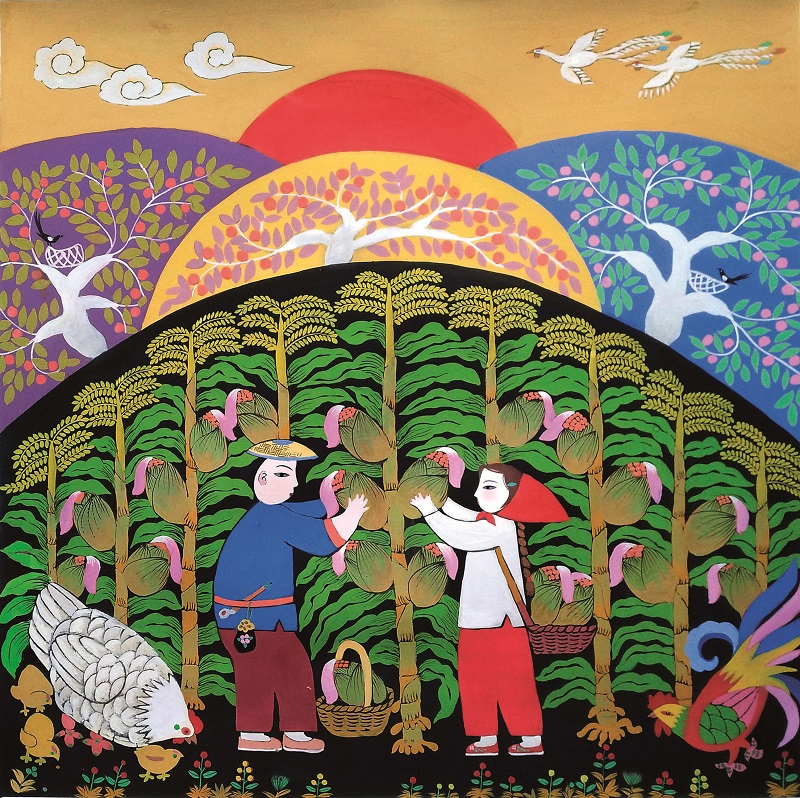 In such works sated with vigor and enthusiasm, we see the past, present, and even future development of rural China. The plain but sincere words of farmer artists promote deep understanding of farmers, rural areas, and broader Chinese society.
"If displayed alongside Yudong farmers' works, our paintings would be overpowered by their bright and strong colors," said Yang Canjun, chairman of Zhejiang Oil Painting Artists Association and professor at the China Academy of Art, after seeing paintings by farmers from Yudong Village, Quzhou City, in eastern China's Zhejiang Province.
He said that the paintings not only integrate various elements of intangible cultural heritage, but also highlight the farmers' great love of the land and life, which is the foundation and source of their inspiration.
Chen Lyusheng, former deputy director of the National Museum of China, was amazed to see paintings by Miao people from Pingpo Village, Qiannan Buyi and Miao Autonomous Prefecture, in southwestern China's Guizhou Province. "It's hard to associate women working in the farmland with artists, and it's unbelievable that their hands could create such delicate and and wonderful decorative art
pieces," he said.