Reflections on Chinese Hospitality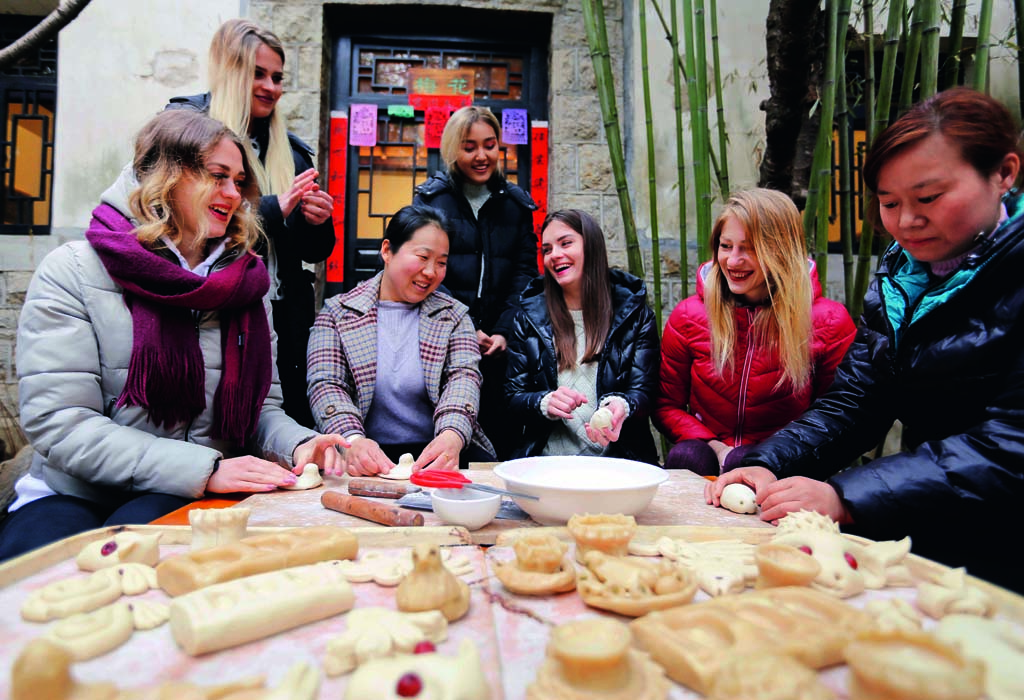 I have visited seven countries outside the United States: Britian, France, Spain, Nicaragua, the Bahamas, South Korea and China. I've seen a lot of interesting and unforgettable things in each of these places, and each nation has left its mark on me. Each has shown me the intricate ways in which the local people express hospitality. The classy wit of Western Europeans, the enthusiastic affection of Latin Americans, and the polite dignity of the Korean people have all left a powerful and positive impact on me. It seems, however, that I have established an unexplainable connection with the Chinese people, and I have never seen such consistent, intentional displays of hospitality, friendship, and honor as I have in China. Perhaps yuanfen (connections ordained by fate) is the best explanation for why I find this land and its people to be the world's most endearing thanks to an unparalleled sense of hospitality.
The Chinese people are careful to make good impressions on guests, and they treasure relationships with friends and family. This stood out to me during my first trip to China four years ago when I arrived with my American university classmates and teachers as part of a short-term cross-cultural program. I fell in love with China. The food, language, landscape and architecture intrigued me, but the people were the most captivating. Our hosts not only waited on our every need, but also endeavored to genuinely befriend us. They were curious and desired to understand my life and how it differed from their own. Being equally curious, this was an opportunity for me to establish mutual understanding and friendship.
My new Chinese friends' amiability was a trait that I found to be consistently widespread, and when an opportunity emerged for me to study in central China's Henan Province, I came back a second time to begin learning Chinese. I looked forward to making new friends and more deeply understanding Chinese culture. During this period, my appreciation for this country solidified into something deeper. I came to realize that China would always remain an important part of my life. This sense of yuanfen became part of my reality. Studying as an exchange student for three months in China also gave me my first real culture shock. The cultural differences between America and China are profound, so there was a considerable adjustment process for me. Despite my difficulty in getting used to these new surroundings, I quickly made new friends who constantly looked after my well-being.
Two years ago, I came to China again on a research scholarship, during which time I experienced new aspects of Chinese hospitality. I stayed for several weeks at a friend's family home in a rural village in Shanxi Province. My hosts were not wealthy, nor had they hosted foreigners before, but they were the most gracious hosts I have ever had. They ensured that I ate and drank well, sometimes too well. My friend's grandmother cooked all day, and there was a grand feast every evening. In the arid summer heat of the Shanxi countryside, my friend's family insisted on putting the household's only electric fan in my room. At night, although it was still very hot, my friend's father always made certain to close my bedroom window so I didn't "catch the wind." I was also introduced to baijiu (rice liquor) and the customs of drinking.
Currently, I am attending classes at Beijing Language and Culture University to improve my Mandarin. I have lived here for seven months, the longest time I've spent away from my Tennessee home. My new friends in Beijing made possible the formidable tasks of finding an apartment, learning the subway and bus routes, ordering food, asking for directions, and figuring out my school. One friend was a former university classmate, and his parents even loaned me money when my American bank wouldn't send me wire transfers. I was also blessed to have a flatmate from Shenzhen who helped me figure out shopping in my neighborhood. These wonderful people made it possible for me to get settled.
Compared to many people I know, I am not the most well-traveled, nor do I have endless examples demonstrating why Chinese hospitality is the best. I can only refer to the fated connection I feel with China. China is always teaching me new things about how to live life, particularly a life constantly enriched and guided by yuanfen. These fated connections take many forms: between acquaintances, businesspeople, friends and family. Though I have not lived in China long enough to understand all the nuances within Chinese social communication, it's my firm conviction that my connections with China are in the form of the purest friendships in life. I remain indebted to a long list of Chinese friends and acquaintances, and I don't think I will ever be able to repay their kindness. I believe this is the way they would have it. 
The author is an American student at Beijing Language and Culture University.