Sharing with All Life on Earth: China in Action
Text by
Yin Xing & Liu Xiao (intern)
Every second, a football pitch-sized area of tropical rainforests is lost forever.
Every day, as many as 75 species go extinct.
Among the eight million species on the planet, about one million are in danger.
In such a grave situationfor biodiversity protection, the UN Summit on Biodiversity was convened on September30, 2020."At present, there exists an acceleration of the global extinction of species," warned Chinese President Xi Jinping when he addressed the summit by video link. "The loss of biodiversity and the degradation of the ecosystem pose a major risk to human survival and development. COVID-19 reminds us of the interdependence between man and nature. It falls to all of us to act together and urgently to advance protection and development in parallel, so that we can turn Earth into a beautiful homeland for all creatures to live in harmony."
During the 75 years since its establishment, the United Nations and China have engaged in deep cooperation in many realms. In September 2003, the United Nations Environment Programme (UNEP) established its first country-level office in the world: the UNEP China Office in Beijing.
Recently, TuRuihe,head of the UNEP China Office, sat down withChina Pictorialfor an exclusive interview to discuss cooperationbetweenthe UNEP and China on biodiversity.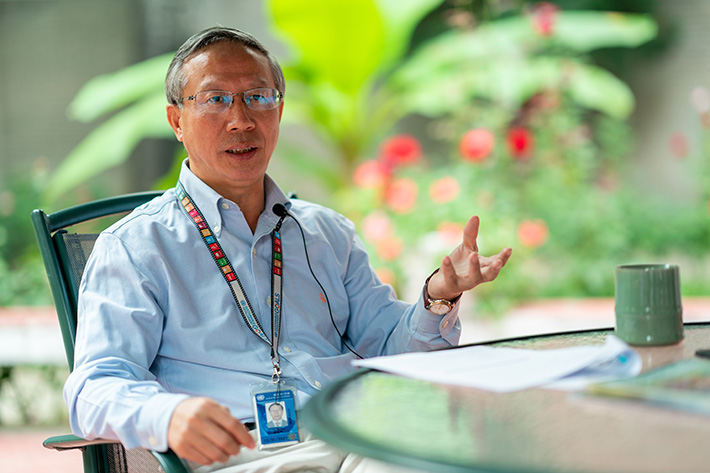 China Pictorial: What cooperation has the UNEP and China been working on in recent years?
TuRuihe: The history of China-UNEP cooperation can be traced back to the firstUN Conference on the Human Environment in Stockholmin 1972. The establishment of the UNEP was one remarkable fruit of that conference. Biodiversity protection has always been a major subject of China-UNEP cooperation. During the past few years, UNEP support has helped China keep its commitmentsto theConvention on Biological Diversity(CBD) and other international mechanisms and treaties. China is now playing an indispensable role in global biodiversity protection.
In 2019, China and New Zealand sponsored the "Nature Based Solution" (NBS) at the UN Climate Action Summit 2019. This proposal was a hit withUN Sectary-General AntónioGuterres, who organized vital technical support through the platform of the UNEP.
Furthermore, Chinese experiences on biodiversity protection and ecological rehabilitation have become important assets for the global community, and these valuable experiences and methods will always be open to the world through the platform of the UNEP. As early as 2005, the afforestation campaign led by the All-China Youth Federation on the upper reaches of the Yellow River was acknowledged by the UNEP. It received the "Champions of the Earth"award, the highest honor for environmental protection. This prize was also awarded to a regional environmental protection and economic revitalization program in Zhejiang Province in 2017 andthat inthe Kubuqi Desert in Inner Mongolia Autonomous Region in 2018.By honoring China's efforts in environmental protection, the UNEP is helping disseminate thecountry's valuable experiences to the world.
In August 2020, we organized online lectures on biodiversity for youth, who represent the future of the world. Through such activities, we hope to kindle new ideas about environmental protection. Young people can also inspire their relatives and friends to seek an eco-friendly lifestyle. We like to say "protecting the environment is elegant, exploring nature is a delight," and we're glad to see this slogan resonate among young people.
In the future, the UNEP will help ensure a successful 2020 Winter Olympicsby providing consulting services on biodiversity protection and sustainable development.
China Pictorial: What is the current situation of biodiversity in China? What challenges are we facing?
Tu: The fifth edition of the Global Biodiversity Outlookwas just released by the CBD Secretariat.It provides the most authoritative assessment of the present status of ecosystem and biodiversity protection.
"This flagshipreport stresses that mankind is at a crossroads on the issue of natural heritage left for future generations," wrote Elizabeth Maruma, executive secretary of the CBD Secretariat. "The current rate of biodiversity loss is unprecedented in human history, exerting increasing pressure on mankind. The entire ecosystem of Earth is being destroyed. If human beings continue to develop and exploit natural resources in an unsustainable way, nature cannot continue to sustain human beings as it did previously,and we will be left without options to safeguard our well-being and prosperity."
Some current difficulties are universal: destruction of wildlife habitats by human activities, surging acquisition of natural resources, various chemical pollutant emissions,animals and plants struggling to adapt to climate change, and alien species invasion arising from human factors.
As one of the 12 countries with the richest biodiversity, Chinafaces all these challenges. Meanwhile, China is also confronting some unique issues related to its overwhelming population, huge number of people struggling with poverty, unbalanced regional development, and desertification in western China.
China Pictorial: What advancements has China achieved in environmental protection and sustainable development? Have any specific storiesimpressed you?
Tu:I'm pleasantly surprised that the adage "lucid waters and lush mountains are invaluable assets" has become the guiding principle and the foundation of China's top-level design of sustainable development. The concepts of ecological civilization and harmony between nature and human society have been rooted in traditional Chinese culture and continue to enjoy great popularity among Chinese people.
The scientific communityhas reached a widespread consensus that poverty is one of the biggest enemies to biodiversity. Over the past four decades, China has made remarkable achievements in poverty alleviation. The year 2020 is China's deadline to eliminate absolute poverty, which is a big help for biodiversity protection. China is also marching forward in the legislation and law enforcement related to environmental protection. Over 1,200 jurisdictional institutions covering environmental resources have been established.
Alongside its robust domestic efforts, China has provided enormous assistance forthe international community bysharing its experience and techniques through South-South cooperation.
Personally, I'm impressed by the Saihanba afforestation project in Hebei Province, which was honored with the "Champions of the Earth"award in 2017. It is a miracle achieved through60 years of tireless effortsacross three generations of forestry workers. During my visit to Saihanba, I was awed by its boundless forests. You could never imagine the place used to be a vast desert. Over the past 60 years, three generations of workers have stuck to the task despite many difficulties such as poor living conditions,extreme cold, drought, and high winds.After decades of backbreaking labor, Saihanba is now a national forest park. Many wild animals have moved in, and the living conditions of local people havealso improved considerably. Stories like this can be found across China.
China Pictorial: What do you expect from the 2020 UN Biodiversity Conference (COP15) scheduled for next year in China?
Tu:Hosting such a major international conferencewill help promote biodiversity protection awareness throughout Chinese society. China can also seize the opportunity to share its experience and achievements in environmental protection. Over time, China sees its role shifting from a participant to a leading player. Given the mounting protectionism and unilateralism around the world, China must make a firm stand for multilateralism and cooperation.
Already, all COP15 parties are expecting China,the host nation of the 2020 UN Biodiversity Conference, to play an exemplary role as it did during the 2015 climate change conference in Paris.We are also looking forward to successful formulation of an ambitious and practical global agenda for biodiversity protection. The outbreak of COVID-19 is exerting unprecedented impact on society and the economy. It is also a big reminder of the intricate bond between human health and the ecosystem.The current situation clearly offers both opportunities and challengesto fulfill biodiversity protection targets.