Sino-U.S. Ties at "New Historic Starting Point"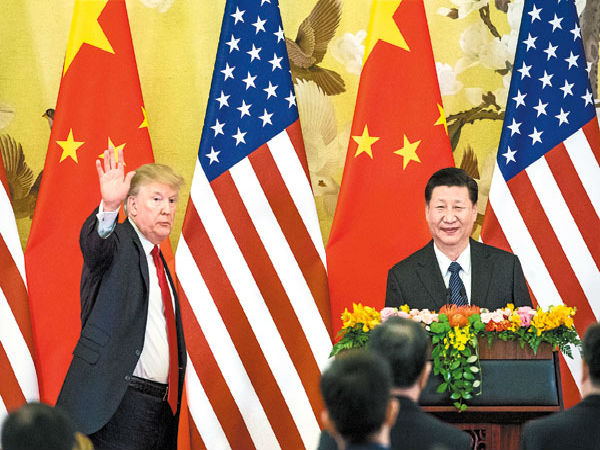 President Xi Jinping and his U.S. counterpart Donald Trump struck an upbeat, cooperative tone on November 9 on many key bilateral and regional issues, including the Korean Peninsula and trade.
China continued its "state visit-plus" reception for the U.S. leader on November 9, with a lavish welcoming ceremony featuring special arrangements, including the performance of U.S. military music and the participation of 10 U.S. students in the welcoming party, which normally consists of Chinese students.
Traditional Chinese musical instruments were on display at the Great Hall of the People, and live broadcasts were arranged, a rare occurrence for a welcoming ceremony and talks.
A meeting between the two leaders and their top advisers exceeded the originally scheduled one hour. Trump said that "our meeting this morning in front of your representatives and our representatives was excellent."
Addressing the media, Xi said that he and Trump had achieved a new consensus, and their meetings had been constructive and yielded fruitful results. Xi affirmed China's commitment to reform and opening-up, saying that China will increase common interests with other countries and boost coordination between major countries.
The two sides should resolve problems and contradictions in economic ties through jointly boosting the overall scale of Sino-U.S economic cooperation in a visionary and constructive way, Xi said.
Sino-U.S. relations are "at a new historic starting point," and cooperation is "the only correct choice" for the two countries, Xi said in his opening remarks at the extended meeting. China is willing to focus on cooperation and control disagreement with the US, to benefit the people of both sides as well as the whole world, he said.
Trump expressed gratitude for the warm reception from the Chinese president. "There can be no more important subject than China-U.S. relations," Trump said.
The U.S. president also highlighted his personal friendship with Xi. It's the third face-to-face meeting between Xi and Trump following the first in April at the Mar-a-Lago resort in Florida and the second in Hamburg, Germany, during the G20 Summit in July. "My feeling toward you is an incredibly warm one — as we said, there is great chemistry," Trump said.
On bilateral trade, Trump said the U.S. "really has to change its policies because they've gotten so far behind on trade with China, and frankly, with many other countries." Trump said he believed that "there is a solution" to the Korean Peninsula nuclear issue.
Zheng Zeguang, vice-foreign minister, told reporters on November 9 that China will sharply ease market access in financial sectors including banking, security funds and insurance, and gradually cut taxes on imported cars, in line with its own timetable and road map.
The two sides agreed to continue to fully implement all of the UN Security Council resolutions on the Korean Peninsula nuclear issue, maintain pressure regarding the nuclear activities of the Democratic People's Republic of Korea (DPRK), and promote peaceful resolution of the issue through dialogue and negotiation, he said.
The two countries are dedicated to maintaining the global nonproliferation system and refuse to acknowledge the DPRK's status as a nuclear weapons-possessing nation, Zheng said.
The two presidents highlighted the importance of bilateral military ties, he said, adding that China welcomes US Secretary of Defense James Mattis to visit China in the first half of next year, and the U.S. welcomes a Chinese high-level military delegation to visit the U.S.
During their talks, Xi elaborated China's principle and stance on the Taiwan question, and Trump reaffirmed that the U.S. will continue to adhere to the one-China policy, Zheng said.
(Source: China Daily)