Strokes of Harmony
Text by
Hu Zhoumeng
Photographs Courtesy of
Liu Nanping unless otherwise credited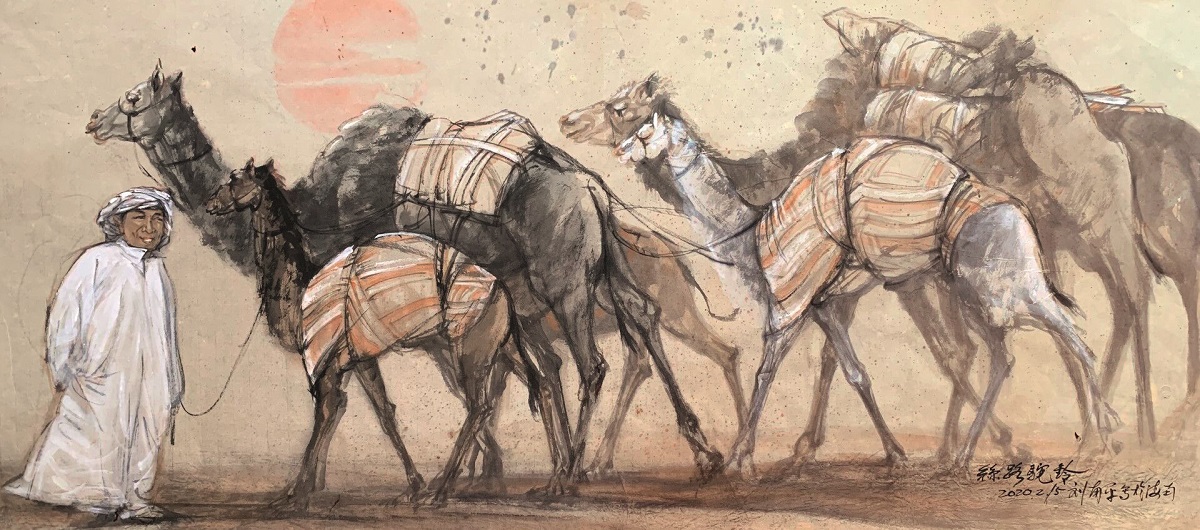 Over five decades later, Liu Nanping, honorary president of Yangzhou Chinese Painting Academy, still clearly remembers first seeing a painter in action as a child.
One day after school, he saw a teacher at the cultural center in his hometown in the process of painting. The work was an oil painting depicting vivid figures from 56 ethnic groups surrounding Chairman Mao Zedong. Liu was astonished and forgot to go home for dinner. "I thought the painting Unity of All Ethnic Groups and its painter were really amazing," he exclaimed. "I wondered how I could become such a good painter."
In both educational and practical spheres, Liu contributed heavily to the development of calligraphy, engraving, Chinese painting, print, mural, lacquerware craft and even environmental sculpture. He has always cherished the "curiosity" about art he developed as a child.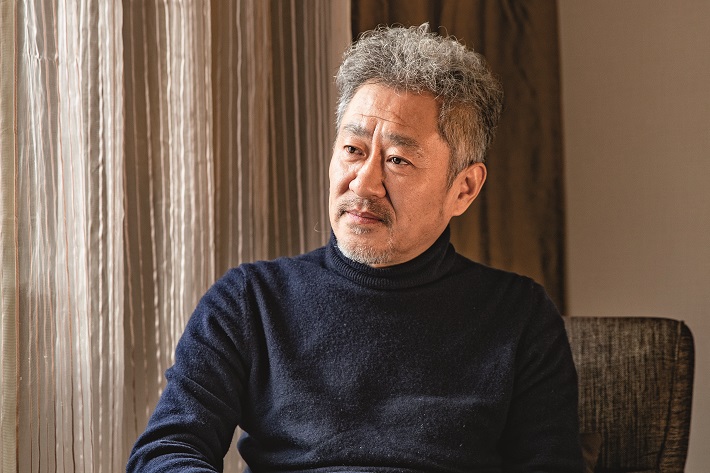 Porridge from Grains of Rice
Years of practice of calligraphy nourished Liu's painting skill. He realized that Chinese calligraphy and painting were intertwined. "Each style of stroke in calligraphy has its own charm, and the techniques of calligraphy are heavily applied in traditional Chinese painting," he explained.
Liu Nanping majored in arts and crafts at Yangzhou Arts and Crafts School. He studied Western sculpture, and mud and plaster became his "friends." The systematic education at school allowed him to perceive the different painting languages of both East and West at a young age. This realization caused Liu to constantly pursue the harmonious coexistence of the two art languages.
"I want to connect Chinese and Western arts and enrich our works by combining the aesthetic concepts of Chinese painting with Western modeling and color," Liu said. "A Chinese saying goes: 'Beg for rice from one hundred households to cook your own bowl of porridge.' By acquiring the elements of various arts and melting them into a single piece, one can create a truly singular style."


Liu believes that artists must learn from traditional culture while understanding the pulse of the times. "Inheriting tradition is not about replicating things produced in ancient times. Painters must capture the spirit and cultural characteristics of their own eras."
In 2015, Liu created the nine-meter- long Chinese painting Splendid Yangzhou for the city of Yangzhou. The following year, he created a brick mural, Splendid Jinling, for Nanjing, which measures 23 meters long and three meters tall. Traditional pavilions, pagodas, waterways and bridges are merged with skyscrapers, high-speed rails and airports, all in the same painting, capturing the harmony between traditional culture and modern civilization in the two cities.
China is now battling the novel coronavirus pneumonia epidemic, and medical workers across the country have streamed into Wuhan and other cities in Hubei Province to save lives. Liu feels that everyone has the responsibility to help during the country's difficult time. He enthusiastically wrote the poem Your Eyes in honor of medical workers fighting the epidemic on the front lines: "I can't clearly see your eyes behind the goggles, yet I know your eyes are a window opened by God, from which white pigeons float freely into the blue sky, riding the spring breeze to warm the people." He depicted their busy figures helping patients in a sketch.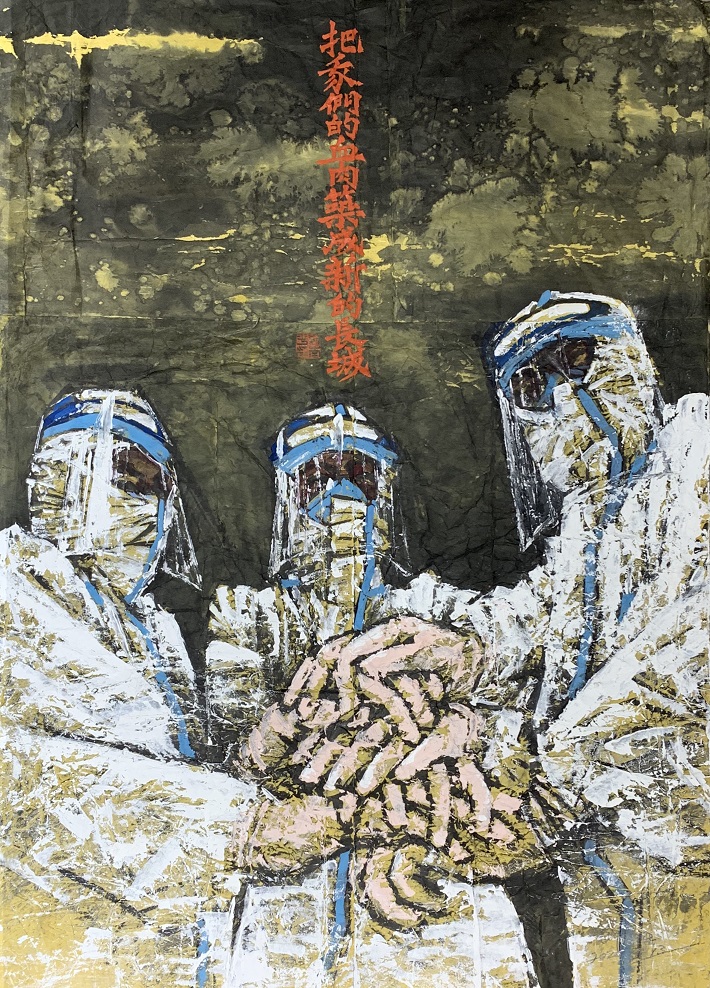 The "Temperature" of Chinese Art
In February 2018, at the China-Tanzania Forum on Wildlife Conservation and Tourism Development in Dar es Salaam, Tanzania, Liu presented a Chinese painting depicting an elephant family to world-famous wildlife protection expert Jane Goodall. Against a setting sun, a little white elephant closely follows three big elephants as they slowly walk across the desert, a touching and warm scene. After accepting the painting, Jane Goodall embraced it tightly in her arms and asked Liu to pose for a photo with it.
"This image shows that we need to protect elephants like protecting our family," noted Zhou Mingwei, executive director of the China Public Diplomacy Association and president of the Translators Association of China, who attended the forum and was impressed by friendly exchange between China and Tanzania. "Poaching elephants is a serious problem all over the world," he stressed. "We would like to sincerely search for better solutions with Lady Jane Goodall. Her work in wildlife protection is very touching. Inspired by her efforts, tens of thousands of people in China have become devoted to wildlife protection."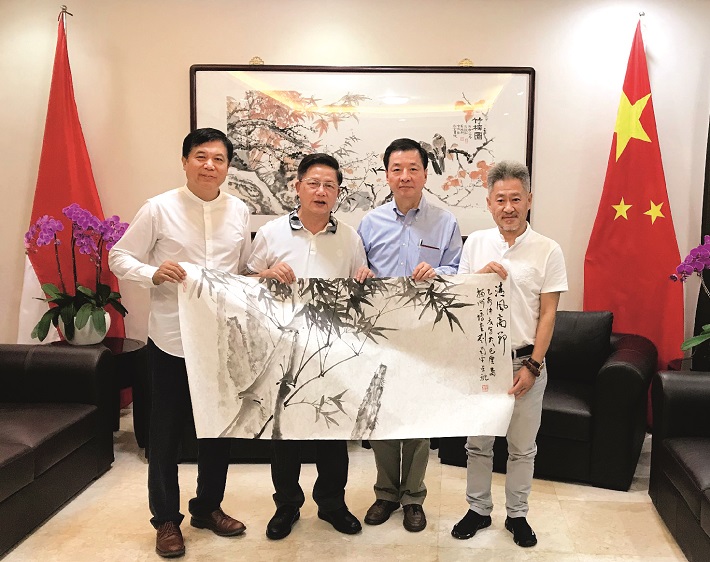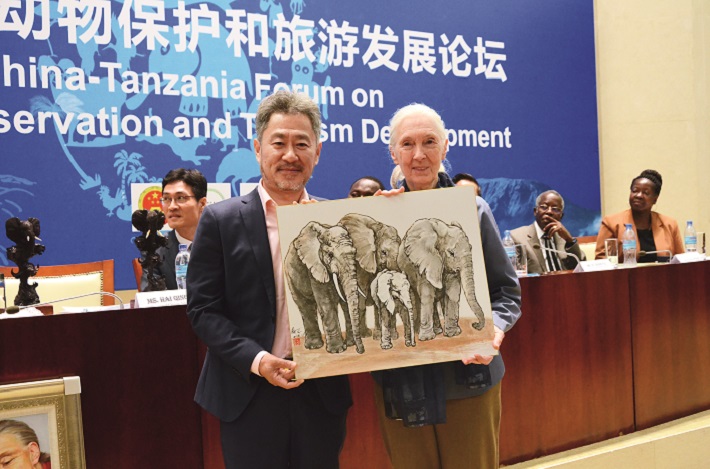 In recent years in his role as director of the China Public Diplomacy Association, Liu Nanping has participated in numerous international exchange activities and has visited five continents.
Hu Zhengyue, vice president of the China Public Diplomacy Association, considers Liu an artist who captures both the quality of elites of southern China and the styles of traditional Chinese literati. "We have known each other for many years, and Liu Nanping has remained devoted to the cause of international cultural exchanges," Hu said. "He has created numerous excellent pieces of Chinese calligraphy and painting and presented them to foreign friends. Every work was carefully designed and specially created."
To celebrate opening of the High-Level Conference on ASEANChina Media Cooperation held in the Indonesian capital of Jakarta in July 2019, Liu created a mural that is 10 meters long and 0.5 meters wide. When the scroll was slowly unrolled at the meeting hall, onlookers gasped as the national flowers of the 10 ASEAN countries appeared one after another including Vietnam's lotus, Myanmar's Ixora chinensis and Indonesia's Jasminum sambac. When China's peony was finally revealed, applause broke out.
"Colorful and fragrant flowers symbolize the beautiful cultures of different countries," declared Hu. "Appreciation of the culture of others like one's own makes the world a harmonious family. We should learn from each other and work together for common prosperity."
"A well-designed work of art can represent the spirit of a country, and also carries the respect and friendship for other countries. The way of international exchange is ever-changing, but it's always natural to make friends through calligraphy and paintings. This work reflects the vision of harmonious coexistence between China and the 10 ASEAN countries, so it struck a responsive chord in the hearts of the audience," Hu added.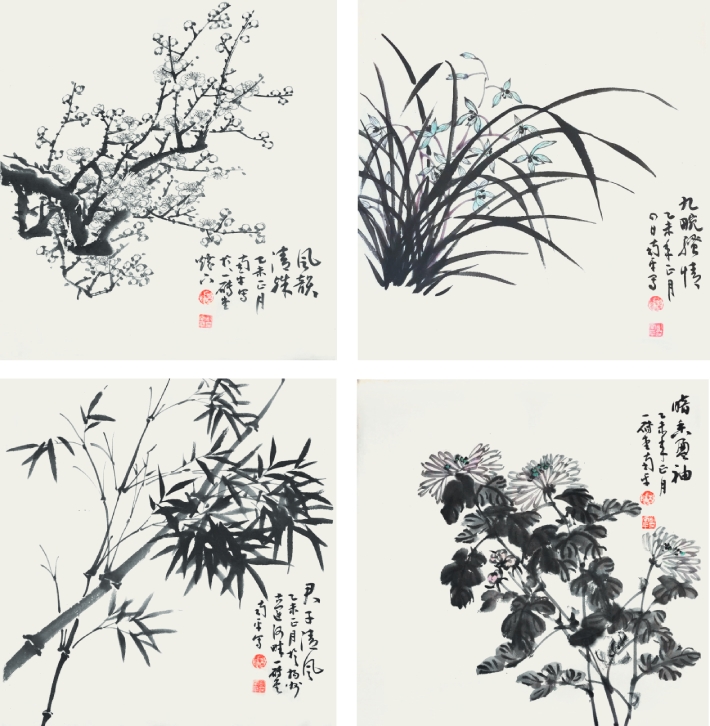 "Only when different cultures find mutual appreciation and attachment can they understand and trust each other," Zhou said. "These positive feelings and affinities are often triggered by art."
From Yangzhou's beautiful scenery of small bridges above flowing rivers to a broader world stage, Liu began feeling foreign artists' strong interest in Chinese painting and calligraphy and their enthusiasm and friendship for Chinese artists.
In Bali, Indonesia, Liu gave a speech to local artists to introduce Xuan paper, which is considered one of the "Four Treasures of Chinese Study," and explained how various calligraphic strokes are made on the paper. In 2019, Liu invited those Indonesian artists to visit his hometown of Yangzhou. After communicating with them through painting, he exhibited their works in Yangzhou. "Introducing different forms of Chinese art to foreign friends not only promotes people-to-people exchange, but also enriches our own culture," he explained.
"Promoting Chinese culture to the world is not a simple one-way street, but a process of mutual learning and common development," Zhou illustrated. "Different cultures can burst with vitality through exchange. China needs more cultural exchange masters like Liu Nanping."