The 3rd "Understanding China" Conference to be held in Beijing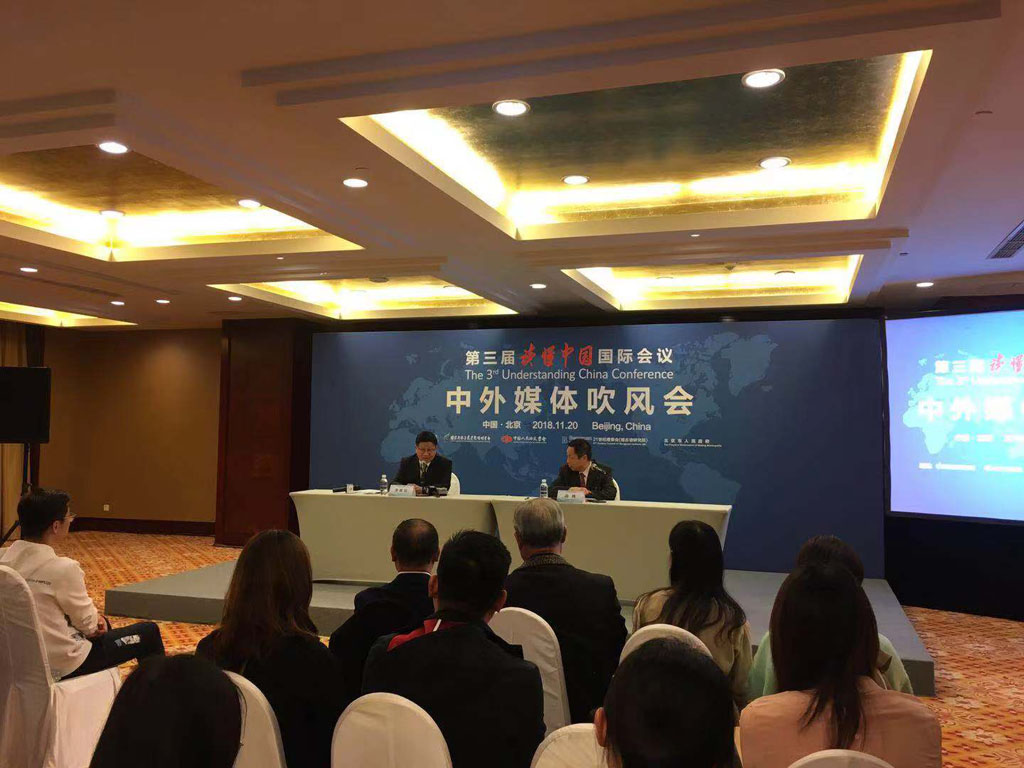 The first Chinese and foreign media briefing on the 3rd "Understanding China" Conference was held on the afternoon of November 20, when Li Junru, CIIDS Executive Vice Chairman and Secretary General of the Conference Preparatory Committee, briefed on the Conference, and answered questions from the reporters present. According to Li, the 3rd "Understanding China" Conference will be held at Beijing Hotel from December 16-18, 2018 and that all the preparatory work is under way as planned.
The conference is co-hosted by China Institute for Innovation & Development Strategy (CIIDS), the Chinese People's Institute of Foreign Affairs (CPIFA), the Beijing Municipal Government, and the 21st Century Council of the Berggruen Institute. The first and second Conferences were held in Beijing respectively in 2013 and 2015, each attended by over 40 former political leaders as well as leading figures from academic and business circles from around the world. President Xi Jinping met with the international participants on both occasions. Premier Li Keqiang, and former Vice Premier Zhang Gaoli respectively delivered a keynote speech at the Conferences.
According to Li, the 3rd "Understanding China" Conference takes place against the backdrop that China is celebrating the 40th anniversary of its launch of reform and opening-up, and reforms are being rolled out in an all-round manner across the country. Themed "China's New Growth Drivers and New Opportunities for Global Cooperation", the December Conference will see participants from both China and around the world engage in in-depth discussions and exchange of ideas on topics such as redoubling the efforts of reform and opening-up, pursuing socialism with Chinese characteristics for a new era and building a community of shared future for mankind. So far, more than 40 international participants from the political, academic and business circles in the BRI and G20 countries have confirmed their attendance, among whom are, in no particular order, former Mexican President Ernesto Zedillo, former Danish Prime Minister HelleThorning-Schmidt, former Finnish Prime Minister Matti Vanhanen, former Greek Prime Minister George Papandreou, former Hungarian Prime Minister Gordon Bajnai, former Pakistani Prime Minister Shaukat Aziz and former British Prime Minister Gordon Brown, Harvard professor Graham Allison, SnapChat co-founder and CEO Evan Spiegel. To make China's development better understood, dozens of Chinese government officials, senior PLA generals, eminent entrepreneurs, experts and scholars are invited to join the international participants on issues of common concern.
"The main topics to be discussed at the conference", introduced Li, "are Comprehensively Deepening Reform & New Drivers for China's Development and Changing Global Landscape & New Opportunities for Global Cooperation, with discussion sessions set under each topic: Scientific and Technological Innovation and Industrial Restructuring and Upgrading, Modern Financial System and High-Quality Development, Regional Development Strategy and New Layouts of China's Economy, Regional Security and A New Type of International Relations, The Belt and Road Initiative—From Community of Interests to Community of Shared Future. "
In addition, the conference also features activities such as a launching ceremony for the "Understanding China" books, two pre-conference round tables and a special Chinese cultural exhibition to showcase China to domestic and foreign participants from multiple angles.
"The purpose of the Conference is to promote "Three Understandings", namely the world's understanding of China and CPC as well as China's better understanding of the rest of the world. Great changes, major developments and considerable adjustments at home and abroad have all added to the importance and urgency of the "Three Understandings". This purpose, as such, boasts a strong vitality endowed by history. The 3rd Understanding China Conference hopes to convey a message to China and the world alike that China keeps steadfastly to reform and opening up and will stay staunchly on the path of peaceful rise. It is an unshakable historical choice and one of the most powerful drivers for China and the world to work together to build a community of shared future for mankind," stressed Li.