The Pinnacle of Serbia-China Relations
Text by
Wang Shuya
Photographs by
Wan Quan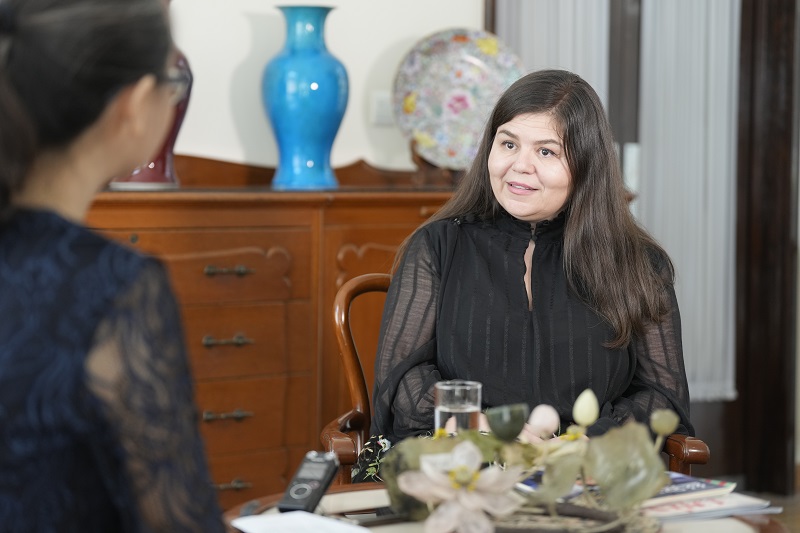 On the morning of July 16, 2022, a Chinese Hainan Airlines Airbus A330 carrying 200 passengers landed at Belgrade's Nikola Tesla Airport. It was one of the first intercontinental regular passenger routes from Beijing that the Chinese carrier resumed since the outbreak of the COVID-19 pandemic and the first nonstop flight from Beijing to Belgrade. Serbian President Aleksandar Vucic welcomed the fruitful tie-up between China and Central and Eastern Europe at the airport.
"Current relations between Serbia and China are at the highest level in history," said Serbian Ambassador to China Maja Stefanovic during a recent exclusive interview with China Pictorial (CP) in Beijing. Noting that the direct flights would open new opportunities for bilateral cooperation, she pointed out that they "will undoubtedly help increase cooperation at all levels, especially personnel exchange and tourist flow."
In recent years, Serbia has been at the forefront of China's cooperation with Central and Eastern Europe. Business ties between the two countries have expanded rapidly. Bilateral trade hit 5.3 billion euros in 2021, and the volume of Serbia's exports to China increased 15 times over the past five years, said Serbian Prime Minister Ana Brnabic at the opening ceremony of the Chamber of Chinese Companies in Serbia in March.
Marveling at the country's development in recent years, Ambassador Stefanovic singled out eradication of absolute poverty in China during the interview. She shared her views on key factors driving the ironclad friendship and outlined her work priorities in consolidating friendly ties and boosting cooperation in the years to come.
CP: We have learned that you have more than two decades of experience working on Serbia's relations with China, mostly serving at the Serbian Embassy in Beijing. What impressed you most about China, and what do you think of China's development in recent years?
Maja Stefanovic: I've been working in the Ministry of Foreign Affairs of the Republic of Serbia for 25 years, all the time covering our bilateral relations with China. The first time I visited China was in 1993 when I went to China's northeastern port city Dalian and spent about 10 months at Liaoning Normal University as a scholarship student. During that time, I was really impressed by the beauty of the city, and I cherish those memories as one of my best periods. I had excellent professors there and also made friends for a lifetime.
The second time I visited China was in 2007, and I was really impressed by the tremendous changes and development of the country. For example, I could barely recognize many places in Beijing. Now, I'm honored to serve as the ambassador to China, especially while relations between Serbia and China are at the highest level in history.
CP: In July, China's Hainan Airlines launched direct flights from Beijing to Belgrade. Under the framework of the Belt and Road Initiative, our two countries have already engaged in considerable cooperation. This year marks the ninth anniversary of this initiative. What major changes has it brought to Serbia and your people? In what other fields do you think our two countries can carry out further cooperation?
Maja Stefanovic: Serbia has conducted numerous projects with China under the Belt and Road Initiative. A majority of them have been carried out in the fields of infrastructure and energy. The flagship project of joint construction is modernization of the Belgrade-Budapest rail link, which is a trilateral project involving Serbia, China, and Hungary. I am really pleased to inform you that part of this railway has recently begun operation.
We are also working on many projects involving construction of highways in Serbia. The most important is construction of Milos the Great, a new section of Serbia's international E-763 highway. We are also working on big reconstruction projects of power plants. The first Chinese-built bridge in Europe was constructed in Belgrade over the Danube River. We are very proud that we are working on so many projects with China. We are also very grateful to Chinese companies because they haven't suspended their work, even during the most severe period of the COVID-19 pandemic.
Since its launch in 2013, we have been supporting and actively participating in the Belt and Road Initiative. We think that our participation in the initiative has helped Serbia become more visible to Chinese business circles. The projects have actually made Serbia more attractive to Chinese investors as well. At this moment, we have two, I would say, biggest Chinese investments in Serbia, by Zijin Company in copper mining and HBIS Group in a steel mill, respectively.
Chinese investment in Serbia is very important because its presence helped preserve tens of thousands of jobs. What's more, the Chinese companies I've mentioned have been among Serbia's top exporters in recent years, so to some extent, they are also contributing to Serbia's economic growth as well. As an initiative of global importance, the Belt and Road Initiative focuses on connectivity. It has helped Serbia a lot in improving connectivity with other parts of the region.
CP: As the world grapples with new challenges brought by the COVID-19 pandemic, Chinese President Xi Jinping proposed the Global Development Initiative, calling for bolstering confidence and jointly addressing global threats and challenges to build a better world for all. What role will these initiatives play in the world?
Maja Stefanovic: Since the very beginning, we have supported the Belt and Road Initiative, and attached great importance to all the initiatives coming from China.
During the visit of Chinese State Councilor and Foreign Minister Wang Yi to Serbia last October, both our President Mr. Alexander Vucic and Foreign Minister Nikola Selakovic extended support to the Global Development Initiative. We consider this initiative important for implementation of the UN's 2030 Agenda for Sustainable Development and the Sustainable Development Goals.
CP: Our two countries established diplomatic ties in 1955. Since then, we have forged a strong relationship. What do you think are the most important factors for the bilateral relationship to withstand the test of time? What goals do you hope to achieve as the Serbian ambassador to China?
Maja Stefanovic: Serbia and China are traditional friends, and our peoples are bonded by ironclad friendship. I would say that the basis of bilateral ties is good political relations and specifically excellent personal friendship between our presidents. The relationship between Serbia and China has been based on mutual trust, mutual understanding, and mutual support. Serbia has been strongly supporting the one-China principle, and we are also very grateful for China's support to our safeguarding of sovereignty, territorial integrity, and national dignity.
Being appointed the Serbian ambassador to China at the pinnacle of the relationship's history was a big honor, but also a big responsibility and challenge. First of all, my main goal will be further intensifying our dialogue at high and top political levels. We hope President Xi Jinping will pay another visit to Serbia very soon.
We are also interested in promoting visits and exchanges at other levels and in other fields. When it comes to the economy, we are interested in further enhancement of our cooperation and welcome big Chinese investment in the fields of agriculture, IT, green energy, and the automotive industry. We believe that the free trade agreement between our two countries will be signed soon, which is of paramount importance to cooperation in these fields.
And we are looking forward to more agreements on exporting Serbian goods and products to the Chinese market. We are confident that by launching direct flights between Serbia and China, Hainan Airlines will soon be joined by our national carrier Air Serbia as we witness enhancement of cooperation in tourism after Serbia and China signed an agreement to abolish the visa regime for holders of the passports of the two countries. More great potential awaits to be tapped. In the years to come, we can expand practical cooperation in many fields.
CP: I know you speak Chinese very well. Are many people learning Chinese in your country? What do you think of the people-to-people and cultural exchanges between our two countries?
Maja Stefanovic: Thank you. My daughter speaks Chinese even better than me. There has been a special bond between our two peoples. Although our two countries are geographically far apart, our two peoples are close in heart. In recent years, Chinese has become increasingly popular in Serbia. In addition to Chinese departments in universities, many middle schools and primary schools have opened Chinese classes. The opening of direct flights will definitely enhance people-to-people contact between the two countries.
CP: This October, the 20th National Congress of the Communist Party of China (CPC) will be held in Beijing. It's highly significant. What are your thoughts about the congress?
Maja Stefanovic: The 20th National Congress of the CPC is an event of utmost importance not only for China, but also for the globe at large because the decisions and guidelines made by the congress will influence the whole world.
China has succeeded in accomplishing its first centennial goal by eradicating absolute poverty in the country, which exerted a positive impact at the global level. We are fully confident that China will succeed in accomplishing its second centennial goal and will become a prosperous developed socialist country. We consider China's development tremendously important, so we have great expectations for the forthcoming 20th National Congress of the CPC.