Time-Honored Chongqing Qiaotou Hotpot
China is home to diverse regional cuisines and a blossoming foreign food scene, but for many, nothing tops the hotpot ritual of dipping fresh ingredients into a boiling broth. And Chongqing-style hotpot is particularly celebrated for its spicy soup and unique dining culture.
Qiaotou (literally, "end of a bridge") Hotpot is a century-old restaurant in Chongqing and has been listed as an intangible cultural heritage of the southwestern Chinese municipality.
"Traditional cooking skills, great taste and a sincere and honest management philosophy compose the essence of Chongqing Qiaotou Hotpot," declared Li Bo, the fourth-generation inheritor of the seasoning skills that have also defined Chongqing Qiaotou Hotpot.
Keeping Traditional Taste
Li Bo has worked at Chongqing Qiaotou Hotpot since he was 17 years old, making him nearly a 30-year veteran.
Li started his career as a waiter, before being promoted to kitchen backup, where he learned how to prepare ingredients and honed his slicing skills. Two years later, he finally got the chance to learn about the seasoning.
Li knows as well as anyone how difficult it is to become a good seasoning chef. One must be able to tell various spices apart, know how to match them and expertly stir-fry in addition to having comprehensive seasoning skills. For example, bullet chili peppers from various places differ in pungency and taste.
Chefs must make good use of different ingredients to create the optimal taste. "For example, sesame paste can reduce spiciness as can oil and garlic sauce," Li noted.
Li illustrated that most classical seasoning chefs relied only on experience and don't use any quantitative or standardized data for reference. Therefore, as a seasoning chef, one must be not only diligent, but also sensitive and clever. In different types of weather and temperatures, the effect of seasoning can be quite different.
"Even when researching and developing a new seasoning recipe, we must preserve the basic flavor of Chongqing Qiaotou Hotpot, and keep it hot and spicy with full of flavor, so we need to keep learning and make timely adjustment to let the seasoning produce the ideal result," he said.
As an inheritor, Li Bo often ponders over how to best preserve the essence of the old brand, "It still comes down to orthodox traditional techniques, great taste and a sincere and honest management philosophy."
Xia Hongliang, chairman of Chongqing Qiaotou Hotpot Catering Service Co., Ltd., shares Li's sentiments. "As a time-honored enterprise, our first mission is to pass on traditional skills, maintain the spirit of craftsmanship, do good things and be a responsible enterprise," he said.
Originating from the Dock
At the end of the Qing Dynasty (1644-1911) and in the early Republic of China (1912-1949) period, hotpot spread across the country.
Located at the junction of the Yangtze and Jialing rivers, Chongqing is known for its well-developed water transportation network and has remained a major hub of southwestern China since ancient times.
In the 1930s and 1940s, harbor transportation developed into a major local industry and many locals began working at the docks.
Back then, dock workers performed considerable heavy lifting every day for a very limited income, so they tended to choose cheap and convenient food, but also dishes that provided enough energy to fuel their labor.
Some dock workers got the idea to build a stone stove by the shore and boil the guts and organs of cattle and poultry thrown out by slaughterhouses, seasoned with chili, pepper, ginger and garlic. Entrails rescued from the waste bin were transformed into a tasty delicacy in the pot, earning the nickname "Lianguonao" (meaning "everything in the same pot").
In the 1940s, Li Wenjun, a wooden-boat businessman, inherited his father's food vending business Qiaotou Lianguonao and expanded it by building several huts near Haitangxi wharf, then an important water passage linking Sichuan and Guizhou.
He made a bold innovation in seasoning by adding cooking wine, crystallized sugar, fermented beans, ginger and butter to make the soup spicy and flavorful. He also introduced dipping sauce made of sesame oil and egg white in a small plate to serve with the main dish.
Because of the low cost and great flavor, such food was a big hit with dock workers. Many traveling merchants passing by the wharf became active promoters of the restaurant. With the fast spread of the restaurant's fame, Li Wenjun formally changed its name to "Qiaotou Hotpot."
Meaty Hotpot Doctrine
Today, Chongqing Qiaotou Hotpot operates more than 100 booming franchisees across the country. Even when changes are made in the seasoning to adapt to the local tastes, its unique hot and spicy taste remains.
To expand sales channels and enable people to enjoy their flavors at home more conveniently, Chongqing Qiaotou Hotpot Seasoning Co., Ltd. was established in the late 1980s. Now it produces an annual output of 1,400 tons according to Xia Hongliang. In 2006, the company began building its own ingredient bases to grow peppers and other spices to ensure a top-quality supply and maintain the authentic taste.
According to online sales data of time-honored brands released by Alibaba's Tmall.com in January 2018, Chongqing Qiaotou Hotpot is among the top ten best-selling old brands overseas. Its customers come from 173 countries and regions.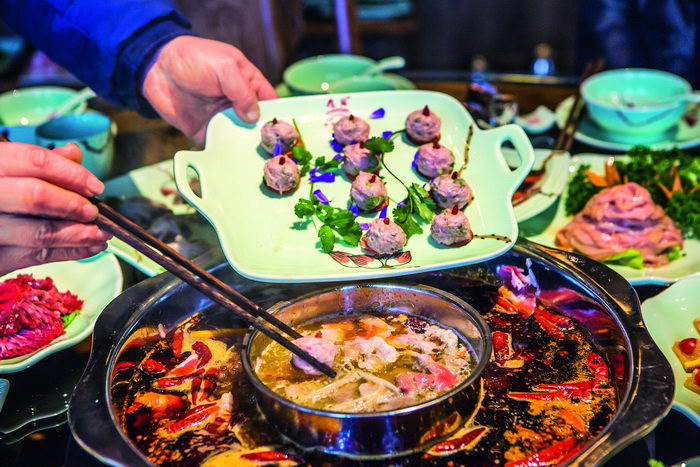 The advancement of society has provided great opportunities for the popularization of hotpot. Improved transportation networks have increased exchange and integration between the northern and southern areas of China as through the provinces, which has enabled certain local cultures to expand into national culture.
The heavier flow of people has minimized differences in dining culture between different regions of China, giving hotpot's inclusive dining style huge development potential and market.
In fast-paced cities, "can't wait" diners are comforted when a boiling pot arrives at their table instantly. And by enjoying hot and spicy food, many pressures of life and work could melt away into the "hot fun."
A boiling pot cooking a wide variety of ingredients together creates a unique taste every time and a singularly inclusive dining atmosphere, which aligns with the "Doctrine of the Mean" (or Zhongyong) in traditional Chinese culture. Few meals are as popular with Chinese around the world as time-honored hotpot.