Trump's China Visit: Steering China-U.S. Relations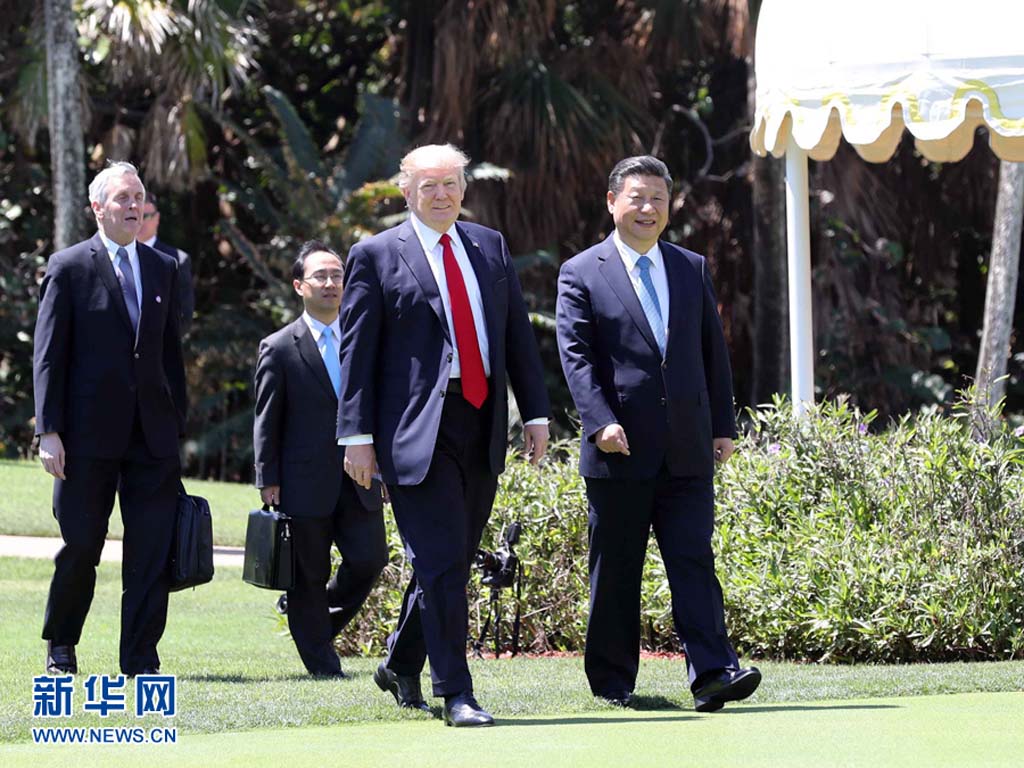 At the invitation of Chinese President Xi Jinping, U.S. President Donald Trump is making a state visit to China from November 8 to 10. This is the first state visit of a top foreign leader to China since the conclusion of the 19th National Congress of the Communist Party of China (CPC) in October and President Trump's first visit to China since he took office in January. China-U.S. relations have exhibited great flexibility over the decades. After the Cold War ended in early 1990s, Sino-American relations have become increasingly complex and occasionally turbulent. Presently, the international situation continues to undergo profound and complicated changes. Thus, the Beijing meeting between the two heads of state carries great significance in terms of promoting the healthy and stable development of China-U.S. relations in the new era as well as the peace, stability, and prosperity of the Asian-Pacific region and the whole world.
From a macro-perspective, the new type of major-country relations between China and the U.S. will continue to progress, and existing communication mechanisms between the two countries will improve. Since the Trump administration came to power, President Xi and President Trump have maintained close communication through various means including meetings, phone calls and email. During the upcoming Beijing meeting, the leaders will conduct strategic communication on issues of mutual concern and are expected to reach new important consensus based on discussions at President Trump's Mar-a-Lago resort in Florida in April and at the G20 Summit in Hamburg in July. The two countries have established four high-level dialogue mechanisms covering diplomacy and security, comprehensive economics, law enforcement and cyber-security as well as social and people-to-people exchange. These communication channels have played a bridging role, facilitating cooperation on diplomacy, economy and trade, military, law enforcement, cyber security and people-to-people exchange, as well as a crucial role in regional communication and crisis management. China and the U.S. share extensive common interests in safeguarding world peace and stability as well as promoting world development and prosperity, and both nations shoulder important responsibilities. President Trump's China visit and a successful Beijing meeting will benefit not only peoples from the two countries, but also around the world.
Although China and the U.S. still have some differences in the fields of trade and national security, the two countries are expected to compromise on issues that are not matters of principle. In 2013 when President Xi Jinping met then-American President Obama, the two countries reached consensus on a new type of major country relations based on non-conflict, non-confrontation, mutual respect and win-win cooperation. China has always tried to expand the common interests between two countries and develop peaceful competition with the U.S. President Donald Trump accused the unbalanced trade situation between China and the U.S. of stealing domestic jobs and promoted a trade protectionism strategy against China. In reality, the nature of China-U.S. economic and trade relations produces shared benefits, so the solution to the trade imbalance between China and the U.S. is pushing for more US exports to China and increasing two-way investment rather than restricting imports from China. On many occasions, President Xi emphasized that China and the U.S. enjoy great potential in economic and trade cooperation. From January to September of 2017, the total trade volume between the two countries hit 2.98 trillion yuan (about US$450 billion), with year-on-year growth of 18.7 percent. And China's export to the U.S. grew 16.5 percent, while import increased 25 percent. President Trump also attaches great importance to the two countries' economic and trade relations. On his visit to China, Trump is bringing a business group comprising 29 companies of energy and bulk commodities. The economies of China and the U.S. are highly complementary with great potential. As long as the two sides adhere to the principle of mutual benefits, relations will form a dynamic balance.
As for national security, Korean Peninsula nuclear issues are high on the agenda of the meeting. The two countries have common interests in denuclearization as well as peace and stability on the Korean Peninsula. China has always advocated denuclearization of the Korean Peninsula and called for peace and stability in the region. China opposes any unilateral actions as well as the deployment of the THAAD missile system in South Korea. China calls on all sides to avoid activities or remarks that could lead to escalation of tension and hopes the differences will be solved at a negotiation table.
The author is deputy professor of International Strategy Institute at Party School of the Central Committee of the Communist Party of China.