U.S. First Lady Visits Elementary School in Beijing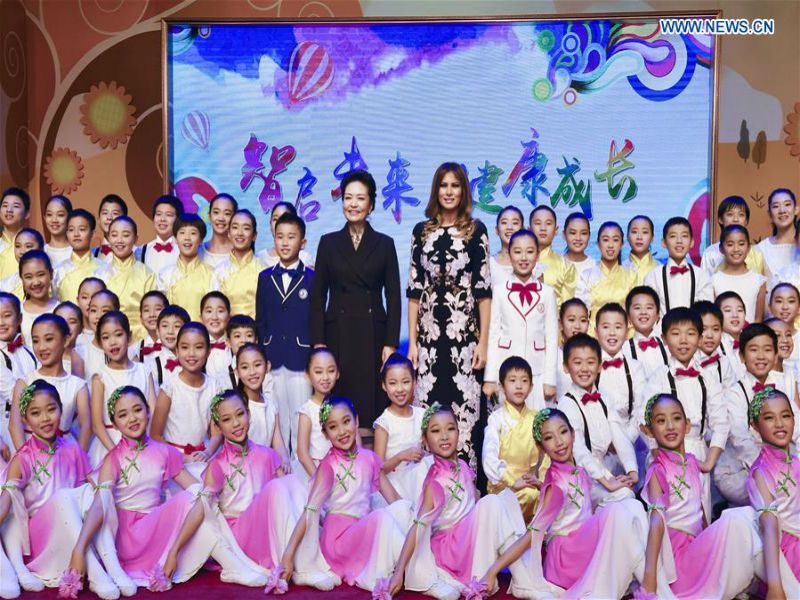 U.S. First Lady Melania Trump on the morning of November 9 visited Banchang Elementary School in Beijing, accompanied by Peng Liyuan, wife of Chinese President Xi Jinping.
In a high-spirited atmosphere, Peng and Trump joined the students in their English, astronomy and Peking Opera classes, and watched their singing and dancing performances.
Peng told Trump that Banchang is a public school. Teaching facilities have been improving in recent years, and the standard of education has been rising.
The students showed their self-designed Qipao, a kind of traditional Chinese dress, and invited the guests to help finish their wash painting of a little panda.
In a cookery class, Peng and Trump joined the pupils in making a famous Beijing snack and apple pie.
The students also presented their calligraphy and handicraft to the ladies, and gave performances at the school auditorium.
Peng and Trump agreed that Chinese and American children could and should know more about each other and make friends.
Melania Trump was in Beijing with U.S. President Donald Trump for a three-day visit.
(Source: Xinhua)