Villages in Yuncheng: Yesterday and Today
Text by
Gong Haiying
Photographs by
Qin Bin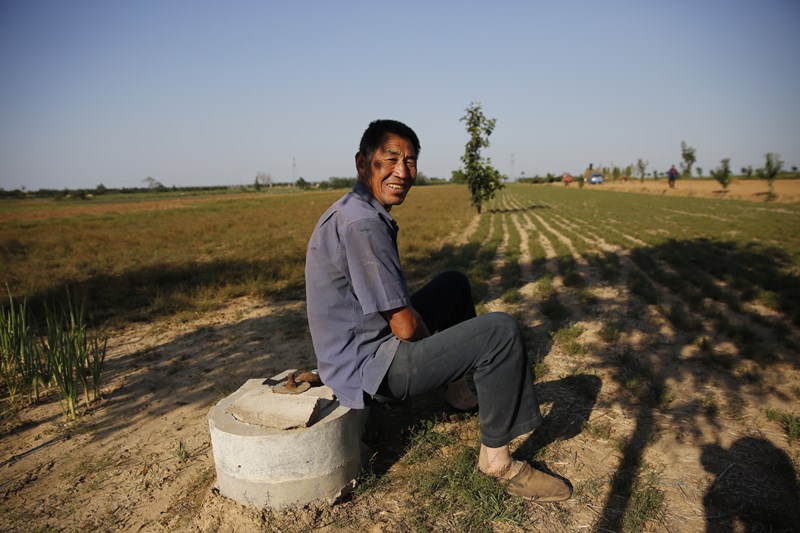 Yuncheng City, located in southwestern Shanxi Province, is at the junction of the provinces of Shanxi, Shaanxi, and Henan. It is known as the golden area of the Yellow River basin. As one of the important cradles of the Chinese nation and Chinese civilization, Yuncheng has been developing agriculture since ancient times and has nurtured rich agricultural products after thousands of years of farming history.
Today, Yuncheng is a major agricultural city with a rural population of 2.77 million. In the autumn of 2020, reporters went to Yuncheng's countryside on the eve of the third Chinese Farmers' Harvest Festival. Obviously, the locale has preserved considerable Chinese rural traditions, including many of the "special characteristics of rural society" described by Fei Xiaotong in the famous book From the Soil. Farmers have plowed the land to subsist since ancient times. And as they embrace new lifestyles along with a wave of agricultural modernization, they are showing new and stronger vitality and creating new lifestyles, breathing life into China's ancient farming civilization on the very soil which nurtured it.
From Family Farming to Modernization
Villages are changing, from planting crops and vegetables for a single family to survive in ancient times to modern and large-scale industrial operations according to local conditions. Yuncheng has now created a leading agricultural processing industry covering grain, fruit, vegetables, and livestock products as well as red dates, asparagus, and Chinese medicinal materials.
Located in the heart of the Central Plain in China, Yuncheng has been a transportation hub since ancient times. Nowadays, modern roads connect villages to everything else. In Miaoshang Township, Linyi County, a 10,000-mu (666.67 hectares) facility for winter jujube production was established. From the platform on the third floor of the Linyi Jujube Industry Museum, one can see endless greenhouses and meteorological observation stations: It is a high-tech demonstration base. According to posted material, the current planting area of jujube trees in Linyi County is 200,000 mu (13,333 hectares), most of which achieved cultivation by facilities, involving participation of more than 70 villages in nine townships, with an annual output of 300 million kilograms worth 2 billion yuan (US$293 million). The fresh jujube industry has become a pillar industry for local villagers to increase their incomes.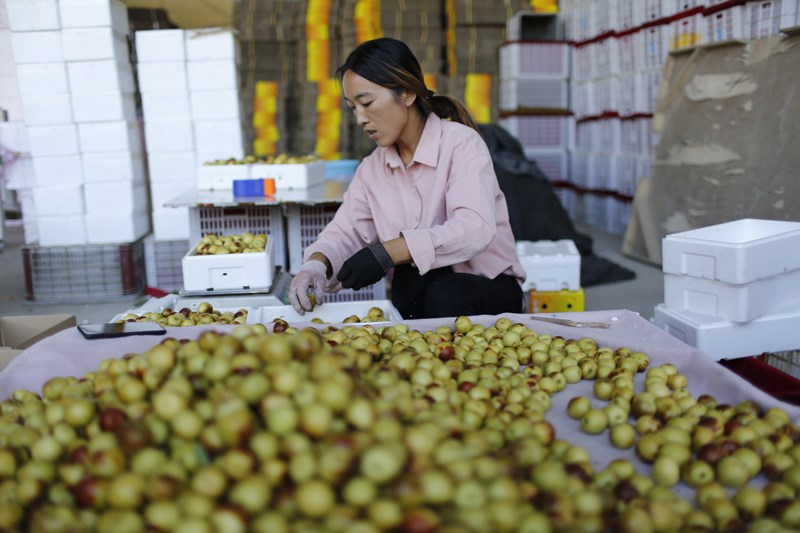 In the Grape Ecological Garden in Liushang Village, Qiji Town, Linyi County, 50-year-old Yang Yanping sat with villagers to sort through hundreds of kilograms of grapes that were picked that day. Several 15-ton refrigerated trucks were parked next to them. Yang's family was previously one of the poorest in the village. "My family used to grow apples, which always sold for very little, so our income was low." They switched to grapes in 2018. After two years of cultivation, the net income of every one and a half mu (0.1 hectare) of land this year was 60,000 yuan (US$8,800). "I'm confident that the figure is expected to reach 100,000 yuan (US$14,660)."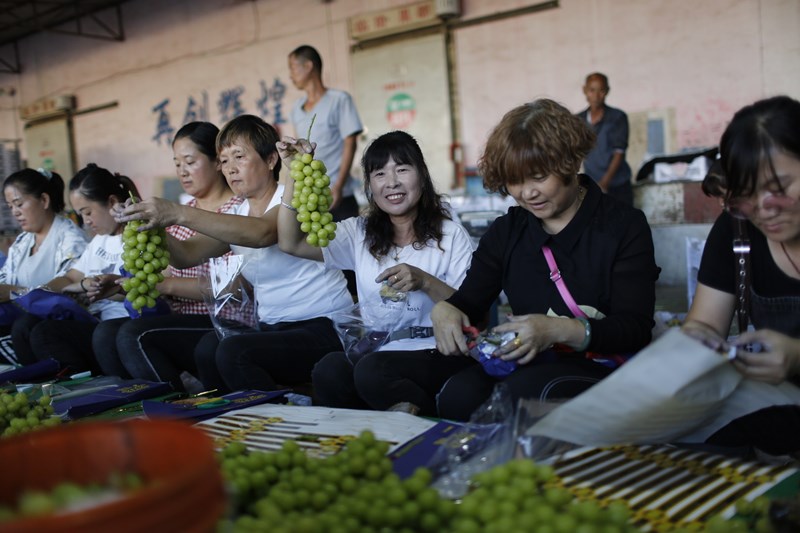 Yang's confidence comes from several factors. In 2009, Wang Rongguang, Party secretary of Liushang Village, led the establishment of a professional planting cooperative and secured an agreement with Shanxi Haopusheng Group to create a grape ecological garden. After eight Party members of the cooperative conducted trial planting of 14 varieties, they decided on the "Shine-Muscat" Grape. The cooperative's Party branch set up eight positions for Party members to assist villagers in pairs. The company has provided seedlings, technical support and sales channels, as well as hardware support such as early capital investment and fertilizers when necessary. The cooperative and the company support farmers through joint efforts. Qiji Town now has an eight-kilometer-long grape demonstration area with a total area of 1,500 mu (100 hectares), all with modern agricultural facilities, technology, and management.
Things Unchanged: Soil and Nostalgia
Farmers are masters of the land, and the soil is the true color of the farmers on this land. "Apples should be planted on the slopes, pears under the slopes, and pomegranates are best at middle of the slopes." This local saying vividly expresses how farmers of Yuncheng planted different fruit according to the soil characteristics of different locations over thousands of years. Since the 1980s, the development of modern agriculture made Yuncheng famous for various agricultural products, including apples from Wanrong County, vegetables from Xinjiang County, jujubes from Jishan County, and grapes from Yongji County.
In Daicun Village, Linjin Town, Linyi County, the branches of pomegranate trees were drooping down, heavy with fruit. The local pomegranate industry, which enabled villagers to earn higher incomes and amass wealth, was gradually developed under the leadership of the 70-year-old village Party secretary Xu Xingli. He has served as a village official since 1972 and was elected secretary of the village's Party branch in 1988. He has lived and farmed there most of his life, which gave him profound understanding and affection for the land.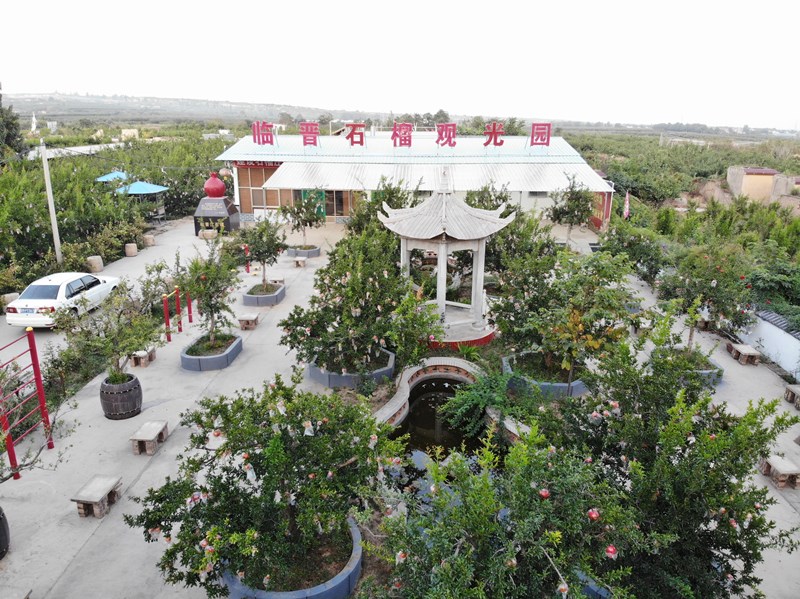 A 100-year-old "pomegranate king" with a sturdy trunk is an eye-catching ornament on Xu's lot. In recent years, through scaled development of pomegranate planting, Xu led the villagers to nurture bonsai from old pomegranate roots. The villagers' income greatly increased, and the pomegranate industry has seen new vitality.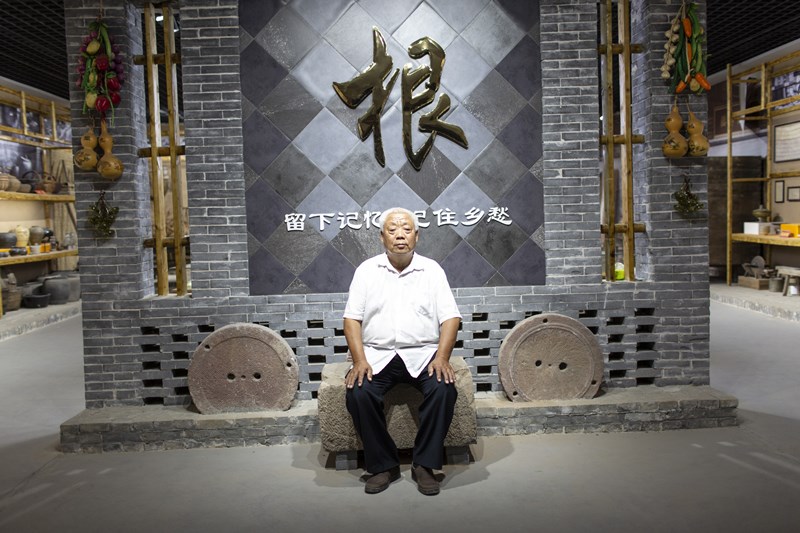 Although modernization and globalization have brought convenience to daily lives, they have also caused the convergence of lifestyles and the loss of unique traditional ways of living in various regions. And people inevitably suffer from modern homesickness. Almost instinctually, Xu has been collecting work tools and obsolete living items from local villagers since the 1980s. In 2018, he established the Daicun Village Cultural Memory Pavilion at his pomegranate manor, which now offers more than 500 items on display. Walking through the small exhibition hall serenaded by tunes from the past feels like traveling through time. "Saving memories and remembering home are not only about nostalgia for past life, but also a way of expressing love for present life," said Xu.