Wang Huayong: Big-Time Rice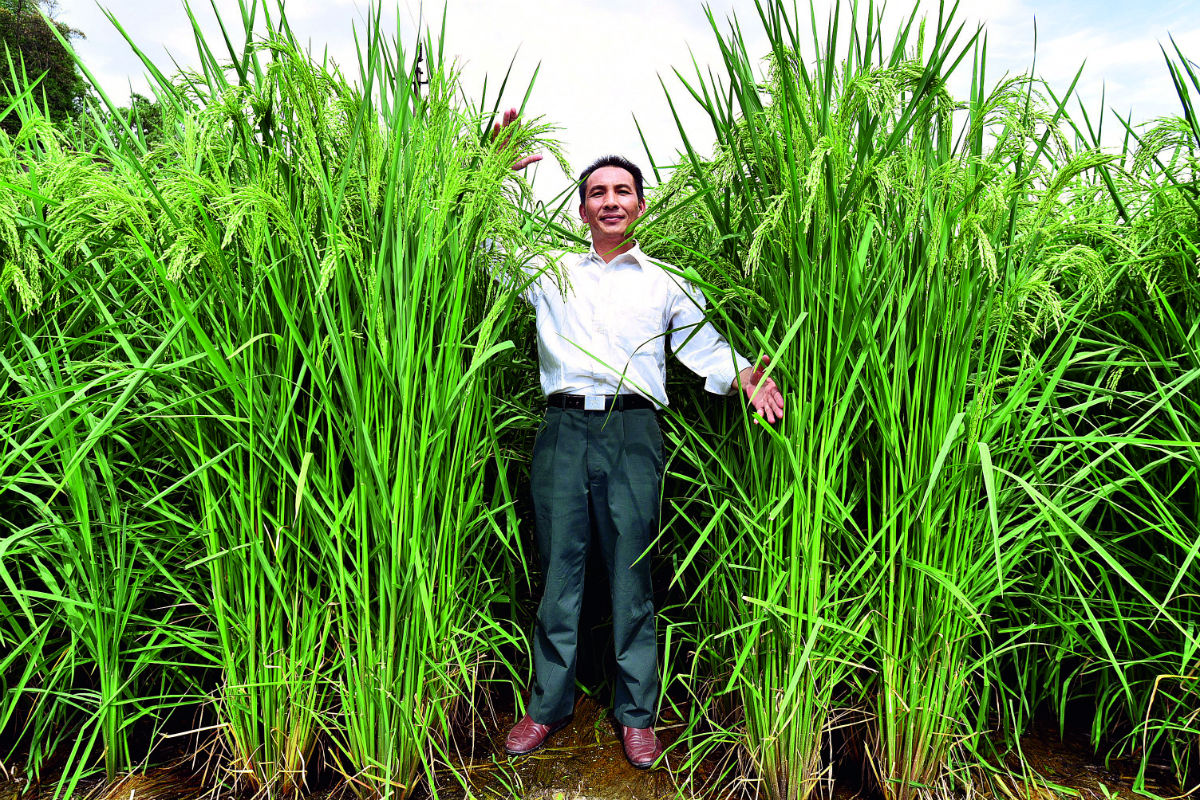 Agriculture serves as the foundation of a country, and in a remote village, growing rice is the foundation of people's livelihood. So it is for Wang Huayong, a delegate to the 19th National Congress of the Communist Party of China (CPC). He carries a particularly heavy burden, however: As a village Party chief, he is constantly endeavoring to grow more and better rice.
Wang, 47, now serves as Party secretary of Zhaojiachong Village in Yanggu'ao Township of Longhui County, Shaoyang City, in central China's Hunan Province.
In the late 1990s, Wang worked for a brick factory in Xiangxiang City, Hunan Province, where he earned his first windfall. At almost the same time, the grain supply-demand relationship on the international market changed. The previous balanced demand-supply relation no longer existed, leading to a surge in food prices before the "world food crisis" in the early 21st Century. In an article in The Economist titled "The End of Cheap Food," the editors noted that by the end of 2007, the magazine's food-price index reached its highest point since the publication's founding in the 1840s.
Against this backdrop, Wang decided to return to rural areas and become a farmer again. The migrant worker turned farmer-entrepreneur tried his hands at rice growing in 2009 after contracting 156 mu (10.4 hectares) of farmland through an individual land transfer in Leifeng Village of Yanggu'ao Township. He planned to perform high-yield testing on super rice. Known as "super rice" in China, hybrid rice is produced by crossbreeding different strains of rice. About 65 percent of Chinese depend on rice as a staple food. After a successful test, Wang shared his scientific production techniques and experience with 314 farming households around Yanggu'ao Township and helped them grow more than 1,100 mu (74 hectares) of super rice.
In 2011, Wang's team managed a yield of 926.6 kilograms of super rice per mu (0.07 hectares), breaking the world record in rice output and solving a tough problem concerning the yield of super rice that even troubled China's "father of hybrid rice" Yuan Longping.
Wang adopted the motto—"develop hybrid rice and benefit the world"—after inspiration from Chinese agricultural scientist and educator Yuan Longping. Yuan was also Wang's mentor in growing super rice. Wang said Yuan's message motivated him to help local farmers grow good rice and achieve a massive output of super rice surpassing 1,000 kilograms per mu.
Wang believes that innovation led by science and technology is an important method of transforming current agricultural production modes. He established several demonstration bases to mobilize local farmers to grow high-quality rice. He also opened classes to give locals hands-on lessons about the entirety of farming procedures from selecting seeds, sowing, transplanting, applying fertilizer, drying and watering to reaping and storing, and even built a technique service center to offer free instruction on scientific growing.
In the wake of Wang's arrival, super rice has prevailed in the region, with 25,000 mu (1,667 hectares) of paddy fields in Yanggu'ao and more than 160,000 mu (10,667 hectares) of cropland in neighboring counties and towns transformed into super rice plantation fields.
For Wang, the wheels of progress did not stop. He deeply considered how to make more money to help local farmers earn stable income and help lift them out of poverty and point them towards prosperity. He set up a super rice farmer professional cooperative to help farmers sell and process unhusked rice. The cooperative enabled the rice to sell for 30 percent higher than the market price and ensured zero risk for the harvest, bringing high production and income to locals.
Luo Xiaoyan, head of Yanggu'ao Township, praised Wang's efforts to build the demonstration base and promote super rice to "bring genuine benefits to local farmers." "Farmers' earnings increased when their agricultural products sold well on the market," explained Luo. "They also made money developing rural tourism by opening household inns and a sightseeing base to attract tourists."
"It's a great honor for a farmer like me to be elected a delegate to the CPC National Congress," remarked Wang. "I will help more farmers master more scientific farming skills and improve their lives in the countryside."
(Based on reports from China Daily and Xinhua)