Wang Tongren: The Ox Painter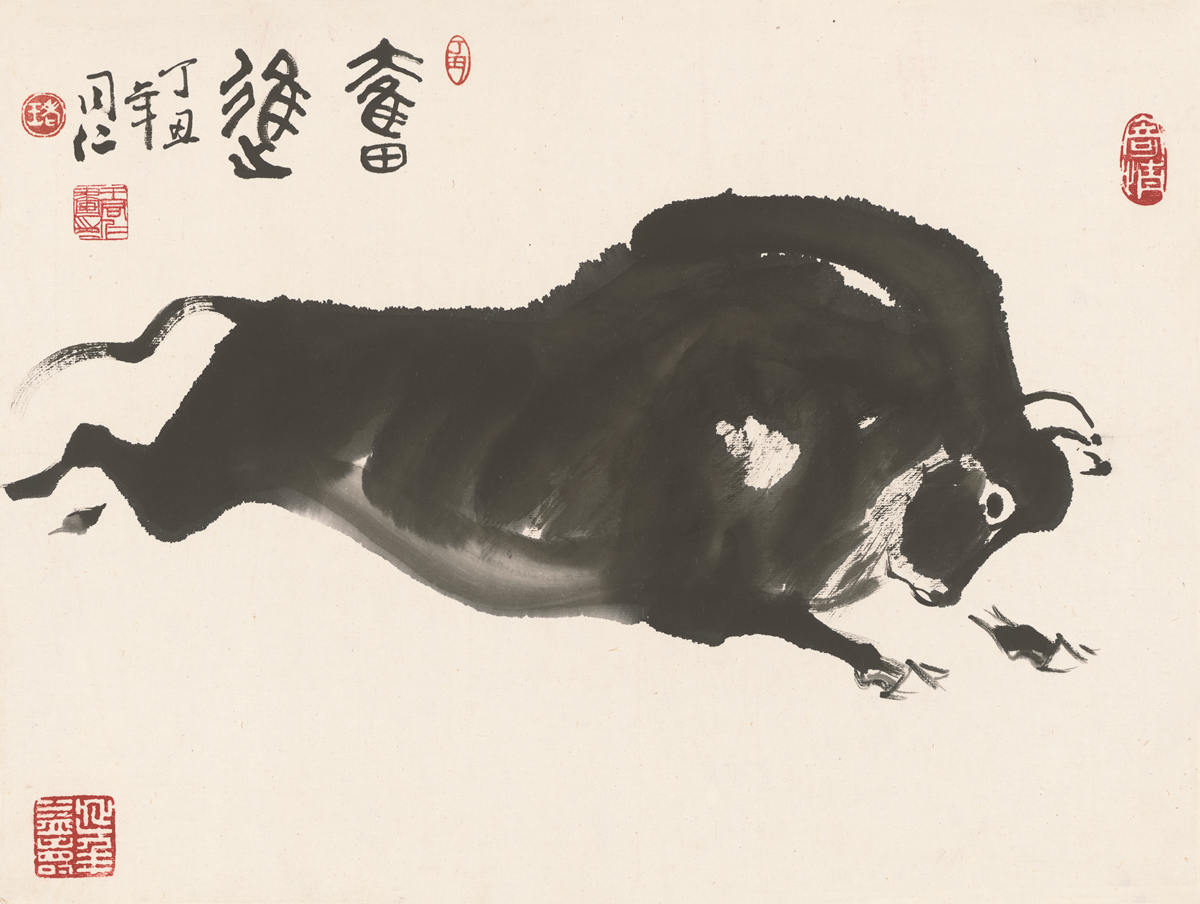 The Moon Tower in Beijing Purple Bamboo Park is now adorned with an impressive variety of ox paintings all over its walls. The oxen in various positions with different expressions all seem lifelike. According to the Chinese lunar calendar, 2021 is the Year of the Ox. The venue organized a two-month solo exhibition of Wang Tongren's ox masterpieces to welcome the new year.
Born in 1937, Wang Tongren is a renowned Chinese ink-and-wash painter. When he was young, Wang studied under traditional Chinese painting master Huang Zhou (1925-1997). In 1961, he graduated from the Traditional Chinese Painting Department at the Central Academy of Fine Arts (CAFA). Thanks to tutoring from famous artists like Ye Qianyu (1907-1995), Jiang Zhaohe (1904-1986), Li Keran (1907-1989), and Li Kuchan (1899-1983), Wang acquired a solid grasp of the composition and basic skills of ink-and-wash painting. Influenced by the popularity of Western oil painting in China, he also created many realistic oil paintings.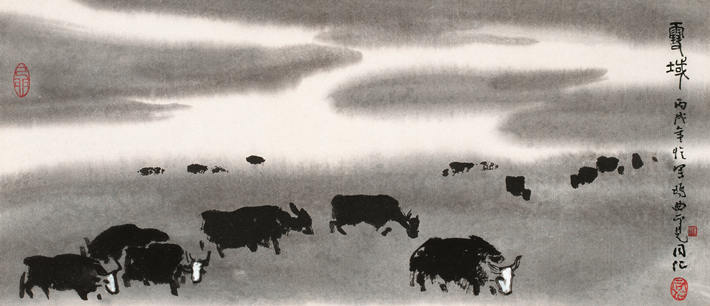 After the beginning of China's reform and opening up in the late 1970s, the influx of Western art ideas sent Wang Tongren, who was then teaching at the CAFA Traditional Chinese Painting Department, into a period of confusion and reflection like it did to many other Chinese artists at the time. He became enamored with the unique charm of Western art, but also realized that art should be based on profound cultural tradition, which fueled a stronger desire to create traditional Chinese paintings.
In the subsequent years, Wang constantly drew inspiration from traditional Chinese arts while seeking innovation, and eventually formed his own artistic language. In 1988, his first painting album was published. In the preface for the album, Huang Zhou wrote: "He has never blindly copied modernist or Western painting styles, but dedicated himself to learning from traditional art and drawing inspiration from real life, gradually forming his own expressive techniques and style."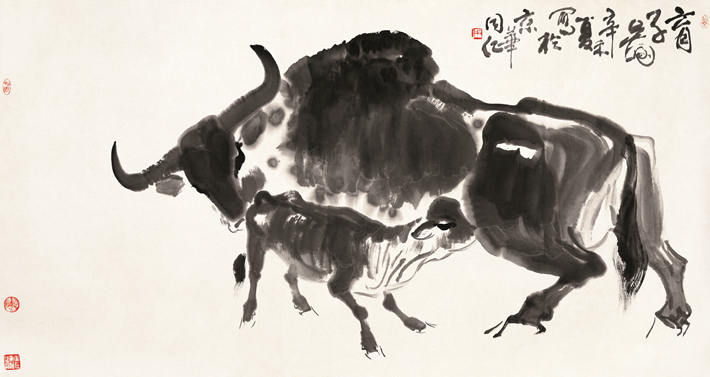 Wang excels at a variety of subjects, especially figures and animals. He has also completed notable landscape and flower-and-bird paintings. But most of all, Wang loves painting oxen. Nearly 30 of the 87 paintings displayed at the solo exhibition feature oxen: Some appear good-natured and diligent, some appear brave and fearless, and others are innocent calves with their mothers. All are lifelike, which has been attributed to the painter's "careful observation of everyday life."
In 1979, Wang won global fame for his One Hundred Oxen, which Li Kuchan, a Chinese freehand flower-and-bird painting master, praised as a "pioneering innovation" of traditional Chinese painting.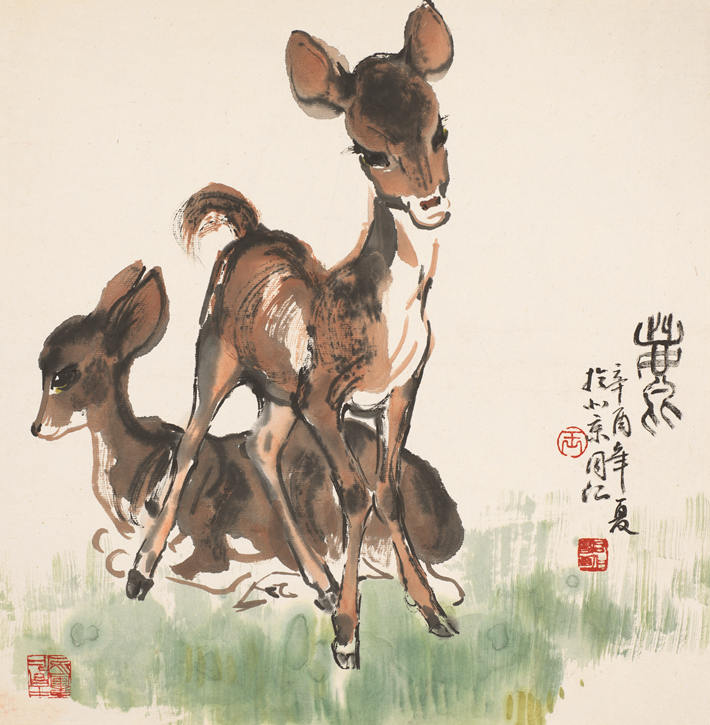 Wang began to paint oxen in 1962 on a visit to the Tibet-Qinghai Plateau to sketch. At the time, he painted many yaks. Touched by primitive and unsophisticated local folk customs, Wang made up his mind to "depict the plateau." Over subsequent decades, he traveled to places including Tibet, Sichuan, and Gansu to paint the colorful lives of Tibetan people. Such works as Lassoing Horses and Returning Home capture the painter's sincere love of the plateau.
The exhibition also presented a group of figure paintings with a unique artistic touch. Most are portraits, but adopt different expressive techniques. For instance, A Yemeni Man highlights the subject's eye expression and facial features. The painter used simple but bold lines to vividly depict a resolute, masculine man. Keiko Miyano, however, showcases a tender and beautiful Japanese lady with elegant lines and moderate colors.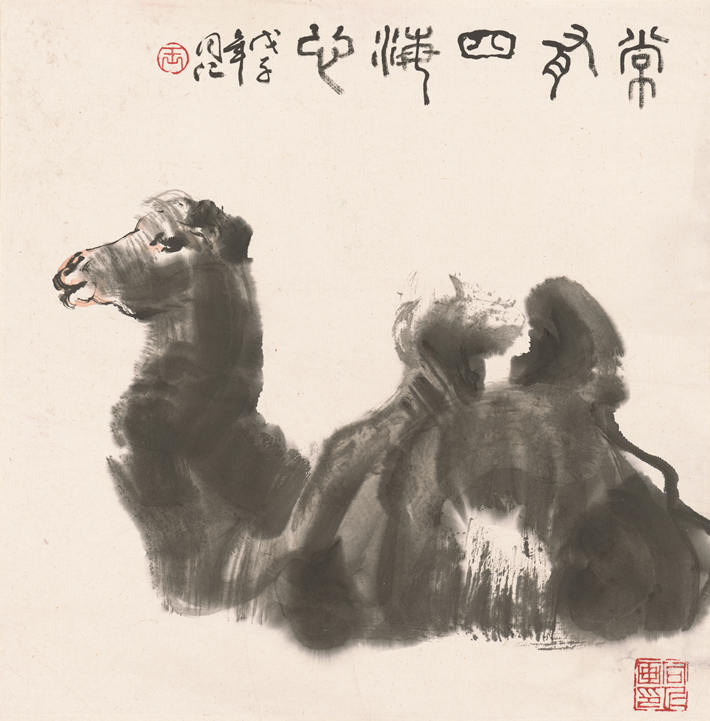 These two contrasting styles manifest the trajectory of Wang's art creation as well as his pursuits as an artist. The simpler the strokes, the broader the profundity a traditional Chinese painting can capture. Wang has long striven to achieve the goal of "depicting sincere feelings with simple strokes." He pursues creation of profound connotations with simple concepts, techniques, and form. His works perfectly combine traditional cultural aura with modern aesthetic concepts, which has earned him a solid reputation both at home and abroad.
Wang also believes that calligraphy and painting share the same foundation. To enhance the expressiveness of traditional Chinese painting, he has suggested artists "start by imitating works of ancient calligraphy masters and continue honing calligraphy and painting skills day after day, year after year." This is what he has done over decades. As a result, his painting and calligraphic skills continued to improve and more deftly complement each other. Several of his most celebrated calligraphic works were also displayed at the exhibition.
Good painting requires a combination of mind and skill. These paintings don't just show oxen standing in leisure or a herd of yaks galloping freely across the plateau, but also a down-to-earth and noble painter. "Man should aspire to an ox's spirit of dedication," said Wang.