Wang Yaping:Space Teacher
Text by
Hu Zhoumeng Text by Nancy Gong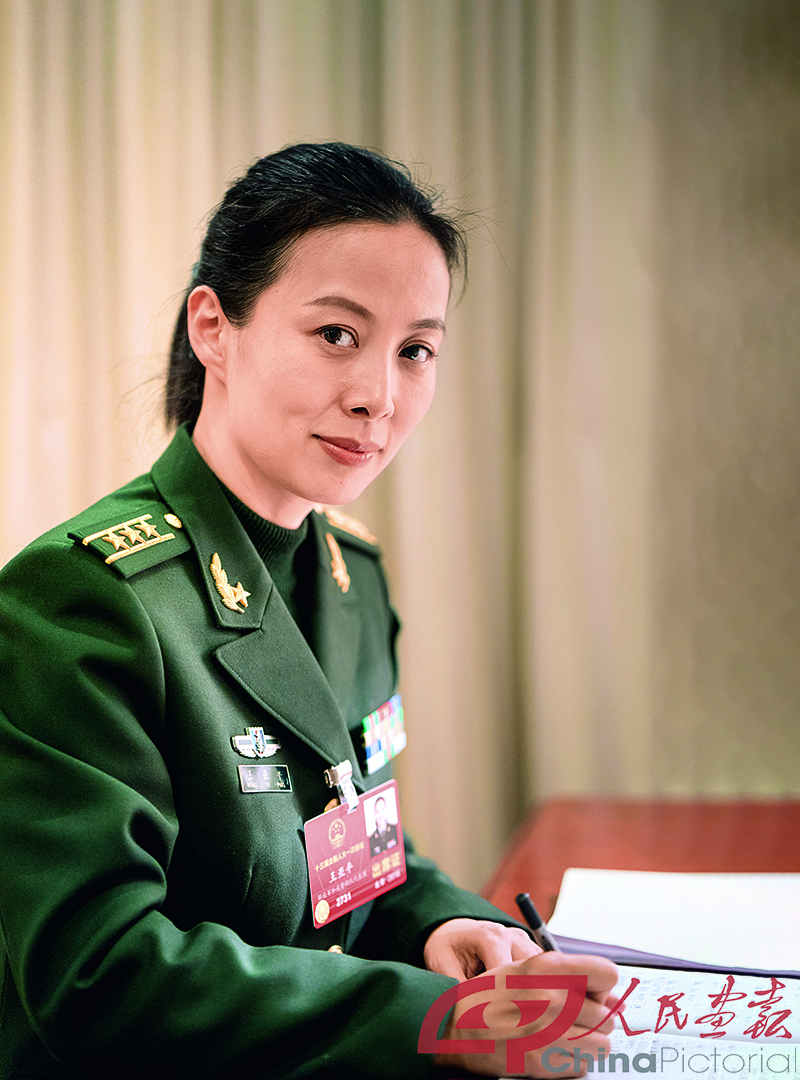 "It's great to see children sowing the seeds of their space dreams and starting the journey," said Wang Yaping, a deputy to the National People's Congress (NPC) and China's second female astronaut to enter space, reminiscing about the space lesson she taught five years ago while being interviewed in the "deputies' passage" during the first session of the 13th NPC in the Great Hall of the People on March 5, 2018.
On the morning of June 20, 2013, from over 300 kilometers above ground, Wang became China's first "space teacher" by delivering a space lecture to schoolchildren on the earth from China's first space lab Tiangong-1. With the help of her companions, she successfully completed five basic physics experiments including weight measurement, simple pendulum motion, and gyroscopic motion in zero-gravity conditions. Tens of millions of students watched the lecture and felt the charm of a fascinating scientific world. The 40-minute global live broadcast demonstrated the progress of China's space technology and planted the seeds of space dreams in the hearts of those children. "After I returned from my mission, I received letters from many children who hoped to become astronauts as well," she revealed. "It made me feel happy and proud."
It is Wang's dream to make the space industry benefit the whole of society, and she is thankful to witness the dawn of a great new era.
With the successful docking of China's first unmanned cargo spacecraft Tianzhou-1 with the Tiangong-2 space lab in 2017, China's manned space exploration has entered the space station era. "As astronauts, we are in a state of preparation every day and stay ready to head into space anytime,"Wang declared."At the moment, all Chinese astronauts are doing their best to prepare for space station missions."
On June 24, 2013, Chinese President Xi Jinping, also general secretary of the Communist Party of China (CPC) Central Committee, spoke to three astronauts including Wang who were working on the Tiangong-1 from the Beijing Aerospace Control Center. "Aerospace power is vital for building a strong nation," he said.
"As astronauts, we have to perform our duties in a down-to-earth manner, study hard, train hard, practice our skills, and remain perpetually ready to explore space for our motherland as it becomes a global aerospace power," Wang said.
As a newly elected NPC deputy, Wang Yaping, who is serving in the military, shoulders the responsibility of speaking for officers and soldiers. "General Secretary Xi Jinping called for making being a serviceman a respected profession in the whole of society, which has inspired encouraging feedback from the whole nation," Wang said. "It has also tremendously encouraged all the officers and soldiers. I am an astronaut. It is a noble honor bestowed on me by our society. This support encourages us and gives us the strength to face down the struggles of this career."
After thorough surveys, Wang suggested that China formulate relevant laws to protect the legal status of soldiers, publicize the attractive qualities of the military profession, improve conditions for soldiers and teach the concept of respecting servicemen in schools.