Zhang Huoding: Chasing the Dream of Peking Opera
On September 2, 2015, Peking Opera artist Zhang Huoding visited the Lincoln Center for the Performing Arts in New York for the first stop of her first world tour. She performed Legend of the White Snake and The Jewelry Purse, two classical Peking Opera plays, for American spectators.
"She's got this special evocative quality onstage—an aura and charm that seems to enchant the audience," said David Wang, a Harvard literature scholar who has followed Zhang's career. "But she also has this tremendous vocal capacity that renders in a kind of low-key, melancholy way."
Legend of the White Snake tells the story of love between a man named Xu Xian and a white snake maiden called Bai Suzhen. Their love is thwarted by Buddhist monk Fahai. The Jewelry Purse tells the story of a kind-hearted wealthy woman who escapes a desperate situation thanks to help from a woman she had previously helped. During the performance, Zhang Huoding donned different costumes and made multiple stunning appearances to deliver pure, remote, tactful, and low-pitched singing that immersed the audience into the play to laugh and shed tears for characters.
After the curtain dropped, Zhang was pushed back to the stage by several curtain calls, but her bowing did little to satiate the audience's thirst for more performance.
Before visiting the United States, Zhang Huoding had already been a well-known Peking Opera star in China for a long time. However, in 1986, at the age of 15, she was nearly rejected by a school specializing in Chinese theater art. A saying goes that "every minute on stage requires 10 years of offstage practice." Behind her eventual success was the unimaginable dedication by Zhang Huoding.
Across the Threhold
Zhang Huoding was born in 1971 in Baicheng City, northeastern China's Jilin Province. Her brother was admitted to a local Chinese theater art school at the age of 11. Influenced by her brother, she also developed strong interest in Chinese theater art. Her passion was firmly supported by her parents. At the age of nine, Zhang signed up for the admission examination of the local opera school.
However, Zhang failed to pass the exam several times over the following years. She once joked that her experience with the test was like Fan Jin (a fictional character who first took the imperial examination at age 20 and didn't pass until 54 years old). Even past primary school age, she continued to apply to Chinese theater art schools across the country every year.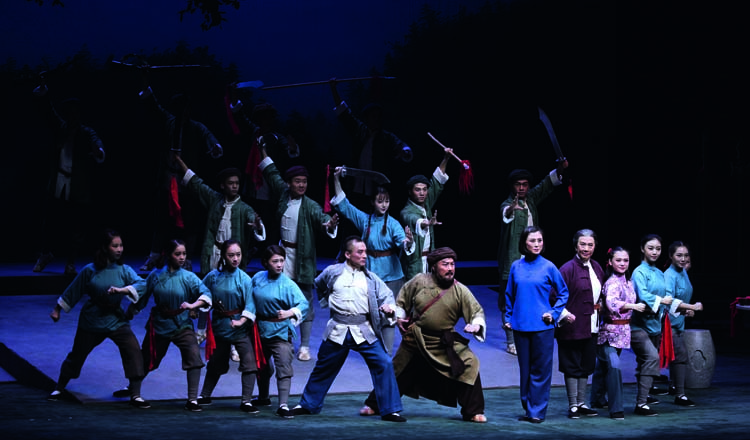 Zhang's perseverance was driven by her passion for Peking Opera. "It is amazing," she beamed. "I felt my life would be meaningless if I couldn't perform it."
Seeking to end his daughter's worries about her future, Zhang's father wrote a letter to the principal of Tianjin Art Vocational School. "The letter was very long, and he requested the principal see me and either accept me or explicitly declare me unfit to study traditional opera," she recounted.
Zhang Huoding was eventually admitted to Tianjin Art Vocational School as the only student not admitted under unified enrollment. In 1986, her annual tuition was 560 yuan (about US$90) a year. At the time, the amount was about a half-year income of an ordinary family. To cover the tuition, Zhang's parents made extraordinary sacrifices to save. "I swore to practice hard." Zhang understood the difficulties she caused her parents.
Persist, Persist
Learning Chinese theater requires practice from childhood, and many performers start at a very early age. Zhang Huoding was already 15 years old when she was finally enrolled in a school, an age usually considered too late. But Zhang persisted with hard work. Without teachers willing to waste time helping her, she listened to tapes extensively. When she lacked a proper curriculum, she looked in on lessons from other classes. No pain, no gain. Zhang's efforts were noticed by famous Peking Opera artist Meng Xianrong. Meng was so moved by Zhang's enthusiasm that he offered to be her mentor.
During Zhang's three years at Tianjin Art Vocational School, she learned 30 plays, equal to the volume a normal student can memorize in seven years.
After graduation, Zhang was recruited by a Peking Opera troupe in Beijing. Her unique voice attracted Zhao Rongchen, a famous master in the Cheng School of Peking Opera.
Zhao was an outstanding protégé of Cheng Yanqiu, founder of the Cheng School. Nearly 80 years old at that time, he was not seeking protégés of his own anymore, but offered to mentor 23-year-old Zhang Huoding as his last disciple. Learning from a Peking Opera master empowered Zhang to make rapid progress in understanding the depths of the art. "I learned a lot of fundamental skills from Mr. Zhao," she said. "I often spent a whole morning just trying to sing one word right. Sometimes practicing some minute detail took three days. Mr. Zhao changed my life."
"Zhang Huoding's performances started capturing the essence of the Cheng School," commented Peking Opera artist Ye Shaolan. "She performs in both the Cheng School and her own style. The audience hears and sees both the Cheng School and Zhang's own characteristics. She manages to make stylized art more rational. Zhang injects her own quality of gentility and elegance to the art of the Cheng School. She never makes deliberate moves to win applause and instead inspires warm applause naturally. This is the highest state of the art."
In 2019, Zhang Huoding's Farewell My Concubine became a massive hit in Beijing and Shanghai. She had made painstaking preparations for the play for 10 years. Tickets sold out soon. Fans and professionals from all over the country rushed to catch a glimpse of the different version of Yu Ji that she played in the play.
The epic battle between Chu and Han armies after the Qin Dynasty (221-207 B.C.) was overthrown is well-known in China. Legends about the war abound. When Lord Xiang Yu of Chu was defeated, he bid farewell to his beloved concubine Yu Ji. Yu Ji chanted poems while performing a sword dance as a farewell, which was reported as beautiful and tragic.
Performing Farewell My Concubine had been Zhang Huoding's dream for many years. After 10 years of hard work, she finally brought the play to the stage. The road to achieve the dream was not smooth. It took her 10 years of hard work to turn the dream into reality. Across the decade, the music changed several times. Wan Ruixing, who has worked with Zhang for a long time, cooperated with her on this play. Wan fell ill and was admitted to the hospital several times, so work was suspended. During the 10 years, Zhang Huoding became a teacher and a mother. She took on new roles in life while continuing to pursue her dream.
Only persistence can make dreams come true. Perseverance helped her realize the dream of becoming a Chinese theater art performer. Now she is realizing another dream of giving the character of Yu Ji her singular tenacity.