A New Partnership between China and Türkiye
Text by
Selçuk Çolakoğlu
Photographs Courtesy of
Shu Yong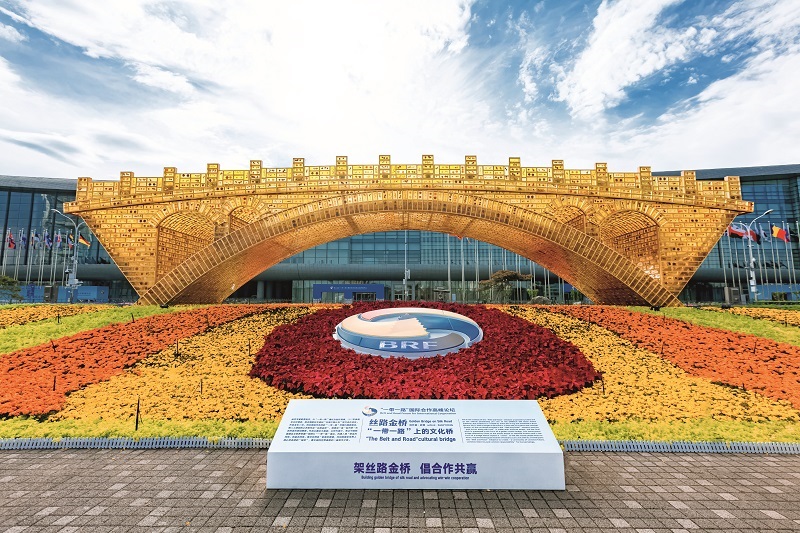 China's Belt and Road Initiative (BRI), which was first announced by Chinese President Xi Jinping in 2013 during his trip to Central Asia, has resonated with both the terrestrial Silk Road in Eurasia and the Maritime Silk Road across the South China Sea, the Indian Ocean, and the Mediterranean Sea.
Türkiye also introduced its Middle Corridor Initiative to grow its role connecting East-West and North-South corridors across Eurasia. Its core aim is to extend the railway line that originates from Türkiye to Central Asia (including Kazakhstan, Turkmenistan, and others) via Transcaucasia (including Georgia and Azerbaijan). Building the Baku-Tbilisi-Kars railway and modernizing existing railway systems in Türkiye to enable high-speed freight transit are central to realizing the entire initiative. China's BRI has the potential to solidify Türkiye's Middle Corridor in the region, too. In that regard, the BRI creates new cooperation fields for Beijing and Ankara at both bilateral and regional levels.
Since 2015, China has considerably increased its investment in Türkiye's mining, energy, telecommunications, transportation infrastructure, and financial and banking sectors. The Industrial and Commercial Bank of China (ICBC) acquired Turkish Tekstilbank in May 2015. In 2017, ICBC and the Bank of China (BOC) acquired operational rights in Türkiye. BOC has become operative in Türkiye with a capital of US$300 million. Conversely, Türkiye's Akbank, İşbank, and Garanti BBVA now have branches in China.
Türkiye's state lender Ziraat Bank signed a US$600 million credit agreement with China Development Bank in December 2017. China's central bank transferred US$1 billion worth of funds to Türkiye in June 2019. The inflow marks the first time Türkiye received such a substantial sum under the lira-yuan swap agreement with China that dates back to 2012. The Türkiye Wealth Fund borrowed a US$1.14 billion syndicated loan in February 2019 from Citibank and ICBC. In January 2020, the Export-Import Bank of China granted a three-year loan worth US$300 million to a private Turkish bank, Garanti BBVA.
The China-proposed multilateral financial institution, the Asian Infrastructure Investment Bank (AIIB), granted a US$600 million loan to Türkiye in July 2018 to increase the security of Turkish gas supply in the internal market. In July 2018, ICBC issued a US$3.6 billion loan to increase the capacity of Silivri and Tuz Gölü natural gas storage facilities, which store 20 percent of Türkiye's natural gas. In July 2020, AIIB agreed to lend US$500 million to two development banks in Türkiye to help ease liquidity issues caused by the COVID-19 pandemic.
Chinese companies have also entered the Turkish market for cargo transportation and online sales. China's e-commerce giant Alibaba Group paid US$750 million in 2018 to become a major shareholder of Turkish e-commerce start-up Trendyol. The Türkiye Wealth Fund inked a US$5 billion agreement in October 2019 with China Export and Credit Insurance Corporation (SINOSURE) to promote bilateral trade and investment as part of the BRI. The agreement empowers Chinese companies to become partners in projects in Türkiye's energy, petrochemicals, and mining sectors and purchase Turkish companies with insurance from SINOSURE.
China-Türkiye trade volume soared in the second decade of the 21st century. Bilateral trade peaked at a historical high in 2013 with US$28.3 billion according to TurkStat data. Then, bilateral trade volume gradually declined to US$21 billion in 2019. Some suspected that the two economies had reached their limits. Nevertheless, bilateral trade volume soared back to US$35.9 billion in 2021 and US$44.6 billion in 2022, despite the impact of the pandemic. These bilateral trade figures indicate that economic cooperation between the two countries has huge potential.
China and Türkiye have developed a deeper partnership since the declaration of the BRI a decade ago. Alongside their bilateral cooperation, the two countries have found opportunities to develop joint regional initiatives in Central Asia, the Black Sea region, and the Eastern Mediterranean. As two key members of the G20, an international forum on financial and economic governance, China and Türkiye can play positive roles in boosting global prosperity with the help of Belt and Road cooperation.