Zhang Liming is an employee at the State Grid Tianjin Electric Power Company. After 31 years since he joined the company, he has become a "blue-collar innovator." He has managed or participated in over 400 technological innovation projects. He is also captain of a team comprised of members of the Communist Party of China (CPC) in Tianjin's Binhai New Area, which offers free services for citizens.
On May 28, 2018, Zhang was awarded the title "Role Model of the Era."
Pioneering Emergency Repair
Zhang has remained continuously engaged in emergency repairs since he started working, and he still wears overalls all year round. "I seldom turn off my cell phone," he reveals. "When I hear rain start falling at night, I get up or even go to the office to ensure I arrive at the scene of an accident as soon as possible."
On November 20, 2016, it snowed heavily in Tianjin. The community Zhang oversaw suffered a sudden power failure. Zhang and his colleagues arrived at the power station soon after receiving the call. They discovered that part of the underground electrical cable of the community was broken. The problem was not difficult to solve. They just had to climb the utility pole, turn off the breaker and isolate the faulty part. However, because the pole was frozen, the climbers couldn't be completely secured.
After a short discussion, Zhang and his colleagues devised a solution. They removed some of the ice on the pole and installed the climbers, and then Zhang and two colleagues formed a "ladder" to support the climbers with their shoulders, from which another colleague worked with a tool that extended to five meters. It was still snowing heavily, and the cold wind chilled their bones. He Li, Party chief of the community, recalled the scene: "It was the first time I witnessed an emergency repair. It was really shocking. To express our gratitude, we made a silk banner and gave it to them. When we entered their office, we were again shocked because the room was already full of banners. Behind every banner must be a touching story."
Innovation Workshop
The communities that Zhang serves are all located in the Binhai New Area, the first free trade zone in northern China. Over 140 companies listed among the Fortune Global 500 have offices there. Ensuring a continuous power supply in the area and eliminating problems are Zhang's primary tasks.
To perform an excellent emergency repair job, one first needs familiarity with circuits. When leaving work, Zhang often walk past a line of circuits with a notebook in hand making notes. Over the years, he has checked over 80,000 kilometers of power lines and drawn more than 1,500 circuit diagrams. He has developed a unique skill to diagnose accidents: He can often guess the nature and general place of the accident and sometimes even the cause of the accident based on the affected area, environment and condition of circuits and equipment, which gives his team more time and efficiency to perform an emergency repair.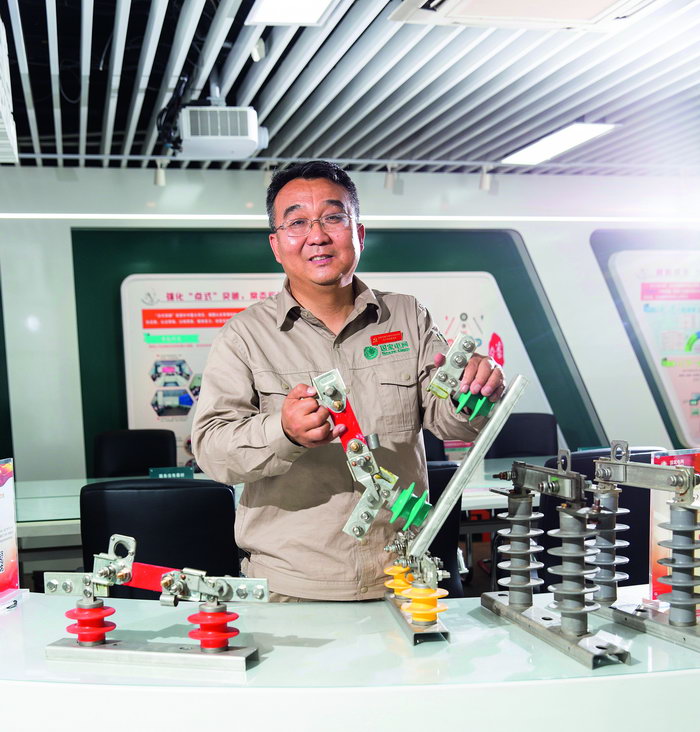 Zhang Liming also pays close attention to improving his work and management. He invented the "Liming Emergency Repair Book Case" in which all of his tools can be fixed in set places to save time in an emergency. He has streamlined his work process, shortening the necessary time to solve a high-voltage fault from three hours to less than an hour. After extensive experiments, he and his colleagues invented a new tool that saves time when repairing a transformer problem caused by a melted fuse. With the invention, they can fix this problem in only eight minutes compared to the previous 45 minutes without it. This technique was awarded a patent and has already been applied in many other places. It saves at least three million yuan every year.
In 2011, a new workshop was named after Zhang: Zhang Liming Innovation Workshop. It is the first workers' innovation studio of State Grid Tianjin Electric Power Company. His workshop has created over 400 new technological results and has been awarded more than 140 patents, 20 of which are firsts for smart grids. Zhang's workshop has also incubated eight another innovation workshops and cultivated many other "blue-collar innovators" who have produced immense economic benefits.
To eliminate the risk of live-line working, Zhang and his colleagues created a live-line working robot in 2017 with the help of artificial intelligence (AI) technologies including sensing, recognition and cognition. By the end of 2018, the robot is expected to be able to perform all jobs involving live-line working, a big leap from machines operated by men to AI robotics. The project has become a key AI technological project of Tianjin Municipality.
Captain of CPC Service Team
Zhang is also the captain of a service team mainly comprised of CPC members, which was founded in 2007. The team offers emergency repair services.
On April 12, 2017, a local community was scheduled to have power shut off for basic maintenance. However, the service team got a call from Ms. Fan, a citizen in the community, just before the outage. Fan tearfully explained that her 96-year-old mother was bedridden and clinging to life with the help of a respirator. The outage would have endangered her life, so Zhang and his colleagues rushed to her home with a generator. They set up a 20-meter circuit line and supplied the home with power for 11 consecutive hours during the outage.
Zhang and his team members also printed cards with their phone numbers, and distributed them throughout the communities they serve. In 11 years, the service team has provided regular door-to-door assistance for 150 families with aged, sick or disabled members in 11 communities. They have completed nearly 10,000 service tasks, and over 100,000 households have benefited from their work.
"I'm happiest when I see electricity light up all households," Zhang grins. "It is my simplest joy, and all my colleagues feel the same."
Zhang Liming has taken the baton from the older generations of power workers. Through analyzing over 10,000 power supply accidents, he has summed up typical solutions for more than 50 cases. He also created the "Case Bank for Emergency Repair" and "Handbook for Emergency Repair." Zhang passes on his expertise to his colleagues, carrying on the tradition of the older generations.