China's Modern Community Near Chaohu Lake
Text by
Zhou Xin
Photographs by
Zheng Liang
On the first floor of the service center of the Binhu Century Community near Chaohu Lake, one of the five biggest freshwater lakes in China, there is a long counter for social affairs, where a loudspeaker and electronic signs announce who's next. A stand in front of it displays information brochures about accessing public services of various kinds, all printed in different colors according to their categories. The public services displayed in the guide brochures include employment for the disabled, access to public rental housing, services for the elderly and small loans. Residents can find policies related to specific services, the eligibility requirements for those services, the documents they need to apply, and the procedures to follow. The service center is located in the community, so that residents who want to access public services can just go downstairs and do so.
Established in late 2012, the Binhu Century Community in Hefei, capital city of Anhui Province, is a combination of three smaller communities. With an area of six square kilometers and 134,000 residents, this new community has set an example for the reform of China's community system with its innovative methods of governance and Party-building.
A Big Pilot Community
Before the 1980s, China's economy and society were dominated by a highly centralized administrative mode. Most elements of Chinese people's lives were controlled by public institutions and state-owned enterprises (SOEs). Later, SOEs no longer provided public services, and this governance mode became inappropriate for the development of China. After several adjustments and reforms, the "district government—sub-district office—community" administrative system was established. However, this system has also been blamed for low efficiency and insufficient public services.
Instead of the three-level system, the Binhu Century Community is directly administrated by the district government, making the system more efficient. The community has set up a joint governance council, which acts as a bridge between stakeholders. A service center has also been established to provide public services.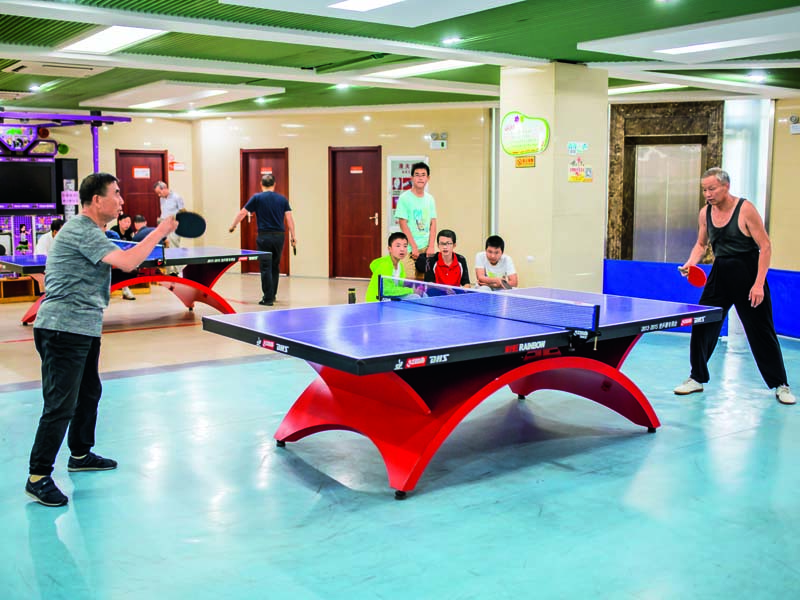 Many residents are members of the "Binhu Helpers" volunteer group, formed by residents and Party members. They provide services for residents in the community. Meanwhile, the community also purchases public services from nongovernmental organizations and supports social organizations. In order to make services accessible to all residents, the community has introduced a grid management mode and set up Party members' groups for each building, which can offer targeted services for residents living in that building in a timely manner. All these measures and endeavors have modernized the governance of the community.
According to Shu Hongying, secretary of the community's CPC Committee, the system and mechanisms of the lakeside community are "designed totally in line with the requirements on the innovation of social governance proposed by the 18th CPC National Congress." As a result, the community has achieved positive interaction and coordination between the Party, the government, society and the self-governance of the residents.
Service Center for Convenience and Happiness
While the first floor offers public services, on the second floor, many other activities are taking place. Children are having fun in a playground, some residents are learning yoga in their practice room, and other residents, old and young, are playing table tennis together. Besides this, you can also find a dancing room, a music room, and a parent-infant center here. The services and training classes on the second floor are all provided by warmhearted volunteers.
Cai Qinglin, deputy schoolmaster of the Community University for the Aged, is one such warm-hearted Party member. Not born locally, he used to be the dean of a middle school. He moved to the Binhu Century Community when he retired. A private school once invited him to take a management post with a high salary, but he refused. When Shu Hongying invited him to establish the Community University for the Aged, he agreed without hesitation.
"Ms. Shu invited me to establish this university. If she had offered a salary, I would definitely have refused. However, I agreed when she said that this is a job without payment. After all, I have been a Party member for a long time." The Community University for the Aged was founded after the Spring Festival in 2014. At first, the university only had three majors and around 100 students. At present, it has 13 majors and over 600 students, most of whom are middle-aged or elderly residents.
"Actually, many senior people have moved here from other places. They are here to take care of their grandchildren. They didn't know each other previously. They have nothing to do after the kids go to school. The university serves as a plat form for them to get to know each other, learn something, and get some new ideas," beams Cai.
Grids Provide Targeted Services
Today, neighbors in China's communities have become strangers. They often see each other, but rarely greet one another or talk, and therefore they actually don't know each other. Eighty percent of the residents in the Binhu Century Community are not locals. And yet they have created a close community through this new structure of governance.
"We visit and offer our help to those who move in or out, get married, lose a family member, give birth to a child, or get ill," says Hong Dequan, a retired teacher and a member of the Party group of the No. 2 Building of Fengdanyuan Residential Quarter, the building in which he lives. "We are volunteers. Though we are old and retired, we are willing to contribute to the community."
The Binhu Century Community is divided into nine grids, and a Party group has been established in each building. These groups can provide services for residents living in their building, according to their specific needs.
"The reason we set up grids is so that we can extend our services to each building," says Li Ruihe, deputy secretary of the community's CPC Committee. "There are so many buildings in the community, each of which contains as many as 132 households. In total, around 134,000 people live here. The community governance cannot cover all of them, so we have to place a service station in each building. How did we do this? The elderly Party members are willing to do this."
Two children in the building where Hong Dequan dwells lost their parents in a car accident, and are currently being taken care of by their grandmother, who is almost 60. The family is still troubled by lawsuits, and faces great difficulties. Hong said that they have regularly visited this family, talked with them and found out what they needed. The Party group of the building and the CPC Committee in the community always visit them and give them support in many aspects, including financially.
Hong's Party group also attaches great importance to the education of children. Nowadays, many students are the only child in their family. Growing up in this environment, they are prone to thinking less about others' needs and feelings. So the focus of children's education in their building is "thinking about others." The members of the Party group tell children true stories, both ancient and modern, and talk about things that happen in their daily lives, so as to enlighten them.
Many families in this community have kids, but the parents are always busy working. When the summer holidays come, one big problem is taking care of their kids, who don't have to go to school after the parents go to work. During this period, the members of the Party group take care of those kids. They tell the children stories, play games with them and teach them about firefighting. Many other activities on topics including environmental protection have also been held. The Party group has contributed a lot to these kids' education.
Hong taught Chinese in Huanglu Normal School before retiring. As this year's summer holiday begins, he and other members in the Party group are planning to teach the kids some Chinese classics. "We are willing to do these kinds of things. We are very happy, and don't feel tired at all," they declare.