CPC's Governance Wisdom Leading China to Bigger Role in Global Development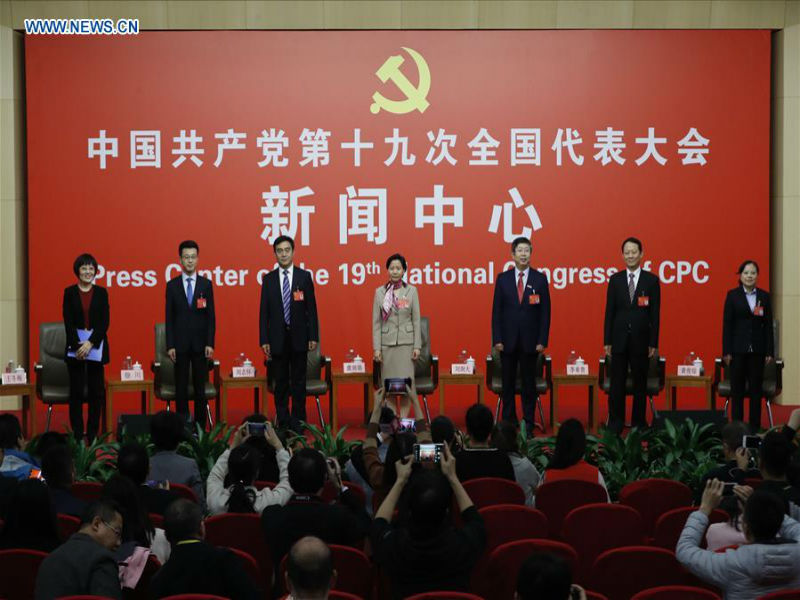 China, under the leadership of the Communist Party of China (CPC), has in recent years served as a stabilizing factor and source of wisdom in a world troubled with uncertainties and challenges.
Reading the signals from the ongoing 19th CPC National Congress, analysts worldwide said they are confident that the CPC will lead China to make more contributions to world peace and development.
Supporting Global Governance System
David Shambaugh, a senior fellow at the Brookings Institution, a leading U.S. think tank, said that China "has a particularly important leadership role to play in global governance."
He mentioned various areas in which the world has seen China significantly increase its contributions, including climate change, global health, international peacekeeping, global economic governance, energy security and reshaping multilateral institutions.
As Chinese President Xi Jinping said on October 18, 2017, in his report at the opening session of the 19th CPC National Congress, China has taken a driver's seat in international cooperation on climate change and become an "important participant, contributor, and torchbearer" in the global endeavor for ecological civilization.
The country more than met its carbon emission reduction goals last year, and pledged a package of 3.1 billion U.S. dollars to the South-South Cooperation Fund on Climate Change for developing countries.
Avery Goldstein, a political science professor at the University of Pennsylvania, said he thinks that "China, sticking with this path, makes it more likely that eventually even the United States will come back to the consensus on climate change."
China is also a staunch supporter of the United Nations (UN) peacekeeping missions and a provider of international humanitarian relief. It is the top contributor of UN peacekeepers and the second-largest contributor to peacekeeping funds.
Khairy Tourk, a professor with the Stuart School of Business of the Illinois Institute of Technology, said that even though its per capita income is not as high as those of developed nations, China is already providing the world with public goods, such as sending peacekeepers, fighting piracy, and sending medical missions to really poor countries to take care of the people who cannot afford to have good medical treatment.
On economy, China is an indispensable force to counter global economic sluggishness. Over the past five years, China has contributed more than 30 percent of global economic growth.
These remarkable achievements did not come easily, as the country has made tremendous efforts to deepen all-round reforms and adjust its economic structure to address tough challenges and maintain sustainable growth.
Meanwhile, China is committed to promoting an open economy and free trade. Gerishon Ikiara, an international economics lecturer at the University of Nairobi, said that China's active participation in global economic cooperation and support for open and free global trade have benefited itself and all other countries.
Offering Solutions with Chinese Wisdom
China's "more proactive" action in setting the agenda for global growth and governance is exemplified by the Belt and Road Initiative, a "very powerful idea," said Robert Lawrence Kuhn, chairman of the Kuhn Foundation, a U.S. nongovernmental organization promoting China-U.S. ties.
The initiative, proposed by Xi in 2013, aims to promote trade, financial integration, infrastructure inter-connectivity and people-to-people exchanges along and beyond the ancient Silk Road trade routes linking Asia with Europe and Africa.
By linking countries and regions that account for more than 60 percent of the world's population and 30 percent of the global gross domestic product, the initiative is a "perfect example" of China sharing its wisdom and solutions for global growth and governance, Kuhn said.
Nigel Haworth, president of the New Zealand Labor Party, said the initiative shows that China has started looking constructively at new ways of complementing existing systems of economic integration, such as the World Trade Organization and the Association of Southeast Asian Nations.
In addition, the Belt and Road Initiative also helps safeguard regional peace, said former French Prime Minister Dominique de Villepin, noting that it creates an opportunity for countries with different state systems to work together to protect the region from terrorism.
"One should be counting all the benefits of stability, with fewer wars, less tension, less crises and less terrorism. It is very important to have a global picture," he said.
(Source: Xinhua)