Fantastic Plants and Where to Find Them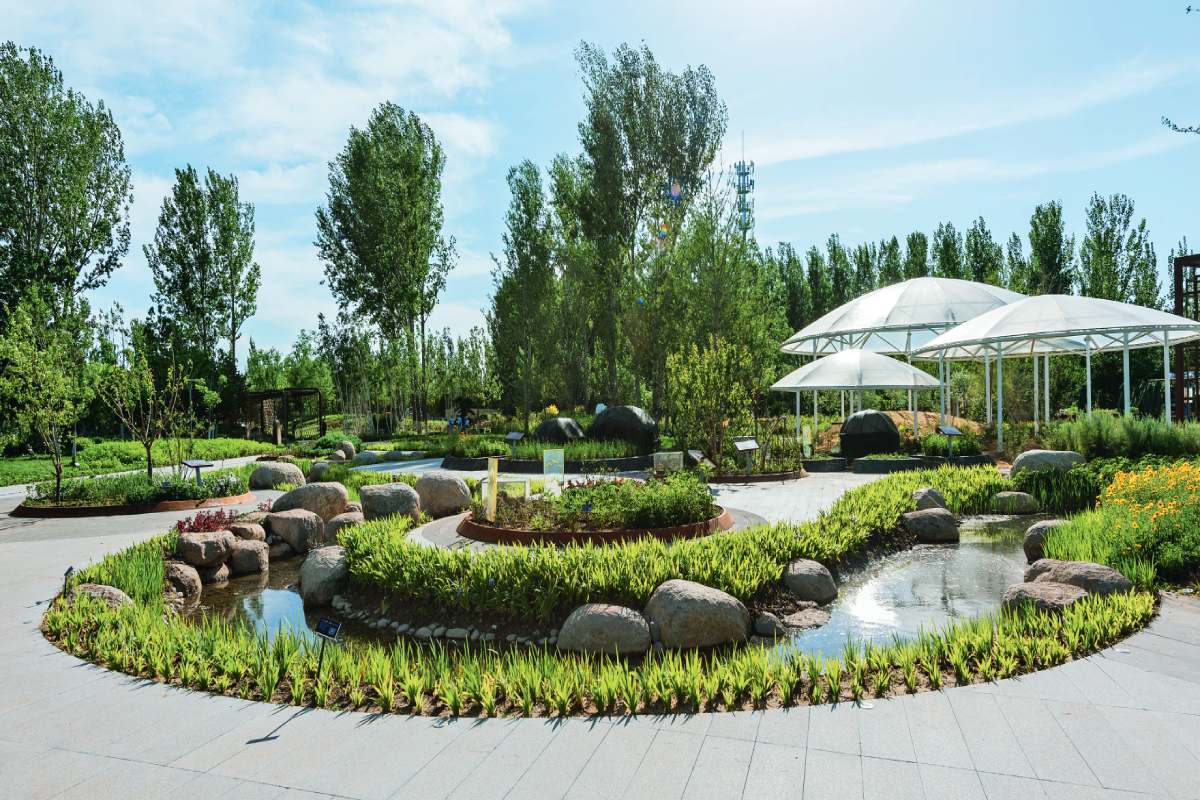 Super-large mushrooms as wide as 1.4 meters, an apricot forest harnessing advanced technologies including cold storage and temperature control to time its blossoms for the opening of the International Horticultural Exhibition 2019 Beijing (hereinafter the "Beijing Expo"), sculptures composed of plants… There is always something stunning visitors to the Herbal Botanical Garden at the Beijing Expo.
The Beijing Expo introduced three gardens for vegetables, fruit trees and Chinese herbal medicine, respectively: the Vegetable Garden, the Baiguo Garden and the Herbal Botanical Garden. It was a first for a world horticultural exhibition to feature specially designed gardens for vegetables, fruit trees, and medicinal herbs. Of the three gardens, the most popular with visitors has been the Herbal Botanical Garden that highlights Chinese herbal medicine as an icon of Chinese culture.
The only garden themed on traditional Chinese herbal medicine at the Beijing Expo, the 32,000-square-meter Herbal Botanical Garden is named after the story about legendary ancient Chinese ruler Shennong. It includes more than 500 kinds of Chinese medicinal plants. It is said that in prehistoric China, people could not distinguish grains from weeds or medicinal herbs from flowers. Shennong, known as the father of Chinese medicine and agriculture, vowed to taste all plants to test their medicinal value. He is credited with identifying grain crops including wheat, rice, millet and sorghum as well as 365 medicinal plants by personally testing their properties. This mythical story is quite similar to that of Asclepius, a hero and god of medicine in ancient Greek mythology, who explored the art of medicine in the wild and sought to prevent and cure diseases. Both stories illustrate the same worship and admiration towards pioneers of medicine in China and the West.
In every A1-category international horticultural exposition, the host country has always striven to highlight local features and cultures while staying international. The Beijing Expo is no exception. In an exclusive interview with China Pictorial, Mao Ziqiang, general chief of the Herbal Botanical Garden of the Beijing Expo and a professor-level senior engineer with Beijing Institute of Landscape and Traditional Architectural Design and Research Co., Ltd., attested that the Herbal Botanical Garden, which is sated with Chinese cultural elements, vividly displays traditional Chinese medicine (TCM) culture. It is a perfect combination of "staying local" and "going international." He hopes that the Herbal Botanical Garden and the Beijing Expo will help foreign visitors understand Chinese herbal medicine, maximize its value and establish a deeper connection with TCM and Chinese culture.
China Pictorial (CP): As the only garden themed on traditional Chinese herbal medicine at the Beijing Expo, how did general design planning for the garden take shape? Where did you find inspiration?
Mao Ziqiang (Mao): This theme garden is situated in the west of the expo site, including landscape gardening with the theme of traditional Chinese herbal medicine. Classical Chinese gardens and TCM are highly representative of traditional Chinese culture. We wanted our design to perfectly combine the two elements for presentation to the world. We strove to interpret one form of traditional Chinese culture through another form. The style, layout and scenic spots of the Herbal Botanical Garden are rooted in classical Chinese gardens, while the content and theme are closely related to TCM.
CP: What does the Herbal Botanical Garden hope to convey to visitors? What are the distinctive design features of the garden?
Mao: For us, the term "herbs" refers to the three meanings carried by Chinese herbal medicines: plants in the natural environment; Chinese herbal medicine with medicinal value for humanity and herbs used to heal the wounded and rescue the dying.
The original intention of our design was to create a new image for Chinese herbal medicine and help Chinese herbal medicine become part of people's lives. When most people think of Chinese herbal medicine, they think of processed plant roots and stems and concoctions of medicinal ingredients. Even Chinese people rarely associate them with natural plants we see all the time, let alone foreigners. But in fact, many Chinese medicinal herbs are plants we see in daily life. The Herbal Botanical Garden aims to break the stereotype of TCM with an image of Chinese medicinal herbs as lively plants, use landscape design and gardening to restore the image of Chinese medicinal herbs and interpret the unique TCM culture.
In terms of design concept, we highlight "herbs" and "prescriptions." Herbs are plants. In this garden, over 500 plants form the general structure and set the tone of the garden. Prescriptions represent the wisdom of TCM experts over centuries. In our landscape design, we grew plants used in particular prescriptions together to make the prescriptions "come to life," which further enhances the garden's theme.
CP: What were your criteria for selecting the 500-plus medicinal plants for the Herbal Botanical Garden?
Mao: China boasts a vast territory, and Chinese medicinal herbs from different parts of the country greatly contrast each other. According to geographical locations, Chinese medicinal herbs are divided into nine categories: medicinal herbs from northeastern China, medicinal herbs from northern China, medicinal herbs from Jiaozuo City, medicinal herbs from Sichuan Province, medicinal herbs from Zhejiang Province, medicinal herbs from Guangdong Province, medicinal herbs from Yunnan Province, medicinal herbs from areas south of the Yangtze River and north of the Nanling Mountains and medicinal herbs from Gansu Province. The 500-plus herbs we planted in the garden cover all of the nine categories.
For most herbs in the garden, we used landscape design and gardening techniques to showcase them outdoors. For a few that don't grow well in Beijing, we made special designs for them. For example, herba cistanche, a herb that thrives in colder desert climates, cannot stand the scorching sun of Beijing, so we built shade shelters for it. For tropical plants, greenhouses were constructed to grow them.
CP: How does the Herbal Botanical Garden capture Chinese features while at the same time arousing the interest of foreign visitors?
Mao: In recent years, some countries have designed and built their own herbal botanical gardens. We have seen successful cases in Britain and Japan, which provided good references for the design of our garden. To ensure that foreign visitors enjoy the garden, we adopted a distinctive classical Chinese style. We hope the picturesque landscape design makes a great first impression and attracts people to walk in.
For the content of the garden, we employed a variety of design methods to make the TCM culture easier to understand, especially for foreign visitors. For example, the Authentic Herbal Area in the garden was designed in the shape of an abstract Chinese territory with two wooden plank roads representing the origin of the Chinese civilization: the Yangtze and Yellow rivers. Representative herbs from different Chinese regions were planted in various areas of the garden according to their actual habitats in the country. We hoped this strategy would help visitors acquire more specific knowledge about those medicinal herbs. We also used relief to visualize the TCM development history and its representative figures and stories. Movements of "Baduanjin," a time-honored Chinese exercise characterized by easy practice and impressive health benefits, are engraved on the walls. Visitors can try it there.