Full of Heat
Text by
Zhou Xin
Photographs Courtesy of
Sinopec Green Energy Geothermal Development Co., Ltd.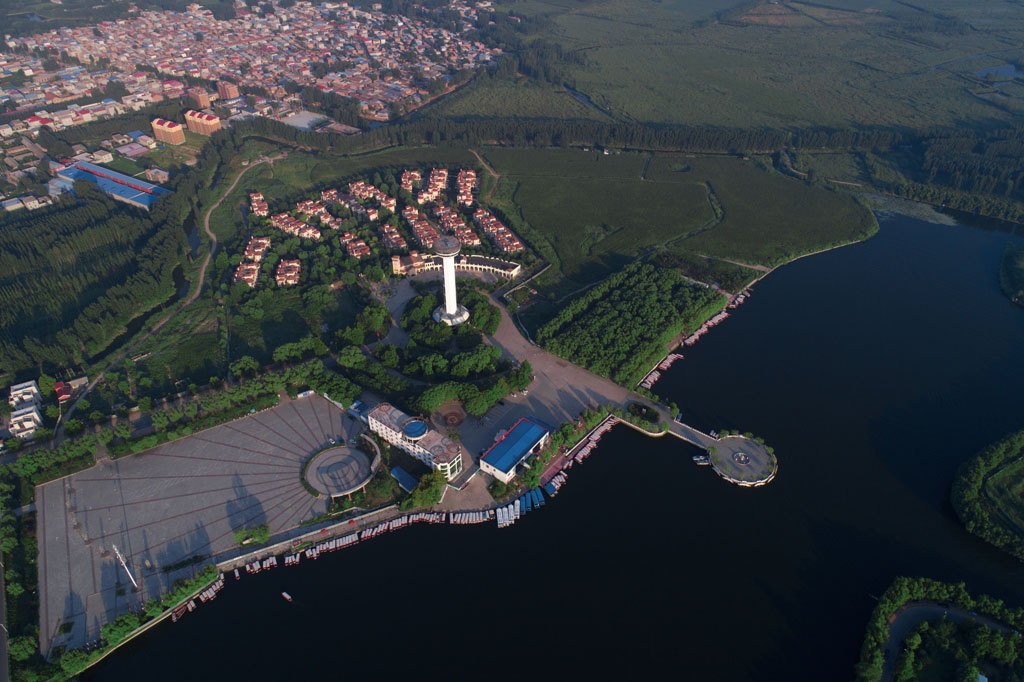 "The combined scale of our geothermal cooperation projects in China is much larger than the entire heating system of Iceland," revealed Ragnar Baldursson, a former Icelandic diplomat now serving as Marketing Director of Sinopec Green Energy Geothermal Development Co., Ltd. (hereinafter "Sinopec Green Energy"). "It is now the largest geothermal heating system in the world. This is what my country of only 360,000 people was able to contribute to the sustainable development of the world."
The China-Iceland joint venture had been fully staffed in early 2020 to ensure a "warm winter" by providing clean geothermal energy for people in many places of China during the COVID-19 pandemic.
Earthly Cycles Connecting Two Countries
The surface of the earth may often seem cold, but the planet has a warm heart. The inner temperature can reach as high as 7,000 degrees Celsius. Even places only 80 to 100 kilometers below the surface can be as hot as 1,200 degrees Celsius. Hot underground water can seep into the earth's crust and eventually reach the surface. Geothermal energy is harnessed in places where hot underground water can be found less than five kilometers from the surface.
"You must be able to dig wells to harness geothermal energy," stressed Baldursson. "So, investment in the early phase has to be huge. China was not equipped to use this energy in the past." Baldursson left Iceland for China in the 1970s and studied in Beijing. He always dreamed of helping with the heavy winter pollution from so many people burning coal for heat with technology from Iceland on geothermal heating.
Iceland is situated on volcanic rock. It is home to a wealth of geothermal energy, with the most hot springs in the world. "Even in the 1970s, Iceland's heating system was already mostly powered by geothermal energy, so there is no pollution from winter heating."
However, he had no knowledge of the distribution of geothermal energy in China, which happens to also have rich geothermal energy resources, accounting for 7.9 percent of the world's total. Some regions in China including Tibet are famous for plentiful high-temperature geothermal energy, and the rest of China has an even distribution of medium- and low-temperature geothermal energy.
Zhao Xin, Chief Financial Officer of Sinopec Green Energy, believes that China has the richest medium- and low-temperature geothermal energy in the world.
Earthly cycles create clean and renewable energy as well as cooperation opportunities for China and Iceland. China Petrochemical Corporation (Sinopec Group) is committed to green and low-carbon development, while Arctic Green Energy Corporation is a cutting-edge provider of power and heating with geothermal energy. Their development strategies considerably overlap.
As a diplomat for Iceland, Baldursson eventually helped facilitate cooperation between the two nations in 2006. That year, the China-Iceland joint venture Sinopec Green Energy was founded in Xianyang City, Shaanxi Province.
Smog-Free Town
Around 2000, a giant "hot spring lake" emerged in southwestern Xiongxian County, Hebei Province. It was originally a small natural lake that was enlarged and warmed by diverted underground geothermal water.
Xiongxian is rich in geothermal energy, so many locals have long utilized geothermal energy for heating. The temperature of geothermal water there is very high, 60 to 80 degrees Celsius year-round. Institutions, communities, and individuals were all been digging to find heat. However, when they broke through to hot water, they lacked the technology to recycle the water back into the ground. So, much of the continuously running hot water ended up being diverted into the lake. The lake is warm and does not freeze during winter. Steam often hovers five to six meters above the surface.
As the underground water level dropped, many hot water wells stopped self-erupting, leaving many communities without hot water for heating. Gradually, the county realized that it wasn't using its geothermal energy sustainably.
"Without returning used water into the ground, geothermal energy risks exhaustion," said Zhao.
In August 2009, Sinopec Green Energy began to cooperate with the local government to streamline and standardize the usage of geothermal energy and make the process sustainable with the company's advanced technology.
"We don't stop after securing geothermal water," noted Zhao. "We return used water into the ground according to an effective plan to ensure a general balance of resources. Get the heat and reinject the same year. This is one of the core technologies of our company."
Because of technological and economic obstacles, many enterprises choose not to reinject. Some companies return the water to a different aquifer, which does not help the environment.
Sinopec Green Energy cooperated with the government of Xiongxian County to create the "Xiongxian Mode" featuring market operations, joint utilization, advanced technology, environmental friendliness, and benefits to the people. After years of effort, Xiongxian County has become the first smog-free town in northern China. Geothermal energy has powered over seven million square meters, 95 percent of the total heating areas in the county, eliminating the need to burn 650,000 tons of standard coal. The "Xiongxian Mode" has been widely recognized by the National Energy Administration of China and industry insiders. It was a highlight of China's geothermal energy industry during the 12th Five-Year Plan Period (2011-2015) and has driven the rise of the industry during the 13th Five-Year Plan Period (2016-2020).
As an old Chinese saying goes, "paying back a loan on time makes it easier to borrow the next time." This just conforms to the concept of sustainable usage of geothermal energy.
Beautiful China: Opportunities for the World
"We have cut carbon dioxide emissions by 7.5 million tons," according to the website of Sinopec Green Energy.
"Although the price of coal-fueled heating seems lower, it doesn't include the cost of pollution." Zhao added that due to proper design, the area can achieve energy self-sufficiency. Everything it needs is underground. After major investment in the initial stage, the subsequent cost of operation is very low.
Geothermal heating projects by Sinopec Green Energy, a leading company in the industry, can be found in seven provinces in China. It has signed cooperation framework agreements with over 40 cities and towns, and projects have already been launched in over 30 of them. "The company plans to double its scale in the next five years," stated Zhao. "This project transcends cooperation between companies. We're working to promote the development of the entire industry."
"When I first arrived in China, the country was still exploring its own path for development, and the idea of sustainable development hadn't been formed yet." Since his first visit to China in the 1970s, Baldursson has witnessed the transformation of China's development ideas. "When developed countries started calling for sustainable development and exploring renewable energy, China listened earnestly and acted quickly. And it ended up moving ahead of many of the staunchest advocates."
"Our cooperation demonstrates that during the process of China's modernization, any country, big or small, can find areas for win-win cooperation with China based on their own natural endowment," said Baldursson. "Many countries involved in the Belt and Road Initiative have geothermal energy under their soil. Our company can help them harness that energy."
Thanks to the joint efforts of China and Iceland, more places in China and the world will be able to embrace greener and cleaner winters in the future.