Kong Haoxuan grinned with a sparkle in his eyes and a big flash of teeth during a performance of A Shout to the Yellow River, a Pu opera. The September 22 show went smoothly and successfully. Long after the music stopped, the audience continued cheering, and some people even raised their hands over their heads to make loud applause.
Pu opera, also known as Puzhou clapper opera, is a genre of traditional Chinese opera from southern Shanxi Province, which is particularly popular in the province's Yuncheng City. The 11-year-old performer Kong Haoxuan was born in Quanzhang Village, Xinjiang County in Yuncheng City. He is a student at the Yuncheng Culture and Art School and the youngest actor in the troupe.
He rehearsed for more than two weeks with fellow performers from the Wu Wang Table Play Troupe to ensure a stellar performance that day at the Yellow River Farming Civilization Expo Park in Wanrong County, Yuncheng City, the main venue of the third Chinese Farmers' Harvest Festival, the first national festival dedicated to farmers in China.
The expo park attracted hundreds of performers like Kong, most from the many townships in Yuncheng. On September 22, the "Autumn Equinox" on the lunar calendar, the third Chinese Farmers' Harvest Festival officially opened in Yuncheng. This year, the main venue of the grand celebration was set outside Beijing for the first time. Yuncheng, a city in the golden triangle of the Yellow River straddling the inland provinces of Shanxi, Shaanxi and Henan, took up the baton.
In a square east of the main stage, more than a dozen temporary online livestreaming booths were set up in a circle, decorated with various agricultural specialty products from all over the country piled like hills. Offerings included millet, various funguses, walnuts, mushrooms, apples, persimmons, grapes, winter jujubes, dried noodles, tea, and milk. Early in the morning, livestreaming hosts flipped on fill lights, set up mobile phones, and started hawking their agricultural products online.
In the center of the booth circle was a large display erected by Alibaba Group to simultaneously scroll volume data on agricultural products sold through Alibaba's e-commerce platform during the harvest festival.
The screen also announced the "Top 50 Counties in Agricultural Products Sales in the First Half of 2020." Linyi ranked 9th in the country and top in Shanxi Province, with an apple sales volume of 9,171,300 units.
Known as the "grain barn of Shanxi Province," Yuncheng harvested a total of 4.21 million mu (about 280,000 hectares) of summer grain fields this year, with a total output of 1.33 billion kilograms, an increase of 4.6 percent over the previous year. The city's total autumn grain output is expected to reach 1.65 billion kilograms.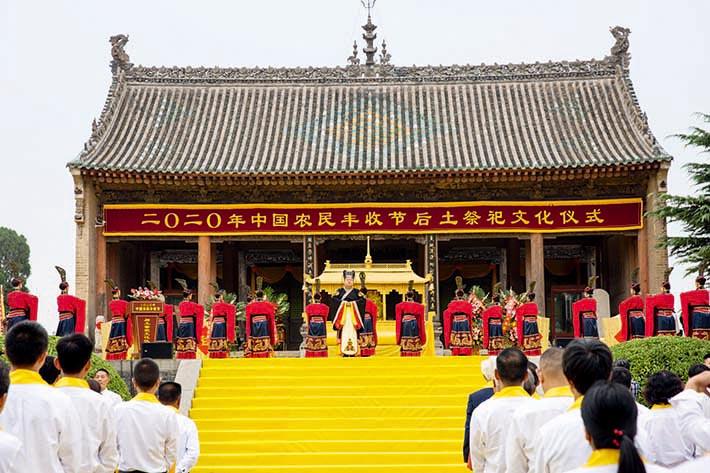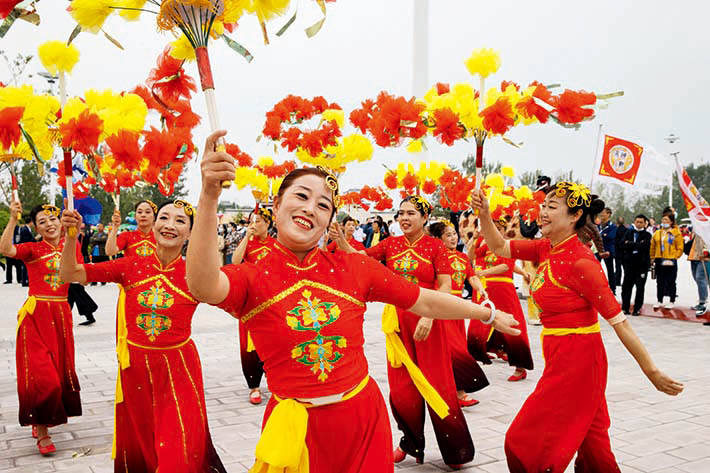 Sweet and Sour Hawthorn Planting
At an exhibition booth at the main venue of the third Chinese Farmers' Harvest Festival, bright red "Qilipo" hawthorns were packed in hard-shell gift boxes with eight fruits in a row, five rows in a box, each separated by orange silk cloth.
The hawthorns were produced in the Qilipo hawthorn planting area in Wenxi County of Yuncheng City, a place known for many millstone-shaped terraced fields on the hills. The locals call such hills "mopanling" ("millstone hills"). More than 3,600 "mopanling" hills can be found throughout the county.
When the millstone-shaped hills reach Guojiazhuang Township at the foot of Jiwang Mountain, they turn more colorful thanks to verdant hawthorn trees and their bright red fruits.
The Qilipo area is split into nine administrative villages, including Qilipo Village, where more than 30,000 mu (2,000 hectares) of land is used to grow hawthorns. However, only a few hundred acres of hawthorn trees could be found there in 2009.
In the past, most local villagers grew wheat, corn, and other staple crops, but remained deeply stuck in poverty. Li Yuxian, director of the village committee of Qilipo Village, started organizing a hawthorn planting cooperative with aspirations to "find a way out for the village."
"At first, most villagers thought I was crazy and had no confidence in planting hawthorns," recalled Li. "Only five of 400-plus households in the village were willing to participate although the local environmental conditions are quite suitable for hawthorn planting. The annual average temperature is around 12.6 degrees Celsius, with an annual average rainfall of 510 millimeters and annual sunshine duration at 2,460 hours. The groundwater quality is also very good."
The Qilipo area passed the national authentication of the Agro-Product Geographical Indications in 2013. Now, several high-quality hawthorn varieties are planted there including Dajinxing, Dawuling, Damenqiu, and Waibahong. Testing has shown that the Qilipo hawthorn surpasses those grown elsewhere in terms of the content of 17 amino acids.
The Banshanyao Hawthorn Planting Cooperative in Qilipo has established a long-term cooperation agreement with the Shanxi Academy of Agricultural Sciences to develop new hawthorn species. A new kind of small seedless hawthorn fruit developed by the cooperative, which has been named the "pearl hawthorn," will soon hit the market.
The cooperative has also developed more than 10 deep-processing products including hawthorn balls, hawthorn honey, hawthorn wine, hawthorn vinegar, and hawthorn leaf tea. In 2019, the total sales of these hawthorn products exceeded 4 million yuan (US$587,200) on e-commerce platforms. "Getting to the results we're seeing today took a long time. When we first produced haw slices, we were cutting the fruit by hand with kitchen knives, but we later introduced machines."
According to Li, hawthorn planting has raised the annual net income of the local villagers to 4,000 yuan (US$587) per mu (about 0.07 hectares) of land. Working in the cooperative on hawthorn field maintenance can earn a farmer more than 3,000 yuan (US$440) a month.
"Many have built new houses and bought cars, and I see more and more smiles around the village," Li beamed.
Recently, she has been frequently climbing a "mopanling" hill near the cooperative to check on the construction of the Hawthorn Exhibition Hall. The exhibition hall covers an area of 100 square meters, and the main body of the building is nearly complete, but the interior decoration still needs more time.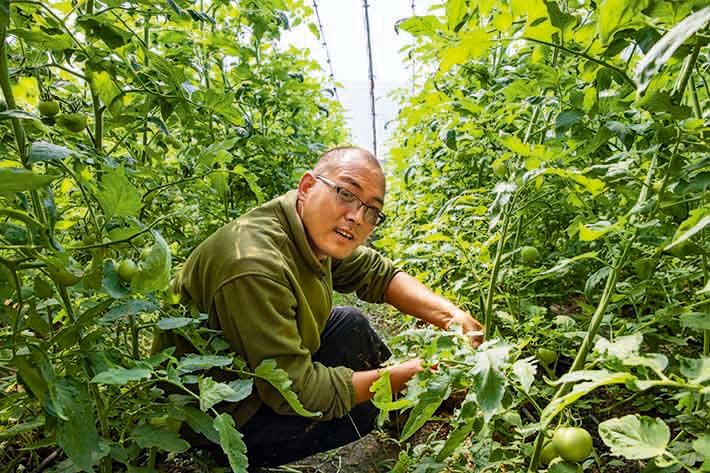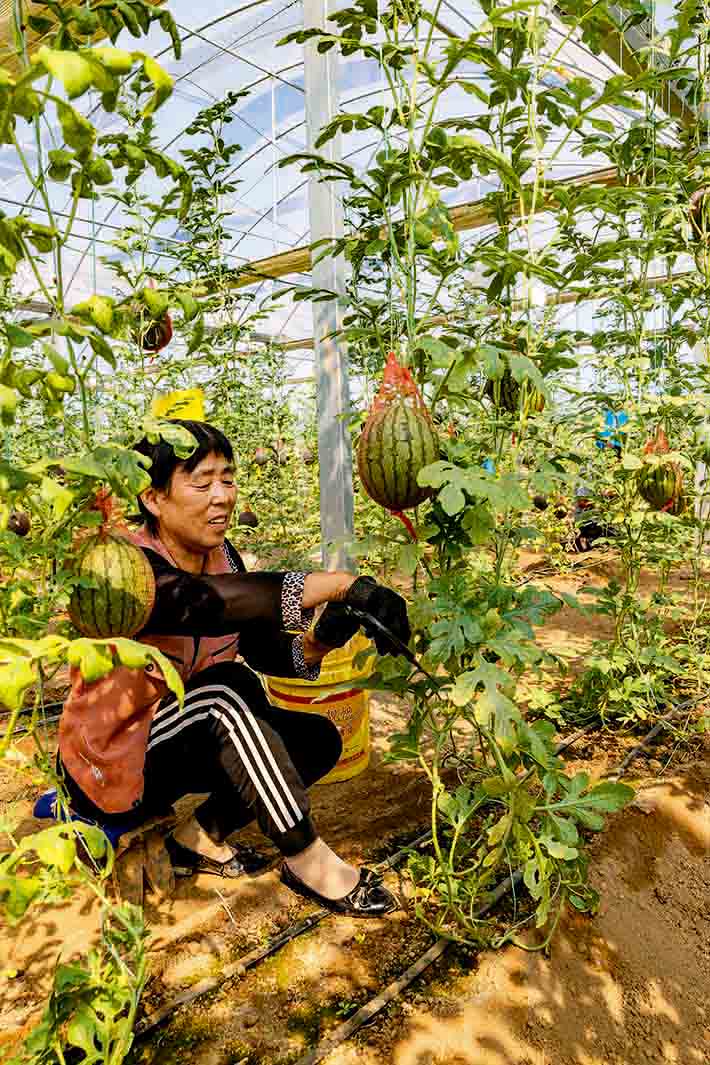 An Apple Farmer's "Private Bank"
Linyi County on the banks of the Yellow River boasts nearly 700,000 mu (467 square kilometers) of apple trees, accounting for about 70 percent of the county's fruit trees. One apple orchard in Shangdoushi Village, Jiaobei Township, cultivated by 63-year-old Wu Zhongding for nearly four decades, is known throughout the county.
While the still-green Fuji apples in Wu's orchard remain individually covered in brown paper bags, Red Star apple trees are ready to display their ripe, red, and fragrant fruits. Each Red Star apple has a sticker with an upside-down Chinese character "Fu," which means "good fortune." Wu said that such an apple sells for over a dollar.
In the very beginning, however, Wu suffered from the poor quality of his apples. During his hardest time, he couldn't find any buyers. "I transported apples as far as Jiangmen City in southern China's Guangdong Province in 1997, when the apple price was only 0.8 yuan (12 cents) per kilogram."
"Growing apples requires skills, money, and unceasing efforts." Ten years ago, Wu went to Japan on his own dime to learn advanced planting techniques and came back deeply impressed. "Their fruit trees are spaced far apart. The land has been cultivated for more than a century and the trees still bear fruit. One apple can sell for six to seven dollars."
After Wu returned home, he and his wife Yang Huicai decided to chop down trees to thin the orchard after considerable struggle. "We had nurtured many of the trees for more than 20 years. My heart ached painfully with each one I felled. We only chopped down trees before dawn because we couldn't bear to see them fall in daylight."
Through thinning, the interval between every two apple trees in his orchard was expanded to more than eight meters. Although the total fruit yield dropped nearly by half, his output value almost tripled, from 15,000 yuan (US$2,200) to 40,000 yuan (US$5,870) per mu, due to the improvement in quality. "Some orchard growers are eager to compare their earnings with each other after a deal. I don't get into that. The land is my 'private bank,' and I want to make it a century-old orchard."
Wu believes that apple cultivation should shift from quantity to quality. Over the past decade, he has taken measures such as organic fertilizers, sod culture, and biological control to improve the fertility of the soil, and organic matter content in the soil of his orchard has increased from 1.2 percent in 2012 to 2.8 percent today. In 2019, Wu spent 300,000 yuan (US$44,000) building an irrigation system that can reduce water consumption by half.
"Planting apples means you have to toil in the orchard all year round," Yang sighed. "It is 100 times more tiring than growing grain." The orchard is primarily managed by Wu and his wife. During the busy season, they hire extra help from nearby villages. "The watering, weeding, and pesticide spraying are mechanized, but tasks like wrapping, unpacking, character posting, and fertilizing can only be done manually. We pay one laborer 200 yuan (US$29) a day."
Wu founded the Zhongding Apple Planting Cooperative in 2008 to pass on his planting experience and knowledge to more farmers. The cooperative has signed more than 200 households, and 700 households have benefited from the program. Wu's reputed orchard has attracted increasing numbers of visitors. So far, some 140,000 farmers from eight countries have taken training classes there.
"It's easy to learn, but hard to do," Wu explained. "Some orchard owners become eager to replace apple trees with peach or persimmon trees upon hearing that those two fruits sell for more. Growing apples requires not only knowledge but also patience."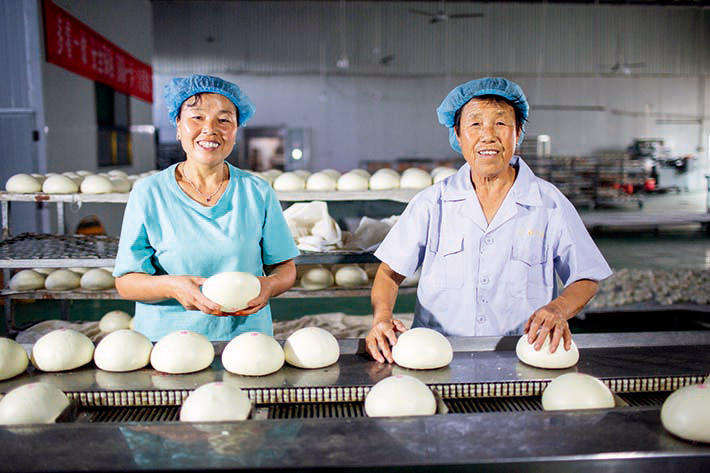 Farmers and the Land
In 1982, 18-year-old Jiao Junjie joined the production team in Shuitou Village, Xiaxian County, after graduating from Shuitou Senior High School. "In those days, oxen and donkeys were used to plow the fields. Sometimes farmers even used their own strength to plow, which required three to pull and one to steer. Farmers on the production team worked together to harvest in summer and plant in autumn. For two months, they took food to the farmland before dawn and sometimes toiled until midnight to finish all the work." Jiao now manages more than three mu (2,000 square meters) of wheat fields. The entire production process is mechanized, and it takes only a day to complete harvesting and re-sowing.
"When I was in school, my lunch was homemade steamed corn bread, which was cold and hard as a stone," Jiao recalled. "I hadn't seen steamed wheat buns on the table until the reform and opening-up policy allowed households to contract land. It is distressing to me to see people eating at restaurants order more than they can eat and leave half of the food on the plate."
"Arable land in the village is limited, and young people prefer to work elsewhere over cultivating the fields," Jiao added. "As they seek fortune across the country, they help everyone discover Xiadu steamed buns. A couple making steamed buns will earn at least 100,000 yuan (US$14,660) annually."
No matter how far away they live most of the year, villagers return home before Chinese New Year's Eve. Jiao explained that villagers eat dumplings for breakfast on Chinese New Year's Day according to tradition. "In the past, we only made carrot-stuffed dumplings on New Year's Eve, and a little lard would be a luxury. Now we watch the Spring Festival Gala on TV and prepare a variety of stuffings with green onions, pork, mutton, chicken, and everything. If we are hungry at night, we just cook and eat them early, which was something we never did in the past because we didn't have that many dumplings and had to save them for breakfast."
Villagers also enjoy more diverse cultural lives now. The annual Lantern Festival brings lively performances involving gongs and drums. Normally, square dancing attracts the most villagers and results in more than 200 people dancing together. Dancers gather at the park every day at 6 p.m. Members of the calligraphy association in Shuitou Town visit the village every month to exchange ideas and calligraphy works.
Shuitou Village began to honor model households in 2018, and the selection criteria were printed and distributed to every household. Those who keep their surroundings clean, care for their parents, establish harmonious neighborly relations, and maintain good credit can earn designation as a three, four, or five-star family. When Jiao's family was given a five-star rating, his daughter-in-law accepted the award on behalf of the family. Jiao said the award meant both honor and pressure. "It would be embarrassing if we fell off the five-star list."
Jiao serves as the deputy director of the village committee and is responsible for the development of the primary school in the village. He is most familiar with Shuitou Primary School, the largest of its kind in Shuitou Town. The school now welcomes 973 students from 28 villages. Chai Jihong, 48, is the principal of the primary school, and she has been teaching there since she married into a local family at the age of 19. Chai recalled that the school's enrollment once dropped to only about 100 when private schools became popular in 2003 and 2004. "Fortunately, our student body has grown gradually ever since the government started providing more support for public schools."
A Tomato Planter's Way Home
Guo Jiangmin, 40, walked through the thick wall of compacted earth to exit the tomato greenhouse. He wore a pair of sunglasses, but his wrinkled forehead gleamed with sweat in the sunlight. He took out a smartphone to check the temperature and humidity of the greenhouse and adjusted the air intake and water flow of the sprinklers.
Guo spent 160,000 yuan (US$23,450) of his savings to build two vegetable greenhouses last year. Construction started in July and finished in October. Tomatoes can fetch solid profits. March to June and August to November are the two harvest seasons, and one greenhouse can earn 70,000 yuan (US$10,260) in one season, leaving net income of 60,000 yuan (US$8,800) after the cost of seeds and fertilizers is subtracted. "The procedures to apply for an agricultural loan became a lot easier this year, so I'm planning to build two more greenhouses," Guo grinned.
The vegetable greenhouses in the village are closely arranged. Not far from where Guo was standing, the brown soil was bare in the air from construction of new greenhouses. "The water and electricity systems are already in place," Guo said. "The cooperatives in the village will help build the greenhouses and purchase fertilizers and farm chemicals. I didn't plant tomatoes before, but I paid close attention and learned a lot from veteran tomato farmers."
Guo returned to Xicun Village in 2018. After finishing high school at the age of 17, he was hired by a lathing workshop in Xi'an City, in northwestern China's Shaanxi Province. In 2014, he found his way to Kunshan City in eastern China's Jiangsu Province. "I saved 50,000 to 60,000 yuan (US$7,330 to US$8,800) a year while working in Kunshan," Guo revealed. "At one point, more than 500 people from my village were making a living as migrant workers in Kunshan, a tenth of the total population in the village."
Kunshan is more than 1,000 kilometers from Xinjiang County, where Xicun Village is located. When working there, Guo was always looking forward to reuniting with his family at Chinese New Year. Guo has a 17-year-old son and an 8-year-old daughter. The biggest motivation to return home was the desire to live with his children every day. It now takes only five minutes for him to ride an electric bike from home to the vegetable greenhouses.
"Cities are clean and have convenient transportation and modern shopping malls, but I feel uncomfortable in the concrete jungle. I'm freer and happier at my country home with fresh air and beautiful scenery."
Guo recalled childhood anecdotes and laughed. When he was young, he and some kids picked someone's strawberries growing by the river and then fell asleep in the fields, enabling the strawberry farmer to catch them. The kids would catch hidden crabs when the small river bloomed with lotus flowers in summer. It took some effort to catch the small creatures. "It really hurt when one of them pinched my finger with its pincers! It's a pity that the river is almost dry now."
The river in his tales originates from Gudui Spring in the foothills of Jiuyuan Mountain and flows into the Fenhe River, the second-longest tributary of the mighty Yellow River, in Wanrong County, Yuncheng City.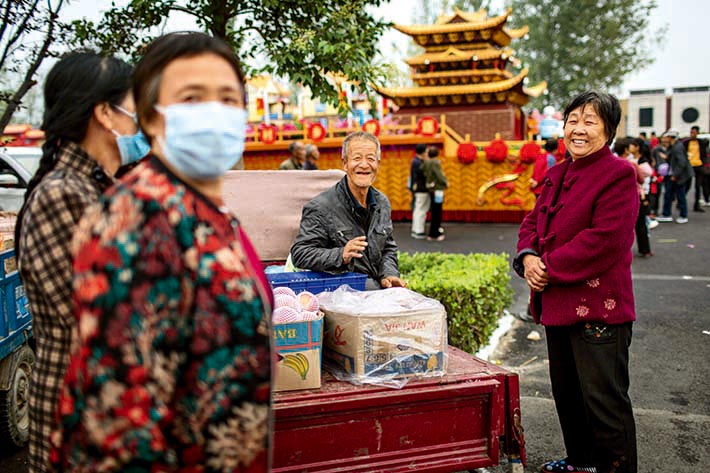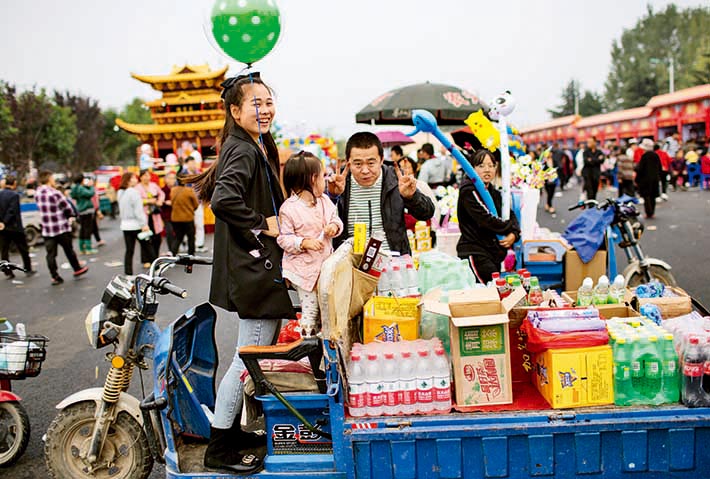 Songs Over the Yellow River
"I stand on the table and shout... following my grandfather to inherit the opera art. My resounding voice echoes down the Yellow River, making wind blow and waves roll. I extol the goodness of the Chinese people and cheer for the peaceful and prosperous country!" As Kong Haoxuan finished his lines, the actor playing his "grandfather" in the play lifted him into the air. After an embrace, his final appearance at the harvest festival was complete.
Kong was raised by his grandparents. When he recalls his grandparents working in the fields, his grandfather was always hoeing ahead while his grandmother followed behind, pushing the seed barrow. The couple's favorite pastime was performing Pu opera with fans on Sunday nights, some playing the erhu (Chinese fiddle), some playing the sanxian (Chinese lute), and some tapping for rhythm. Kong gradually became fascinated with Pu opera and chose to attend the Yuncheng Culture and Art School at the age of eight. His grandparents supported the move, but his parents worried that he wouldn't study hard and that learning the traditional opera didn't create much opportunity.
"My parents didn't change their minds until I took them to the opera school," Kong revealed. "Then they started believing that traditional opera could be promising." After only one and a half years of study, Kong and two of his classmates from the Yuncheng Culture and Art School won the Little Plum Blossom Award, the top Chinese drama award for children.
The school gives students two days off each month. Except for holidays, Kong spends six hours on opera training and four hours on academic subjects daily. He only has time to call home after 9 p.m., when his parents are busy making dumplings and noodles at the night market in Xi'an.
"I call them every day, but they are usually too busy to talk much." As the National Day holiday approaches, Kong is looking forward to returning to his hometown, singing Pu opera with his grandparents, and telling them about everything he saw at the harvest festival.