Healthcare Reform in Luohu: The Potential of General Practitioners
The report to the 19th National Congress of the Communist Party of China (CPC) called for the Healthy China initiative, which aims to "improve community-level healthcare services and strengthen the ranks of general practitioners." The initiative is intended to enhance rational allocation of medical resources, increase healthcare efficiency, reduce excessive reliance on first-class hospitals and improve patient experience.
In early 2018, the Chinese government announced plans to train more qualified general practitioners and expand deployment of contracted family doctors. In China, general practitioners are physicians who diagnose, treat and manage a wide array of patient conditions and provide medical services ranging from early treatment of regular illnesses, prevention, healthcare and rehabilitation to chronic disease management at community level as well as routine, integrated and customized healthcare services for individuals or families. According to the National Health Commission of China, less than 200,000 community-level general practitioners are providing services across the country, which is only about half of the number needed.
In 2015, as a pilot zone for community-level healthcare reform in China, Shenzhen's Luohu District began to implement a general practitioner system which has proven very successful.
Gatekeepers for Community Healthcare
Wenhua Community in Luohu District has a population of 25,000, of whom many are migrants. The community hospital is staffed with 10 general practitioners and 12 nurses. Wu Tianlong is a general practitioner posted there.
Before she met Wu, community resident Xu Yanyan preferred to see doctors at prestigious Hong Kong hospitals like many high-income Shenzhen residents. About six years ago, her two-year-old son came down with a cough that persisted even after consulting several doctors in Hong Kong. So she decided to try her luck at the community hospital.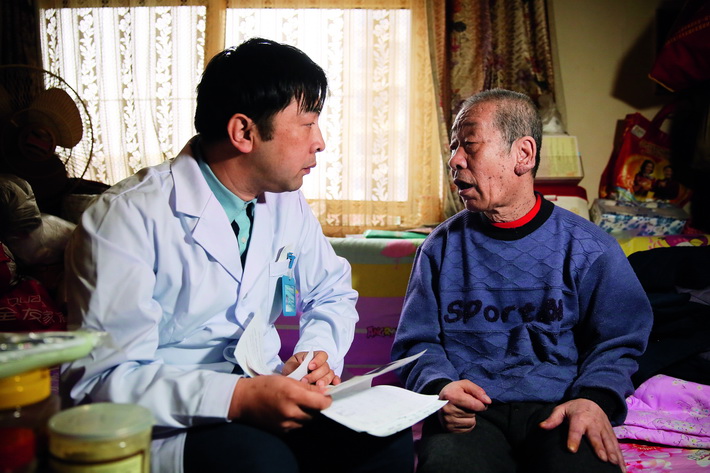 "Frankly, seeing Doctor Wu was so young, I didn't have much confidence in his expertise," Xu recalled. To her surprise, three days later her son's cough was cured after taking medicine Wu prescribed.
Two years later, Xu's younger son came down with a cough. This time, Wu recommended a very cheap drug. "Each bottle contains six grams of tablets, and they're very affordable," Xu said. "Doctor Wu helps my family save a lot of money on medical care."
Back then, the contracted family doctor system had yet to be implemented in Shenzhen. But, whenever her sons got sick, Xu habitually consulted Wu over the telephone. "Every time I called, he asked in detail about my sons' symptoms and then dispensed useful advice," she said. "He knows key physiological information about every member of my family, even our heights and weights."
Compared to specialized physicians at large hospitals, community-level general practitioners not only treat illnesses, but also focus on individual patients' health.
"You shouldn't interrupt patients when they talk to you but encourage them to ask whatever they want," explained Zhang Xiaoxiao, a doctor at the Health Service Center of Luohu Community. "By conversing with patients, you get information that can be very helpful for diagnosis. Sometimes I feel like a detective." In her eyes, how general practitioners communicate with patients is totally different from specialized physicians.
Once, a boy suffering from frequent stomachaches came to see Doctor Zhang. "In most cases, a specialized physician would suspect gastric diseases and order a gastroscopy or helicobacter pylori infection examination." Zhang said.
After talking with the boy, she realized that his stomachaches occurred only in the morning from Monday to Friday, but never in the afternoons or evenings. On pressing further, she learned that the boy was walking quite far to school since reaching middle school, so he didn't have time for breakfast. And his stomachache usually subsided after the first morning class.
Zhang diagnosed that the boy had temporal abdominal cramping and suggested he get up earlier in the morning to eat breakfast before going to school. Following her advice, the boy never again had such pains. When the boy came back for a follow-up visit, Zhang only talked with him instead of performing an examination or ordering tests.
In Zhang's opinion, general practitioners usually provide medical services through heart-to-heart communication with patients, rather than with medicine and procedures.
Luohu Experience
Three years ago, before the general practitioner system was introduced to Luohu, Zhang Xiaoxiao didn't get much satisfaction from her work. At that time, second- and third-tier hospitals and community healthcare centers in Shenzhen lagged far behind hospitals in Guangzhou, capital of Guangdong Province, in terms of medical resources—never mind institutions in Beijing and Shanghai. Many local patients preferred to see doctors in Beijing, Shanghai, Guangzhou or even Hong Kong and Southeast Asian countries. Shenzhen became known as a "healthcare desert."
The new healthcare reform that began in 2015 quickly became a game-changer. That year, with its Luohu District as a pilot area, Shenzhen launched a reform focusing on community-level healthcare. Luohu merged five hospitals and 23 community healthcare centers into Luohu Hospital Group.
Sun Xizhuo, president of Luohu Hospital Group, and his healthcare reform team committed to ensuring local residents access to quality, effective healthcare services within a 15-minute walk. The hospital group pays great attention to disease prevention and health management to "free residents from illnesses and hospitalization, cut their healthcare burdens and enable them to enjoy high-quality medical services."
Since 2015, a series of new medical reform policies have been carried out in Luohu District.
A mobile app developed by the district, Healthy Luohu, is now used by every local doctor. With the app, patients can make an appointment, pay for medical services and consult contracted doctors. Every hospital and healthcare center under Luohu Hospital Group can share information via the app. Moreover, it helps doctors regularly monitor the health of local residents, diagnose illnesses earlier and reduce disease prevalence rates. If a patient needs to be transferred to another hospital, his or her medical data can be immediately delivered accordingly. Transferred patients need not register at the new hospital.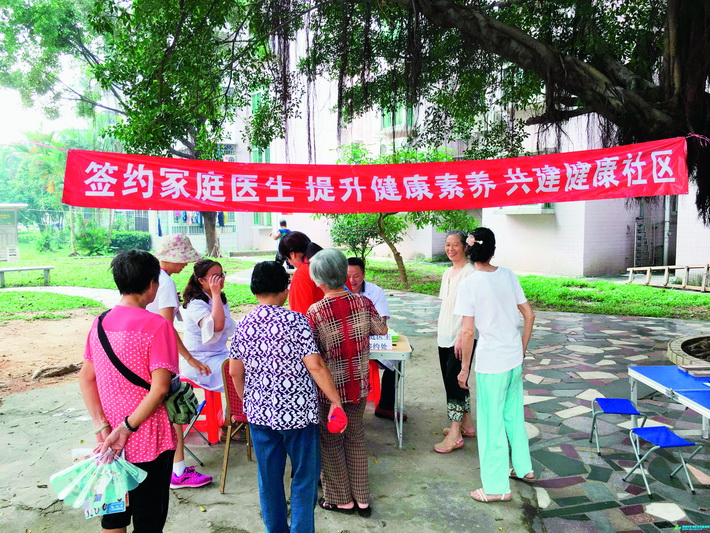 In Luohu, medical insurance funds adopt a management approach called a "capped budget." Local residents are free to choose local hospitals or clinics as their contracted medical service institutions. Each year, the medical insurance administration pays Luohu Hospital Group a certain amount of money according to the number of the insured who chose it as their contracted medical service institution the previous year. The amount is based on per capita medical insurance in Shenzhen plus the annual growth rate of medical insurance in the city. If the amount does not cover the medical expenditures of the contracted patients each year, Luohu Hospital Group will bear the loss itself. If there is a surplus, the hospital group will keep it.
Under these terms, the hospital group can maximize its profits in only two ways: one is to ensure contracted residents are healthy and reduce their medical spending, and the other is to attract more contracted residents by improving service quality.
According to Sun, China still lacks a complete academic and assessment system for general practitioners, and some overlapping services affect the efficiency of community-level general practitioners. "For instance, public health education such as teaching children how to wash their hands should be overseen by centers for disease control, leaving community hospitals to focus on treatment of chronic diseases and providing basic public healthcare," he added.
"I don't think our practice should be called the 'Luohu Model' because it's merely a reform," Sun noted. "I hope more medical insurance categories will be introduced to promote community-level medical services so that large hospitals can concentrate on medical teaching and research as well as treating acute and severe diseases. That would help China form a better medical service system."