Igniting the 'Shanghai Spirit' at the SCO Summit
Text by
Sudheendra Kulkarni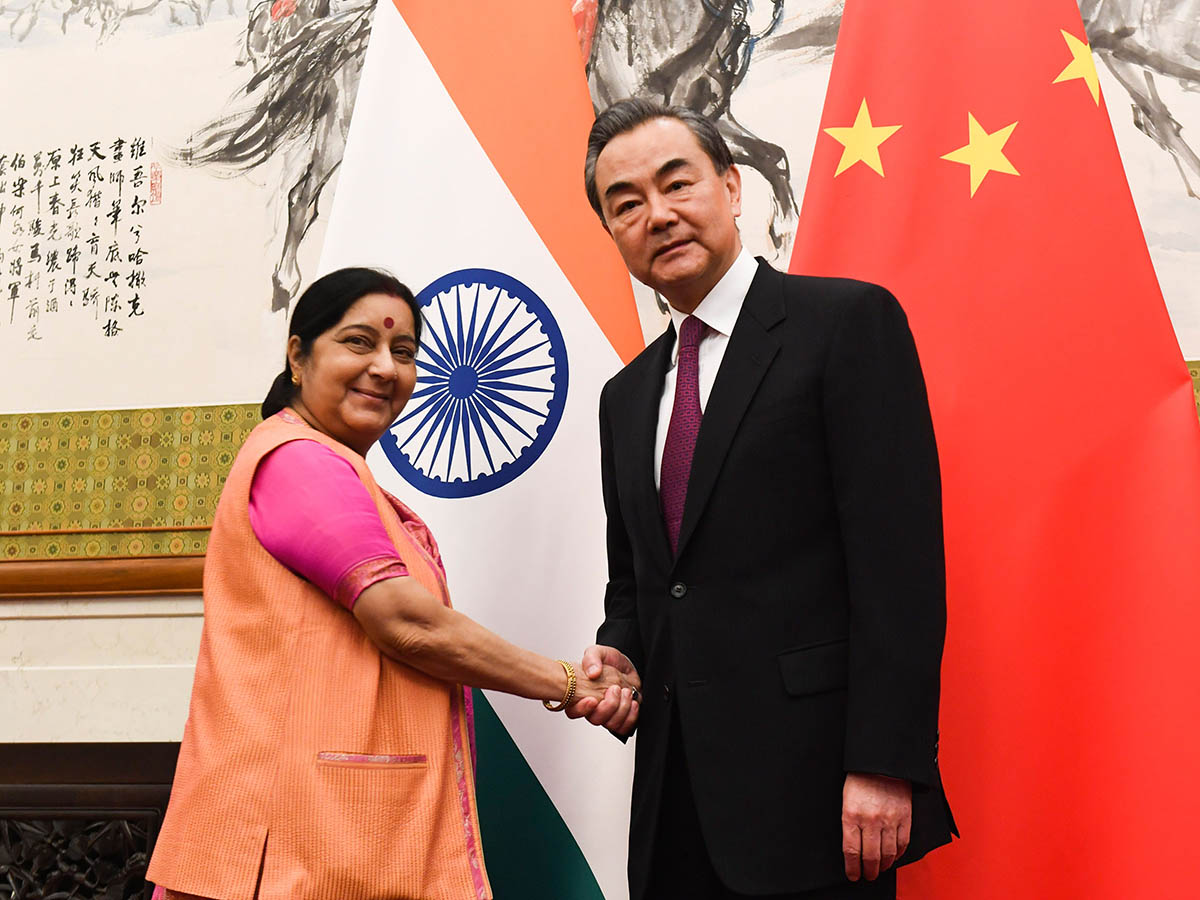 At a time when the global order is undergoing a fundamental shift, some of the most hope-inspiring initiatives are being implemented by China under the visionary leadership of President Xi Jinping. This will manifest once again when the Shanghai Cooperation Organization (SCO) holds its next summit in Qingdao in June.
The remarkable evolution of the SCO over the 17 years since its birth has attracted the attention of all those seeking a better future for Asia and the world. To understand how it happened, one must examine how Asia—and China in particular—have come to play a leading role in world affairs.
The 21st century is becoming fundamentally different from those before. We can identify three distinguishing markers. First, the world has become interconnected and interdependent in an unprecedented manner. No nation in today's times can be an island in itself and fulfill either its security or development needs. Yet, some old powers like the U.S. are refusing to adjust to the trends of the times and swimming upstream by practicing protectionism and exclusivism.
Second, accelerating the phenomenon of globalization are unstoppable advancements in science and technology, which have unleashed never-seen-before productive forces on the economy. As a result, for the first time in history, we're now closer than ever to satisfying the basic needs of all human beings on the planet and also restoring the health of the degraded ecology of the planet itself. Yet, this promise and possibility have yet to happen because international cooperation has not become sufficiently broad, deep and strong.
Third, the world order that prevailed in the 18th, 19th and 20th centuries is undergoing a fundamental change. The West is declining, and the rest is rising. Within the non-Western world, Asia is rising particularly fast—so much so that scholars of international affairs are unanimous in the consensus that the 21st century will be the Asian Century, just as the 20th century was America's and the 18th and 19th, Europe's. Yet, old powers, especially the U.S., are continuing to behave as if their dated position in the world should continue forever.
Seeing Xi Jinping's Vision
Clearly, the center of gravity for world affairs has shifted from the West to the East. After freeing themselves from the curse of colonialism and imperialist domination of the last century, the countries of Asia are now writing their own destinies.
Asia is not only the largest continent in the world (with nearly fifty countries, home to 60 percent of the global population), but also the most dynamic. In 1980, Asia's share of the world economy was 20 percent, while that of Europe was 32 percent. Now, the numbers are reversed: Asia accounts for roughly 34 percent while Europe accounts for about 21 percent of global economic activity. By 2050, Asia will account for more than 50 percent of global GDP. The only two nations in the world with populations more than one billion, China and India, are both in Asia. Three of the five largest economies in the world are Asian: China (second-largest), Japan (number 3) and India (number 5). Moreover, China is projected to become the world's largest economy, overtaking the U.S., by 2032. Asia has accumulated more than half of the world's total foreign exchange reserves, over US$4 trillion. And over half of these are held by China alone.
The relative balance in the production of new technological innovations is also rapidly transitioning from North America and Western Europe to Asia. Another important point: Unlike the West, Asia's relations with Africa and Latin America (which too are experiencing a resurgence) are not antagonistic, but cooperative.
It is clear that Asia can and must shape the future of the world, not alone in isolation or even in rivalry with the West, but in cooperation with all the other continents and countries in the world. This wisdom is best captured in Chinese President Xi Jinping's inspiring slogan: 'Building a Community with a Shared Future for Mankind.'
A Gandhian World Vision
How can Asia fulfil this historic task? It can share and practice a superior vision of its own—and the entire global community's—security and development. It must emphatically avoid the disastrous road taken by the West in the previous three centuries. When European powers became industrially and economically advanced, their fierce rivalry to colonize the rest of the world resulted in the two horrific World Wars in the last century. The U.S., which took the baton from Western Europe in dominating the world, followed the same policy of threats, invasions, wars and establishing military bases near and far. Now, Asia has an opportunity as well as a responsibility to show to the world that it can foster a future without wars and violent conflicts.
In this context, the SCO has already emitted some rays of hope. At its summit in Astana last year, the SCO admitted both India and Pakistan as full members. This will certainly ensure leaders of the two countries to resolve their disputes and differences in peaceful ways. The prolonged hostility between India and Pakistan has become a big hurdle in South Asia, which is home to over 1.7 billion people. It now seems to be moving towards a region of peace, prosperity and progress through comprehensive cooperation.
The other ray of hope came from the informal two-day summit between Xi Jinping and Indian Prime Minister Narendra Modi in Wuhan in April. As two major and neighboring nations of Asia, both India and China share a responsibility to ensure that they maintain the civilizational wisdom and maturity to manage their bilateral problems peacefully through negotiations. India and China both hold membership in the G20, BRICS, CICA and also AIIB. Therefore, their partnership can have a positive impact globally. Mutual cooperation between the two countries will bring enormous benefits to them as well as to all of Asia and the world.
In this context, I would like to cite the wise words of Mahatma Gandhi, the great apostle of peace in modern times. He wrote in 1942: "As a friend of China, I long for the day when a free India and a free China will cooperate together in friendship and brotherhood for their own good and for the good of Asia and the world."
In Wuhan, President Xi and Prime Minister Modi gave many indications of their resolve to develop mutual trust, understanding and cooperation between the two countries. In this sense, the 'Wuhan Spirit' certainly conformed with the 'Shanghai Spirit' that is sought by the SCO.
Igniting the 'Shanghai Spirit'
What is the 'Shanghai Spirit'? President Xi described it convincingly when meeting with foreign ministers from Russia, India, Kazakhstan, Kyrgyzstan, Pakistan, Tajikistan, and Uzbekistan in Beijing recently. Under new circumstances in Asia and the world, Xi said, "All the member countries need to remain true to their original aspirations and firmly advocate the 'Shanghai Spirit' of the SCO, give play to its advantages, fully release the potential of SCO expansion, and forge ahead with all-round cooperation. The 'Shanghai Spirit' features mutual trust, mutual benefit, equality, consultation, respect for cultural diversity and pursuit of common development."
In a separate meeting with defense ministers and senior diplomats in Beijing, President Xi elaborated on this by saying, "The SCO has set a model for a new type of international relations with the characteristics of mutual respect, justice and win-win cooperation."
Thus, the SCO's basic conceptual framework and goals have been well articulated once again by China, which will be hosting its summit in Qingdao. Now, the task before all member countries is taking practical and result-oriented steps to put the 'Shanghai Spirit' into action. How can this be done? Here are five specific ideas:
Speaking at the SCO summit in Astana last year, President Xi mentioned China's proposal that the organization "draws up a 5-year outline for implementation of the Treaty on Long-term Good Neighborliness, Friendship and Cooperation." He further added that doing so would "help set the direction for SCO cooperation in all fields in the next phase."
Therefore, it should be expected that the Qingdao summit include specific programmatic content into the proposed treaty so the SCO can present a template for "Good Neighborliness, Friendship and Cooperation" for the rest of Asia and the world to follow. This template should firmly reject the claim of any nation anywhere in the world to keep its own "exclusive spheres of interest or domination." Moreover, this template should enable not only SCO members but also, through the demonstration effect of their actions, other countries in Asia and the world to move towards a system of global governance based on principles of peace, equality, justice, inclusiveness and common prosperity and progress for all of mankind. A reformed and rejuvenated United Nations should be at the core of this new system of global governance.
Second, since both India and Pakistan have become full members of the SCO, their leaders should make serious efforts to normalize relations hastily. To this end, other SCO members (especially China and Russia) should encourage New Delhi and Islamabad to resume bilateral dialogue on all outstanding issues, including Kashmir and counter-terrorism, without any preconditions, and achieve step-by-step progress towards good-neighbor relations.
Third, China has provided a very good opportunity, in the form of the ambitious Belt and Road Initiative, for both India and Pakistan to achieve shared prosperity through bilateral and regional cooperation. For this to happen, China should suitably rename the China-Pakistan Economic Corridor (CPEC) and also expand its geographical coverage so that India (and other countries in the region such as Afghanistan and Iran) can join this connectivity project. In this context, it is heartening to note that Prime Minister Modi and President Xi have revived hopes for implementation of another important connectivity project in South Asia: the Bangladesh-China-India-Myanmar (BCIM) Corridor.
Fourth, the SCO has a responsibility to help end the Afghanistan conflict, which is the longest-burning "hot spot" in Asia. In his speech in Astana last year, Prime Minister Modi said, "From a regional perspective, Afghanistan can also benefit greatly from the SCO's efforts in reinstating peace and stability in the country." President Xi had echoed that sentiment in Astana when he said, "We hope the SCO-Afghanistan Contact Group will play an even more active role for Afghanistan's peace and reconstruction." In Qingdao, a concerted effort should be made by China, Russia, India, Pakistan and other members to produce a well-coordinated plan to bring peace to Afghanistan. Of course, the U.S. must change its own flawed Afghan policy for this plan to succeed.
In this context, the decision by Modi and Xi in Wuhan to undertake a joint India-China development project in Afghanistan is heartening. It is precisely this kind of constructive partnership between New Delhi and Beijing that smaller countries in South Asia need. They worry when India-China relations strain. And they are relieved when India and China work together and walk together.
Lastly, since the end of World War II, the international community has engaged in a constant, albeit difficult, search for ways to accomplish two inter-related objectives: How to achieve common security through cooperation and how to achieve sustainable and equitable development for all through cooperation. Security and development are two sides of the same coin. And the metal that binds the two sides is cooperation. And the word 'cooperation' is the very heart of the SCO.
Therefore, for the SCO to fulfill its vision and its agenda, all its member countries should maximize cooperation in the six areas that constitute the scope of work of the organization: politics, economics, security, people-to-people exchange, external exchange, and mechanisms for comprehensive collaboration. Maximum cooperation means maximum benefits for all. Here again, the lead should be taken by India and China—the leading architects of a new world order.
In other words, SCO members have a responsibility to actually practice "new international relations" in the 21st century to ensure the Asian Century develops in a manner that is fundamentally different from previous European and American centuries.
The author was an aide to India's former Prime Minister Atal Bihari Vajpayee. He is now a political analyst and founder of the 'Forum for a New South Asia'.