My Feminine Creative Identity
Text by
Yue Mingyue
Photographs Courtesy of
Yue Mingyue
Experience as a researcher and crafter of fiber art has helped me notice the close connection between the discipline and women since ancient times.
In the past centuries, the development of sericulture, that is weaving and processing silk cloth, etc., mostly relied on women. The history of modern fiber art has also featured numerous female artists, curators, and scholars constantly injecting vitality into this discipline. Polish artist Magdalena Abakanowicz presented Red Abakan (1969) featuring bulky braided fabric at the International Biennial of Tapestry in Lausanne, kindling a structural expansion of tapestries from wall to other spaces. Female curator Mildred Constantine from the Museum of Modern Art (MoMA) in New York City integrated fiber art into the mainstream ladder. Contemporary Chinese female artists exemplified by Yin Xiuzhen and Lin Tianmiao deployed weaving, sewing, and other crafts to explore various social issues.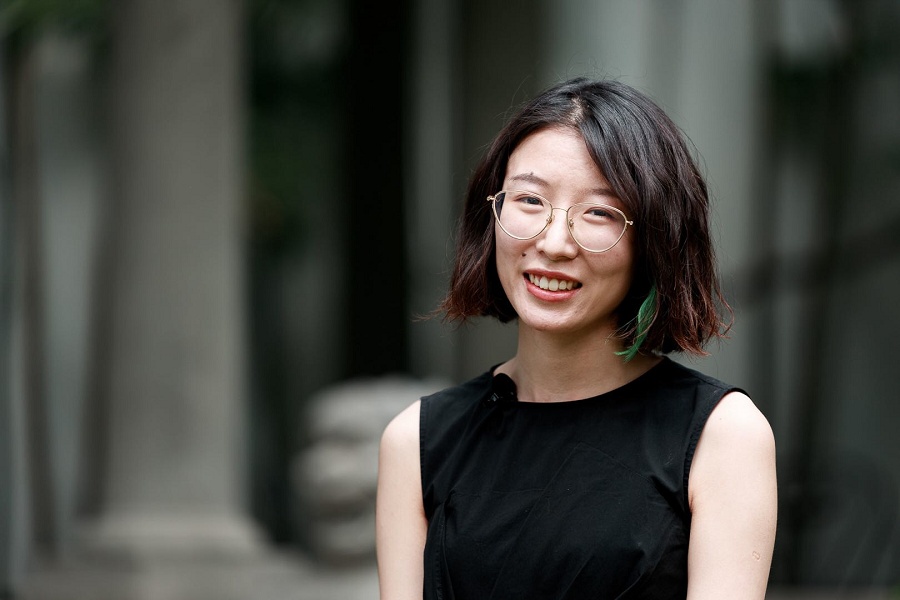 My feminine identity also confuses me at times. Both in creation and research, identity is an integral part therein. My work Blessed Be the Fruit (2018) featuring a huge womb got its naming inspiration from a prayer in The Handmaid's Tale which served as a metaphor for fertility and relevant social issues. What exactly is gestation? I couldn't tell you yet. Every newborn is conceived by a woman, a process full of beauty and wonder, but the female individuality and the gestation process can be in conflict. I sewed my work with repeatedly folded yarn to create a womb-like soft space. I hope that walking into this red space would inspire the audience to review the process of growth that might be missing from wombs and then further reflect on the meanings of femininity and gestation.
My curiosity about life also led to a series of works themed on babies, through which I imagined myself as a mother. The work From Womb to Tomb (2019) depicts how a baby rolls in the mother's womb. The display of the work in a red stairwell at the 2020 exhibition "Stand by Her" was meant to remind viewers of how babies were born into the world after tumbling through the conceptive passage. Curator Yang Li once commented that the work captures the coexisting beauty and pain of childbirth, which echoes the duality of life I intended to express with the work. In another series, Trace (2021), I added more light and flamboyant threads to embroidery for a tender touch. By contrast, in the single work Red Grenadine—Trace of Fireworks (2021), I used repeatedly-split mechanical sewing to capture the tearing pain of giving birth and the splendid side therein.
A feminine identity reflects both individuality as well as group interests. Artistic creation can shine light on the inherently weak, invisible, and indescribable facets of women to help heal the persisting confusion within the female group. Female Worker Crossing the Rosen Bridge (2021) highlights the fact that rural women who performed weaving duties often handled easily-overlooked farm work at the same time. The work was inspired by a conversation with a female weaver who spent a lot of time on agricultural work during the busy farming season. Such double duties imposed on women were documented in local chronicles during the Qing Dynasty (1644-1911). In modern society, with so many male laborers flowing to cities to serve non-agricultural industries, women have even become the mainstay of agricultural production in some rural areas. The artwork contains such elements as female workers, wheat, farming, weaving, and the Einstein-Rosen bridge to represent the passage of time vertically and the extension of space horizontally. The "EinsteinRosen bridge," a passage in the work, connects female workers in two eras, overlapping the lives of both traditional and modern female laborers.
Another similar distress suffered by the female group is confusion about menstruation. Concealments (2021) focuses on the issue of menstrual shame. I recreated a womb with abstract machine embroidery and presented it in public. The exhibition site also offers room for women forums to be held to facilitate further exchange. It was quite gratifying that the exhibition managed to draw more attention to the lack of menstrual hygiene products for girls in some remote mountainous areas.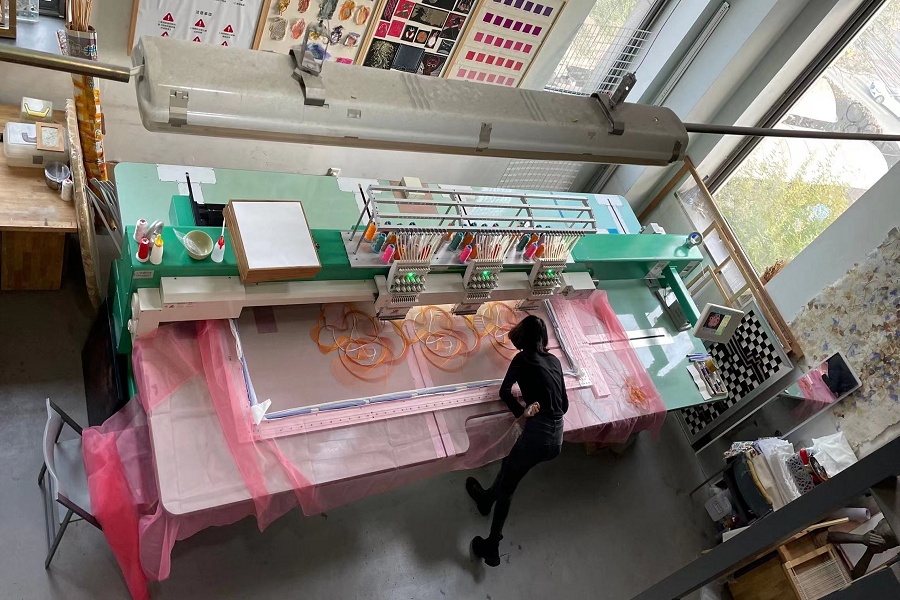 How should women strike a balance between their intrinsic identity and creation? A Room of One's Own, authored by Virginia Woolf, depicts an ideal writing moment for women: "She wrote as a woman, but as a woman who has forgotten that she is a woman, so that her pages were full of that curious sexual quality which comes only when sex is unconscious of itself."
"All men and women have moments when they feel an in-built yet not necessarily gendered emotional side," French artist Éva Jospin said.