My First Spring Festival in China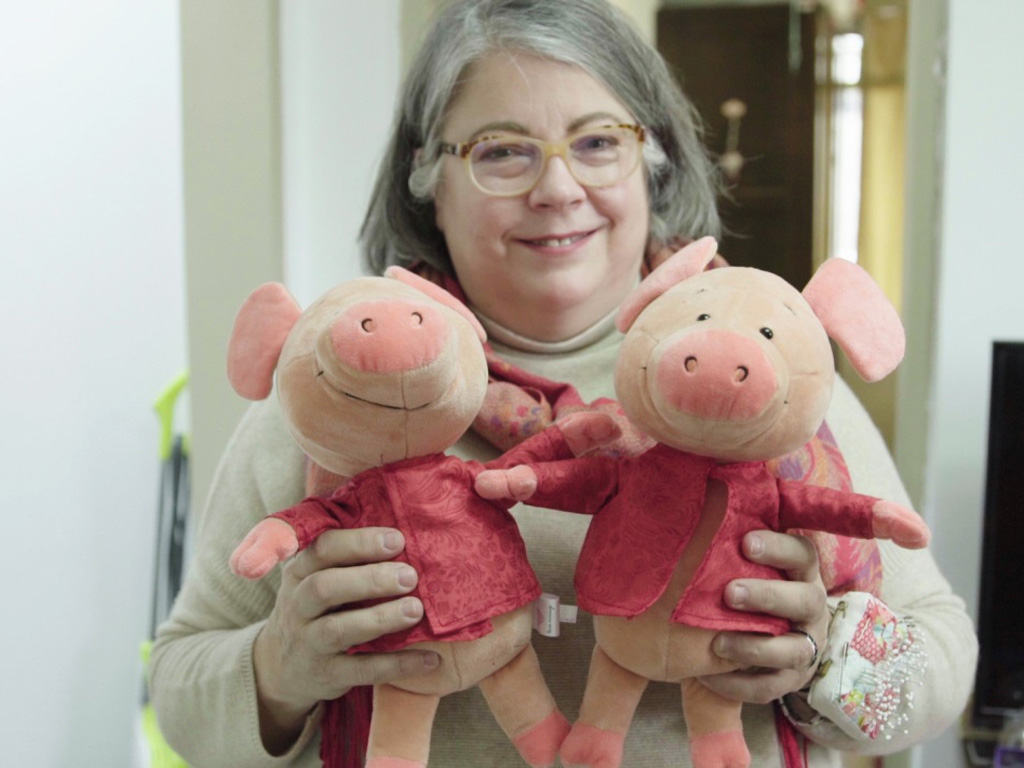 Year for the Pig
Although I have lived and worked in China for almost four years, this year was the first time I experienced the Spring Festival holiday in the country. I usually take the week-long holiday, along with my accumulated vacation time, as a chance to travel to the United States to visit my parents and friends. This year, I decided to experience the Chinese New Year in the year of my zodiac animal, the pig.
As a child, I was a fan of pop culture pigs of the time such as Wilbur, the talking pig from the E.B. White children's novel "Charlotte's Web," Piglet from "Winnie the Pooh," and Arnold, a pet pig in a TV comedy who is treated like a human resident of a rural town. When I later learned my Chinese zodiac sign was the pig, I immediately thought of these childhood characters.
Every year I write a new set of calligraphy couplets on red paper to hang on the apartment door, completed with a fresh fu character on diamond-shaped paper. And I shop local markets for the zodiac animal to hang around home. This year I bought brightly colored fu characters surrounded by happy pigs, red paper pig cutouts for the windows and little stuffed pigs hanging from braided cords with little brass bells. I also found time to buy two stuffed plush pigs for which I created little red jackets for the holiday. They are still sitting on my living room table even after the holiday.
Chinese Family Invitation
One of the first friends I made in China was Dr. Hang Min, co-director of the Global Business Journalism Program at Tsinghua University, and my American husband happens to be the other co-director. Dr. Hang is also Associate Dean for International Development of the School of Journalism and Communication at Tsinghua. When her parents learned that I would be alone in Beijing for the holiday, they invited me to join their Spring Festival family activities. Traveling to their apartment on New Year Eve by taxi, I enjoyed Beijing's decorations and marveled at the empty highways. I had never taken such a trip in less than 15 minutes before! Many residents of Beijing go back to their hometowns for the festival because it is the most important time of a year for families to be reunited.
Upon entering the hallway of the apartment building, I saw that every residence had couplets and lucky fu characters on the doors amid red banners giving the area an uplifting, happy feeling. I was greeted warmly at the door by Hang's parents, her mother supplying me the best available slippers and making me feel at home, much like my own mother.
Although they often celebrate with family in Nantong, Jiangsu Province, this year they stayed in Beijing and decided to buy their favorite dishes from a nearby restaurant staying open to cater to local families. All their favorite snacks from sunflower seeds to little oranges were set out in front of the television for pre-dinner munching and later, CCTV gala-watching. The hustle and bustle of getting things ready and the decorations reminded me of my family's Christmas gatherings which are also full of food, family and festive decorations. I always loved seeing red at Christmas-time, and the preponderance of the color during the holiday, coupled with the generosity and festivity of my friend's family, made me feel right at home.
Before dinner, their daughter, Rachel, and I tried our hand at writing some couplets. The challenge was to write them in English, but make the letters look like Chinese characters. Rachel, a teen who studied English all through her years of school, won the challenge with the best designed "characters."
Phone Shaking for Cash
After getting stuffed by dinner, we all moved to the couch for the annual CCTV New Year Gala. Rachel kindly translated some of the skits, which were quite funny even without understanding the dialogue. During American holidays, the TV is usually turned to sports such as American football, which is nowhere near as entertaining and fun as the gala in China. However, some of my male relatives would beg to differ, I'm sure.
During the gala were promotions for CCTV's partner Baidu and the phone web app. When you click the gala link in the app, you are taken to a page where you can try your hand (literally, it turns out) at winning virtual hongbao envelopes with varying amounts of money or discounts on consumer internet platforms. To get a chance to win, you shake your phone in your hand which then triggers the program to give you a result. We spent a lot of time furiously shaking our cell phones. Back home, I could hear the faint sounds of fireworks exploding beyond the Fifth Ring Road from my apartment on Tsinghua University campus and realized my wrist was sore from shaking my phone so much. I think everyone ended up with a sore wrist the next day! Next year I will probably skip the virtual hongbao mania. It was too addictive, much like casino gambling, and only fun because everyone else was doing it with me and laughing about it.
The week-long holiday was a welcome reminder that different countries usually celebrate special holidays or traditions centered around the bonds of family and friends, and Spring Festival gatherings made me feel that special bond. I hope to take some of those traditions back home with me when I return to the United States, both to remind me of my time here and to celebrate the friendships I have made in China.
But maybe the highlight was my enjoyment of the empty highways and bike lanes in this otherwise packed city. A major street almost empty during the day is something to marvel at in Beijing!
The author is an American who created graphics and illustrations for The Washington Post for 30 years and has lived in China for over three years.