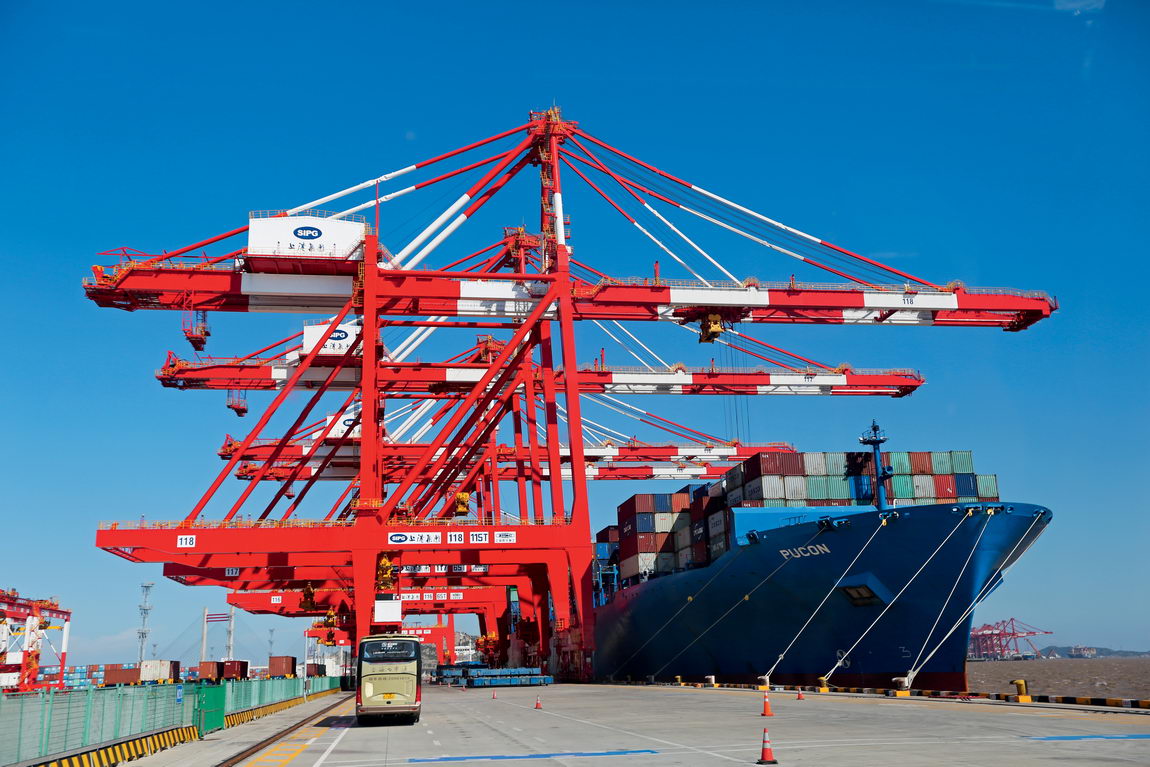 Editor's Notes
Preparation work on developing and opening up Pudong started in the 1980s. The author took part in the preliminary exploration study with focus on legislative work and determining the degree of opening of the new area. He personally experienced considerable hardships during the decades-long construction of Pudong New Area.
Positioning: Set in Shanghai, Face the World
In July 1987, Professor Tung-Yen Lin, a Chinese-American structural engineer based in San Francisco, wrote a long letter to Jiang Zemin, then member of the Political Bureau of the Central Committee of the Communist Party of China (CPC) and Shanghai municipal Party secretary, proposing to develop and open up Pudong and elaborating on the benefits of such openness in Shanghai to face the world. Jiang carefully examined his proposal and designated a special group to conduct research on Pudong's development and opening up. This group comprised experts from relevant fields. At that time, I had just earned my master's degree from the International Economic Law Department at Shanghai Institute of Foreign Trade (today's Shanghai University of International Business and Economics) and was staying on there as a teacher. Thanks to my English-language skills and experience working in an American law firm, I was lucky enough to be recruited into the team.
The primary task of this group was to study the positioning of the Pudong area. For example, we had to decide whether to select just one corner of Pudong as a pilot or use the entire area as the test field. We researched whether it would be better to open up a few sectors first or every industry at once. Everything started from scratch for us—all of the members of the group were part-time and worked in a temporary office thrown together in one of the corrugated iron sheds next to the Shanghai municipal government building. But we had a strong sense of historic mission and responsibility, which inspired us to stay fully and passionately engaged. At that time, we did not have much domestic experience to draw from, so the international experience from Professor Tung-Yen Lin and some of his friends was particularly valuable.
The group believed that the development and opening up of Pudong should be anchored in Shanghai but embrace the world with an eye on modernization, IT application, rule of law and market-orientation. The team proposed that the new area feature "small government (concise and efficient administration), big society (society and market play major roles) and many enterprises (both domestic and foreign business standouts)" and that the development and opening up of Pudong start from one sector before gradually spreading through the whole area. My duty back then was to investigate exactly how open the new area should be and how to legislate it. At the time, China already had four special economic zones featuring many measures of reform and opening up. Although Hainan Province was not yet a special economic zone, it had already released at least 30 policies related to opening up. So we also went to Hainan to learn. In general, domestically, we studied special economic zones, while internationally we sought to restore Shanghai's former reputation as "Paris of the Far East."
Legislation: To Protect and Improve
Rule of law was always the foundation of Pudong's development and opening up. In early July 1990, China's central government dispatched a delegation of Chinese mayors headed by a ministerial-level official to the United States, accompanied by five local Shanghai scholars. Again, I was fortunate to be among them and tasked with studying legislation and the extent of Pudong's openness.
On April 18, 1990, then Chinese Premier Li Peng formally announced the establishment of Pudong New Area. Our delegation set off on July 7 and arrived in New York City first, where we held a symposium. At the event, an American reporter doubted whether Pudong's 10 preferential policies that only fit in a corner newspaper column could promote its openness. And foreign enterprises would dare not venture there without legal guarantees. Zhu Rongji, then mayor of Shanghai (later Chinese Premier) responded with a resolute and decisive answer: "We will definitely pass laws to protect the progress of Pudong's opening up as well as the interests of foreign investors." As soon as he returned to Shanghai in late July, Zhu began to accelerate Pudong's legislative work. To enable overseas investors to grasp the essence of laws from the outset, the laws that were passed were required to be published in Chinese, English and Japanese.
I was chosen as a member of the legislation team and later, the finalizer of the English version of the law. That summer, we slogged long days at work in the rooms of Chunshenjiang Hotel. When I was knee-deep in legislative work, I always kept two words in my mind: protection and promotion, which I felt represented the main function of the law.
Reform: Fitting World Trends
With Pudong's development and opening up on the right track, our group was dismissed when other organs had a handle on promoting the new area's development with substantial measures. By 2000 after the completion of several trials, it was clear that system, mechanism and rule of law should be advanced side by side in Pudong. And we knew that running the development zone with an administrative committee might work well for a time, but would not last long. So Pudong needed to set up a governing body.
In August 2000, the government of Pudong New Area was established. While I was vice president of Shanghai Institute of Foreign Trade, I was recruited to serve as deputy chief of Pudong New Area. I was surprised and worried because even though I was doing well at my position and had achieved some academic accolades, I didn't think I was qualified to serve as deputy chief of Pudong New Area. Such a post seemed way too challenging.
Still I agreed to step up and accept the challenge. At that time, I was the only official without party affiliation (I later joined the China National Democratic Construction Association) in the government of Pudong New Area. But my colleagues gave me great support and trust all the same. I was in charge of three sectors: Lujiazui, which is now an icon of China's modernization, reform and opening up; Waigaoqiao bonded area, which is currently an important part of China (Shanghai) Pilot Free Trade Zone; and the social development bureau, which covered sectors including education, public health, civil affairs and sports. My secretary managed 27 filing cabinets for each of my duties.
I summarized Pudong's main work back then in four words: legislation, planning, high-caliber professionals and capital. Since 1992, Shanghai presented a plan to become the economic, financial and trade center of the country. In 1998, a shipping center was added to the wish list, and Shanghai is now poised to reach this goal by 2020. The CPC Central Committee demanded that Shanghai become a pioneer of the market economy, sustainable development and rule of law. In the new era, President Xi Jinping also hopes that Shanghai continues carrying the torch of China's reform and opening up and serving as a bellwether of sustainable development. I think these are very important for the positioning of Shanghai.
At this critical stage of national development, only reform can further boost momentum. And the reform has to fit the global trend. The effects of Pudong's development and opening up were, in short, relieving the pressure imposed by Western countries headed by the United States at the time, building up the confidence of the Chinese people, setting a model for China's reform and opening up and making preparation for China's entry into the World Trade Organization (WTO). We need reform, and our reform is ongoing and unending. Reform refers not only to streamlining administrative organs but also seizing the opportunities that our predecessors missed.
Pudong's experience shows us no great achievements are easy and reform requires concerted efforts, courage, passion and determination. With the love for our country and people, we can make anything possible. 

The author is a member of the Standing Committee of the National Committee of the Chinese People's Political Consultative Conference (CPPCC), China's top political advisory body, vice chairman of the CPPCC Shanghai Committee and vice chairman of the Central Committee of China National Democratic Construction Association.