New Opportunities and Challenges for the SCO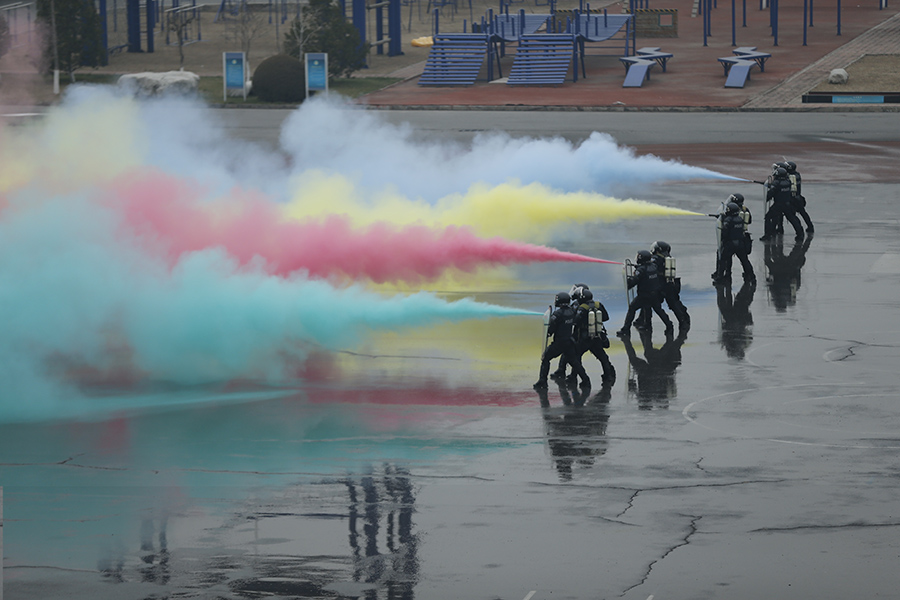 In 2017, India and Pakistan joined the Shanghai Cooperation Organization (SCO), marking the first expansion of the organization since its establishment in 2001. The SCO is a new type of regional organization that integrates cooperation in areas like security, economics, politics and culture in the post-Cold War era. As a non-Western international organization, its member states are transitional countries or emerging countries on the Eurasian supercontinent.
In terms of the combined population and area of its member states, the SCO is the world's largest regional cooperation organization. Guided by the Shanghai Spirit of "mutual trust, mutual benefits, equality, consultation, respect for diverse civilizations, and pursuit of shared development," the organization follows a principle of seeking no alliances nor outside interference in internal affairs of any countries or regions in favor of openness. This spirit has forged a new type of state-to-state relations and regional cooperation model featuring lasting peace and friendship, presenting the international community with new concepts for security, cooperation and diplomacy that contrast the outdated Cold War mentality and enrich the theories and practice of international relations.
Alongside the advance of the China-proposed Belt and Road Initiative, a community with a shared future for humanity is taking shape. Just as Chinese President Xi Jinping said, the SCO has steadily moved towards construction of a community with shared future for humanity and set a model for a new type of international relations featuring win-win cooperation.
Five New Opportunities
Positioned at a new historical starting point, the expanded SCO faces the following new opportunities:
First, expansion of the SCO is conducive to enhancing the organization's capacity for participating in global and regional governance. The addition of India and Pakistan extends the SCO's reach into South Asia for the first time and connects the region with West Asia to form a transregional bloc covering the eastern, northern, central and southern parts of Eurasia. Moreover, the SCO's roles in sectors like security, economics, energy, culture, and scientific and technological innovation have further expanded. As two major countries in South Asia, India and Pakistan play important roles in international relations, security governance, economic growth, technological innovation and other fields. Their entry into the SCO evidences that the influence of the Shanghai Spirit is strong, and the organization's capacity for participating in global and regional governance as well as its international influence has been enhanced.
Second, similar development goals of SCO member states are conducive to strengthening the organization's solidarity and attractiveness. In today's world, peace and development remain the main themes. Democratization and delayering of international relations have proven to be an irresistible trend. In this context, all SCO member states regard "promoting openness, seeking cooperation and achieving development" as the core of their governance strategies.
President Xi Jinping, also general secretary of the Communist Party of China (CPC) Central Committee, pointed out in his report to the 19th CPC National Congress that China will not close its door to the world, but will only become more and more open. He also noted that China will pursue the Belt and Road Initiative as a priority, give equal emphasis to "welcoming in" and "going global," follow the principle of achieving shared growth through discussion and collaboration, and increase openness and cooperation to build innovation capacity to reach new ground in opening China further through links running east and west, across land and over sea. From 2020 to the middle of this century, China will finish building a moderately prosperous society in all respects, realize basic modernization and then move on to transforming into a great modern socialist country in every dimension. This is the strategic vision for developing socialism with Chinese characteristics in the new era.
In March 2018, Vladimir Putin was reelected president of Russia by an overwhelming majority. The Russian government has prioritized consolidating its position as the world's fifth-largest economy and reviving the national economy.
Kazakhstan is where President Xi Jinping first proposed building the Silk Road Economic Belt. Kazakh President Nursultan Nazarbayev personally announced a new economic policy "Nurly Zhol"—the Bright Path, and has pushed it to align with China's Belt and Road Initiative.
Under the leadership of Prime Minister Narendra Modi, India is striving to become a developed country with greater inclusiveness and realize the goals of India Vision 2020.
Pakistan has actively participated in the Belt and Road Initiative and attaches great importance to construction of the China-Pakistan Economic Corridor.
Since Shavkat Mirziyoyev was elected president of Uzbekistan, the Central Asian country has embarked on a path towards greater openness. Kyrgyzstan and Tajikistan enjoy stable domestic political situations, and their respective social and economic developments are reaching new levels.
It seems that all SCO member states are walking a path of revival and development, and their national interests tightly align with the goals of the SCO. This further strengthens the organization's solidarity and attraction.
Third, expansion of the SCO is conducive to promoting regional security cooperation. Maintaining regional security and stability is the priority task for the SCO cooperation mechanism. Adhering to a new security concept featuring "mutual trust, mutual benefits, equality and collaboration" and the guidelines of "promoting security through cooperation and consolidating security through development," SCO member states have moved beyond the Cold War mentality, constantly enhanced mutual trust in politics and security, and conducted joint efforts to address security threats and safeguard regional peace and stability, creating a new model for international security cooperation. The enlarged SCO is expected to play a greater constructive role in maintaining regional security and fighting terrorism, separatism and extremism. In 2017, when India and Pakistan were accepted to the SCO as full members, one of the first documents they signed was the Convention of the Shanghai Cooperation Organization on Combating Extremism, evidencing the two countries' urgent need to participate in SCO security cooperation. In addition, the SCO can play a positive role in improving India-Pakistan relations and enhancing the stability of South Asia. Muhammad Amir Rana, director of Pak Institute for Peace Studies, believes that as a more inclusive platform, the SCO can provide opportunities for India and Pakistan to cooperate with each other and ease tensions between them. He also notes that China, Russia and Central Asian countries hope the addition of India and Pakistan to the SCO would provide a chance for the two countries to repair their relations so that all member states work together to achieve regional peace and security.
Fourth, expansion of the SCO is conducive to promoting implementation of the Belt and Road Initiative, facilitating alignment of regional development initiatives and strengthening multilateral economic cooperation. Regional economic collaboration has long been a focus of cooperation among SCO member states. The SCO region boasts rich natural resources, vast consumer markets and solid scientific and educational foundations, and its member states are mutually complementary economically, creating favorable conditions for them to strengthen economic and trade cooperation. After the expansion, the SCO region covers almost all pioneering and key areas involved in the Belt and Road Initiative. From north to south, major connectivity plans and projects concerning the Initiative include integration between the Silk Road Economic Belt and the Eurasian Economic Union, alignment of the China-Russia Polar Silk Road with the China-Russia-Mongolia Economic Corridor, docking of the Belt and Road Initiative with Kazakhstan's Bright Path and connection of the Trans-Caspian East-West Trade and Transit Corridor with the China-Pakistan Economic Corridor and the Bangladesh-China-India-Myanmar Economic Corridor. Specific connectivity projects include the International North-South Transportation Corridor jointly proposed by Russia, India and Iran and India's Project Mausam, Spice Route and Freedom Corridor. The SCO is a natural platform for its member states to carry out transregional cooperation. Such initiatives and projects will take root and sprout in the SCO region. The expanded SCO can coordinate member states to better align the Belt and Road Initiative with other regional development plans and facilitate negotiations on the Regional Comprehensive Economic Partnership (RECP), thus providing favorable conditions for regional trade cooperation and facilitation.
Fifth, expansion of the SCO is conducive to promoting positive interaction between China and India. Compared to its ties with Russia, Pakistan and member states in Central Asia, China's relations with India have suffered frequent fluctuations, leaving a huge space for improvement. Within the framework of the SCO, China and India have justified reasons to work together and can consolidate their bilateral ties to jointly participate in global and regional governance. Major factors include:
First, in addition to enhancing bilateral ties between China and India as well as trilateral relations between China, Russia and India and the multilateral mechanism of BRICS, the SCO provides a new regional mechanism and platform for China and India to deepen dialogue, properly address and control disputes and promote comprehensive development of their bilateral relations.
Second, China-India relations have a long history. In April 1950, India became the first non-socialist country to establish diplomatic relations with China. Historically, the two neighbors worked side by side and supported each other in the fight against imperialism and colonialism, making remarkable contributions to advocating national independence for Asian and African countries and safeguarding world peace. These historical accomplishments have become precious assets cherished even today.
Third, China and India share a similar diplomatic philosophy. Both countries pursue an independent foreign policy of peace and development and have long advocated the Five Principles of Peaceful Coexistence.
Finally, both China and India are willing to improve bilateral ties via the platform of the SCO. An old proverb goes that a nearby neighbor is better than a far-off brother. The SCO is a bloc comprised of neighbors. The Shanghai Spirit is also the fundamental values for handling relations with neighbors. China and India both see their ties with neighboring countries as the core of their respective foreign policies.
More noteworthy, state leaders of the two countries have personally made efforts to solidify bilateral ties. Since 2018, guided by top leaders of the two countries, China-India relations have greatly improved. The two countries have maintained friendly interaction particularly in areas like trade and cross-border river cooperation. From April 27 to 28 this year, just before the SCO summit in Qingdao, Indian Prime Minister Narendra Modi visited China. During the visit, President Xi Jinping and Prime Minister Modi exchanged views on long-term, strategic issues of overall importance concerning the international situation and bilateral relations as well as their respective development visions and domestic and foreign policies. Prime Minister Modi will also attend the Qingdao summit this June. It has been rare for an Indian head of state to visit China so frequently throughout the history of China-India relations, indicating that the two countries have hastened the pace towards achieving a sound strategic interaction model.
Three New Challenges
While facing new opportunities, the enlarged SCO should also rationally handle new challenges:
First, after its expansion, the SCO will find it harder to coordinate stances of its member states. The organization adopts a fundamental principle of "reaching consensus through consultation" in terms of operation and decision-making. As two major countries in South Asia, India and Pakistan pursue independent foreign policies and have contrasting views on several international and regional issues. Such factors may make it more difficult for the SCO to coordinate member states and threaten its principle of "reaching consensus through consultation."
Second, the SCO tends to focus more on security cooperation than economic collaboration. Security cooperation and economic collaboration are two major drivers for the development of the SCO. Over the past nearly two decades, the organization has realized much greater achievements in security cooperation as compared to economic collaboration. For instance, plans to establish the SCO Development Bank and SCO free trade zone have yet to come to fruition. With the addition of India and Pakistan, the SCO will need to devote more energy to issues like the India-Pakistan conflict, the Kashmir issue, the Afghanistan issue and anti-terrorism. In this context, how the SCO should balance its roles in security cooperation and economic collaboration is a pressing conundrum. How can multilateral economic cooperation be promoted within the framework of the SCO? How should the SCO conduct pragmatic cooperation with neighboring economic integration mechanisms such as the Eurasian Economic Union and the Association of Southeast Asian Nations (ASEAN)? Such questions are worth pondering for SCO member states.
Third, the SCO still faces constraints from Western countries. Currently, the SCO is the largest non-Western regional organization. For a long time, it has been considered unhelpful to the Western world and even an "anti-Western organization" or "NATO of the East" by Western countries. Thus, Western countries maintain a strategy of keeping a close watch on the SCO while refusing to directly contact it. The expansion of the SCO can enhance its capacity to resist pressure from Western countries, but the organization needs to be more alert for Western penetration.
Starting with Cooperation with Neighbors
In general, the benefits of the SCO's expansion outweigh the disadvantages. The organization should not neglect challenges while grasping opportunities, stay optimistic about its prospects when facing challenges and expand the common interests of its member states based on how it can forge a new type of regional governance system and regional community with a shared future. Undoubtedly, the SCO is facing an important strategic opportunity and a historical opportunity to step up and more. Its security concept featuring mutual trust, mutual benefits, equality and collaboration meets the need of the times, the interests of regional development and the wellbeing of the people of its member countries. In the era of globalization, with so many interests intermingled, all countries should seek common ground and cooperation while putting aside past differences to pursue win-win or multi-win results.
The enlarged SCO is a promoter of global and regional peace rather than a troublemaker. After the end of the Cold War in the 1990s, the international situation didn't restore harmony and stability after the collapse of a bipolar world. From Operation Desert Storm to the Kosovo War, from the Afghan War to the Iraq War and the Russo-Georgian conflict, from the Color Revolutions to the Arab Spring, from the Ukraine crisis to the Syrian conflict, almost every regional conflict was triggered by factors related to Western countries. Clinging to the myth that liberal democratic values are the culmination of the evolution of human society, Western countries continue seeking expansion and hegemony worldwide. But the SCO is totally different. Despite the changing international climate, the enlarged SCO will continue adhering to the Shanghai Spirit and the guidelines of "promoting openness, seeking cooperation and achieving development," taking an active role in international affairs and playing a central role in safeguarding peace and stability of Eurasia.
Promoting regional economic cooperation is a priority task for the enlarged SCO. With the addition of India and Pakistan, the combined land area of SCO member states now accounts for three-fifths of the entire Eurasian continent, and their combined population represents half of the world's total. Moreover, they together contribute more than 20 percent of global GDP, with the SCO's internal market potential further expanding. In these circumstances, the SCO should seize the opportunity to accelerate negotiations on trade facilitation and a cooperation framework on trade of services, actively promote research on the feasibility of establishing an SCO free trade zone and build a new economic growth pole for Eurasia.
As a founding member of the SCO and host of the 2018 Qingdao summit, China firmly believes that cooperation should start with collaboration between neighbors. Adhering to the Shanghai Spirit and the principles of "amity, sincerity, mutual benefits and inclusiveness" in its relations with neighboring countries, China is using its foresight to accelerate the healthy development of the SCO and contribute Chinese wisdom to achieving peaceful, open and shared development in the region.
The author is an associate researcher at the Institute of Russian, Eastern European and Central Asian Studies under the Chinese Academy of Social Sciences and a postdoctoral fellow at the Nankai Institute of International Economics.