Online Celebrities: Clicking Careers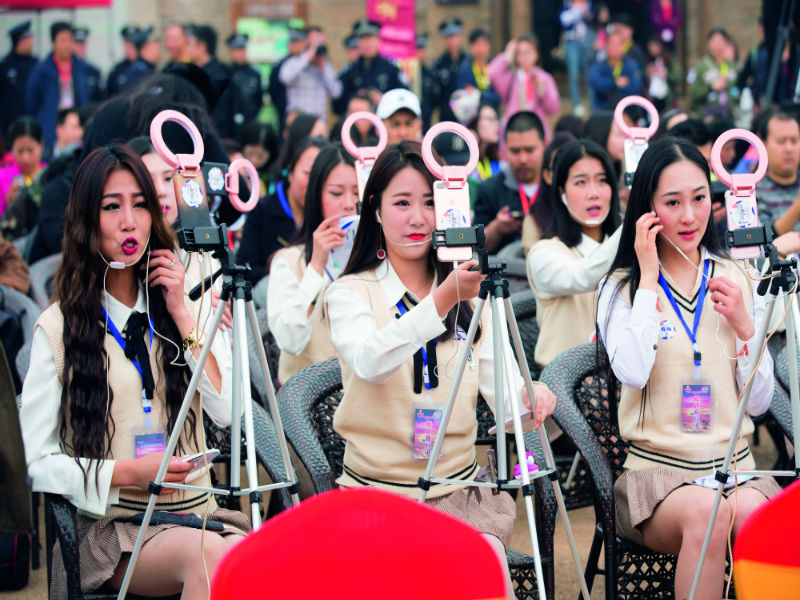 A Rising Phenomenon
Papi Jiang, a 30-year-old living in Beijing, is a phenomenally popular online celebrity. Born Jiang Yilei, Papi Jiang began uploading short, funny and original videos in October 2015 and quickly shot to stardom. Jiang plays a variety of characters in her videos, which use sarcasm to cover a wide range of topics including trends, everyday life, and social relations. Her snarky style has resonated strongly with netizens. For example, just before this year's Spring Festival in late January, she released a video titled "To Some of My Annoying Relatives." In the video, Papi Jiang mocked "unbearable" Chinese relatives who pry with too many personal questions during the annual family reunion, which went viral on Chinese social media.
Actually, Papi Jiang has attracted the public spotlight on several occasions. In March 2016, she secured venture capital of US$1.74 million. The next month, a bidding war between potential advertisers lifted the price tag for the ad at the end of her videos to US$3.2 million. Papi Jiang has more than 23 million followers on Weibo, the Chinese version of Twitter, and her videos have been watched hundreds of millions of times.
Papi Jiang is just one of many Chinese online celebrities. In a country that is home to more than 1.3 billion people, popular websites and social media platforms such as Sina Weibo and WeChat, which each boast hundreds of millions of users, offer a big stage for this new wave of talent.
Online celebrities (wanghong in Chinese) refer to people who attract fans primarily through the internet and social media and eventually become opinion leaders and media figures. Generally speaking, China's internet celebrities fall into three categories: The first group consists of mostly fashionably-dressed young women who earn money by promoting products to their followers. These women are usually related to one of China's e-commerce companies such as Alibaba's Taobao. The second group consists of performers on live streaming sites. Against a range of backgrounds, the performer either sings, dances, plays games, tells jokes or even eats. The third group is people who create original online content, like Papi Jiang.
The third group had been comparatively small, but when Papi Jiang secured her first venture capital and monetized her product in 2016, the development drastically changed the online celebrity landscape in China. This year, a wave of online celebrities offering "real content" has emerged. In the past, when people thought of online celebrities, images of porcelain-faced young women usually popped into their heads. "Papi Jiang is changing that image and transforming the wave of online celebrities into a cultural and economic phenomenon," opines Da Shan, founder of Today's Online Celebrity, a WeChat public account devoted to analyzing China's online celebrity economy. "Today, you could call anyone with a huge following on the internet an online celebrity."
A Real Business
Reaching for fame is nothing new in China or the rest of the planet. However, in recent years, the huge commercial value of online celebrities has finally crystalized in public minds, resulting in more professionals, investors and agencies entering the lucrative market.
Thanks to the scale and diversity of Chinese internet sites and users, Chinese online celebrities have found greater opportunities than their foreign counterparts. For the most part, they have discovered abundant conduits to monetize their fame.
Zhang Dayi, another Chinese internet celebrity, models for her own shop on Taobao, the country's leading online shopping site. She simply posts pictures of herself wearing the clothes she is selling. She reportedly earned US$30 million in 2016, even more than that of famous Chinese actress Fan Bingbing, who made less than US$19 million in the same year.
Internet celebrities like Zhang Dayi, especially those closely tied to e-commerce, have developed unique new business models. They usually manage at least one online store, and their stores never advertise or participate in sales events. Instead, they turn customers into loyal fans after interacting with them, offering an enhanced shopping experience. They share their views, experiences and expertise, which buyers believe save time for them.
According to CBN Data, a commercial data company affiliated with Chinese e-commerce giant Alibaba, the internet celebrity economy was worth around US$8.4 billion in 2016, more than China's total cinema box office of US$6.6 billion in the same year.
Few successful online celebrities work alone. A savvy support team backs each of these businesses, helping them align business with content. The huge potential for earnings has even inspired internet celebrity incubators, which aim to discover and cultivate the next Zhang Dayi or Papi Jiang. These incubators offer training in areas including photography, make-up and performance for those hoping to become internet stars. Like agents, they can also help people land jobs—in exchange for a share of their earnings.
Fierce Competition
The overall size of China's internet celebrity economy is expanding as cyber stars pop up in almost every sector from fashion to online gaming, travel, baby products, astrology and even stock market analyses. "The business opportunities are huge if you build a clear image," says Ge Wei, vice content marketing manager of Youku Tudou Inc., a leading online video site in China.
However, the desire to use fame to earn paychecks is also a reason most online celebrities only enjoy a limited run. According to a report released by the Tencent Research Institute, about 50 percent of online celebrities "disappear" from public sight within six months to three years. Even the most venerable personalities rarely last longer than five years.
Some industry insiders believe that the answer to increasingly fierce competition is consistent quality of content, which is usually the decisive factor in determining a career's length. "Actually, not many can produce outstanding personalized content," says Yang Ping, head of a Hangzhou-based incubator. "As in many other industries, only the top 20 percent will make it."
Excelling in this new industry is not nearly as easy as some make it seem. "Being physically attractive is far from enough to become an online celebrity," asserts Da Shan. "The most popular are those with unique personalities who are hardworking, innovative, and highly talented. They also have to be good at communicating. Having something unique to offer is the key to survival."
Even Papi Jiang, who always signs off on her videos with "I'm Papi Jiang, a woman who combines beauty and talent," is improving her content and business model constantly to maintain her popularity. "Sustaining popularity remains the quest of everyone in the trade," adds Da.