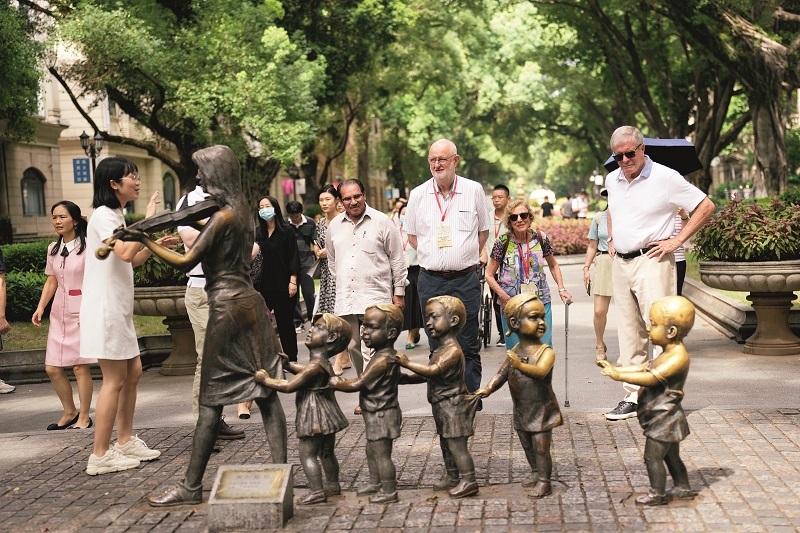 Having been cultivated in China for over 2,000 years, orchids, with a quiet elegance and faint aroma, symbolize noble character and behavior in Chinese culture. They are also often used as a symbol of friendship.
To reward those who have made outstanding contributions to promoting cultural exchange and mutual learning between China and the rest of the world, the awarding ceremony of the inaugural Orchid Awards was held in Beijing on September 8, 2023, with 10 foreign friends receiving the accolade.
Among the 10 foreign awardees were Joseph W. Polisi from the United States, Essam Sharaf from Egypt, Flora Botton Beja from Mexico, and David Ferguson from the United Kingdom.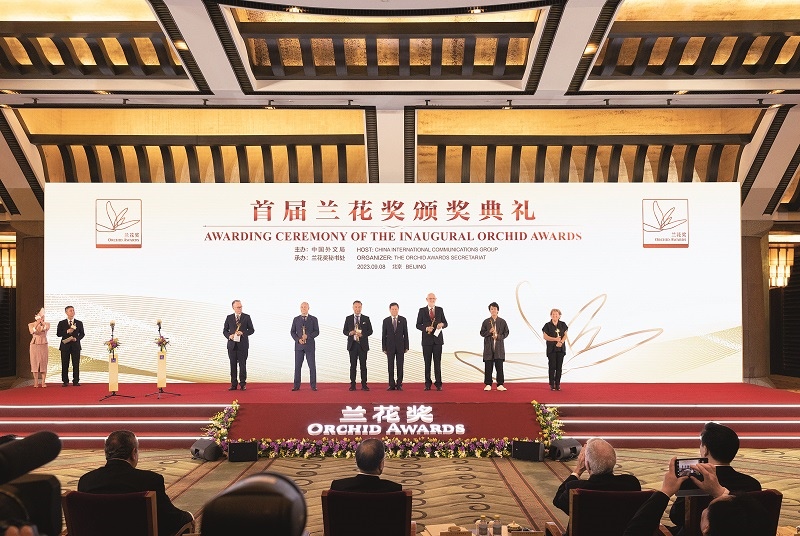 Focusing on general cultural themes, the awards serve as one of the newest platforms to foster humanity's shared values and implement the China-proposed Global Civilization Initiative, which calls for respect for the diversity of civilizations.
"The Orchid Awards aim to foster understanding and trust among people from different nations through cultural exchange," said Du Zhanyuan, president of China International Communications Group (CICG) and head of the awards expert committee, at the ceremony. "Communication between civilizations has faced many constraints, but efforts from human society to promote the exchange of civilizations have never stopped."
The honorees all distinguished themselves in various fields while demonstrating a profound understanding and love for Chinese culture, commitment to enhancing cultural exchange between China and other countries, and passion for promoting mutual learning among diverse civilizations.
They agree that fostering deeper people-to-people exchange and cultivating mutual understanding represent a shared global aspiration. In light of this, they call on more cultural envoys to promote exchange and mutual learning among civilizations.
"I firmly believe that changing the world into a better and more human world depends on harmonizing diversity through cultural connectivity, civilization dialogue, and mutual learning," said Essam Sharaf, former Egyptian prime minister and recipient of the inaugural Orchid Awards' Outstanding Achievement Prize, in a video speech.
Joseph W. Polisi, a fellow at the American Academy of Arts and Sciences and president emeritus and chief China officer of the Juilliard School, a renowned performing arts conservatory in the United States, was awarded the Lifetime Honorary Prize.
He led the school for 34 years from 1984 to 2018, the longest presidential term in its history. After stepping down from his distinguished tenure in June 2018, he started supervising the overall development of the Tianjin Juilliard School in China.
Polisi noted that music transcends national boundaries to connect people from different backgrounds.
Regarding implementation of the Global Civilization Initiative, he pledged more efforts to enhance consensus among societies and promote closer people-to-people ties.
"Only through people-to-people contact can our countries and institutions learn from each other," Polisi said.
The Orchid Awards were launched by CICG in 2022 to honor individuals and organizations from the global cultural arena in realms including literature, art, film, and people-to-people exchange.
A call for nominees garnered great attention from around the globe, receiving more than 300 individual applications and submissions from 33 organizations, covering approximately 80 countries and regions including the United States, Japan, Germany, Egypt, Mexico, Thailand, Russia, and South Africa.