Partnering Towards a Green Economy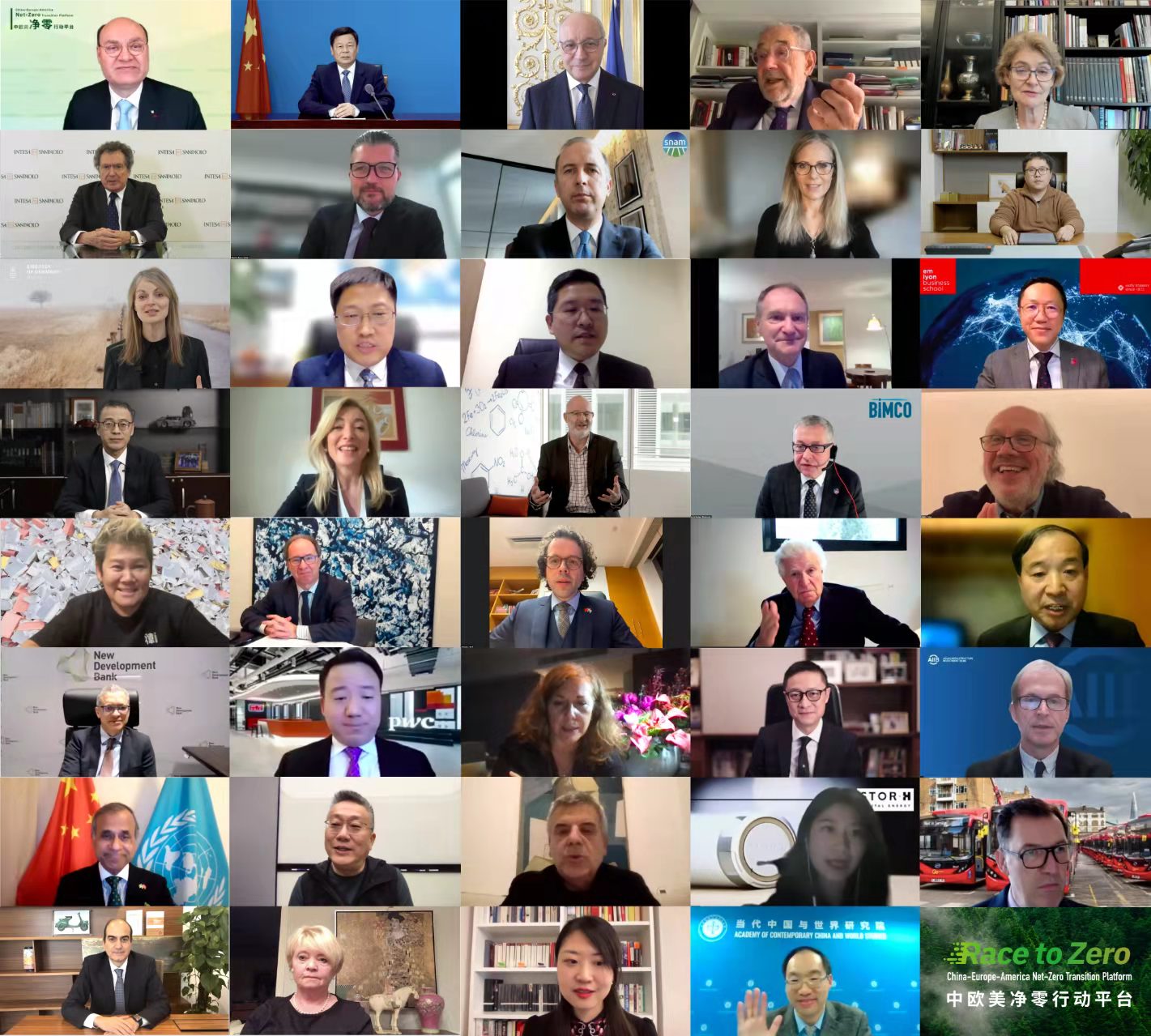 "Limiting global warming to 1.5°C requires rapid, deep, and sustained reductions in global greenhouse gas emissions, including reducing global carbon dioxide emissions by 45 percent by 2030 relative to the 2010 level and to net zero around mid-century, as well as deep reductions in other greenhouse gases," stated The Glasgow Climate Pact, released last November.
The first dialogue of the China-Europe-America Net-Zero Transition Platform, part of the China-Europe-America Global Initiative, kicked off on December 20 just as dialogue, discussion, and deliberation were most needed. About 40 speakers from 10 countries engaged in exchange on important partnerships between governments, the private sector, and civil society and on synergy among China, Europe, and the United States.
"The gathering aimed to be part of a momentum which after the Kunming conference, the G20 Leaders' Summit 2021 and the COP26 unified us in the fight against climate change for sustainable economic activities and the protection of biodiversity," said David Gosset, founder of the China-Europe-America Global Initiative, while hosting the opening ceremony.
"When China, Europe, and the United States work together, they can solve the most complex problems and truly advance mankind," he added.
Du Zhanyuan, president of China International Communications Group (CICG), declared that "China's actions speak louder than words" in reference to climate change in his welcome address. About 75 percent of interviewees from 23 countries including the United States, Britain, France, Germany, and Russia said that China had played a key role in strengthening ecological and environmental protection, according to a survey conducted by the Academy of Contemporary China and World Studies (ACCWS), CICG.
"A new scientific truth does not triumph by convincing its opponents and making them see the light, but rather because its opponents eventually die and a new generation grows up that is familiar with it," German scientist Max Planck was quoted as saying when Du further called on youngsters to contribute to green development and exchange.
Laurent Fabius, former French Prime Minister and a key player in helping the 2015 Paris COP21 be so successful, also stressed what is at stake in his address: "Environmental challenges are not a figment of our imaginations but the key issue of mankind's future."
Javier Solana, former High Representative of the European Union (EU) for Foreign Affairs and Security Policy, echoed Fabius' concern and called for international cooperation and partnerships to fight climate change. Solana connected climate change to security. "One of my main worries for the future of humanity is whether we will be able to cooperate in tackling the climate crisis – our greatest threat to international peace and security."
In her keynote speech ending the opening ceremony, Irina Bokova, former Director-General of UNESCO, pointed to the relevance of the conference. "The world is way off track to cap rising temperatures, with current national pledges set to result in an average of 2.7°C temperature rise this century," she said.
Gian Maria Gros-Pietro, chairman of Intesa Sanpaolo, explained the importance of green finance in transitioning towards sustainability. "Financial institutions will have a primary responsibility for channeling private and public savings, market and sovereign financial resources, towards sustainable goals."
Diplomats, experts, and scholars were also invited to participate in the four sessions respectively themed "Energy Transition and the Imperative of Sustainability," "Smart Transportation, New Materials, and Sustainable Designs," "Indispensable Green Finance," and "Government Initiatives and Business Investments in Decarbonization." Here are some standout quotes:
"Hydrogen can run together with biomethane, together with other low-carbon gases; hydrogen can be green, can be blue, if the right CCS is applied. And hydrogen can reach between 15 and 25 percent of a fully decarbonized energy mix, and this is very important, we will need to build the infrastructure for all of this."
—Marco Alverà, CEO of SNAM, on the hydrogen revolution and the race to net zero
"It is imperative for China and the EU to increase synergies in new energy, carbon markets, carbon pricing, green finance, and global biodiversity frameworks and to step up cooperation in third-party markets."
—Frank Wang, Secretary General of the China Neutrality Forum, Executive Director of the CSC Foundation, and Vice President of CCCEU, on China-EU green cooperation
"Economics and technology are not enough. We need to leverage on human and social factors such as responsibility, agility, creativity, and empowerment. At an institutional level, it goes through education, exemplarity, cooperation..."
—Jean-Philippe Raynaud, French corporate strategist, on social and institutional structures evolving to ensure successful energy transition
"The chemical industry has a key role in developing and mainstreaming critical building blocks to deliver sustainable mobility: the enablers. Three key enablers for sustainable mobility lie in providing low-carbon technologies, developing a circular economy, and cultivating sustainable demands."
—Pascal Chalvon Demersay, Solvay Chief Sustainability & Government Affairs Officer, on three key enablers for sustainable mobility
"Project NICE 2035 (Neighborhood of Innovation, Creativity, and Entrepreneurship toward 2035), for example, is a zero-carbon approach to architecture. All the furniture in the house is designed with the idea of being sustainable, aiming at the zero-carbon goal."
—Aldo Cibic, architect-designer and founder of CibicWorkshop, on the imperative of sustainability in the fields of fashion and design
"Yi Design materials are designed to lower the carbon emissions compared to the traditional building products. The bricks and tiles are lighter and stronger, and need less energy to manufacture."
—Caroline Cheng, co-founder of Yi Design, on the immense potential of new materials
"Green finance, while crucial to limit climate change, might not play such a vital role in the emerging market space. China is obviously a positive exception, thanks to its very large financial sector and elevated savings ratio. For the rest of the emerging world, it seems quite clear that the development of green finance will need the support of multilateral agencies and beyond."
—Alicia García-Herrero, chief economist for Asia-Pacific at Natixis, on the idea of green finance development
In the conclusion, Cecily Liu, ambassador of the China-Europe-America Youth Program, summarized the driving forces of green transition including "strengthened political will at a global level," "increasingly high emphasis on the agenda of corporations and investors," and "fast rolling-out green technology."
This event was co-organized by China-Europe-America Global Initiative and Belgian-Chinese Chamber of Commerce with assistance from several other institutions, including the China Forum of the Center for International Security and Strategy, Tsinghua University as a Chinese strategic partner, and ACCWS, Emlyon Business School, and Innovation Centre Denmark as knowledge partners.